The famous, paradise-like Gili Islands consist of the three small islands Gili Trawangan, Gili Meno and Gili Air in the northwest of Lombok, Indonesia. You might also have heard of the "Secret Gilis" in the south of Lombok. That's because basically, "gili" just translates to "small island". Anyway, in this article you will read about three different ways of getting to Gili Trawangan, Gili Meno and Gili Air from Bali.
Map of all the Ports on Bali, Lombok and the Gilis
1. By Public Ferry
The first possibility is the cheapest, but also the one that's most uncomfortable as well as the slowest. It's taking the local ferry from Padang Bai on Bali to Lembar in the southwest of Lombok and then the public shuttle boat from Bangsal in the north of Lombok to the Gili Islands. The first ferry usually takes between 4 and 5 hours, but can take up to 9(!) hours due to weather conditions. On the other hand, you pay a ridiculously low price of 42,000 IDR (Indonesian Rupiah) which equals to just 3 US-dollar for the whole trip to Lombok.
From there, the local shuttle boat to the Gili Islands costs 12,000, 14,000 or 15,000 Indonesian Rupiah (around 1 USD), depending on the island you are going to (Gili Air, Gili Meno or Gili Trawangan, respectively). This trip only takes 15 to 45 minutes; however, the boat won't leave until there's 40 passengers buying tickets, which means, you never know when exactly the next shuttle boat takes off. Same goes for the public ferry from Padang Bai to Lembar: It's leaving about every hour (24 hours a day) whenever it's full.
Pros: very cheap, local experience
Cons: can take a lot of time, very uncomfortable, probably taxi needed as there's no transfer included, you have to change boat on Lombok and travel from Lembar to Bangsal, might have to wait as there's no fix schedule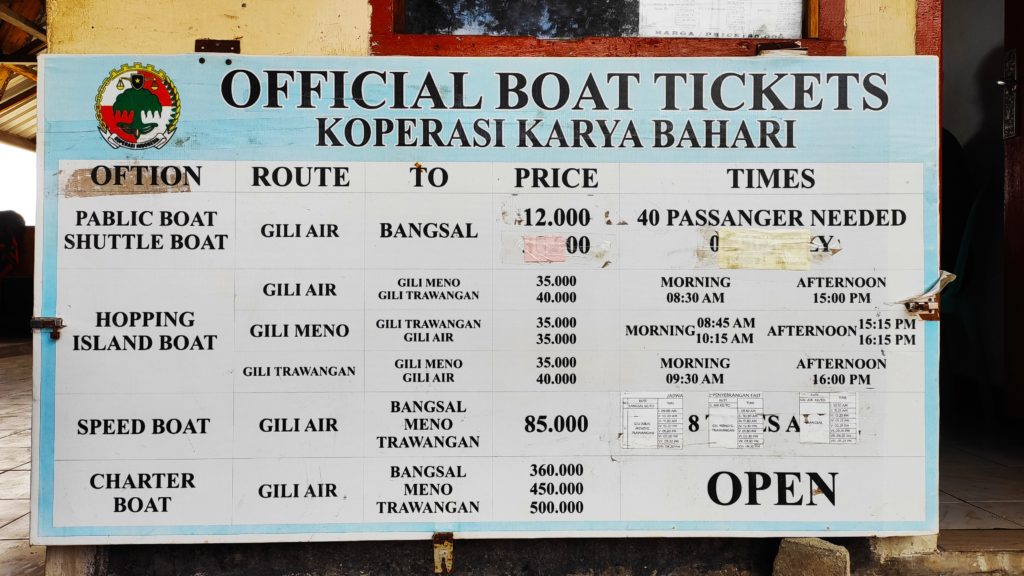 2. By Speed Boat
This is the method we chose: We took the speed boat from Padang Bai directly to Gili Air. We booked with Easy Gili and spent 250,000 IDR (18 USD) per person including the transfer from Kuta in the southwest of Bali. They picked us up from our hotel on time and brought us to the harbor in a comfortable minivan. There, we were able to have a smoothie bowl for breakfast and then we went by speed boat to the Gilis in about 90 minutes.
We first stopped at Gili Trawangan where most of the passengers left the boat just minutes before arriving in the port of Gili Air. Everything went fine and was super well organized. We can only recommend you going this way for a comfortable and stress-free journey!
Pros: includes transfer, goes directly to Gilis (no need to stop on Lombok), open return available, no need for taxi, hotel pick-up, comfortable, no more costs for taxi/transfer
Cons: more expensive than public ferry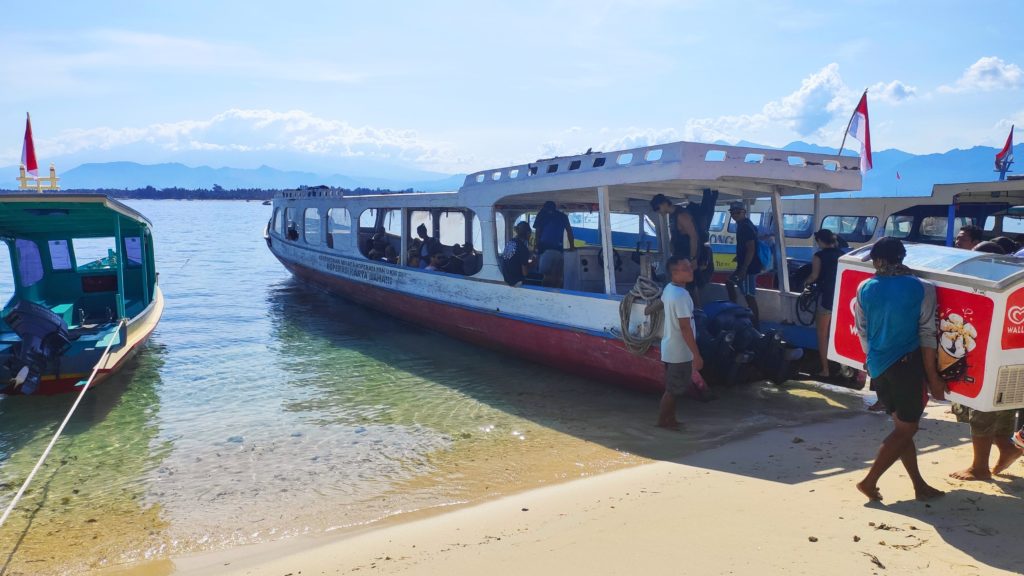 3. By Plane
The third and last option is to go by plane. Air Asia and Lion Air both offer very cheap tickets from Bali to Lombok starting at around 15 US-dollar per person. The advantages and disadvantages are pretty obvious: On the one hand, it's quick, convenient and inexpensive.
Though on the other hand, you need to calculate time as well as money for the transfer to and from the airports plus additional time for the check-in, security control and waiting. You may also have to pay extra for check-in baggage. Yet the biggest disadvantage probably is that this way is the least environmentally friendly one. Plus you still have to get to the Gili Islands from Lombok airport by taxi and boat.
Pros: fast, easy, cheap
Cons: environment, might need check-in baggage, might be more expensive, need to go to airport probably by taxi/Grab, no transfer included, need to go from Lombok to Gilis by boat
All-in-all we think the second option – the speed boat – is not only the cheapest but also the easiest as well as fastest possibility to get from Bali to the Gili Islands. What do you think? Let us know in the comments. Save travels!