Vegan breakfast in Dubai is not that difficult at all:
---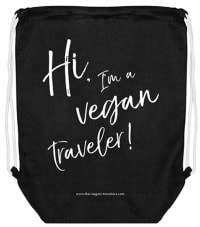 Self-Promotion
You want to show on your travels that you live vegan? You want to meet other vegan travelers? You would like to get to know vegan locals in other places, who will show you their city? If so, show it with the gymbag of our vegan travel community that you are a VEGAN TRAVELER!
Here you'll get more information. To order your gymbag, please send us a message.
---
At every Spinneys (large supermarket chain) there's a large counter with fresh fruit, cereals and hot meals to put together. With it there's a huge selection of vegan milk varieties.For the warm dishes, which usually change daily, there are often vegan options such as spaghetti in tomato sauce or breaded vegetables.
Buns and breads are made on site and are almost always vegan (except for the sweet things). The staff is normally well-informed.
Other breakfast options in Dubai
Dosa: a kind of thin pancake of fermented rice flour and you eat it with chutney (coconut) and sambar (spicy and a sauce of lentils and vegetables), plain or masala (mashed potatoes with spices) – all vegan and very tasty.
Idli: steamed, small, flat lentil rice cakes. They are also eaten with chutney and sambar.
Paratha: unleavened Indian flatbread, which is plain or with aloo (potatoes) or gobi (cauliflower). Here, however, you have to pay attention and ask, it's often made with ghee (butter), but also often made with oil. It is not only eaten for breakfast, but at any time of the day.

Breakfast from the Spinneys in Dubai

Fruit counter in Dubai at Spinneys
You might also be interested in: