Every now and then, someone in our travel group on Facebook asks for warm holiday destinations for the winter. Because while temperatures in Central Europe have already dropped to single-digit levels, elsewhere in the world it is still comfortably warm and the days are noticeably longer. And you don't even have to travel far away – there are so many sun paradises awaiting you right around the corner! We'll reveal our favorite winter destinations within and outside Europe.
---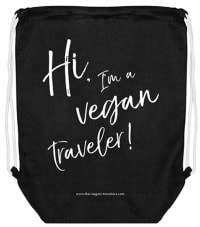 Self-Promotion
You want to show on your travels that you live vegan? You want to meet other vegan travelers? You would like to get to know vegan locals in other places, who will show you their city? If so, show it with the gymbag of our vegan travel community that you are a VEGAN TRAVELER!
Here you'll get more information. To order your gymbag, please send us a message.
---
Europe
Worldwide
Dubai (UAE)

Dubai Marina

There is hardly any other holiday destination that close to Europe with year-round sun guarantee like the United Arab Emirates. Their largest city Dubai is not only one of our favorite places for the winter, but also in general. No matter how many times you travel to Dubai, the desert city is developing so fast that each time there is something new to discover.

Dubai has two city centers, the old one and the new one, both of which are about 20 kilometers apart on the coast. In the old city center, there are many souks (traditional Arab markets) and an old fortress, which now houses the Dubai Museum.

While you can let yourself be taken with a wooden boat across the river for a few cents there, the driverless Metro rushes through the desert not far away up to the new city center and Dubai Marina. There you'll see numerous modern skyscrapers, huge elaborately designed shopping centers, artificially created watercourses along promenades and with the 828 meter high Burj Khalifa the tallest building in the world.

The special and fascinating thing about Dubai is precisely the interplay of these two worlds: the traditional Arab culture and the futuristic realizations, united in a city in the middle of the desert. Dubai proves again and again what is possible.

Oh yes, of course there are beaches as well. And you will be able to use these very often, because even in winter the temperatures in Dubai seldom drop below 15 degrees. During the day they move somewhere between 20 and 30 degrees Celsius. There are virtually no rainy days, but plenty of sunshine and year-round pleasant water temperatures.

Egypt

Karnak Temple

At the beginning of the year, we spent a good two months in Egypt. Where many European all-inclusive holidaymakers spend a cheap sunny holiday in the winter each year and hardly leave their resort, we set out on the trail of the Ancient Egyptians and explored (almost) the whole country from south to north. And we can tell you: It's worth it!

Indeed we also expressed our criticism of the land of the Pharaohs in one of our articles. Overall, however, we can sum up that Egypt is simply "extreme" in all areas. Extremely exhausting, extremely loud, extremely annoying – but also extremely impressive, extremely different and extremely surprising. Egypt has in fact a lot more to offer than just the Pyramids and the Great Sphinx of Giza!

Mahmya beach in Giftun Island National Park

Tunisia

Sousse

Tunisia is a bit more northern than Egypt, which can be felt by the temperatures. It's in fact the northernmost country in Africa. Nevertheless, it's still pleasantly warm and sunny in winter compared to most European countries.

We must admit that before our trip to Tunisia we knew little about the history, culture and places of the country. Now that we have a good picture of most of the larger cities, we plan to travel to Tunisia again to explore every corner of the country. So far we can definitely recommend Sousse,Tunis, Carthage, Sidi Bou Saïd, El Djem, Monastir and Yasmine Hammamet.

Sidi Bou Saïd

Morocco

While we have a true love-hate relationship with Egypt, we can't claim that of Morocco. Because the spark of enthusiasm never really hit us there. In comparison to Egypt, Morocco is pleasantly surprisingly modern and the inhabitants actually often helpful even without ulterior motive. However, in our opinon, there just are no really unique sights either.

But we also have to say that we've already seen quite much of the Arab world and that's why a simple medina with souks can't knock our socks off any more. However, if you have never been to any other Arab country, Morocco suits well as a "beginner country". The Moroccan winter is mild and much better compatible with the Muslim clothing guidelines than in the heat of summer.

Our personal highlights weren't the cities (with the exception of Essaouira, which we really liked), but rather the natural attractions such as the Hercules Grotto, the Ouzoud Falls, the Atlas Mountains, the Dades Gorge, the Todra Gorge and the Sahara. Don't underestimate the size of the country: We were traveling by car and could hardly believe that you can drive through Morocco for hundreds of miles without seeing anything interesting.

We found Morocco to be very safe and even slept in the car there. There are many police checks, for example at almost every entrance to a town. Nevertheless, a healthy level of distrust shouldn't be missed. More about Morocco will soon follow in further posts.

Thailand, Vietnam & Cuba

Hội An, Vietnam

There are probably countless other places around the world that have a pleasant climate during the European winter. However, as we are only reporting on our personal experiences here, the last place on our list is shared by the countries of Thailand, Vietnam and Cuba. All three are beloved favorites of ours.

While temperatures in Cuba are between 18 and 34 degrees year-round and the winter months are dry, the north of Vietnam is rather cool and rainy at that time. In return, South Vietnam offers shelter: at 20 to 30 degrees, it is still warm to hot and dry here in winter compared to the rest of the year. In Thailand you escape the monsoon in winter and can still expect a day temperature of 25 to 30 degrees Celsius.

Havanna, Cuba

Thailand has something for everyone with its countless paradisiacal islands, the international metropolis of Bangkok and the Buddhist temples in Chiang Mai. Cuba has much more to offer than cigars and the well-known holiday destination Varadero: The capital Havana stands for architecture from the Spanish colonial era, salsa music and beaches. Although the south of Vietnam offers beautiful beaches as well, it also has exciting cities such as Đà Nẵng, Hội An, Cần Thơ and of course not to forget Hồ Chí Minh city (colloquially also known under its old name Saigon).

Bangkok, Thailand
Most of the mentioned sunny destinations are in off season during the winter, which not only benefits you in terms of price, but also offers the advantage that it isn't that crowded there at that time. Which summery places have you already visited in winter? Let us know in the comments. 🙂
You might also be interested in: