In the middle of the Portuguese mountains, Vonetta and Andrew Winter have fulfilled their life's dream of owning a yoga retreat. Surrounded by unspoiled nature, they provide a refuge for those who need a break from their everyday life. Here it's all about slowing down and re-rooting with the earth with lots of yoga, walks, massages, acupuncture, workshops and healthy food.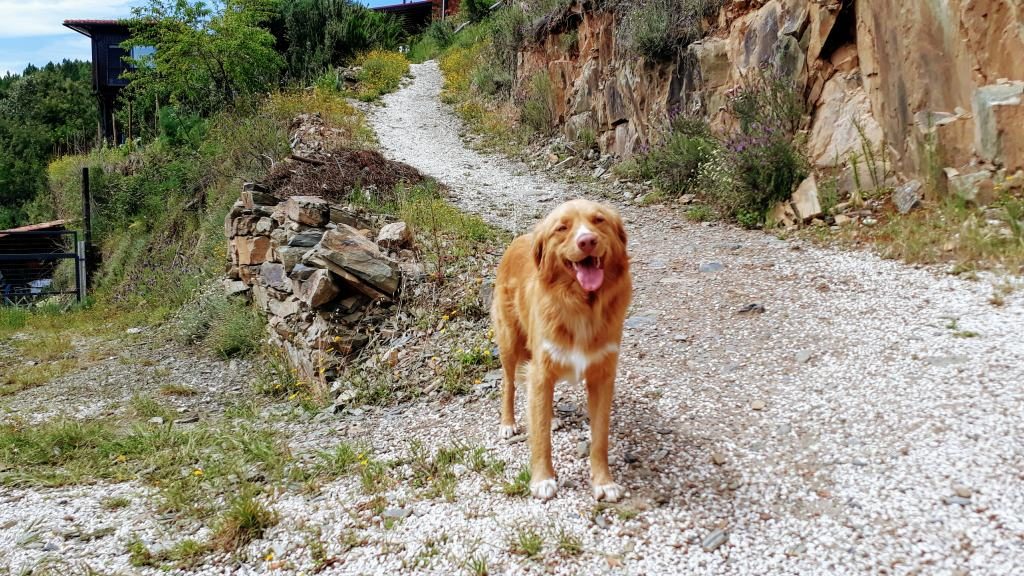 Slumber and Energise
Slumber and Energise – that's how our retreat week was called, which we spent with six other guests and the extensive team. And the name couldn't be more appropriate: in the spacious complex, which combines modern architecture with clean nature, and the surrounding mountain forests, we slept, walked, meditated, ate, rested, practiced yoga, were treated, massaged and much more. Of course everything is voluntary.
In the three-day sleep workshop, the psychologist, sleep and stress management expert Dr Nerina Ramlakhan gave tips for better falling and staying asleep for different sleep types and answered all questions about the topic of sleep. She is also the author of the books Tired But Wired: How to Overcome Sleep Problems: the Essential Sleep Toolkit¹ and Fast Asleep, Wide Awake: Discover the secrets of restorative sleep and vibrant energy¹.
Food
In a word: wow. What the team around chef Raul Garcia puts in place or rather on the table is simply incredible. The international and ayurvedic-inspired dishes made with fresh and healthy ingredients delighted not only us. In the morning, a new porridge variation every day was waiting for us, supplemented by fruit salad, various types of milk, granola and freshly squeezed juice.
At lunch time we were amazed every time by the diverse and heavenly tasting buffet. From vegetable salads to pasta dishes to burgers, everything was there. In the evening there was usually a soup, salad and homemade spreads, such as pesto, plus, of course, bread. And almost everything completely vegan and most of it gluten-free as well. In addition, there is always fresh water, fruits, nuts and tea.
Yoga
Every morning after the half-hour morning walk with meditation and insights follow two hours of yoga exercise. The enchanting Vonetta teaches dynamic Hatha Yoga with a lot of love, patience and passion, focusing on strength, stability and balance. If you are looking for an intensive yoga experience, this is the right place!
Both of us were absolute yoga newbies, but we felt completely comfortable from the beginning. Among other things, we were particularly impressed with the breathing exercises. The practices shown to us lovingly we will definitely repeat more often in the future. In addition to yoga, various massages and treatments are offered, including Tui Na massages, Thai massages, Indonesian massages and acupuncture. I myself, Chantel, had my first acupuncture experience here and can't think of a more suitable person for this than Vonetta.
Surroundings
Once upon a time, there was a tiny village, consisting of four families, who settled in the beautiful scenery of the mountain forests of Portugal. Vonetta and Andrew found this very village, by the time it had already been abandoned for a few decades, and turned it into their own little oasis of peace. Fortunately, they decided to open their home also to others. As they are constantly expanding it, the most modern design meets traditional Xisto stone houses. Here is something for everyone: whether stone cottage, private bedroom in the farmhouse or one of the bell tents. We seldom slept in such a comfortable bed – and we're not saying this merely because we have been sleeping in the car for months! 😛
As you can see, you don't have to compromise on comfort, despite the absolute closeness to nature. On the contrary: Vale de Moses has much more to offer! Lose yourself in the vast forests, admire sunrise and sunset, refresh yourself in the rivers and natural swimming pools, enjoy the view from the peaks of the mountains, listen to the phenomenal soundscape, breathe in – and out – the fresh mountain air, come to rest, walk barefoot, relax in one of the hammocks or one of the sun loungers, take a mud bath, go hiking, cycling and climbing in the surrounding mountains, learn a bit of the magic during a cooking course, get to know new people and especially yourselves.
People
Of course, such an experience lives off the people behind the organization and the participants themselves. First of all, there are to mention Vonetta and Andrew, who brought the whole project into being and, with much work and effort, returned the deserted village its liveliness. But we would also like to thank the rest of the team, who created a welcoming one-week home for us.
We were lucky enough to spend our retreat week with a rather small and absolutely wonderful group of participants. It's amazing how well you can get to know people in such a relaxed and protected atmosphere within a few days. In this way, we would like to thank again all of you who made this week so special! ♡
The Perfect Yoga Retreat?
In our opinion: yes! We are very happy that we could gather our first yoga experiences in this protected environment and probably the most dreamlike scenery that you can imagine. But also for long-established yoga professionals, as they were in our group as well, this is the perfect place. We are therefore not surprised that many of the guests come here again and again.
No matter what age, origin and motivation: Everyone is welcome here! We were also very happy to see that Vale de Moses is a member of Responsible Travel. For further information and contact details visit their website. Here you can also see and book all future retreat weeks. More detailed information can be found in the Welcome Pack. If you still have further questions, don't be afraid of contacting. You will certainly not be disappointed! 😉
¹ We are a participant in the Amazon Services LLC Associates Program, an affiliate advertising program designed to provide a means for us to earn fees by linking to Amazon.com and affiliated sites.