As we already told you in one of our last articles, we have recently become the proud owners of a DJI Spark. But why did we choose this model and what exactly is a drone anyway? What about the conditions for flying? And: How much is the fun? The answer to these and many other questions, as well as a comparison of the two top models of DJI can be found in this article.
So, what exactly is such a "drone"? And what is the difference between drone, multicopter and quadcopter?
A drone is an unmanned aerial vehicle, also abbreviated as UAV, which means an aircraft without a human pilot aboard. The flight of UAVs may operate with various degrees of autonomy: either under remote control by a human operator or autonomously by onboard computers.
Aircrafts where several fixed rotors provide buoyancy are called multicopter or multirotor. Depending on the number of rotors, the respective designations differ. The most common subspecies are the so-called quadcopter (composed of the Latin word quadrum for 'square' and the Greek word πτερόν for 'wing') with four rotors.
While an unmanned quadcopter is also a multicopter and a drone at the same time, a drone does not necessarily have to be a multi- or quadcopter, just as a multicopter does not necessarily have to be a quadcopter, but also can be a tricopter (with 3 rotors), a hexacopter (6 rotors) or an octocopter (8 rotors). If a quad- or multicopter is manned, it is not a drone. Nevertheless, the terms are often colloquially used synonymously.
The DJI Spark and the DJI Mavic Pro are unmanned quadcopters. So you can also call them multicopter or drones.
Why DJI?
Dà-Jiāng Innovation Science and Technology Co., or DJI for short, is the market leader among unmanned multicopter manufacturers. Founded in 2006 by Frank Wang, the technology company based in Shenzhen, China, is a pioneer in new and innovative drone technology. The models therefore stand for modern technology and reliability, combined with an elegant design.
After years of experience and the development of various expensive models, such as the DJI Phantoms, DJI now also pushes cheaper models below the 1,000-dollar mark onto the market: first the DJI Mavic Pro and now the even cheaper DJI Spark. The manufacturer makes no compromises with the constantly improved software, it is basically the same for all models.
For us, in the purchasing decision, in particular a mechanical gimbal was very important. This allows smooth aerial videography despite wind or sharp changes in motion. DJI's multicopters are some of the few that have such mechanical image stabilization rather than digital only.
In addition, we did not want a toy, but be able to use the recordings. Nevertheless, our equipment budget should not be exceeded. We also wanted a real travel drone that fits in any hand luggage and does not need its own drone backpack. That's why only quadcopters from DJI and in particular the DJI Spark and the DJI Mavic Pro came into question for us.
Similarities between the DJI Spark and the DJI Mavic Pro
As already mentioned, both quadcopters are created by DJI. Both drones also have a mechanical gimbal and pretty much the same software (the QuickShot modes previously reserved for the DJI Spark are now available for the DJI Mavic Pro as well). They both are available with or without Fly More Combo (more on that below).
The two travel drones are also very quickly ready for use and relatively small and lightweight for professional multicopters. The quadcopters, which nevertheless are suitable for commercial use, also have so-called ObstacleAvoidance, ie the automatic recognition and flying around of obstacles.
Differences
Now let's talk about the differences between the two mini-pros:
Advantages of the DJI Mavic Pro over the DJI Spark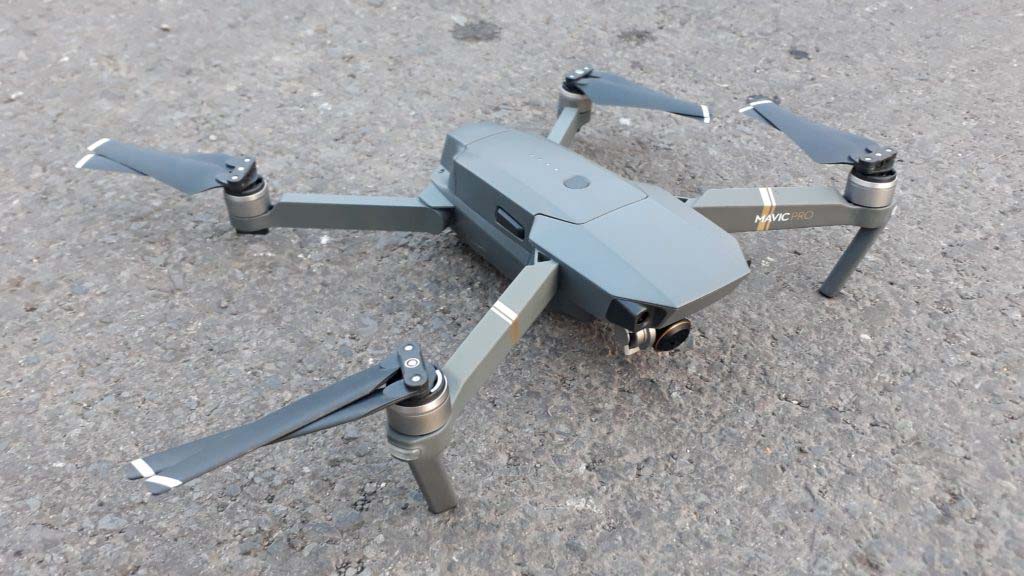 Flying time: 27 minutes with the DJI Mavic Pro compared to 16 minutes with the DJI Spark, so with 3 battery charges you can almost reach movie length
Range: of the DJI Mavic Pro remote control is larger (up to 7 kilometers compared to the maximum of 2 kilometers of the DJI Spark remote control)
3-axis gimbal: opposite 2 axis of the DJI Spark
4k recordings: can only be done with the DJI Mavic Pro, the DJI Spark films "only" in FullHD, which is perfectly adequate for us and does not create unnecessary data waste
Foldable: it makes it smaller, but also more unstable, therefore neutral for us
Stability in the air: is higher, because the DJI Mavic Pro is bigger and heavier, but thereby also more conspicuous than the DJI Spark, therefore rather a disadvantage for us
Advantages of the DJI Spark over the DJI Mavic Pro
Price: the DJI Spark costs both with and without combo only about half of the DJI Mavic Pro, respectively, in the standard or combo version
Portability: the DJI Spark's battery, unlike the one of the DJI Mavic Pro, can be charged via the Micro USB port in the Spark itself, e.g. via power bank
Inconspicuousness: the DJI Spark is much smaller than the DJI Mavic Pro (unfolded) and also weighs less than half, which can be seen as a plus or a minus; for us it's an advantage because it makes it quieter in the air and thus less noticeable
Looks like a toy (although it is not): therefore, you'll have less stress overall and (presumably) get less or lower penalties
Intelligent flight modes: the QuickShot modes were specially developed for the DJI Spark, but are now also available for the DJI Mavic Pro through an update, GestureControl, however, has until now been reserved exclusively for the DJI Spark
Design: of the DJI Spark is cuter and overall more beautiful than the DJI Mavic Pro in our opinion, but that's a matter of taste, of course
Recording quality, color saturation, etc.: of the DJI Spark we like a little better, but is also a matter of taste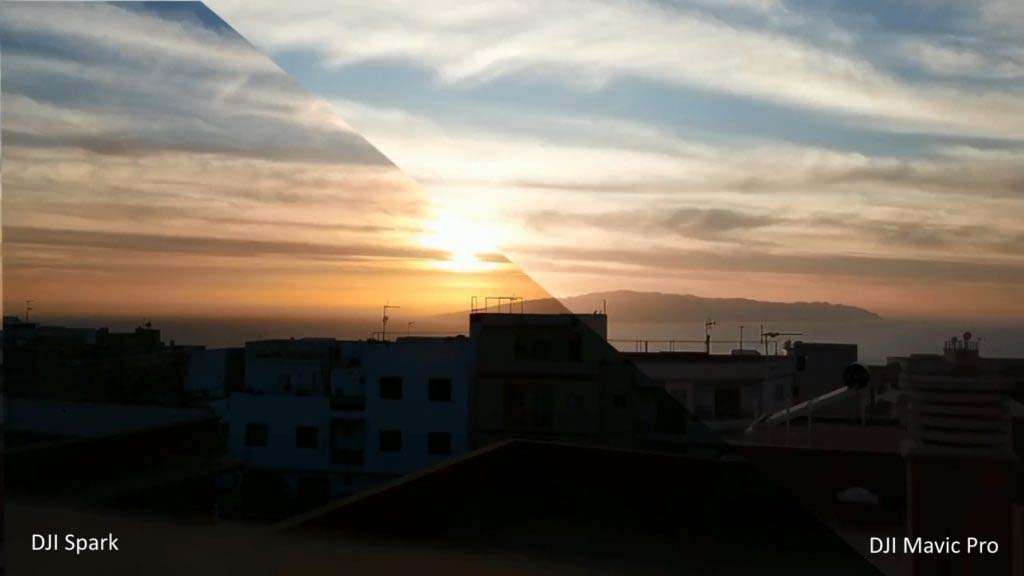 FAQ
The most frequently asked questions:
What's the difference between drone, multicopter and quadcopter?
Scroll up again, we have already clarified this at the beginning of the article. 😛
How much does a drone cost?
This question can not be answered generally. There are toy drones from 30 dollars, but you can't use their recordings whatsoever (if they even have a camera). Equally, there are highly professional multicopters that cost over 3,000 dollars, such as the DJI Inspire 2 Pro¹. For those who want to create aerial photo- and videography in considerable quality, the range of 300 to 1500 dollars is interesting. We paid about 550 euros (around 680 USD) for our DJI Spark Fly More Combo, which does not even amount to one complete monthly rent of our previous apartment and is less expensive than some smartphones.
How big and heavy is such a multicopter?
That depends strongly on the model as well. The DJI Spark for example weighs 300 grams and measures 143 × 143 × 55 millimeters, while the DJI Mavic Pro weighs 743 grams and measures 270 × 270 × 83 millimeters unfolded or 83 × 198 × 83 millimeters when folded. Of course, there are also smaller and lighter, as well as larger and heavier models.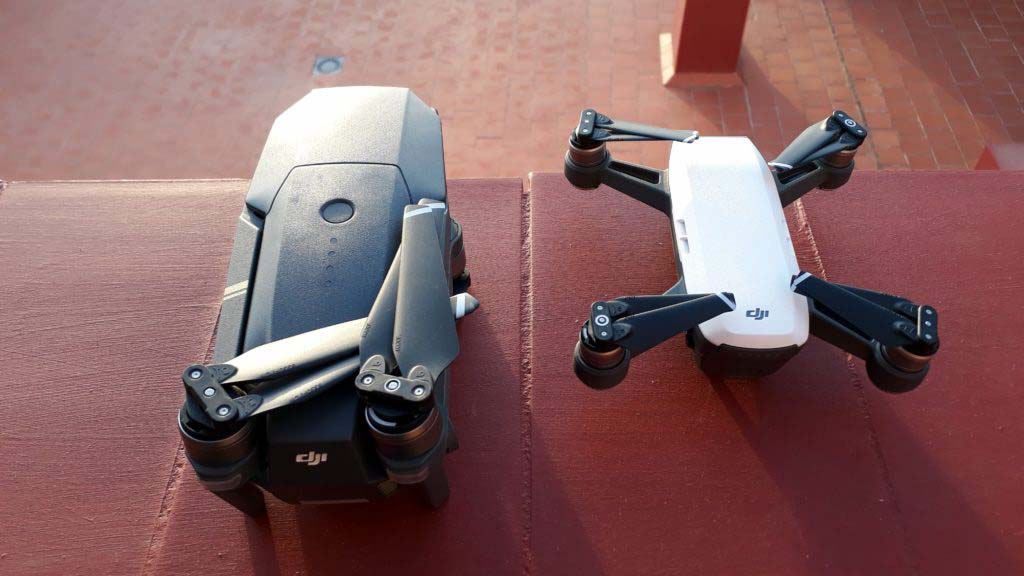 How far is the range (battery/radio)?
The maximum flight time of the DJI Spark and of the DJI Mavic Pro with one battery are 16 minutes and 27 minutes, respectively, in the ideal case (no wind, etc.). If the quadcopters are connected directly to your smartphone/tablet via Wi-Fi, the maximum range for the DJI Spark is 100 meters of distance as well as 50 meters of height and for the DJI Mavic Pro 80 meters of distance as well as 50 meters of height (without obstacles and interference). With the appropriate controller you can control the DJI Spark, depending on the frequency (2.4 or 5.8 GHz) and mode (FCC, CE or SRRC), up to 2 kilometers away from you, the DJI Mavic Pro, also depending on the frequency and mode, even up to 7 kilometers.
How are the quadcopters controlled?
The DJI Spark can be controlled in three ways: 1. by certain gestures (GestureControl), 2. by a WiFi-connected smartphone or tablet and 3. by the corresponding remote control. For the DJI Mavic Pro, the first option is eliminated, leaving the smartphone/tablet and remote control as controlling options.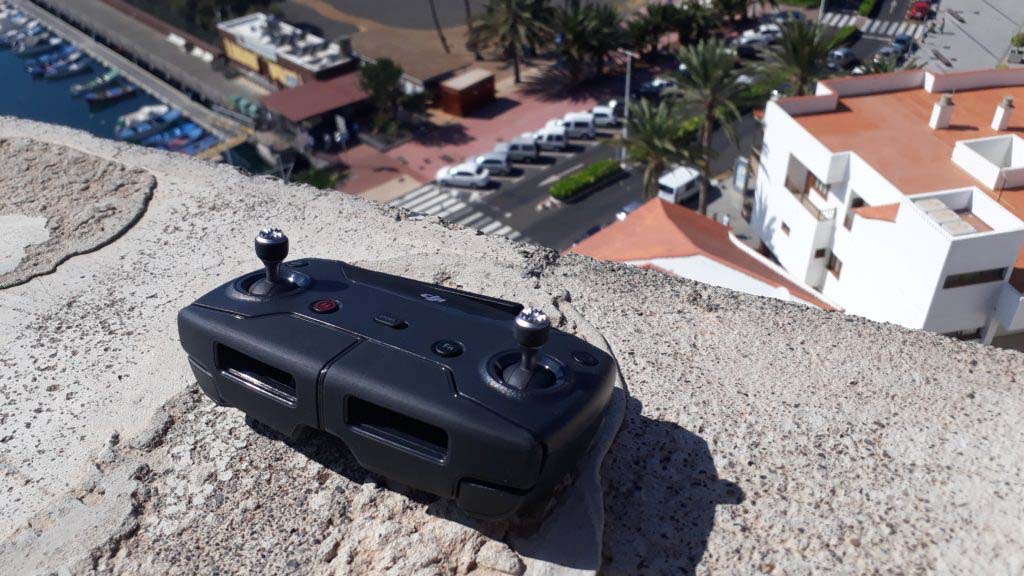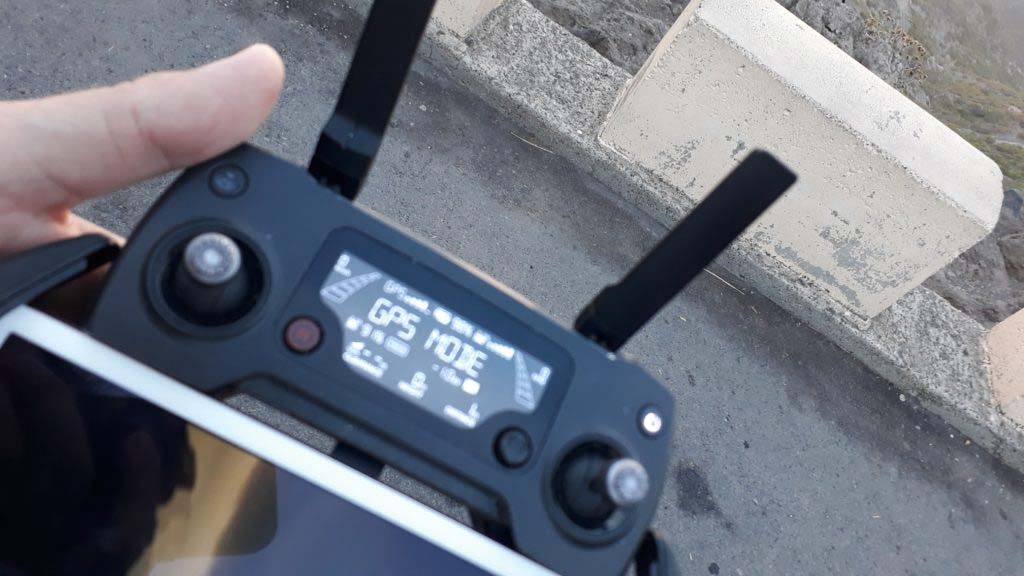 What is meant by "intelligent flight modes"?
To simplify the production of high-quality and complex recordings, DJI has developed some so-called intelligent flight modes. In doing so, you give the drone a task, which it then performs on its own. For example, the QuickShot mode, which was previously developed solely for the DJI Spark, accommodates four submodes: Rocket, Dronie, Circle and Helix. This enables particularly smooth and uniform aerial footage at the touch of a button. Also the automatic tracking of an object is possible thanks to ActiveTrack, as well as the automatic movement in a certain direction (TapFly). This also includes the previously mentioned gesture mode, in which the DJI Spark recognizes various hand movements. Finally, the Pano and ShallowFocus mode should be mentioned, which allow panoramic shots and photos with depth-of-field effect.
How fast can I fly with it?
Of course, that comes down to the model. The DJI Spark has a maximum speed of 50 kilometers per hour and the DJI Mavic Pro 64.8 kilometers per hour (each in sport mode without wind).
Can you spy on other people? / Can I fly over foreign land? / Does the drone pose a risk to other people?
Definitely not!
Do I need a permit to fly? / Where can I fly? / How high can I fly? / What am I allowed to film/photograph? / Which regulations are there? / Do I need a drone license?
The answers to these questions vary greatly from country to country. Therefore, it makes sense to inform yourself before flying about the conditions prevailing in each country.
Do I need insurance?
Again, that varies from country to country. In most countries, however, the answer is: Yes! A liability insurance for the operation of an aircraft is often required by law – regardless of whether the drone is used commercially or privately as a hobby. The normal private liability insurance is usually not sufficient, which is why the conclusion of an additional drone insurance is recommended.
What is the DJI Care Refresh Insurance?
DJI Care Refresh offers up to two replacement drones in the event of accidental damage during normal use (including: user error, signal interference, collision, water damage and damage due to dropping) for a starting price (DJI Spark: 59 USD, DJI Mavic Pro: 99 USD) plus an additional charge per damage. The additional fee for the DJI Spark is 49 USD for the first and 69 USD for the second replacement drone, and for the DJI Mavic Pro 79 USD for the first and 129 USD for the second replacement drone.
First of all the DJI support must be contacted and the damaged drone sent to the DJI repair service. If you then pay for the replacement device service, you will receive a new or as good as new device. DJI Care Refresh is valid for 12 months and can not be renewed. Thus, DJI Care Refresh is a comprehensive insurance, therefore it does not replace the legally required liability insurance.
Is the DJI Care Refresh insurance worth it for me?
Of course, everyone has to evaluate that for themselves. In our opinion, however, DJI Care Refresh is not worth it for the following reasons:
A drone can fly away or land/fall down where you can not get yourself (for example sinking in the sea). This means that you can not send it to DJI, which makes the DJI Care Refresh worthless in these cases.
If at all only the drone itself would be gone, but not the accessories. So you would have to rebuy in our case only the DJI Spark, but not in the combo version. The value of the DJI Spark alone is currently under 400 dollars. As a result, even in the event that the DJI Care Refresh actually works, the difference in price would not be too big compared to a new drone (DJI Care Refresh: 59 USD + at least 49 USD compared to about 350 dollars for a new one). But actually, insurances are meant for the case that you would otherwise be ruined, which is not the case by the loss of a drone. In the "worst case" you would be left without a drone for a while.
Especially relevant for us, there is another factor why DJI Care Refresh is not worthwhile: It is only valid in the respective acquisition region. Although this may deviate from the region of equipment purchase (example: drone bought in China, DJI Care Refresh purchased in the US > DJI Care Refresh only valid in the US), it is still limited to one country. As we are digital nomads and long-term travelers, the restriction to one country would be a big limitation for us.
Last but not least, we do not assume the worst case scenario, which is why the DJI Care Refresh would mean a waste of money for us.
Which weather conditions are required?
Basically, you should fly your drone only within the range of vision and by daylight. Both the DJI Spark and the DJI Mavic Pro work flawlessly at an operating temperature between 0 and 40 degrees Celsius. In addition, you should pay attention to a low probability of precipitation and a not too high humidity. Essential as well is the avoidance of strong gusts of wind. In the ideal case, of course, you will fly in absolute calm, but the DJI Spark and DJI Mavic Pro can handle wind speeds of up to 24 miles per hour. Before every flight, we additionally check the Android app "UAV Forecast" to see if the conditions are really alright. It also shows, for example, the wind speeds at 10, 50, 100 and more meters altitude.
How fast does a drone break?
Of course that depends on the usage, but basically it is not that easy to "destroy" a DJI Spark, as this video shows. For example, if ObstacleAvoidance is turned on, the DJI Spark automatically detects and flies around obstacles up to 5 meters away.
Do I have to remove the propellers when transporting?
No, just fold them.
Which accessories do I need?
No matter which drone you ultimately choose, we recommend you to buy it in the combo version. Especially the remote controller and the external charging station, as well as additional batteries are very, very practical.
The Fly More Combo¹ for the DJI Spark contains in addition to the normal version:
4 × Propeller Guards
4 × Quick-Release Folding Propellers
1 × Intelligent Flight Battery
Shoulder Bag
Battery Charging Hub
Remote Controller
The Fly More Combo¹ for DJI Mavic Pro contains in addition to the normal version:
8 × Quick-Release Folding Propellers
2 × Intelligent Flight Battery
Shoulder Bag
Battery Charging Hub
Car Charger
Battery to Power Bank Adaptor
In addition to the DJI Spark combo version, we bought four more batteries, so we have six in total, which we can charge in two loads (the charging station has room for three batteries). We do not really use the bag included in the combo, as we find the styrofoam packaging that comes with the DJI Spark much more practical. It can accommodate a perfectly protected DJI Spark, two extra batteries and four spare propellers. In addition, you need a microSD card. To save as many recordings as possible, we recommend one with 64 gigabyte of capacity.
In order to experience a "First Person View" (FPV), you also need video goggles, for example the DJI Goggles¹. However, certain rules apply: In Germany, for example, flights with video goggles are only allowed if they are up to a height of 30 meters and the device is no heavier than 250 grams or if another person is constantly watching and able to alert the pilot to dangers. This is considered as operation within sight of the controller.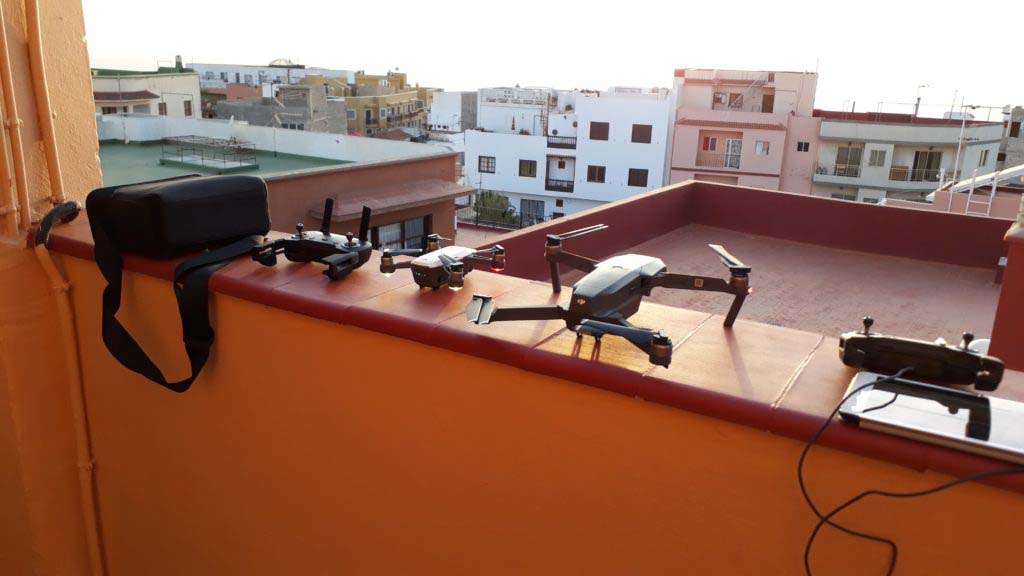 How long does it take to fully charge the battery/-ies and the remote controller?
Of course, that differs from drone to drone as well. The DJI Spark needs 80 minutes to fully charge a battery when using a standard USB charger. If you use the external charging station, one battery will charge in 52 minutes, two in 55 minutes and three batteries in 85.2 minutes. It takes two hours to fully charge the remote controller for up to three hours of operation.
What Wi-Fi frequencies does the remote controller support?
The remote controller supports 2.4 GHz and 5.8 GHz dual‑band Wi‑Fi frequencies.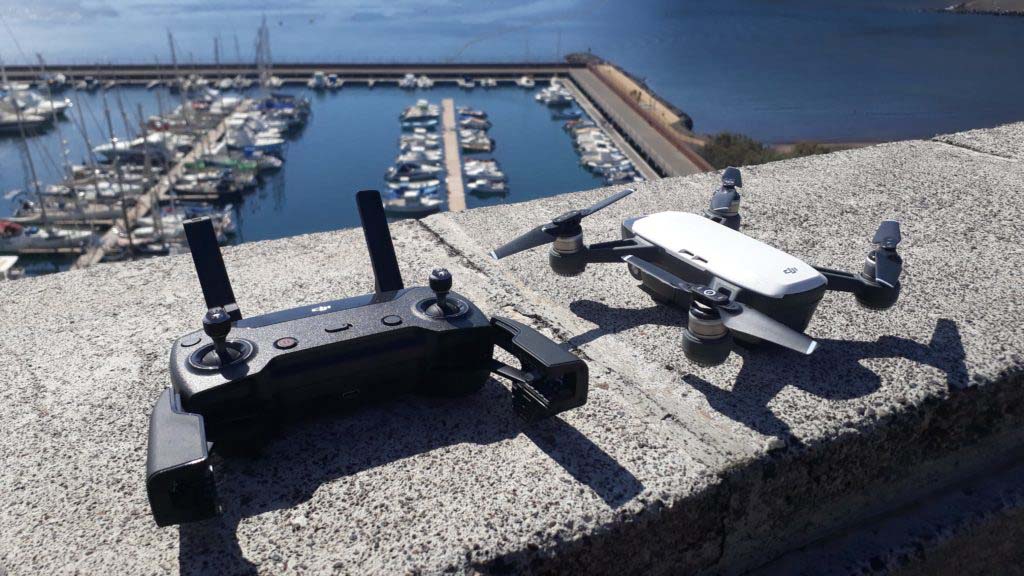 Why did you consider buying one of only these two quadcopters?
As we said earlier, DJI is the market leader in this field and offers great value for money. For us, a mechanical gimbal and a compact size was particularly important in the purchase decision. In addition, the drone should be very quickly ready for use, as quiet as possible and not too expensive. Nevertheless, we wanted to produce professional and elegant cinematic recordings. Therefore, for us personally only the DJI Spark and the DJI Mavic Pro came into question, which in our opinion are the best camera drones under 1,000 dollars.
Where can I buy a drone?
Of course you can buy them directly from the manufacturer (in this case DJI), but often you do not get the lowest price there. However, we personally prefer to order from Amazon¹, alone because of their excellent customer support.
Brand new: DJI Mavic Air
The DJI Mavic Air¹, available since January 28, 2018, is DJI's newest addition to the family and is already being named the drone of the year 2018. The quadcopter, also suitable for drone beginners, combines the advantages of the DJI Spark and the DJI Mavic Pro. Despite its already compact size, it is foldable like its "big brother". In addition, it has a SlowMotion function on board, which films with 120 frames per second in FullHD. 4k recordings are still available in 30 fps.
Unfortunately, the price is oriented towards the price of the DJI Mavic Pro as well: It costs 799 USD in the single version and 999 USD in the combo version, which includes a total of three batteries, an additional Battery to Power Bank Adaptor and a Battery Charging Hub. Nevertheless, the investment, especially with regard to the SloMo feature, can be worthwhile, especially if the price starts to fall. To our knowledge, we would rather recommend buying a DJI Mavic Air than a DJI Mavic Pro. With a low budget, the DJI Spark is still worth it.
Conclusion
Now then, which drone should I buy: the DJI Spark, the DJI Mavic Pro or even the DJI Mavic Air?
Here you can not really go wrong, because all three models are very good value for money. The software is mostly the same, so notable differences are only in the hardware.
The DJI Spark is in our opinion the perfect beginners' drone (it is also our first one 🙂 ). Both the DJI Mavic Pro and the DJI Mavic Air cost about twice as much as a DJI Spark, so everyone has to decide for themselves whether they offer twice as much value (in our case they do not). In addition, it is worth buying the respective combo version, which is why on limited budget it makes more sense to buy the DJI Spark Fly More Combo than the DJI Mavic Pro or Air without combo. As we mentioned at the beginning, it is definitely worth investing in good quality and not buying a cheap drone that will not do you any good.
The final result of our recordings with the DJI Spark you can see here:
Our video of La Gomera from above
More impressions of the DJI Spark: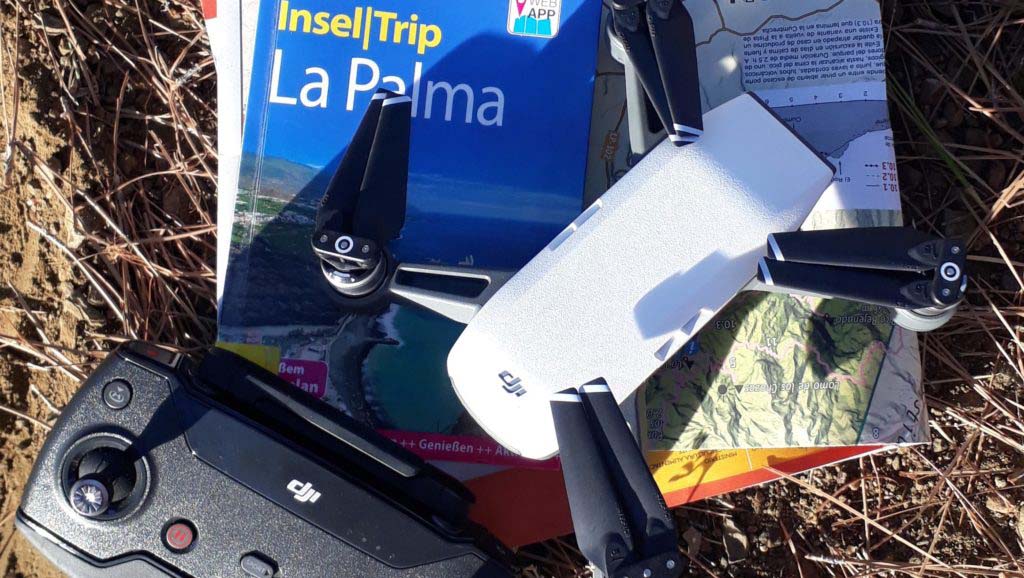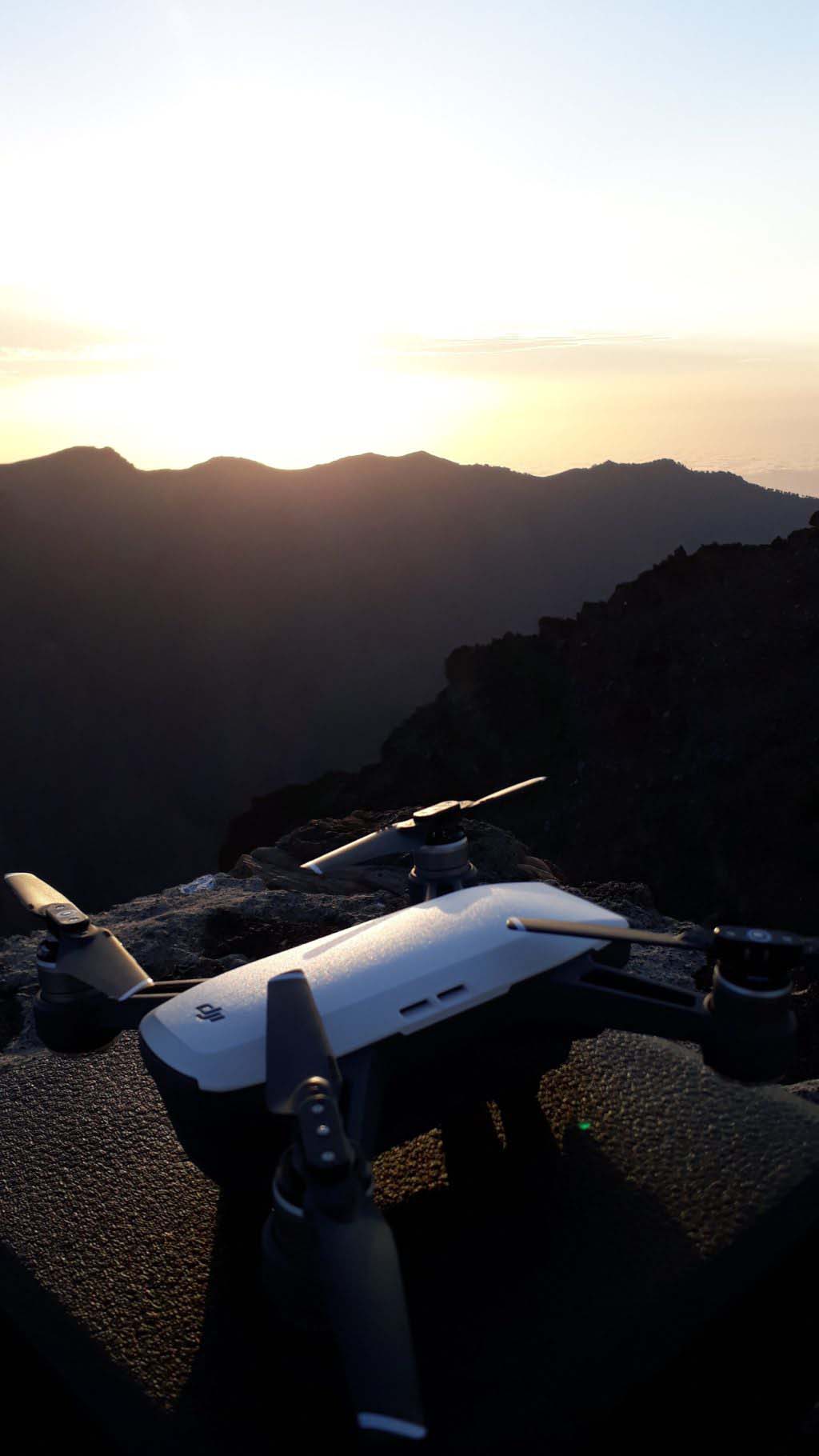 Note: We have not been paid by DJI or anyone else to write this article. We did not even get our DJI Spark for free or discounted, but normally bought it ourselves. This article simply represents our personal opinion, based on our own experiences and those of others.
¹ We are a participant in the Amazon Services LLC Associates Program, an affiliate advertising program designed to provide a means for us to earn fees by linking to Amazon.com and affiliated sites.
You might also be interested in: