As you already learned in the last article, you should rather book your ticket on time, so that you don't have to wait for three weeks like us for the next available space. Now we'll also tell you our personal travel tips as well, specifically referring to ferry trips with ARMAS.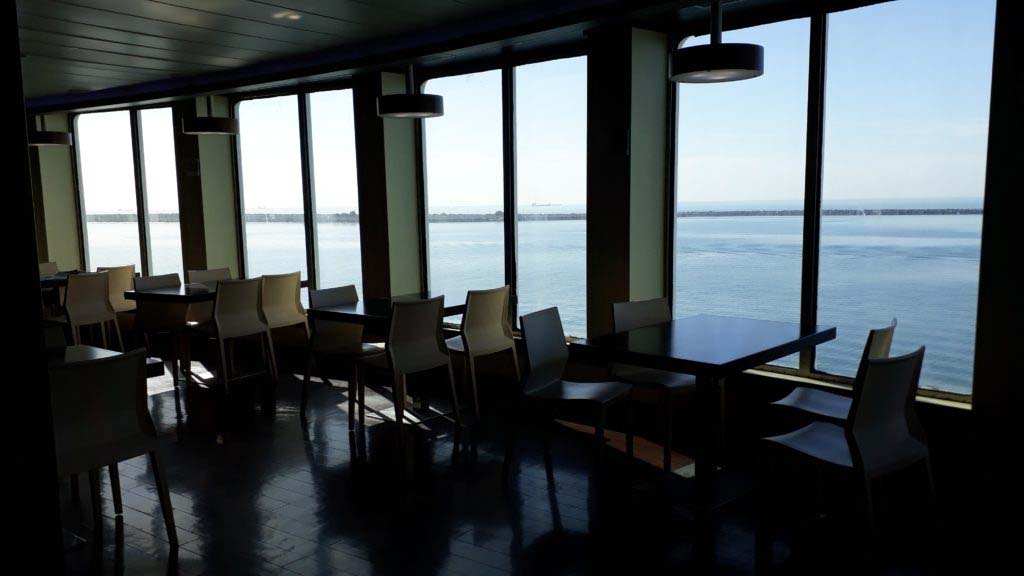 All tips refer primarily to the ARMAS ship Volcan del Teide, with which we went from the Spanish mainland to the Canary Islands. However, most points also apply to other ferries and shorter crossings.
Before the ferry ride:
Don't book a cabin

Since a cabin is much more expensive than the cheapest option, the "Pullman Seat", we decided not to book one. The cheapest cabin would have cost 1,400 euros for two people on our route (Huelva – Tenerife) – 4.5 times what we paid for the "Pullman Seat" (399 euros). How you still find enough sleep, you'll learn below.

Download movies/series/games

As the wifi on board is free, but not always working, you should download your entertainment program beforehand, especially for long crossings. And: Don't forget your headphones¹! Although there are also TVs, however, they screen the same movie everywhere and the sound is not particularly outstanding.

Depending on the direction, empty the tank or fill it up

If you're heading for the Canaries like us, you should not refuel your car or camper before the ferry ride. Because the fuel prices in the Canary Islands are incredibly low – almost everywhere under one euro per liter of premium gasoline! The cheapest is Tenerife, where we have fueled for 79 cents per liter. Whereas in Andalusia, you can be happy if you find a gas station with a fuel price of 1.20 euros per liter. However, if you cross the ocean in the other direction (from the Canaries to the Spanish mainland), you should make your vehicle properly full. In any case, make sure that you have enough left in the tank to get off the ferry and drive to the next gas station. 😉

Way too much – most important: hummus and soy coffee 😀

You should bring this with you:

Charger for mobile phone, tablet, laptop, etc.

On the ferry there are sockets for free use, therefore: Grab your technology, the belonging charging cables and possibly a travel adaptor¹, if you do not have a European plug.

Blanket or sleeping bag and a pillow

Regardless of whether you could get one of the better places to sleep or not (more on that below), you should definitely bring at least a pillow¹, preferably even a sleeping bag¹ or a small blanket with you. It gets pretty cold on the ferry at night!

Sleep mask and earplugs

Yeah, I know, it sounds unbelievable, but ARMAS seems to care a lot about making it as unpleasant as possible to spend the night outside of a cabin. Therefore, not only in deck 7 and below, they wake you up constantly, because you are not allowed to sleep there, no, even where sleeping is officially permitted (so from deck 8 on), they don't turn off the bright lights at night – they don't even dim them a tiny bit! Also, the karaoke event runs until after midnight, which is why it is recommended – especially for people with a light sleep – to pack both a sleep mask¹ and earplugs¹.

Maybe a sleeping mat

If you have not gotten one of the few good sleeping places, it is helpful to have a sleeping pad¹ with you. This way, the selection of pleasant sleeping places is extended significantly, without you having to sleep directly on the hard floor.

Travelsafe

"Yeah, but what do I do with my valuables while I'm sleeping, needing to go to the bathroom or jumping into the pool?" some may wonder. Of course, we have also found a solution for this: the Travelsafe by Pacsafe¹, a kind of portable safe that can be moored anywhere. It is a kind of bag, which is provided with an integrated steel wire mesh and is closed by a steel cable at the opening with the enclosed combination lock. So you put your valuables in the Travelsafe, pull the wire rope at the opening like a duffel bag, put the wire rope around a fixed and stable object (such as a railing) and lock it with the lock on the Travelsafe – done!

Don't forget swimwear & a towel!

Yes, you just read that correctly: There is a pool! It's filled with filtered seawater shortly after the departure. It is quite small, but was used by hardly anyone except us on our trip and therefore was completely free most of the time. A pleasant cooling in between and a unique experience, because when diving you can hear and feel the vibration of the ship's engine. Tip: An ultra-light travel towel¹ can save you volume and weight!

Food container(s) & food

Self-service area with microwaves

Since there are microwaves in the self-service area, we would have liked to have some pasta and our high food containers from Ikea¹ with us. With these we have in fact already cooked in some microwaves in shopping centers. Of course, you can also bring pre-cooked food and warm it up there. Also tasty: fruit + cereals + bowl + spoon + your favorite milk for a delicious breakfast at sea. 😉

Things we brought and did not really need:

Toilet paper
The toilets on board are alright and equipped with toilet paper and soap.
Tons of drinks
These are relatively inexpensive on board, the cafe has a lower price level than an average cafe in the US.
Power Banks
…we did not need due to sufficient power sockets.
Too much food
There are relatively cheap smoothies and most side dishes are vegan (allergens are labeled). Again, the prices are okay.

On the ferry:

Quickly reserve yourself a good place to sleep

The cafe, which extends over the 7th and 8th floor, has some comfortable sofas where you can sleep very well – in case it's permitted. It is in fact, but only in deck 8(!). In all decks below you are constantly asked by the security officer to sit – even at night! Of course, the locals already know that, therefore: As soon as you are on the deck, immediately reserve yourself the sofas on the 8th floor, preferably close to a power outlet. If you do not know this, as we before, you will be left empty-handed, because the coveted sleeping places are quickly occupied. By the way: There are plenty of sunbeds, so you don't have to worry about that. 😉

The cafe area on deck 7: Here you are NOT allowed to lie down, let alone sleep, buuut there are sockets

Get up early enough to not miss the sunrise

Sunrise over the sea

This is indescribably beautiful on the sea, you really should not miss it.

Jump into the pool and/or exercise

As I said, the pool is filled with salt water and is almost always deserted. You probably don't have that every day. 😉 On deck 9, you'll also find outdoor exercise equipment that hardly anyone uses. So, make the crossing as pleasant as possible, or use it effectively! 🙂

Showers & changing rooms at the pool
After that, you can take a refreshing shower which is located next to the pool on deck 7. Right next to it there's also a changing room. So you doesn't have to miss out on hygiene either! 😛
These are already all our travel hacks for the ARMAS ferry. We wish you a good trip. Ship ahoy! 😀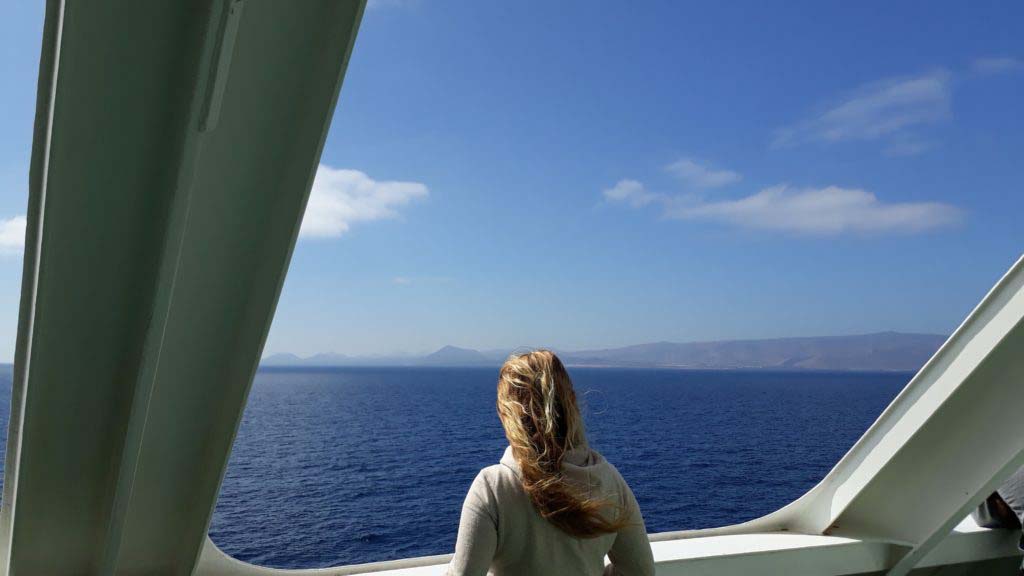 Our Canary Islands Guide
¹ We are a participant in the Amazon Services LLC Associates Program, an affiliate advertising program designed to provide a means for us to earn fees by linking to Amazon.com and affiliated sites.