After presenting you the vegan and vegan-friendly restaurants of the southernmost region of Portugal in the first Algarve article, now you'll learn what else you can do here besides eating. In addition to sunbathing at the dream beaches on the beautiful coastline, there is also plenty of action waiting for you – mostly at or even in the water!
---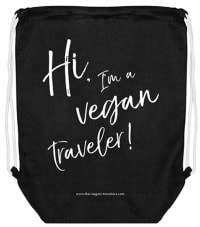 Self-Promotion
You want to show on your travels that you live vegan? You want to meet other vegan travelers? You would like to get to know vegan locals in other places, who will show you their city? If so, show it with the gymbag of our vegan travel community that you are a VEGAN TRAVELER!
Here you'll get more information. To order your gymbag, please send us a message.
---