The Algarve – the southernmost region of continental Portugal. Blue Atlantic Ocean, sandstone-colored cliffs, turquoise bays, beige sand beaches, white old towns and green nature parks adorn the beautiful coastline. With Europe's most sunny days justifiably known as the sunshine paradise, all sorts of things other than sunbathing can be done here as well. However, you will learn more about that in the next article, because in this one, we introduce you to the vegan delicacies of the Algarve.
As already for the Vegan Guide Lisbon, we also created a Vegan Map for the Algarve. So you can use the numbers to understand where the cafes and restaurants we report on are.
Faro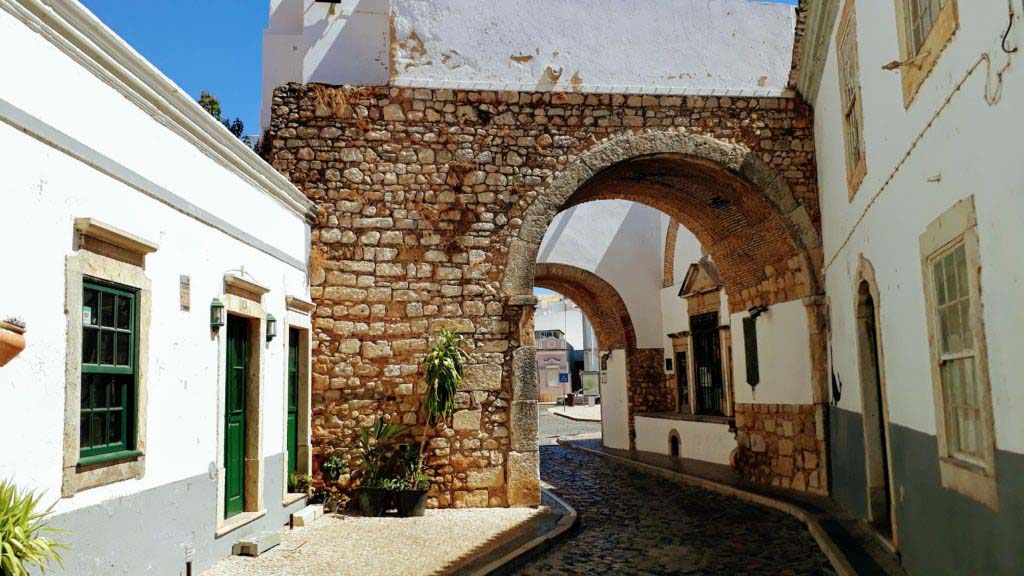 Faro – the place where probably most tourists arrive. After all, this is the only international airport in the region, which is why it is also known as the gateway to the Algarve. It is also Portugal's third busiest airport, after Lisbon and Porto airports. Moreover, Faro is the administrative center of the Algarve and has an important port. It is protected by a lagoon, which is located in the nature reserve Parque Natural da Ria Formosa.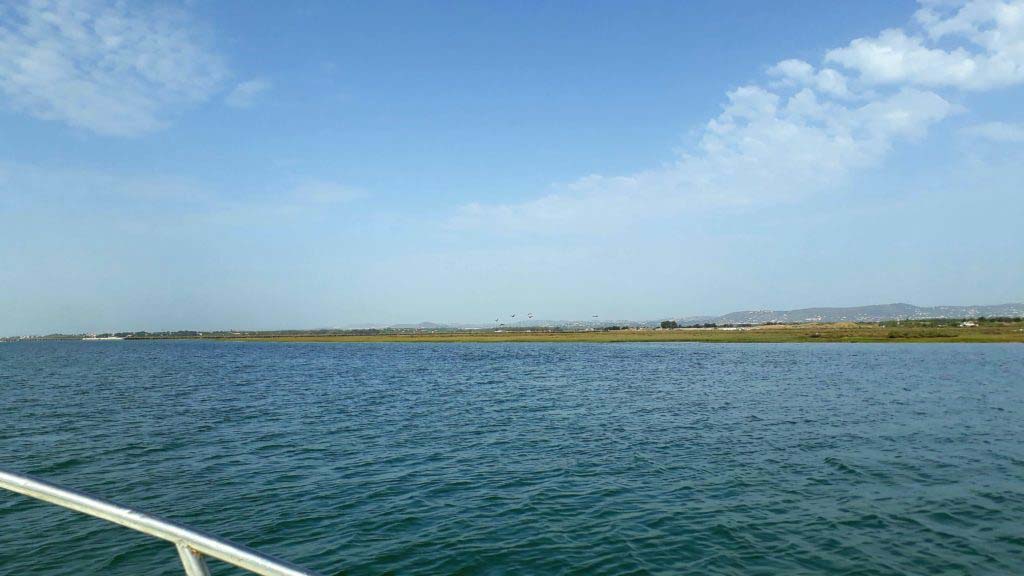 But of course, the 50,000-inhabitant city has much more to offer. In the old town Vila Adentro which is surrounded by a wall, the Igreja da Sé, the cathedral of Faro, and the former monastery Nossa Senhora da Assunção can be found. The "golden" Baroque Carmelite church Nossa Senhora do Carmo ranks to the sights as well, which, however, we did not find that convincing.
Let's start with our first restaurant recommendation: Outro Lado (number 1 on the Vegan Map). The purely vegan organic restaurant pays great attention to sustainability and therefore does not use plastic. The products of the integrated shop are also 90% from the Algarve. In addition to a changing lunch menu, there are various burgers to choose from, as well as desserts such as strawberry ice cream and mango cheesecake – all homemade! In addition, workshops and yoga are offered. The activists also run an animal sanctuary.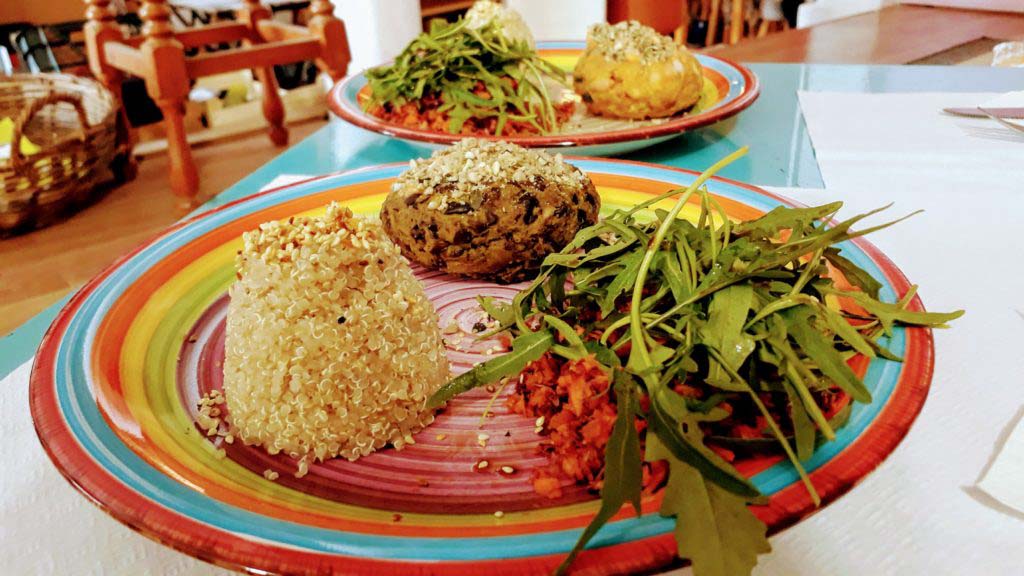 Just around the corner is Madalena (number 2 on the Vegan Map), a vegetarian café well-known for its smoothie bowls. These are all vegan and are garnished with nuts, fruits, raw cocoa nibs and homemade granola. Highly recommended!! There's also a hummus platter (with two different types of hummus and bread), avocado toast, freshly squeezed juices and tea. Sit inside or outside on the eponymous square Largo da Madalena.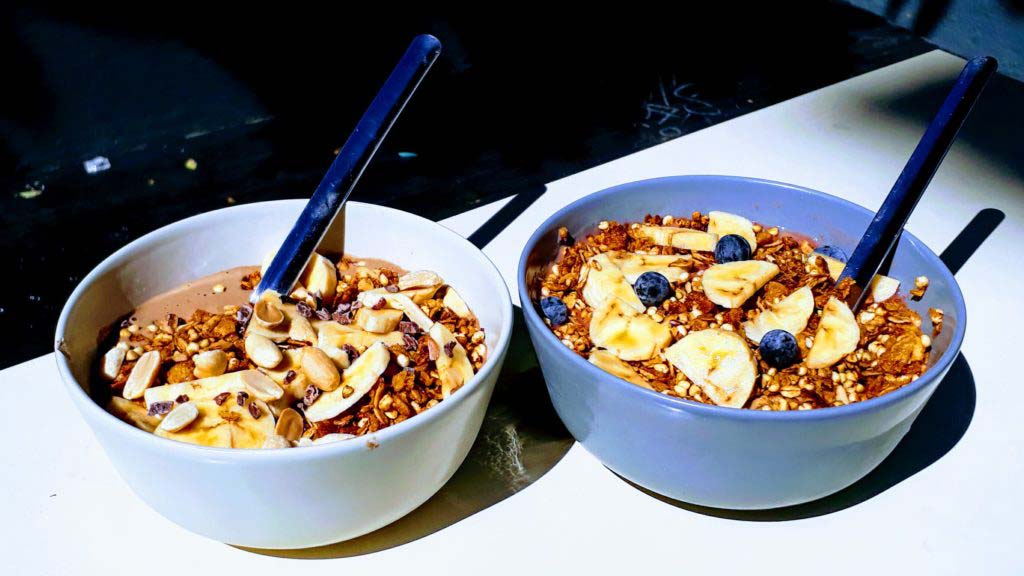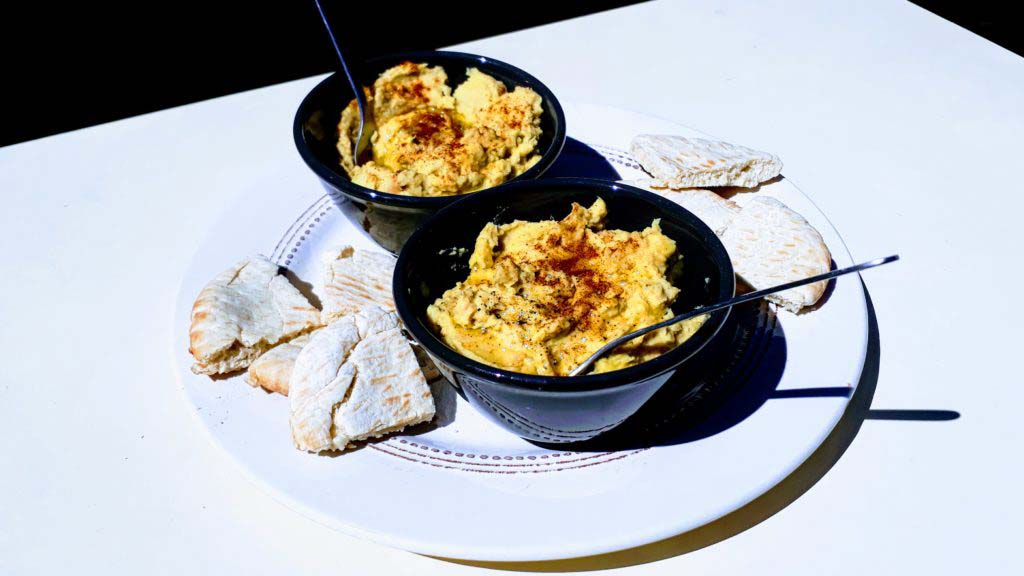 Also the completely vegan restaurant Mel & Limao (number 3 on the Vegan Map) is located in Faro. There are daily changing snacks, sandwiches, iced teas and daily specials. We ate a bagel with spread and salad, as well as penne with vegetables and seitan. For dessert we had a chocolate pudding and a cherry cake, both delicious! Overall, in the restaurant everything seems very familial.
Loulé
The town of Loulé is located about 16 kilometers northeast of Faro. Here you'll find Vegan Joe's (number 4 on the Vegan Map), another 100% vegan restaurant with a weekly changing menu. It consists of various international and typically Portuguese appetizers, tapas and main dishes, such as curry, risotto, quinoa burger, chili sin carne and Alho Francês à Brás (a vegan variant of Portuguese Bacalhau à Brás), as well as desserts like cheesecake, chocolate mousse, ice cream and a raw fruit crumble. In addition there you can get freshly squeezed juices and homemade lemonades. The portions are large, the staff very friendly and the value for money good.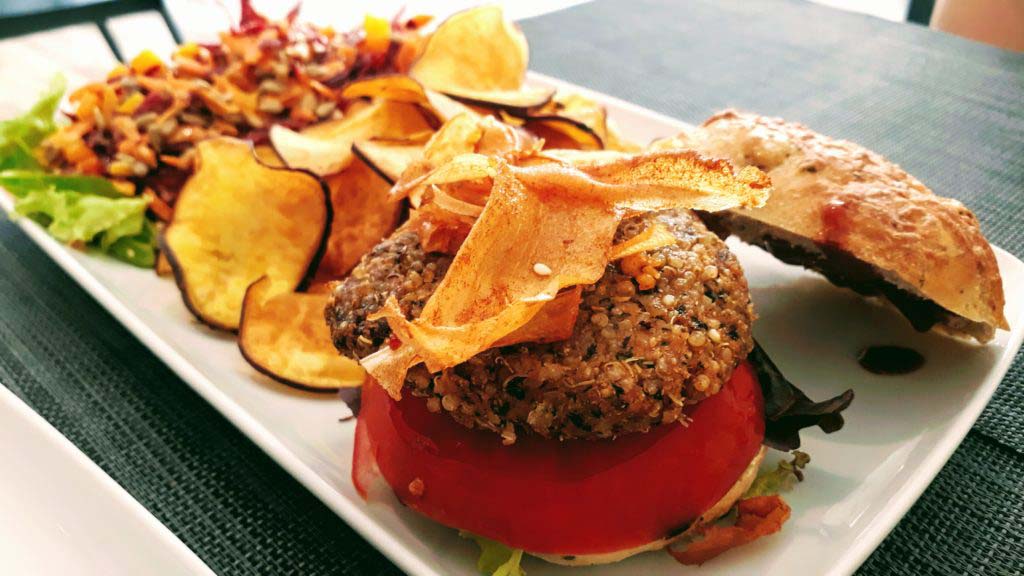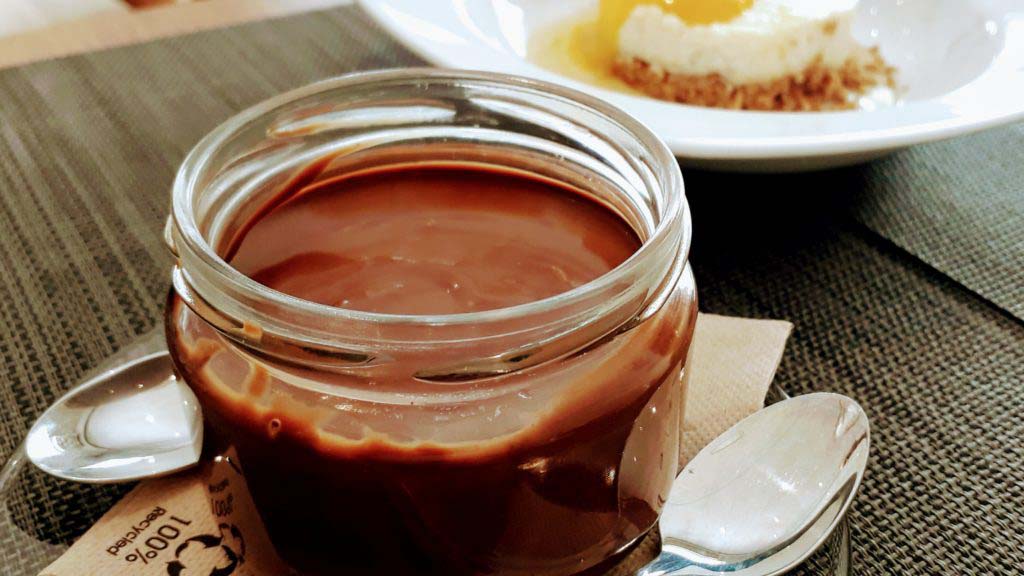 FUSETA
About halfway between Faro and the loved by tourists and yet typical Portuguese town of Tavira, is the village of Fuseta located. Also here we found something vegan, namely in the vegetarian restaurant Escandinávia – Green Spirit (number 5 on the Vegan Map). Unfortunately, the only vegan dishes are the Indian Dhal and two veggie burgers, but which are huge and delicious! In addition there's freshly squeezed juices and for dessert a homemade cream with biscuit base, also very delicious. You can sit indoors or outdoors.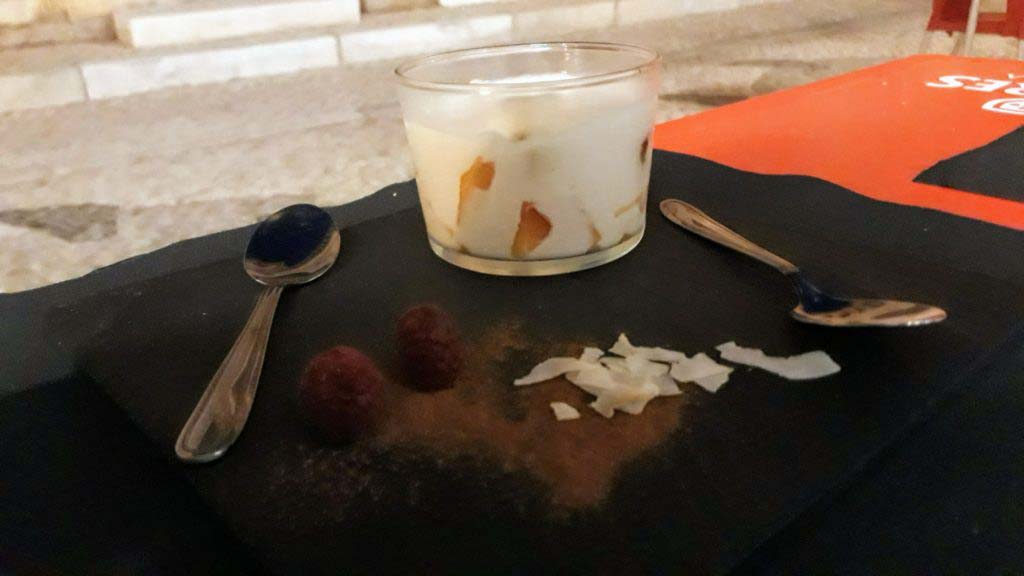 ALBUFEIRA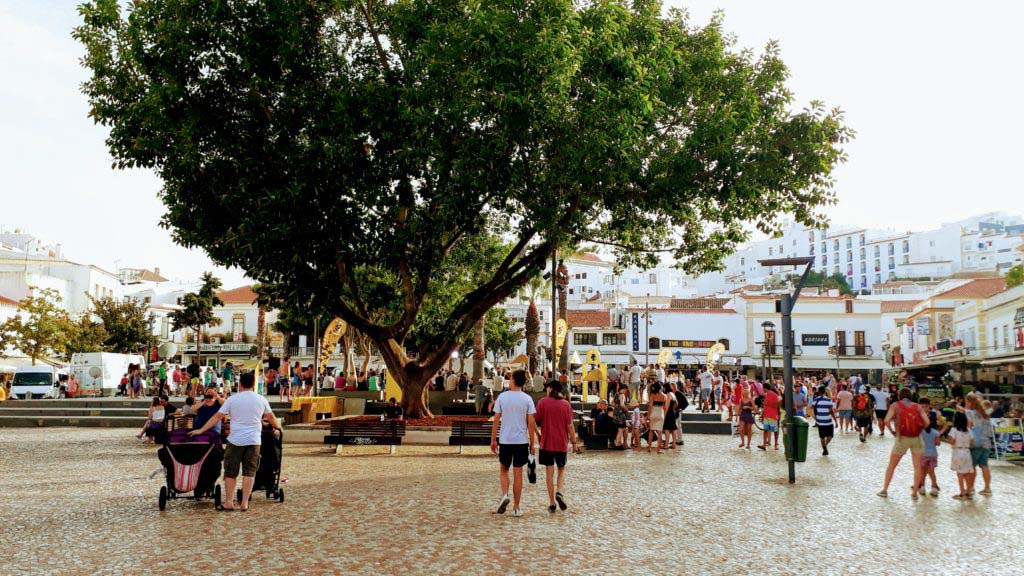 Albufeira – probably the most touristy place in the Algarve – is located in the middle at the Atlantic Ocean. From here it is about 70 kilometers (west) to the Cabo de São Vicente, the southwesternmost point of continental Europe, as well as about 70 kilometers (east) to the Spanish border. Albufeira can be summed up quickly: restaurants, hotels, bars, clubs and beaches, mostly visited by British tourists. If you are looking for party, this is the place for you. Despite all this, the snow-white old town of Albufeira has managed to at least partially maintain its charm.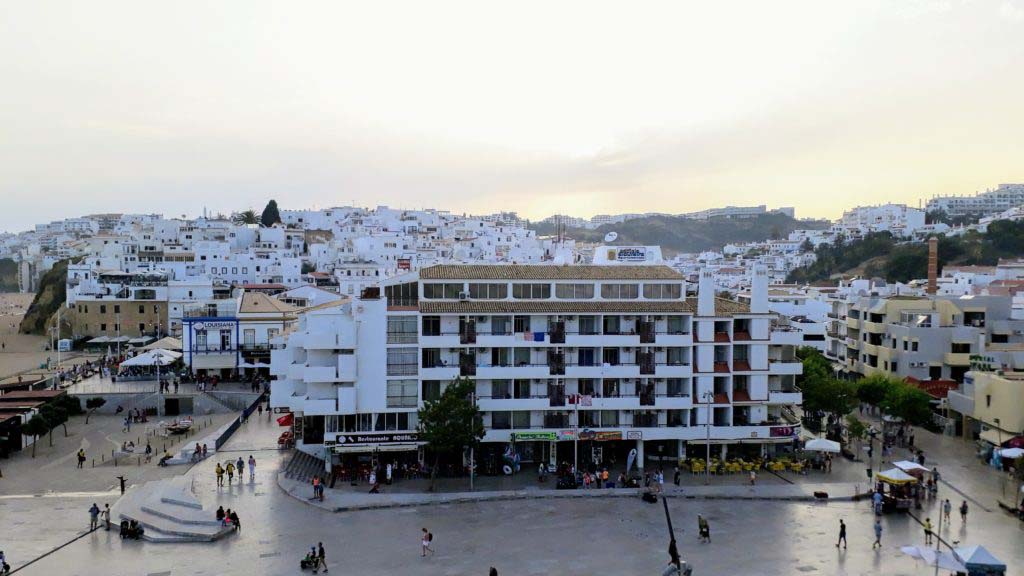 The Veggie Café Albufeira (number 6 on the Vegan Map) opened in July 2017 a bit outside of Albufeira and is therefore mostly frequented by locals. With over 60 seats indoors and outside, it is one of the largest restaurants we have visited on our European tour. Although it is completely vegetarian, about 80% of the customers are not vegetarians. Everything is vegan except for a few sandwiches and the hotdog. In addition, they have several varieties of plant milk such as soy, oat and rice. Overall, it is quite low-proced, so the daily menu ("Menu do Dia"), consisting of a soup, a tea and main course, is just 9 euros. Probably therefore, it is usually completely full at lunchtime, so you better come outside of the "rush hour". The restaurant is also expected to be open all year round. Everything we tried – including vegan milkshakes – was delicious!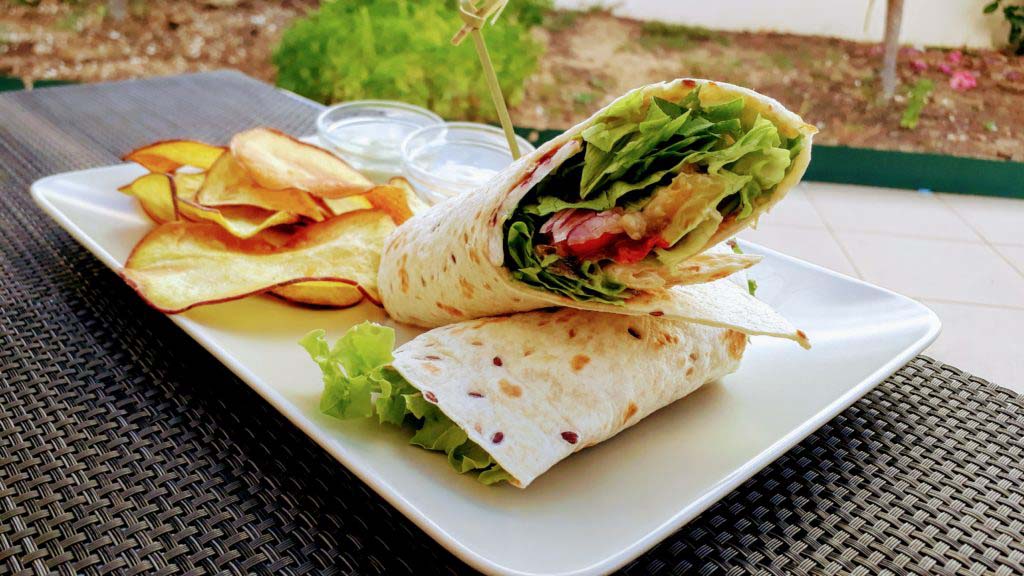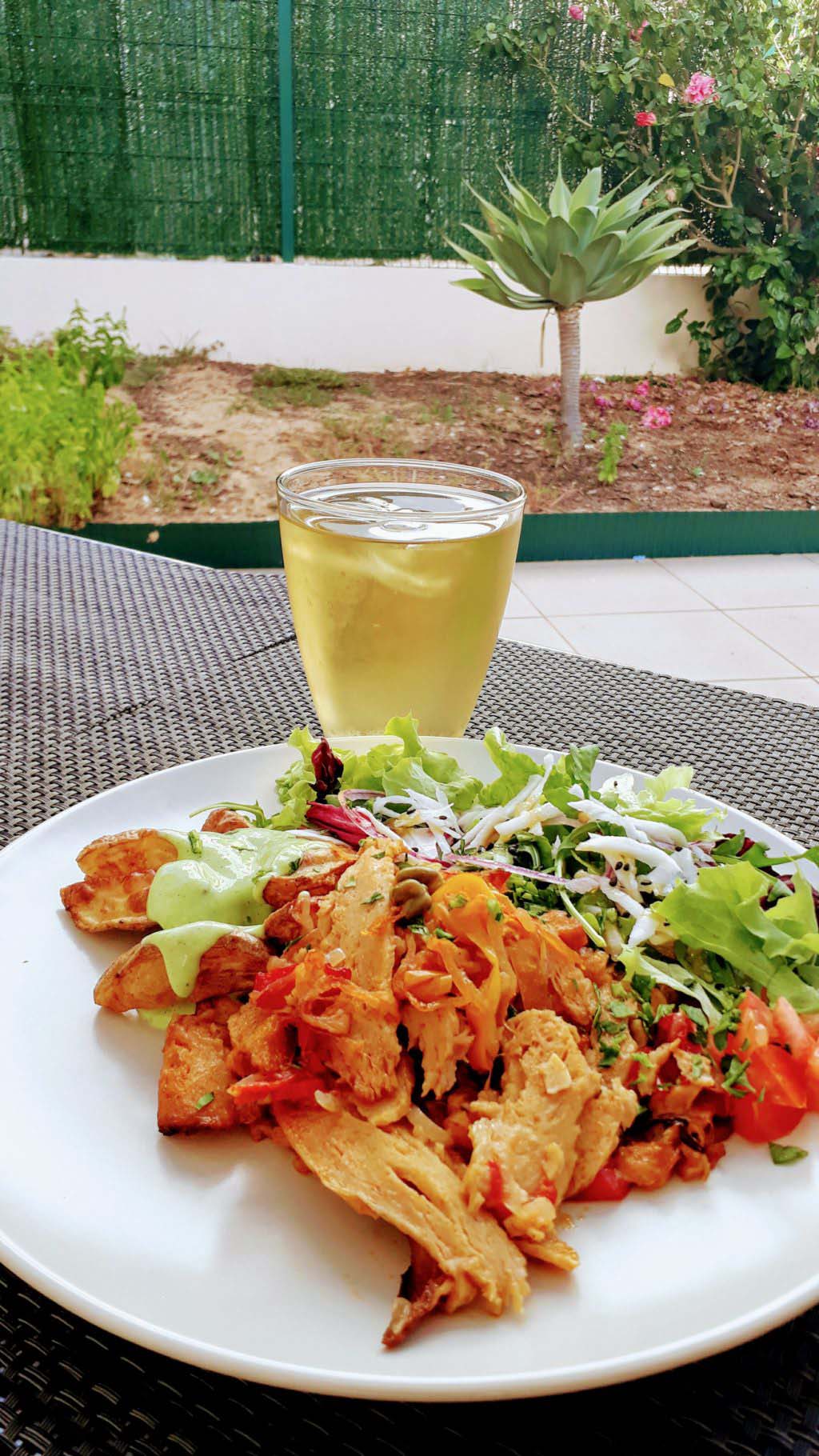 ARMAÇÃO DE PÊRA
Armação de Pêra is a small seaside town about 10 kilometers from Albufeira. Away from the "touristy restaurants street" is located with BOCA XICA (number 7 on the Vegan Map) a vegan-friendly restaurant in the former fishing village. The health food restaurant specializes in superfoods, so every meal and drink contains at least one of the high-quality and nutritious foods. So for example, water from the springs of the nearby mountain range Serra de Monchique is served, which,with a pH level of 9.5,is said to be the most basic (alkaline) and therefore healthiest water in Europe. With its nice decor and attentive service, the restaurant stands out additively from the rest of the town's restaurants.