Celeiro is a kind of organic market or Portuguese health food store, which is committed to selling healthy and natural products. That's why there are plenty of vegan (organic) products in the 43 stores spread all over Portugal. These include not only food but also cosmetics.
History
In the 1970s, Portugal was experiencing a moment of strong growth. Baixa de Lisboa was the largest commercial center in the country, where the first Portuguese supermarket was located. Here, there had been a warehouse selling loose grain. This served as inspiration for the choice of the name Celeiro, which means "barn" in English.
In 1974, it was decided to open a store in front of this supermarket, similar to the first Reform Haus that began to appear in Europe. And that's how the organic market chain Celeiro was born.
Vegan Products at Celeiro
Among the currently 1617 products on the website listed as 'vegan', there is everything from vegan cheese and cold cuts to hemp protein and barbecue sauce from jackfruit to egg substitute, organic dishwashing detergent and hair dye. Of course, superfoods and dietary supplements aren't missing either. No matter what you are looking for, here you will find it! And there is hardly a product that isn't of organic origin. All vegan products can be found here.
We also like that gluten-free products are marked with the hashtag #semgluten, soy-free products with the hashtag #semsoja and nut-free products with the hashtag #semfrutosdecascarija.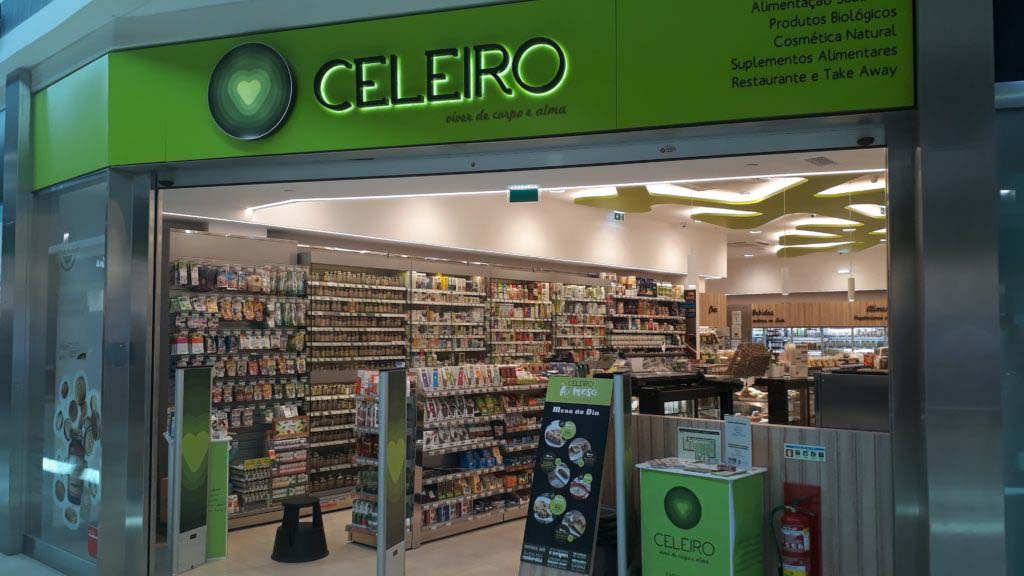 Here you will find an overview of all Portuguese supermarkets: