Whether by thumb, microbus, ferry, train, bike, bus, taxi, on foot, in a convoy, tuk-tuk, tram, metro, cruise ship, felucca or plane: You can travel and discover Egypt in many ways. Most are actually used by locals as well, only a few are made exclusively for tourists. Therefore, you can easily save a lot of money here – provided you don't get ripped off. How you can do that and why it is still worthwhile to try as many different means of transport as possible, you will learn here.
Public Transportation
As we have already told you in our article about the highlights in Egypt, Egypt is very cheap and easy to explore on your own. Therefore, you should not miss this opportunity to at least partially immerse yourself in the Egyptian life! Depending on where and how far you travel and what your demands are, different forms of transport are required. Here are the most important (including insider tips):
Within Cities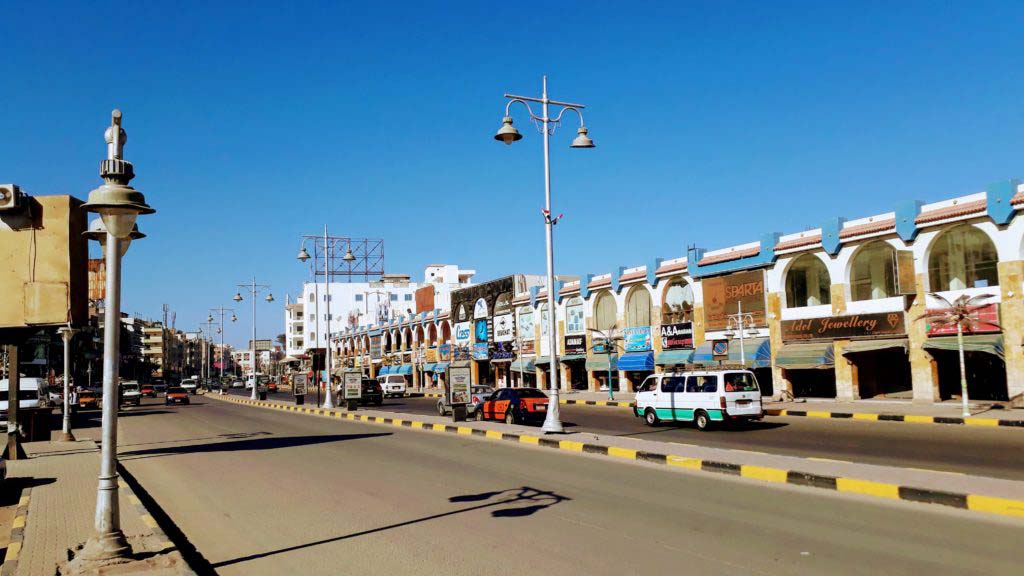 On Foot
Most routes are actually walkable. However, this can be quite exhausting depending on the location. For example, in Luxor, street sellers, coachmen, taxi drivers, and felucca owners are not only constantly approaching, but downright harassing more or less aggressively. Unfortunately, as one – or multiple – "no, thank you" aren't accepted, ignoring is the only solution.
On the contrary, if you stop everytime someone wants to offer or tell you something or "just ask a question", you will hardly ever make any headway even in several hours. Basically, the more touristy the area, the worse it gets with the chatterers and the thicker skin one should have.
TAXI
The most common mean of transport among tourists is probably the taxi. It is also frequently used by the locals – and these get regularly jacked just like the tourists. Taxi drivers are probably not beloved in any country. But we had never experienced the situation being as bad as in Egypt.
Cheating and lying like crazy is common practice here. Since all the used tricks would go beyond the scope of this post, there will be a separate article about them. Nevertheless, let me say already: Negotiation is the name of the game! Ideally, you insist on the use of the taximeter. You will find the official fares later in this article.
MICROBUS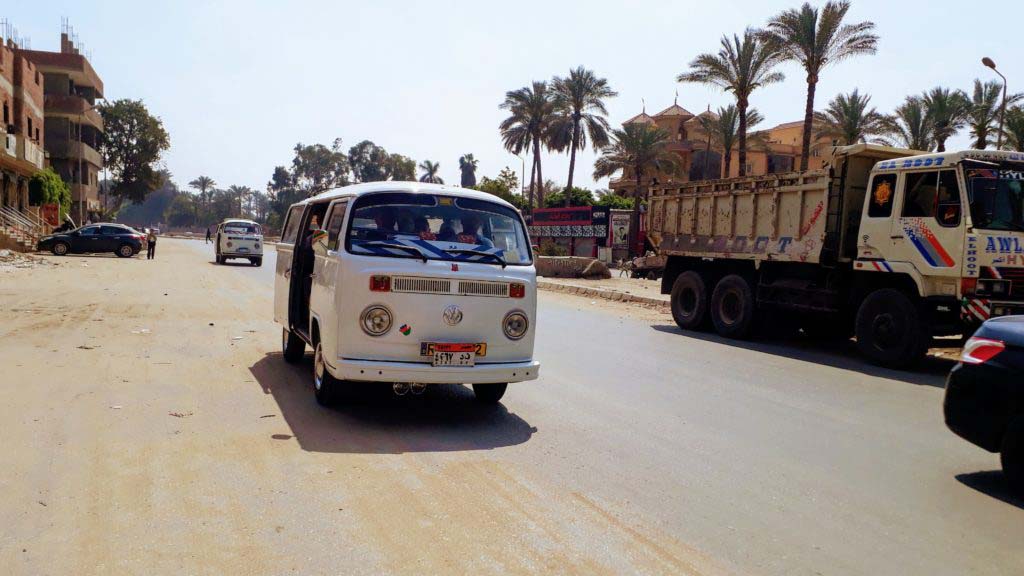 The mean of transport popular among locals can also be used by tourists. The microbuses (pronounced meekrobas), often called micro or minibus, after all, they are almost everywhere. These are vans with room for up to 14 passengers, although it should be noted that in Egypt the concept of personal ppace doesn't exist. So it can get cramped. If you want to a little more space, you can simply buy an additional seat.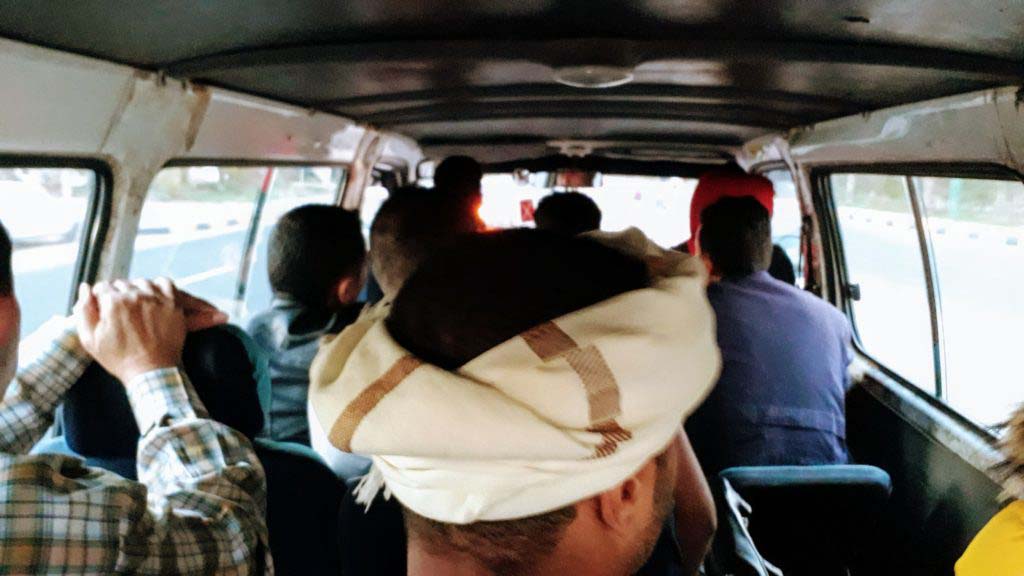 What makes the whole thing a bit difficult is the fact that the minibuses are mostly privately owned and usually not marked. Therefore, there are dozens of different hand signals that are used to indicate the desired destination when stopping a van. As a foreigner, you can only either ask each time, whether the bus goes in the desired direction or let a local show you the corresponding hand signal. Even if you feel stupid: It actually works!
On the set route, it is always possible to get in and out. In addition, microbusses run on no set schedule – they just wait until they're full, then take off. Normally this shouldn't take too long, as there is usually a lot going on at the start and end points. These microbus stations are usually located outside bus and train stations or at major highway intersections near the cities. To get there, ask for  maw'if meekrobas. There you will find a mob of drivers all shouting their destinations and trying to lure you into their vehicle. Just shout your destination back and you will get to a suitable microbus.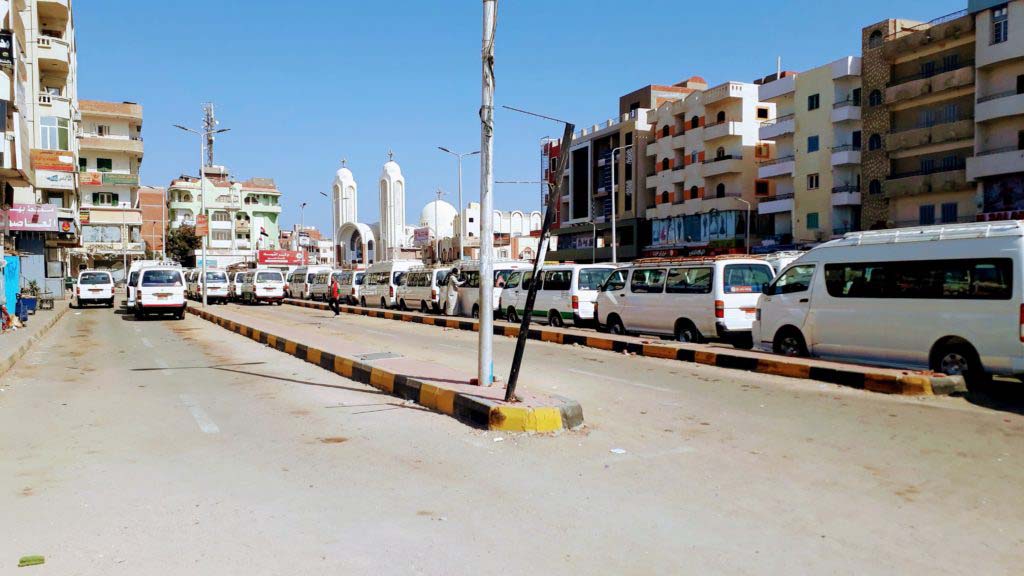 Urban Bus
In larger cities such as Cairo or Alexandria, besides microbuses, there are regular buses as well. These sometimes go for more than 30 kilometers (18 miles) from their start to the end stop. Since the buses are only marked in Arabic numbers (more on that below) and the timetables are nowhere accessible, it's not always that easy to find out where a bus is exactly going.
Thus, there are two possibilities: Just get on a bus that goes in the right direction, and follow your own route via Google Maps and get off as soon as the bus goes in a direction other than your desired direction; or you ask the bus driver if he is going in the same direction as you. However, it can take quite a long time to catch the right bus.
In general, you board in the back of the bus, where you also get your ticket, and get off in the front. It is often possible to stop the bus between the actual stops. Although stopping might be promised too much, an Egyptian bus rarely comes to a standstill. Hence, be prepared to jump in and out of a bus at walking pace. And oh yes, it can get very crowded!
SHUTTLE BUS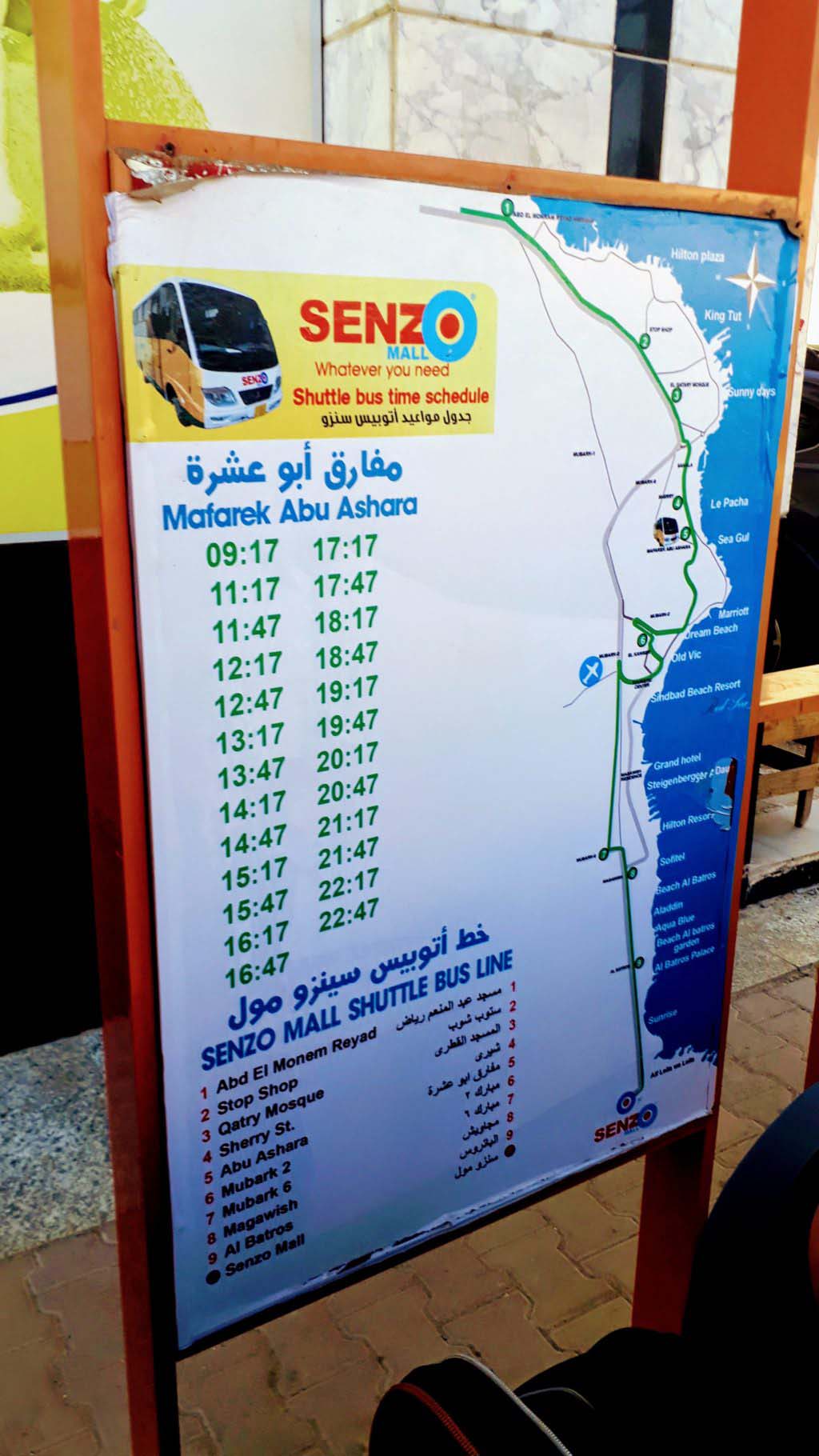 In Hurghada there is a shuttle bus between the city center (both the old and the new one) and the Senzo Mall, which on the way also stops at several hotel resorts in the south. It runs every 30 minutes between 9 am and midnight every day. One stop is located just a few steps from Zak Apartments at Sheraton Road.
METRO
In Cairo there is also a metro. Besides the Algiers Metro, it is the only fully developed subway system in Africa. Currently there are three lines in operation, altough the third metro line is only opened on a small section. Already the plan adopted in 1973 by the Egyptian government called for a system of three lines.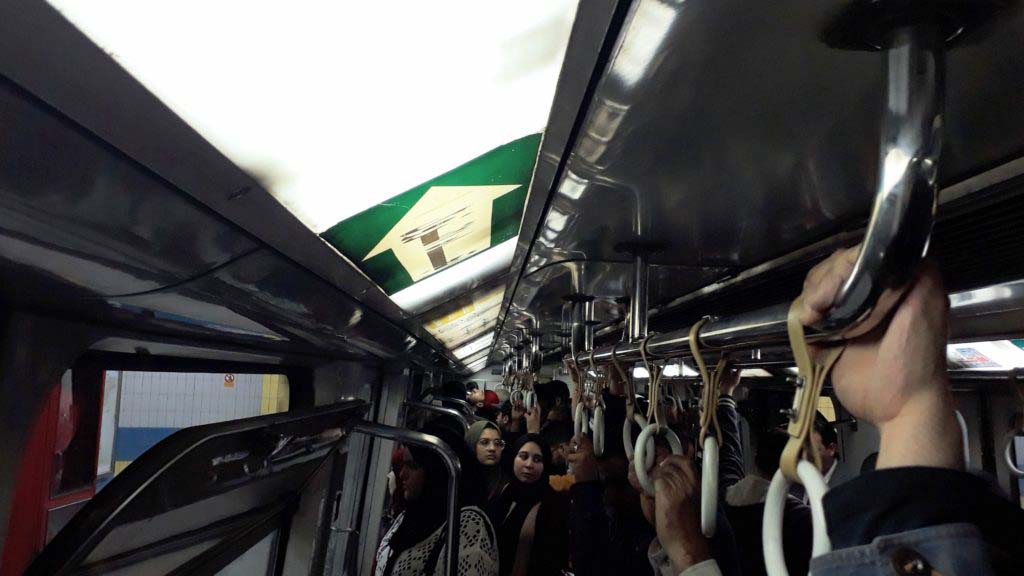 Opened in 1987, the first line today has a length of about 27 miles or 35 stations and connects the northern suburbs with the center and the southern suburbs of Cairo. It is the most used line: Currently, the line 1 transports about 1.4 million passengers per day, at peak times it runs in a 210-second interval. The first metro leaves at 5:15 am, the last one at 0:30 am. Three more subway lines are planned.
TRAM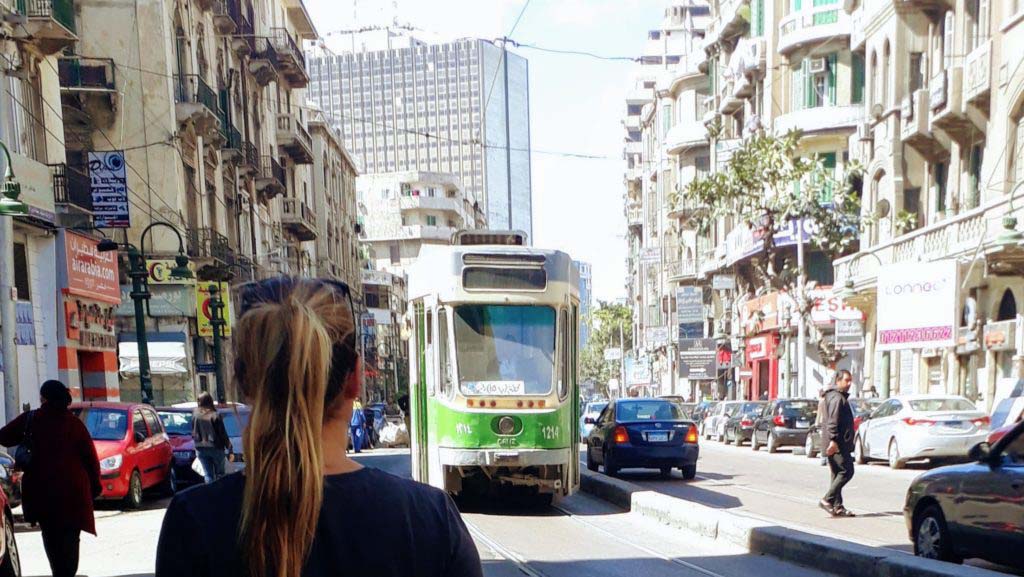 The two largest cities in Egypt, Cairo and Alexandria, also have a tram. While the capital operates only nine lines, the oldest tramway in Africa, which has been in operation since 1863, still has a fairly extensive network in Alexandria. Just like in only two other cities worldwide, there are even double-decker trams in the Mediterranean port city.
The tram network with a total length of 20 miles consists of two sub-networks, which overlap at the station Ramleh (محطة الرمل). In English, they are often referred to as "Ramleh line" and "City line", although they each consist of several lines on a scheduled basis. Within the city, however, we made the experience that you can walk faster, as the tram gets stuck in the traffic jam along with the cars.
TUK-TUK
The small, three-wheeled vehicles are particularly common in Southeast Asian countries like Thailand, but they also exist in Egypt. As a motorized version of the rickshaw they are also called auto rickshaws, motor rickshaw or trishaw. Especially in smaller towns like El Gouna or even in Western Thebes they are popular as a cheaper and more agile alternative to taxis. Be sure to negotiate the price before you get in!
Hitchhiking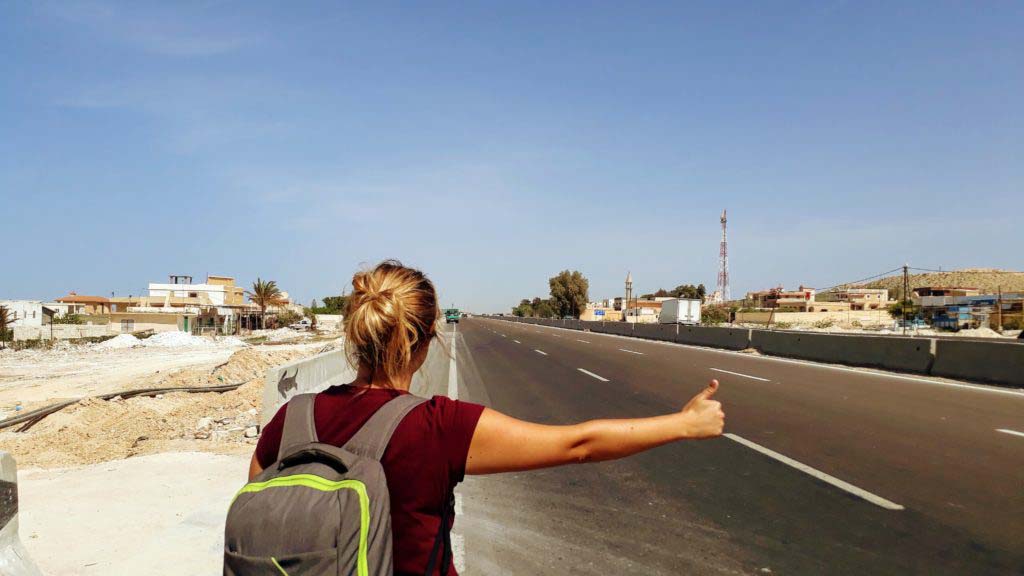 Yes, you read that right: in a country where kidnappings and terrorist attacks happen again and again, in fact, we also hitchhiked. Getting at it out of necessity, we quickly realized that this is by far the easiest and most relaxed way to get from A to B in Egypt, without any lengthy bargaining and discussion. Especially in areas where there is little public transport, such as in Marsa Alam or Abu Mena, hitchhiking is the only alternative to taxis (if you can find any there at all).
Previously, we were often annoyed by the aggressive, pushy and dishonest nature of the Egyptians, but since then we finally began to meet some likeable people. We never felt uncomfortable, let alone threatened. Although it was often rejected initially, we always gave a small bill when getting out, which meant only a few cents for us, but a great help for the locals.
As everywhere, keep in mind the usual precautions when hitchhiking in Egypt: If possible, do not travel alone and only by daylight; only get in if you feel really comfortable with it and get out as soon as you stop doing it; take a switched on mobile with you and find out about the local emergency numbers (for Egypt it is the 112 for police, 180 for fire, 123 for accident rescue, 2791 6000 for the British Embassy and 2797 3300 for the US Embassy); track your route via GPS on Google Maps; have enough cash with you, so that you would get somewhere in the case of need; inform a trusted person about your plan, ideally also about license plate and destination; and above all: Listen to your gut feeling! 🙂
Between Cities
BUS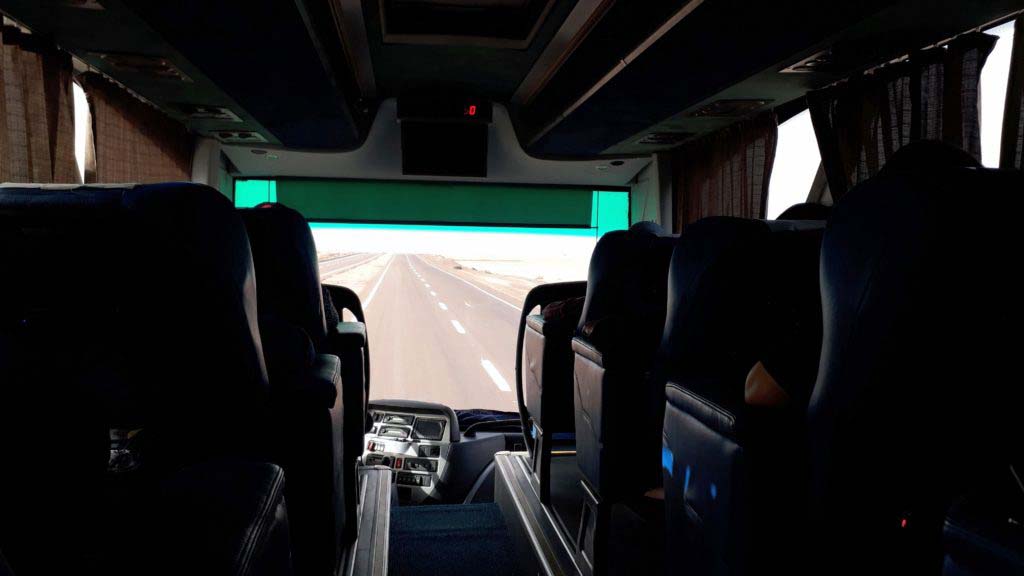 Almost all cities are connected by the bus company Go Bus. For many long-distance routes beyond the Nile, this is the best and sometimes only option. However, the buses are not necessarily fast, delays are the norm. In and around Cairo, buses need at least an hour for city traffic alone.
It is advisable to book bus tickets in advance, especially for Cairo-Sinai routes and trips to the western desert, where buses travel less frequently. Keep your ticket until you get off as inspectors almost always board to check fares. Because of the frequent military checkpoints and random identity checks, you should also always carry your passport with you.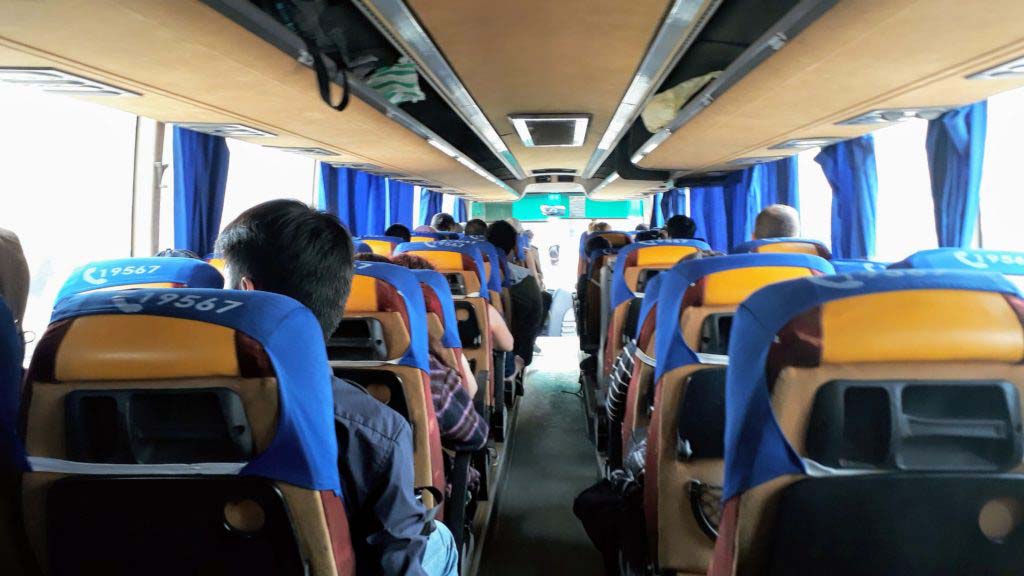 "Deluxe" buses with air conditioning connect the main destinations throughout the country. Some long-distance buses have toilets, although they are rarely clean. On longer trips, a stop for 15 to 20 minutes every three hours is the rule. Movies are usually shown, often at top volume – earplugs are therefore a good idea. Also, a blanket or warm clothes are recommended, as overnight buses can often be very cold from the air-con.
On long journeys the cheaper buses, as well as most buses on shorter routes, can be much more uncomfortable, overcrowded and noisy than the luxurious long-distance buses, and stop frequently. Microbuses, buses or taxis are usually preferable for trips under two hours.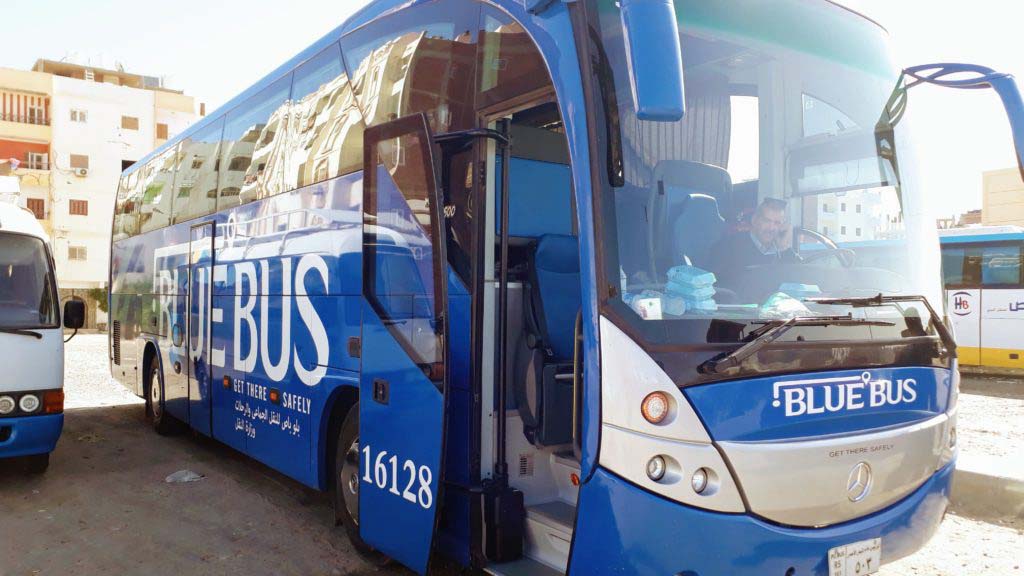 While Go Bus operates a growing route network in northern Egypt, along the Red Sea coast, to Sharm El Sheikh and Dahab and between Luxor and Hurghada, Blue Bus serves only routes from Cairo to Hurghada, Alexandria, Sharm El Sheikh, Dahab and Luxor. A special feature here are the first-class seats, which have a lot of legroom, an entertainment system as well as USB ports.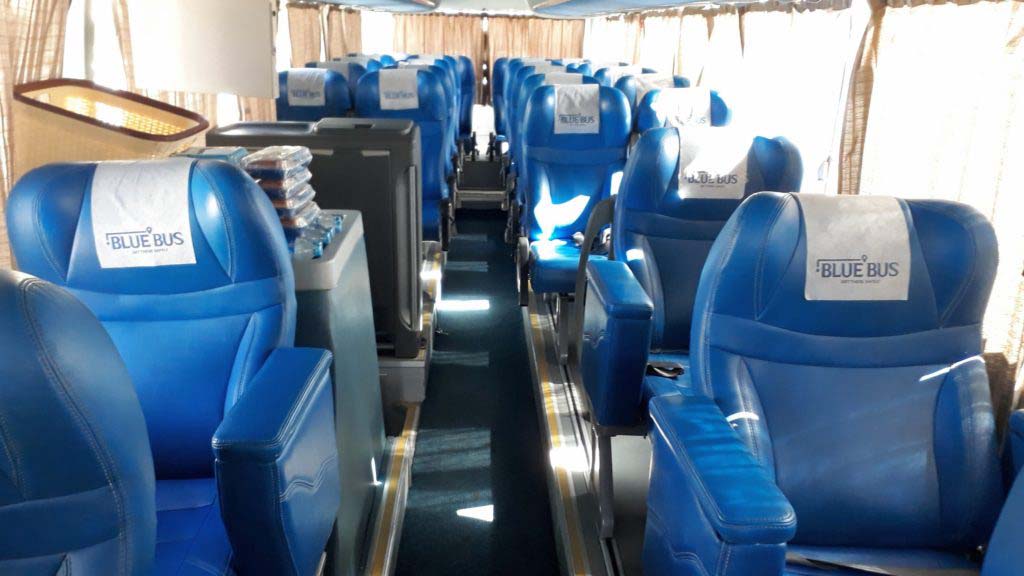 The ticket price, which is cheap by European or American standards, also includes snacks and drinks. In addition, there is free Wi-Fi in all Blue Bus buses. So, if you want to travel relatively comfortably from Hurghada to Cairo, it's worth the extra charge over cheaper buses!
Train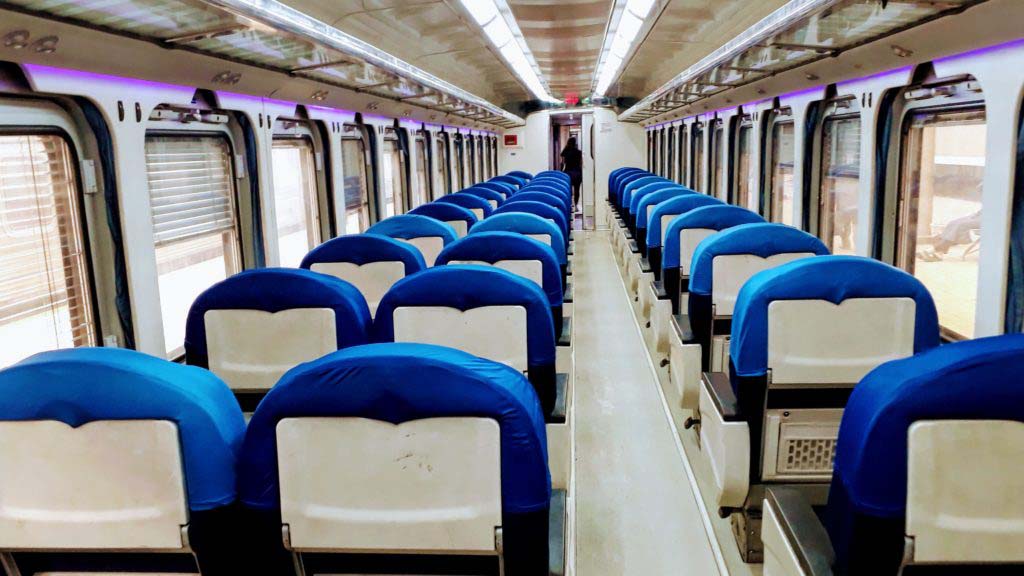 Egypt's British-built rail system spans more than 5,000 kilometers (or 3,000 miles) connecting almost all the major cities in the Nile Valley. The train tickets are very cheap, the price-performance ratio is good for all classes. However, the trains often have delays of several hours and since they don't travel very often, you never know when exactly you'll actually arrive. In exchange, they are faster than buses, especially in Greater Cairo, because they don't get stuck in traffic.
We tried out all three classes at least once and, considering the price, found them perfectly fine. Of course, the first class is more comfortable and cooler (air conditioning) than the second and third, but often you pay twice as much for the same journey.
In the third class, however, it's almost the same as in the streets: It gets crowded, hot, cramped, and you get every possible junk thrown in your lap by vendors hoping that you'll buy and keep it. In addition, tourists are a rarity in this class, potentially making you a major attraction on the train.
In some railway stations, we were accompanied to the ticket counter by the police and a first-class ticket was "ordered" for us patronizingly, because allegedly only the first class is guarded.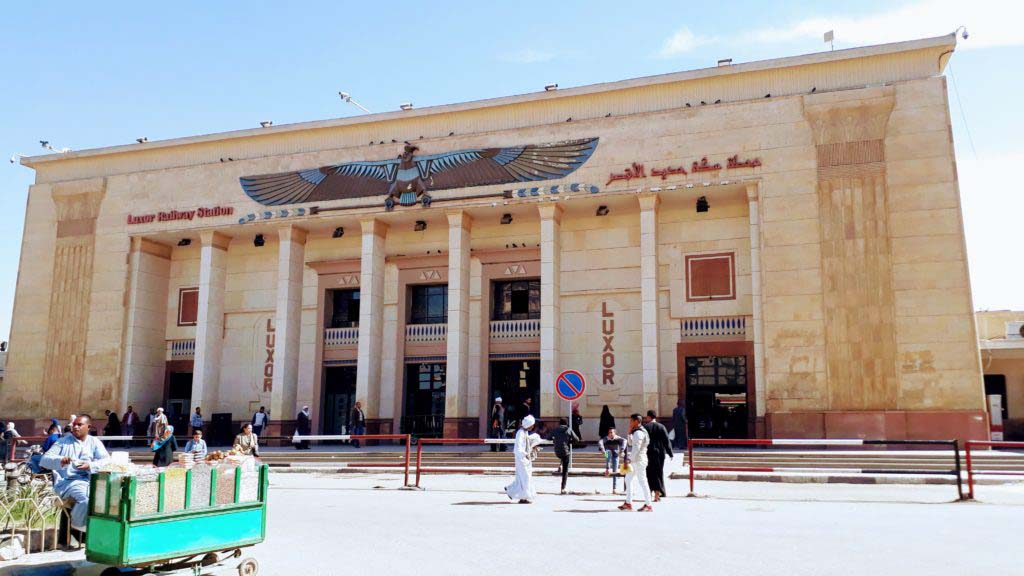 The normal sleepers are unfortunately not bookable for non-locals. Instead there is an extra provider charging a multiple for it (80 USD, if we remember correctly). Therefore, it often pays off to spread the planned route over several days and go during the day.
Hitchhiking
As already mentioned, getting a lift in Egypt is pretty easy. For best performance, go where's only one main road and thus the direction is already obvious. Especially for longer distances, it is even more important to consider the precautions listed above.
Cruise Ships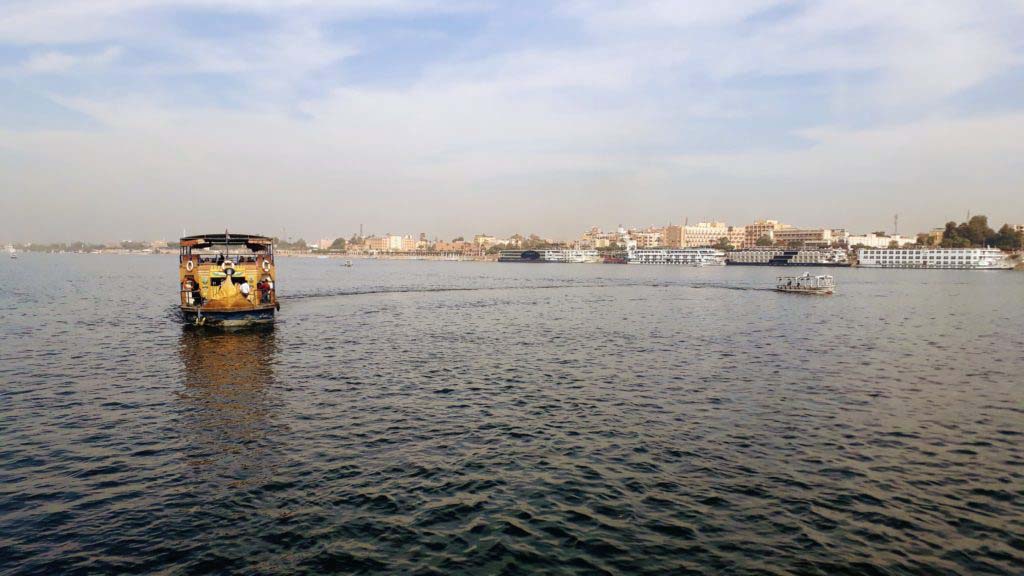 Between Luxor and Aswan it is also possible to travel by cruise liner on the Nile. But as we are not really fans of purely tourist affairs in general and cruise ships in particular, we didn't try this mode of transport ourselves.
Special Situations
CONVOY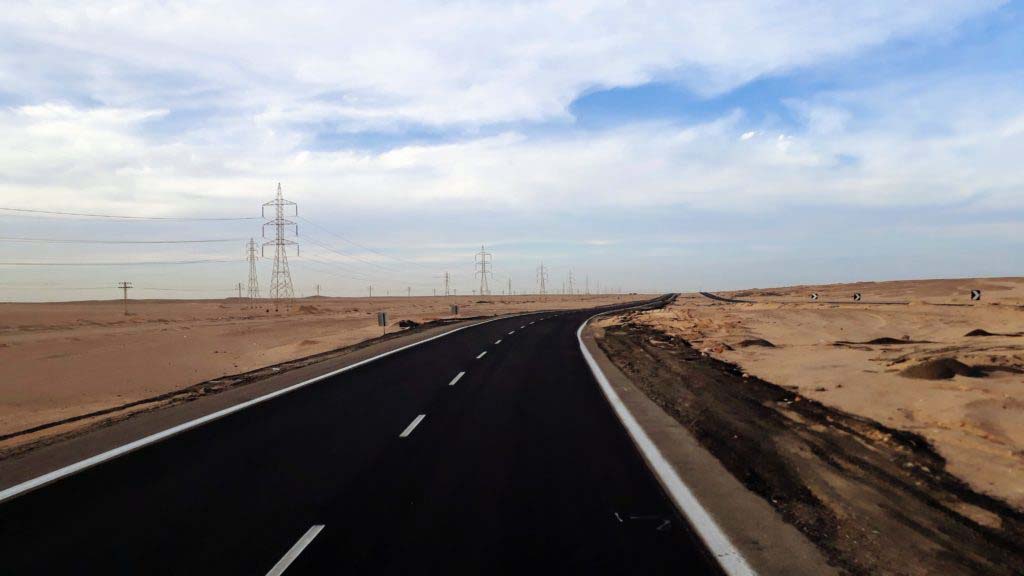 In order to get to the impressive rock temples of Abu Simbel, there is no legal alternative to the convoy – apart from the plane. The convoy leaves every day between three and four o'clock in the morning from Aswan. By the time all vehicles are lined up and it can finally set off, a few hours pass in addition to the four-hour drive through the desert (one way). So take enough water and food with you.
Because of the often very strong air conditioning, warm clothing, a blanket and a pillow are recommended despite the possibly high outside temperatures. That way you can catch up a little sleep on the bus. Tickets are available from various vendors in Aswan. As always in Egypt: Don't forget to haggle!
(NATIONAL) Ferry
To get to the other bank of the Nile in Luxor or Thebes-West, you should use the National Ferry, which is only 1 Egyptian pound (about 5 cents) per person and way. There is no set timetable: ferries depart when they are full or a reasonable amount of time has passed.
Also in Aswan you need a boat to reach the Elephantine Island in the Nile. A "ferry" (boat with space for about 20 people) will take you for 1 pound per way.
Felucca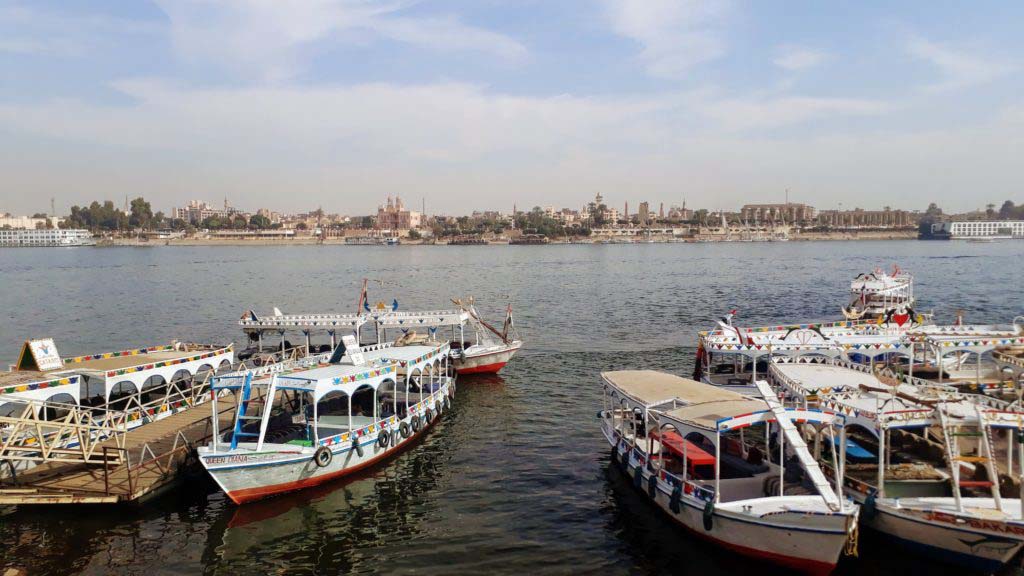 The much more expensive alternative to get to Elephantine Island is by felucca. This is a small sailing boat with two masts and a triangular sail. Especially in Aswan and Luxor along the Nile, feluke owners try to sell tours very vehemently.
For many of them, a white lie isn't a big deal. For example, that the national ferry isn't running today, it's too slow, it just left or is just as expensive, etc. Most can only be shaken off after several meters of moving on and almost aggressive rejection. For these reasons alone, we would never reward this behavior with success.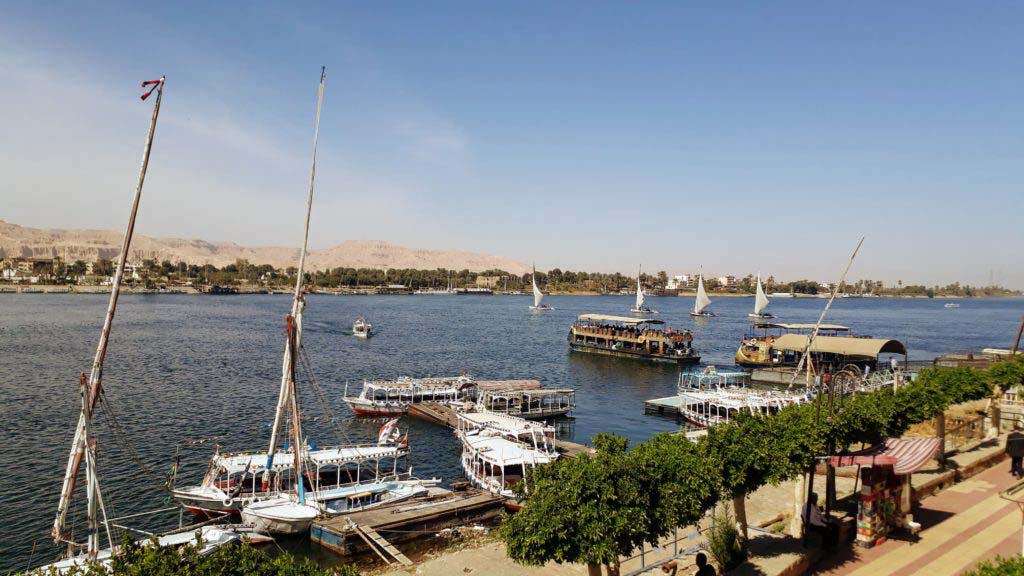 But if you still want to go by felucca, be aware that there is currently more supply than demand. This means that you are in a very good bargaining position. So if you go on to the next provider, the offered price will fall rapidly. The cheapest offer that we got without asking was 5 pounds, equating 25 cents. Before you get on the boat, reconfirm the duration and approximate route of the trip.
Plane
In Hurghada, there are a number of tour operators who offer a day trip to Cairo by plane. We advise against this and domestic flights in general. On the one hand, of course, for the sake of the environment, but also for you! If you have enough time, it is certainly a lot more relaxing to travel by bus or train. If you include the arrival to and departure from the airport, as well as the waiting time, you won't be saving much time, and for the money you can easily afford a first-class ticket on the train or a deluxe bus. That way, you can flexibly stay as long as you want and explore the capital on your own.
It's a bit different with Abu Simbel. That's where you don't get that easily, only in a convoy or by plane. If you want to spend more than just a few hours there and stay overnight in one of the few hotels, you'd need to get two one-way tickets on different days for the convoy. Unfortunately, we don't know if that's even possible. We strongly advise against the illegal private taxi rides, as it may be that you can't get past the checkpoints.
Bike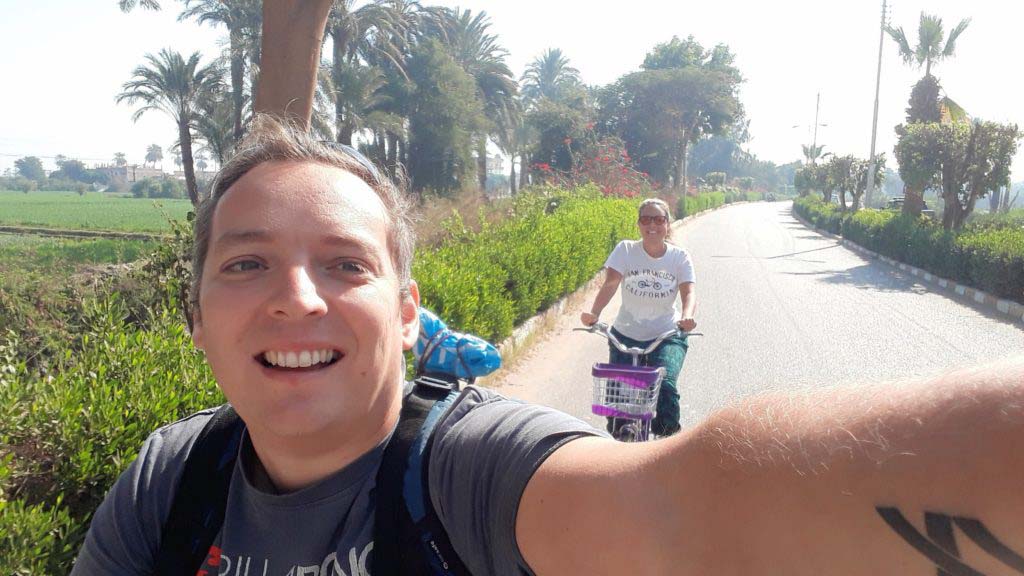 In Thebes-West, the western bank of the Nile opposite Luxor, you can rent bicycles in many places. The quiet, village character on this side of the Nile (so the exact opposite of Luxor) makes cycling here not only possible, but also very relaxed and idyllic. Thus, top sights such as the memnon colossi, the mortuary temple of Hatshepsut, the Valley of the Kings and the ancient Egyptian temple ruins can be reached like this. Remember taking enough water, provisions and sunscreen, avoid the midday sun!
You might also be interested in: