Our Route
As you probably already noticed, it depends strongly on the respective route and area, which mode of transport is to be chosen. For a better overview, we created a map with our route. It is divided into three stages, which you can show and hide as you like. Below, we give you an summary of the means of transport we have used and where.
Hurghada: taxi, microbus, shuttle, on foot
El Gouna: day trip by bus from Hurghada, on-site: on foot
Hurghada – Luxor: Go Bus
Qena: day trip from Luxor by train & taxi
Luxor: on foot, taxi
Luxor – Thebes West: National Ferry
Thebes West: microbus, bike, tuk-tuk, on foot
Thebes West – Luxor: National Ferry
Luxor – Aswan: train
Aswan: on foot, ferry to/from Elephantine Island, microbus, tuk-tuk, taxi
Abu Simbel: day trip from Aswan by convoy, on site: on foot
Aswan – Luxor: train
Luxor – Hurghada: Go Bus
Hurghada – Cairo: Blue Bus
Cairo: microbus, bus, taxi, metro, on foot
Cairo – Giza: taxi
Giza: microbus, bus, on foot
Giza – Alexandria: microbus, train
Alexandria: tram, bus, microbus
Alexandria – Borg el Arab: microbus
Borg el Arab – Abu Mena: hitchhiking, on foot
Borg el Arab – New Cairo City: hitchhiking, microbus, taxi
New Cairo City: hitchhiking, on foot
New Cairo City – Marsa Alam: Go Bus
Marsa Alam: hitchhiking, on foot
Marsa Alam – Hurghada: bus
Fares & Prices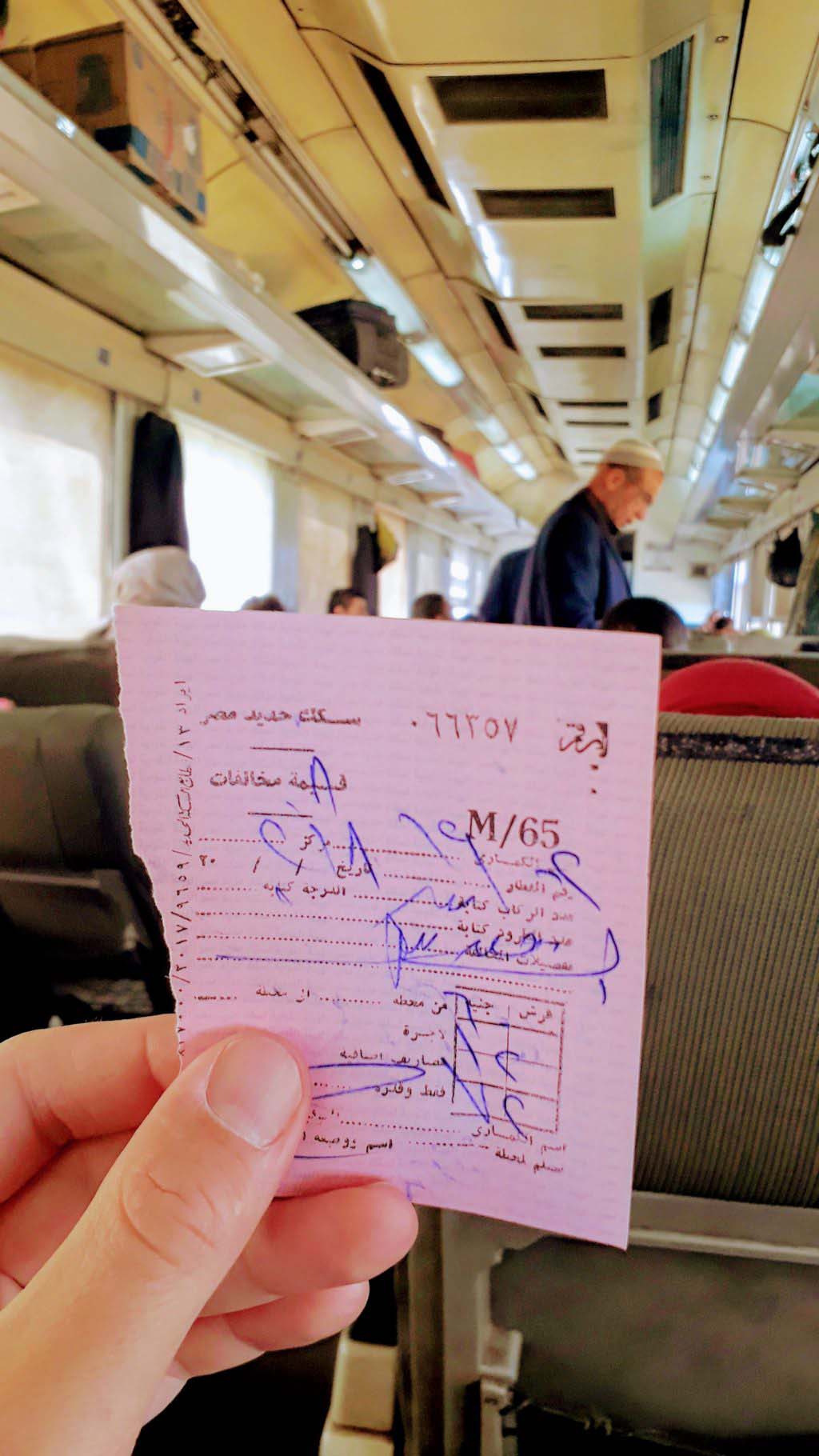 Here are a few examples of what we paid so that you can assess how much the different modes of transport are. That depends not only on the means of transport and the route, but also on the location. Unless specified otherwise, prices are for two persons and are in Egyptian Pounds (EGP). At the time of writing, 1 pound equals 4.8 eurocents or 5.6 US-dollar cents.
TAXI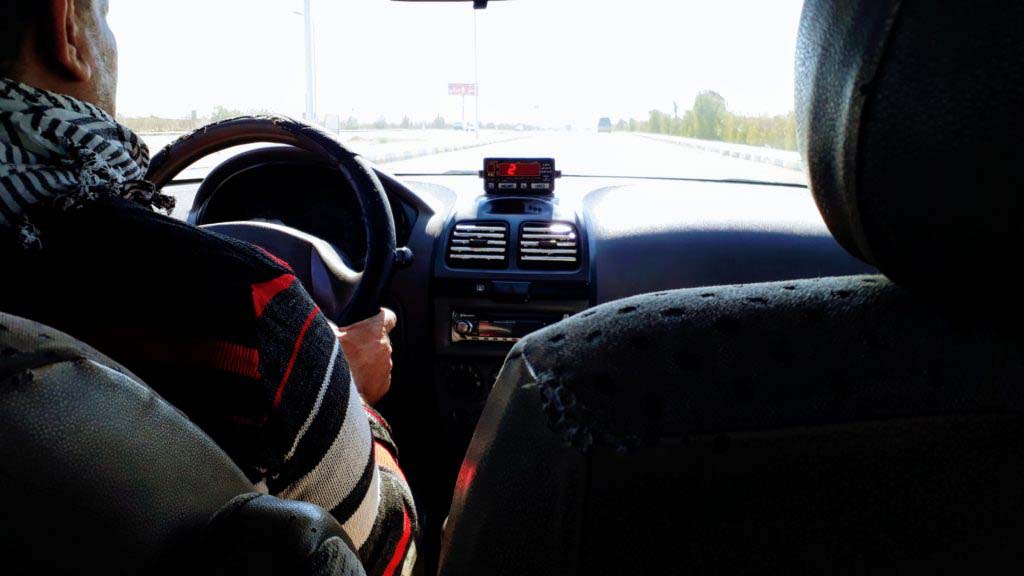 For a 14 kilometers (8.7 miles) drive in Hurghada we paid 20 EGP. We had negotiated the price beforehand and it was actually even lower than it would have been by taximeter (about 25 EGP). From the train station in Qena to the temple of Dendera and back (together about 20 kilometers or 12.5 miles) we paid 40 EGP. A taxi to the National Ferry in Luxor cost us 10 EGP for 1.5 kilometers (1 mile), in Aswan we paid 20 EGP for 7 kilometers (~4 miles).
If you go by taximeter, the initial price is 5 EGP including the first kilometer, after which you should only have to pay about 1.5 EGP per kilometer (or 2.4 EGP per mile) – unless the taximeter has been manipulated. Waiting an hour costs about 20 EGP. Be sure to pay only at the destination and the exact amount! If you don't have the exact amount and the taxi driver tells you he has no change, do not engage in a higher price, but round down to the next lower amount that you can pay – only that way the taxi drivers will eventually learn to carry change or not to lie.
MICROBUS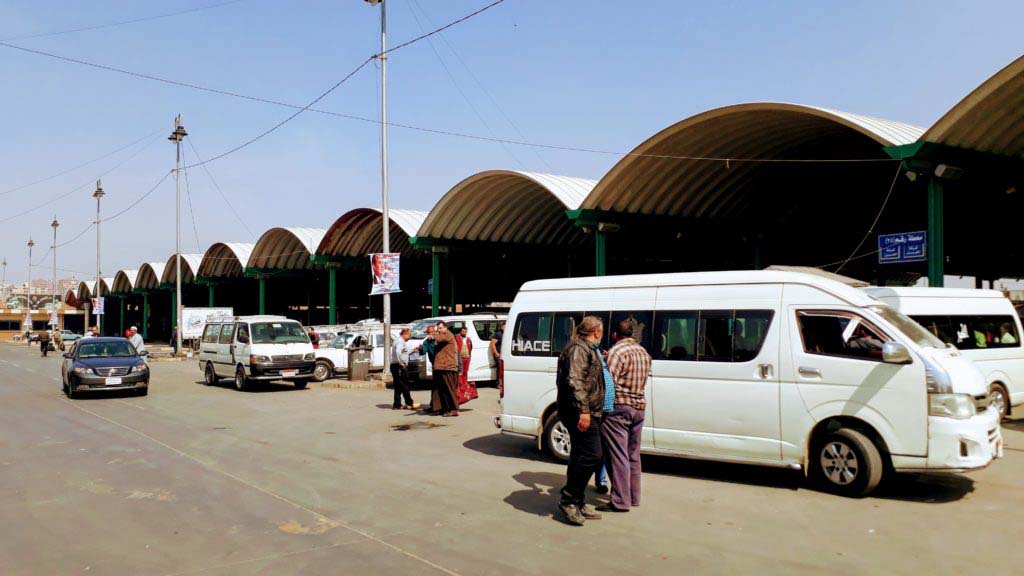 Up to 6 kilometers (3.7 miles) in Hurghada cost us between 3 and 5 EGP, depending on whether we got change back or not. 14 kilometers (8.7 miles) were 10 EGP. In Alexandria, we usually paid only 1 EGP per person. In general, large baggage is payable as one more person. As soon as you have boarded, you can pass the fare by the other passengers forward to the driver at any time during the ride – be prepared to get change only sometimes.
Urban Bus
In Alexandria, the buses cost just like the microbuses, 1 EGP per person. In Cairo, we paid 2.5 to 3 EGP per person, but also rode up to 20 kilometers (14 miles). You board in the back, pay and get a ticket – usually you won't get screwed over.
SHUTTLE BUS
The Senzo Mall shuttle bus costs 4.75 EGP per person for up to 15 kilometers (9 miles). You will receive a ticket, but don't expect to get back the 0.25 EGP.
METRO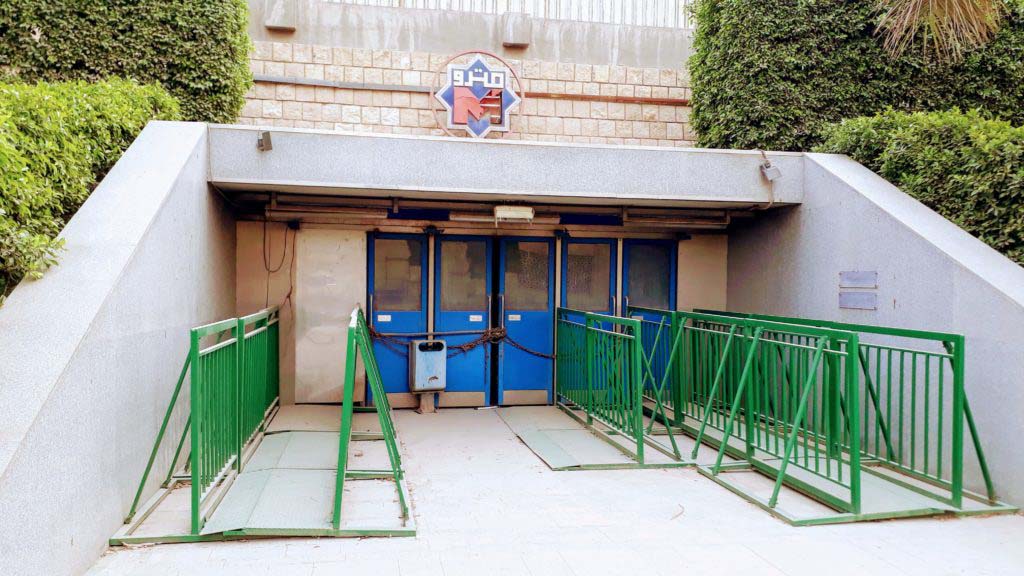 For a long time, a subway ticket was 1 EGP per person, no matter how many stations you took. Cairo's metro is heavily subsidized by the state and can not cover its costs. In July 2017, the price was therefore doubled from 1 to 2 EGP. But even that doesn't seem to be enough: since May this year, you pay 3 EGP for the first nine stations, seven more stations are 2 EGP extra. The maximum price is 7 EGP for more than 16 stations. You can buy the tickets at the counter in the metro stations, there are no ticket machines (yeah, we know, 2018, right? :D).
TRAM
In Alexandria, a tram ride within the urban area, like all public transport, costs 1 EGP per person. You pay this in the back of the wagon, whereupon you get a ticket. In Cairo we didn't go by tram.
TUK-TUK
In Thebes-West we paid 10 EGP for about 2 kilometers (1 mile) with luggage. This price was offered to us directly. We found it to be very fair, which is why we didn't negotiate.
Hitchhiking
Yes, of course hitchhiking is actually free, but we always gave 5-10 EGP anyway. However, this was not expected from us.
BUS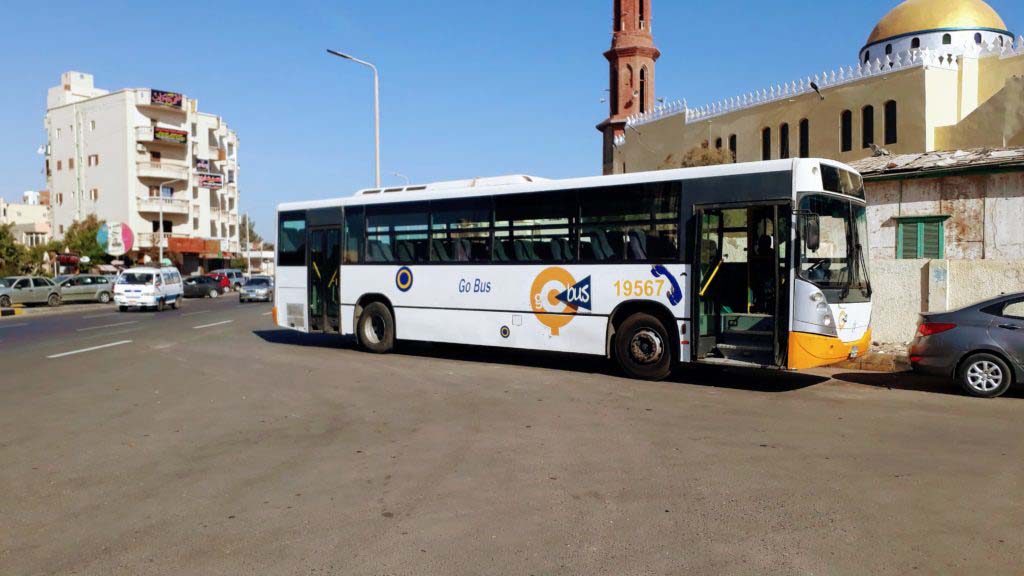 For the route Hurghada – El Gouna (about 30 kilometers or 18 miles) we paid 20 EGP for each way. The Go Bus leaves every 15 minutes from Dahar Square in Hurghada or from various stops in El Gouna. The Go Bus from Hurghada to Luxor (more than 300 kilometers or 180 miles) cost us 180 EGP.
Train
Of course, train prices vary greatly from class to class and train to train. For example, the Qena – Luxor route (about 60 kilometers or 37 miles) by Speed AC Spanish costs 26 EGP in 1st class and 18 EGP in 2nd class (both per person). The Luxor – Aswan route (more than 200 kilometers or 120 miles) cost us two 72 EGP in the 3rd class.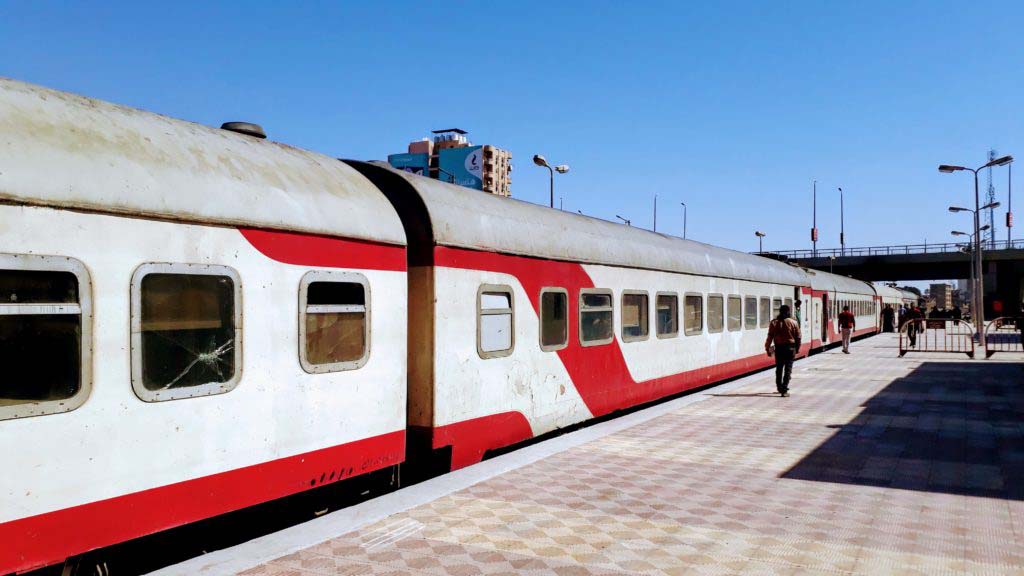 You can buy the tickets in the station both at the counter or at the ticket machine, as well as directly on the train. There, a few Egyptian pounds will be added as an extra fee, but you also have the chance to not get controlled. So this variant is especially worthwhile for shorter trips! 😉
Convoy
For the trip in the convoy from Aswan to Abu Simbel and back we paid 150 EGP per person. After all we have read, heard and experienced, this is really the lowest price you can get.
We were picked up from the ferry dock opposite the Elephantine Island first with a small bus, before we were then loaded a few miles later into a bigger bus. The communication via WhatsApp was typically Egyptian unreliable and we were advised relatively spontaneously (a few hours before it should start) that they booked for us, but then everything went well. If anyone is interested, here's the mobile number: +20 102 511 1063.
(NATIONAL) Ferry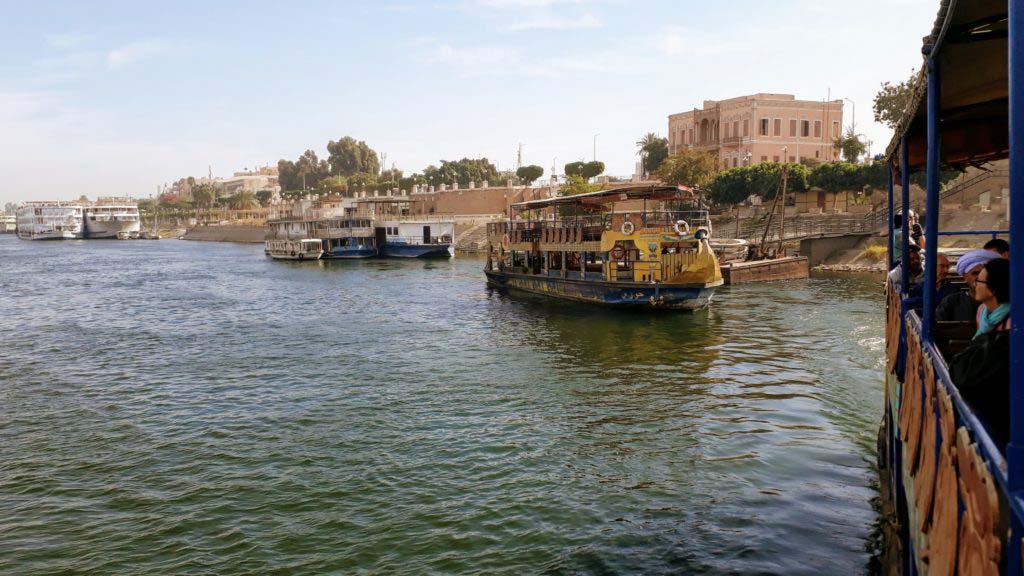 As mentioned in other articles, the National Ferry from Luxor to Thebes West and vice versa costs 1 EGP per person per way. One time they tried to take 2 EGP per person from us, with the following statement, they wanted to sell us the return as well, however, there are no tickets for the ferry at all. You just pay before entering the ramp to the men sitting there. And don't let the felucca drivers put a bee in your bonnet! The National Ferry actually always operates.
The ferry to Elephantine Island costs 1 EGP per person per way. Here, the money is simply placed on the table or in a drawer during the crossing.
Bike
To borrow two bikes for one day, we paid 110 EGP. Additionally, they gave us two freshly squeezed juices for free. Right next door you can get very tasty and cheap falafel sandwiches (2 pounds per sandwich), which also serve perfectly as provisions! The Egyptians eat falafel for breakfast, so it's possible that you won't get any in the afternoons and evenings. We borrowed the bikes here.
How Do I Don't Get Ripped Off?
In Egypt, honesty and fairness aren't necessarily top priorities – at least towards tourists. Be prepared that everyone (yes, sadly REALLY EVERYONE) will try to earn as much as possible with you. How you can protect yourself from that fundamentally, you will learn in a separate article about our criticism of Egypt.
In terms of getting around, you should know the approximate fares and the Arabic numbers, pay the exact amount wherever possible, ALWAYS negotiate, do not get rattled, know how to say "no" politely but firmly, don't buy tickets through third parties and in case of doubt, go get other offers first. If you feel rushed, uncomfortable or hassled by someone, move on – you have no obligation to buy anything from anyone! How you behave best when catching a taxi, you will learn in the next blog post.
Tip: In general, we did the following in all public transport: If we didn't get ripped off until the end of the ride, meaning we were told the correct price and got change back, we actually got where we wanted to go and all that without much discussion, then, but only then, we gave a tip, which corresponded at least the amount of the fare, on top. Don't worry, you won't become poor by doing that, as it will not happen that often that they won't try to fool you. But if so, then this should also be rewarded in our opinion.
Arabic Numbers
In order to quickly recognize the right bill, read bus numbers and understand prices on a ticket or elsewhere (for example, in the supermarket), it is extremely helpful to know the Arabic numerals. You may ask yourself: Huh, aren't we using the Arabic numerals as well? At least we did. The answer is: Yes, sort of, but somehow not really. 😀
The Hindu–Arabic numerals (in Europe also known as Indian Arabic numerals or colloquially Arabic numerals) are the elementary characters of a numerical  notation in which numbers are represented positionally on the basis of a decimal system with nine numerals derived from the ancient Indian Brahmi numerals and a separate sign, often written as a circle or dot, for the zero.
At the beginning of the thirteenth century, these Hindu-Arabic numerals gradually replaced the Roman numerals in Western Europe and enabled the development of complex mathematics and science by their much simpler and clearer writing and, of course, due to the zero.
In Europe, America and Oceania, Western Arabic numerals are used, whereas in Egypt Eastern Arabic numerals are still in use. Incidentally, the individual digits of a number are written from left to right, not right-to-left like the Arabic script. Thus, the number "2018" looks like this: ٢٠١٨
| Eastern Arabic numerals | ٠ | ١ | ٢ | ٣ | ٤ | ٥ | ٦ | ٧ | ٨ | ٩ |
| --- | --- | --- | --- | --- | --- | --- | --- | --- | --- | --- |
| Western Arabic numerals | 0 | 1 | 2 | 3 | 4 | 5 | 6 | 7 | 8 | 9 |
Why Is a Trip to Egypt Worthwhile Anyway?
Admittedly, all that sounds pretty cheap, but also quite stressful. So why all that hassle? Quite simple: Because in Egypt, there's lots of epic stuff to discover! And delicious food! And nice accommodations! Well, just for the accommodations we would probably travel nowhere, but it can not hurt, right?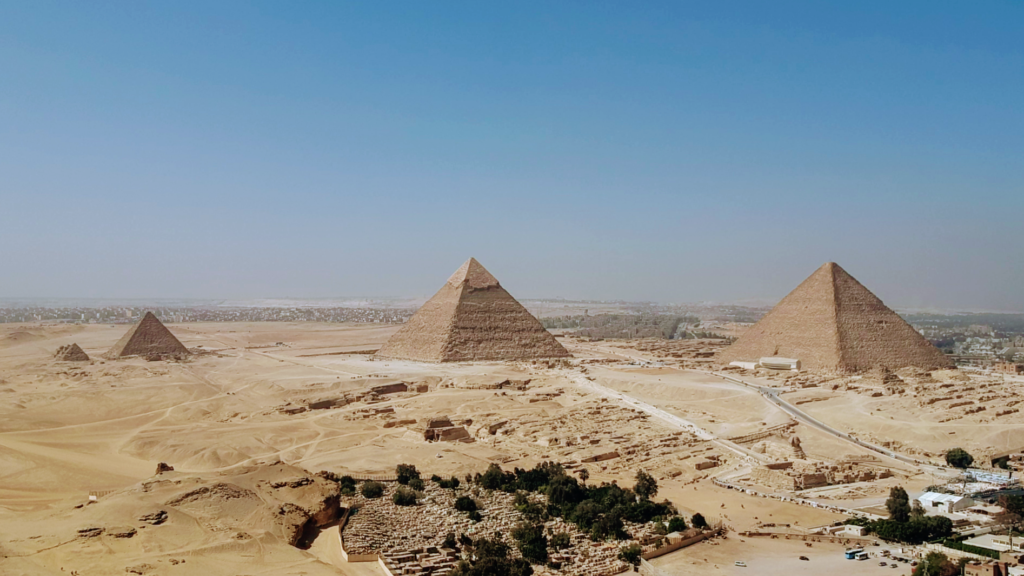 Now you should be best prepared for your individual tour through Egypt. Try out the various modes of transport and you will notice which ones you prefer. If you have any questions about which means of transport we used on a particular route or how we got to a certain point of interest for example, let us know in the comments. 😉