Egypt is definitely an impressive, surprising and overwhelming country. Just as extremely different – in a positive and negative way – as our memories of the Pharaonic country are, was our experience with the accommodation on site. We checked out everything from a noble 5-star hotel and a water park resort, guesthouses and hostels to a completely dirty and shabby 5-dollar-hovel! Here you can find out which places we can recommend – and which ones not at all.
All Accommodations at a Glance
For a better overview, we have created a map with all the recommended (green), limited recommended (yellow) and not recommended (red) accommodations:
Where Do We Stay?
We almost always stay in hostels or in cheap private apartments. Not infrequently, we actually simply choose the cheapest option on Booking.com. Especially in hostels breakfast is usually included. In Egypt, it was always vegetarian. So we had to cancel only cheese and eggs, leaving bread, jam, tea and fruit for us.
With one exception (Iberotel Borg El Arab for 45 U.S. dollars) we paid in Egypt between 5 and 25 dollars per night for both together. The cheapest was Luxor, the most expensive Aswan and Marsa Alam. It should be noted that there are often additional taxes that are not apparent at first glance (usually 14% VAT, 12% service charge and 1% city tax). In addition, some offers are only valid for Egyptians or people with Egyptian residence.
Since at our travel time the flights to Egypt were quite expensive, we decided to book a package tour for the first week. We paid about 200 euros (~230 U.S. dollars) per person, which included the flight, on-site transfer and 7 nights in the 4-star Albatros Aqua Park Resort with all-inclusive. A train ticket to the airport was also included. We found this offer on 5vorFlug
. All other accommodations we booked through Booking.com.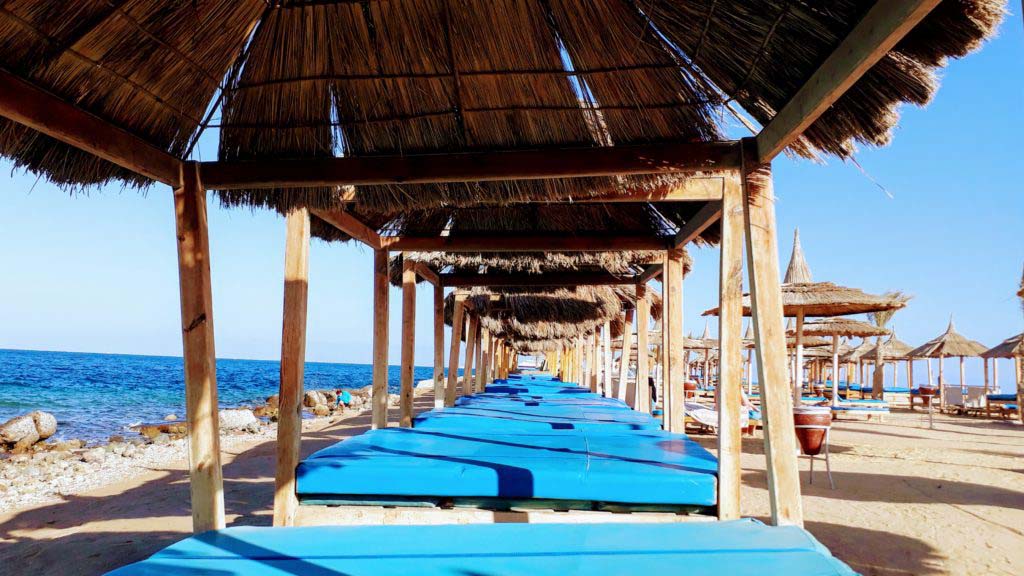 Let us now get to our recommendations and warnings. When evaluating, of course, keep in mind that the standards in Egypt are different from those we are used to in Europe, for example.
Price Ranges of the Accommodations
$: up to 15 dollars for two persons in an apartment, double or twin room per night, taxes included
$$: 15 to 30 dollars for two persons in an apartment, double or twin room per night, taxes included
$$$: from 30 dollars for two persons in an apartment, double or twin rooms per night, taxes included
Our Top 3 Favorites:
IBEROTEL BORG EL ARAB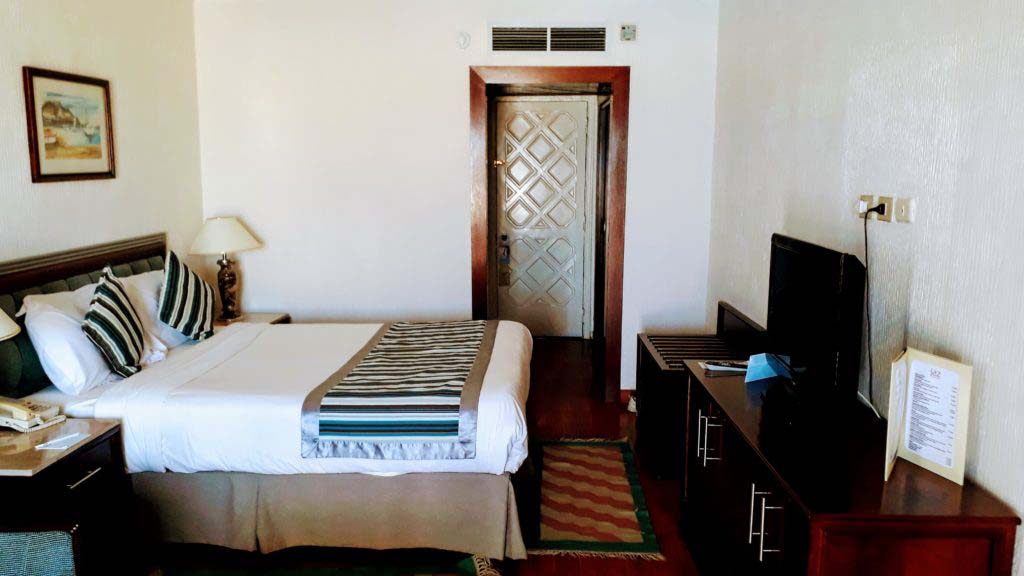 Let's start with the best, but also the most expensive hotel. The Iberotel in Borg El Arab really deserves its 5 stars. Numerous luxuriously designed rooms can be found on the huge complex, which includes a large pool area. But the real highlight is the white sandy beach with the clearest sea water we have ever seen!
Well, the resort is located right on the sea, but pretty far from any civilization. Since we could not quite reach it by public transport, we simply hitchhiked the last few kilometers (soon more on that!). Supermarkets and restaurants outside the hotel are a bit further away, but a quite large kiosk is within walking distance along the main road to the west.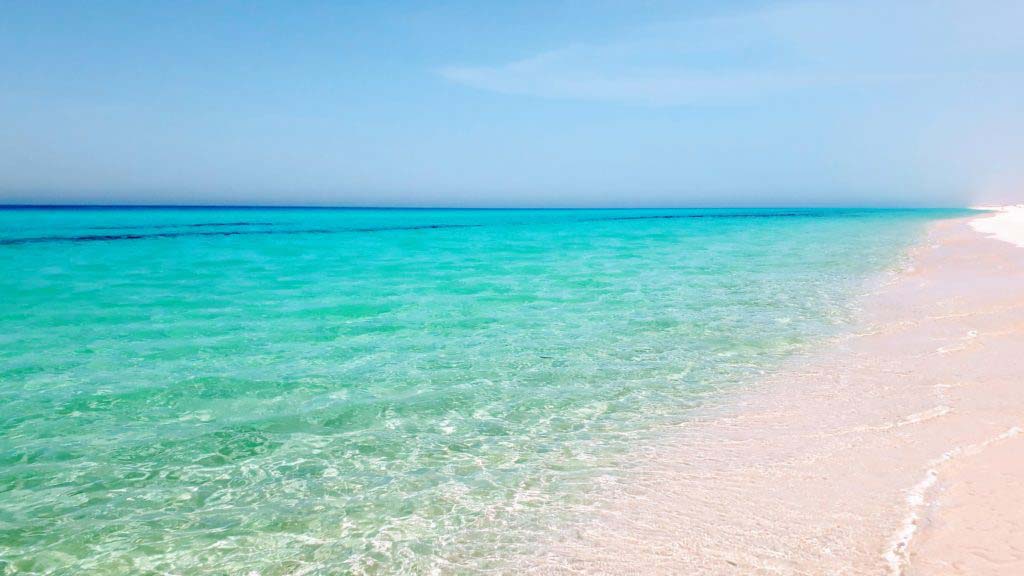 Check-in: from 14:00 | Check-out: until 12:00
Address: KM 52, Alexandria Matrouh Road, Borg El Arab, Alexandria, 23121 Borg El Arab, Egypt
Price range: $$$
ALBATROS AQUA PARK RESORT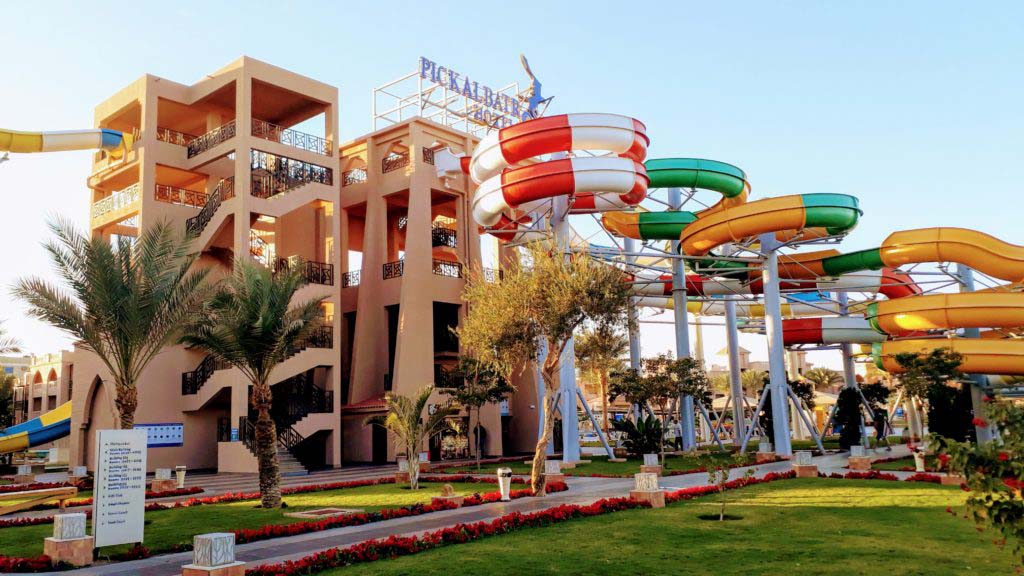 The 4-star all-inclusive Albatros Aqua Park Resort in Hurghada was included in our package tour. If you book the nights individually, the price per night is a lot higher. The water park, the rooms as well as the food surprised us. Of course, the vegan selection is somewhat limited, but there is plenty of variety and stations where, for example, you can choose the toppings of your pizza yourself.
In addition to the slides we particularly liked the many pools of different temperature. You can also use the pools of the two sister hotels Albatros Sea World and Aqua Vista as well as the gym and the beach of the opposite Beach Albatros Resort.
Check-in: from 14:00 | Check-out: until 12:00
Address: Safaga Road, Hurghada, Egypt
Price range: $$$
LILLY APARTMENTS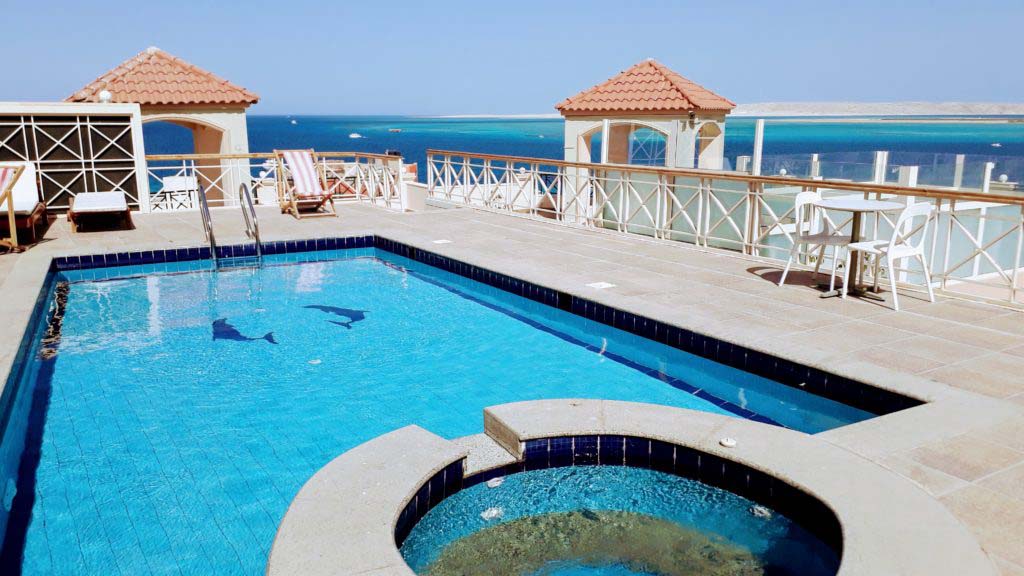 The very modern Lilly Apartments are also located in Hurghada. In addition to a fully equipped kitchen (including a blender ⇒ perfect for smoothies!), the rooftop pool overlooking the Giftun Islands invites you to linger.
Check-in: 14:00 to 23:00 | Check-out: 03:00 to 12:00
Address: Elhadaba Road Lilly apartments (Turkish airlines building), 12345 Hurghada, Egypt
Price range: $
We Also Enjoyed These Accommodations Altogether:
SUNSET VIEW APARTMENTS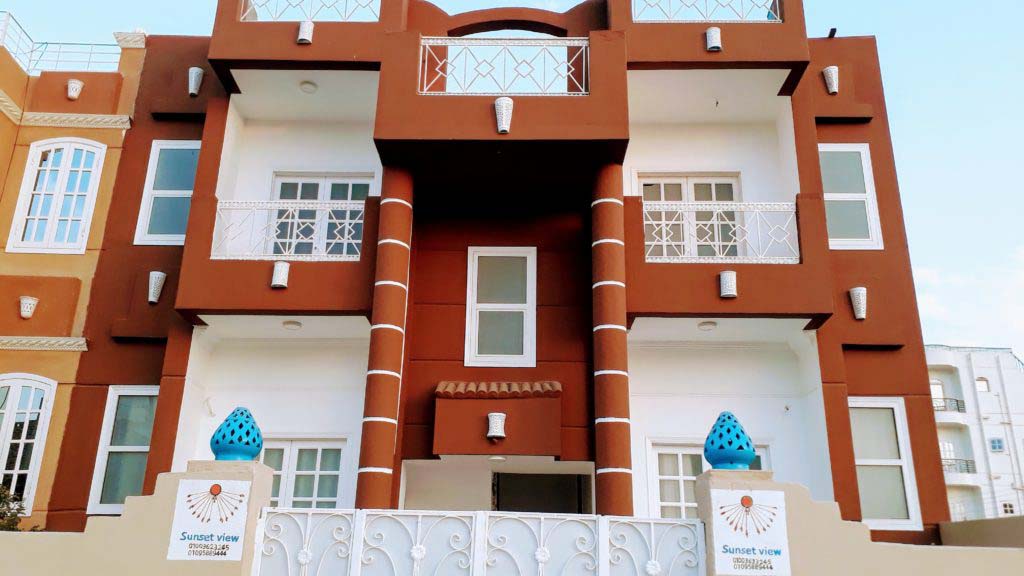 The Sunset View Apartments are located quietly in Thebes West on the western bank of the Nile, opposite Luxor. As they have recently been built, they are also modern and comfortably furnished and also have a well-equipped kitchen. The Wi-Fi is slow, but at least available. 😀 From the roof of the building, the Luxor Temple on the other side of the Nile can be seen.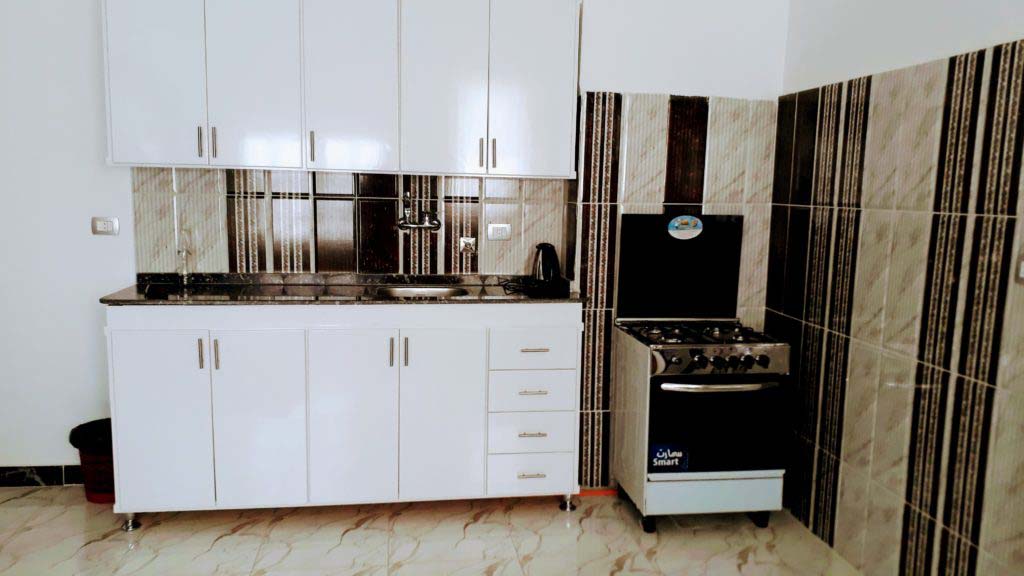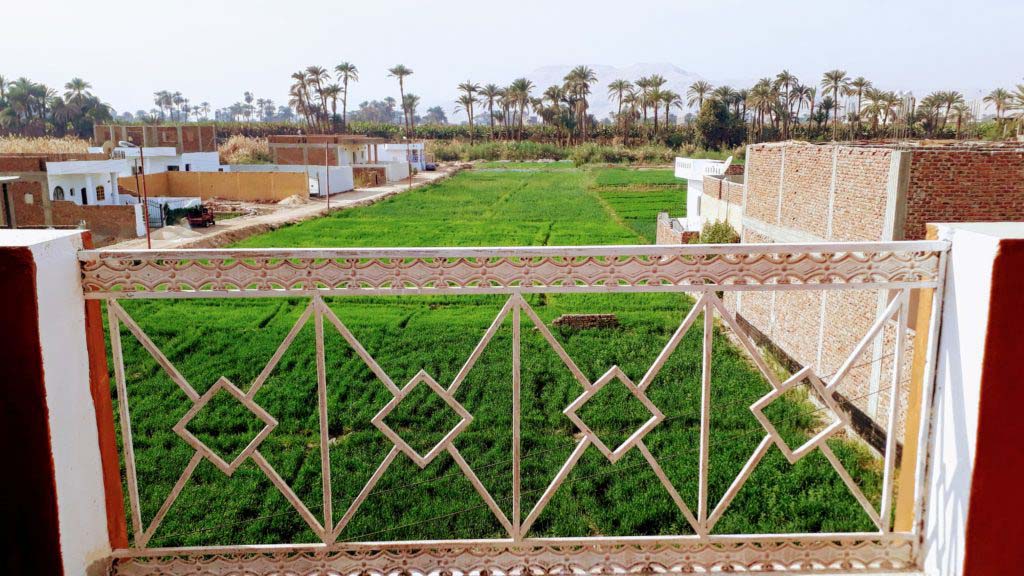 Check-in: 13:00 to 00:00 | Check-out: 11:00 to 12:00
Address: Ramla Street, Al Bairat , Westliches Nilufer, 85111 Luxor, Egypt
Price range: $
ZAK APARTMENTS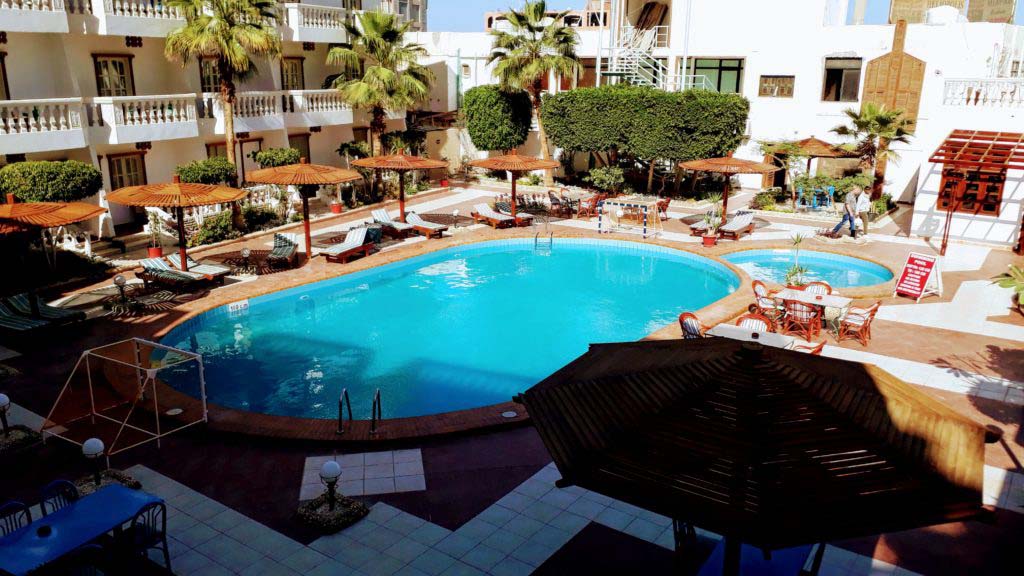 The Zak Apartments are well located on Sheraton Road in the newer part of Hurghada. Definite plus points are the friendly staff, the pool and the incredibly cheap tours. Unfortunately, there are a lot of mosquitos in the evening, which, however, thanks to mosquito nets in windows can at least be kept out of the rooms. These are equipped with no real kitchen, but only with a fridge. In the lobby there is the possibility to play billiards.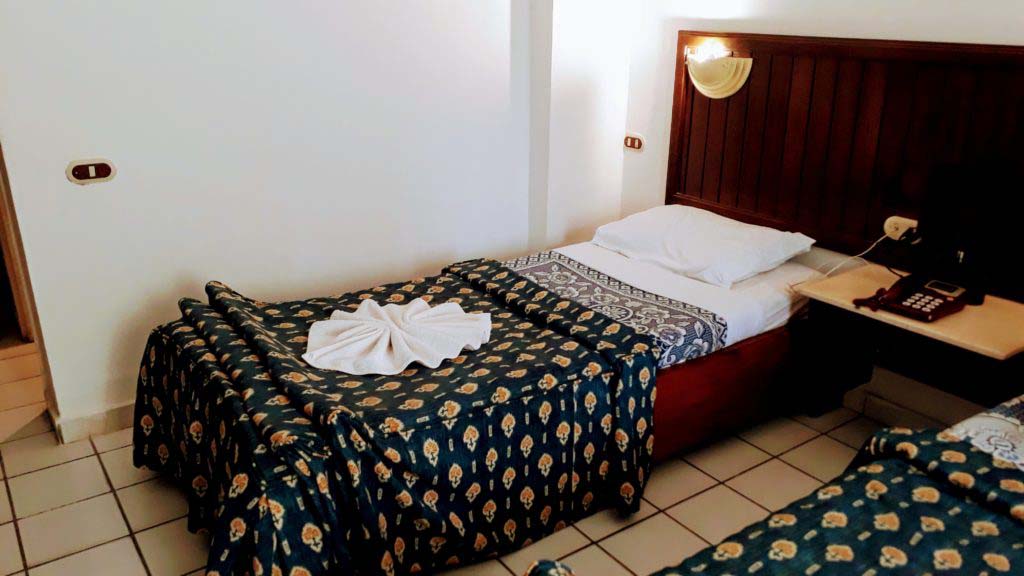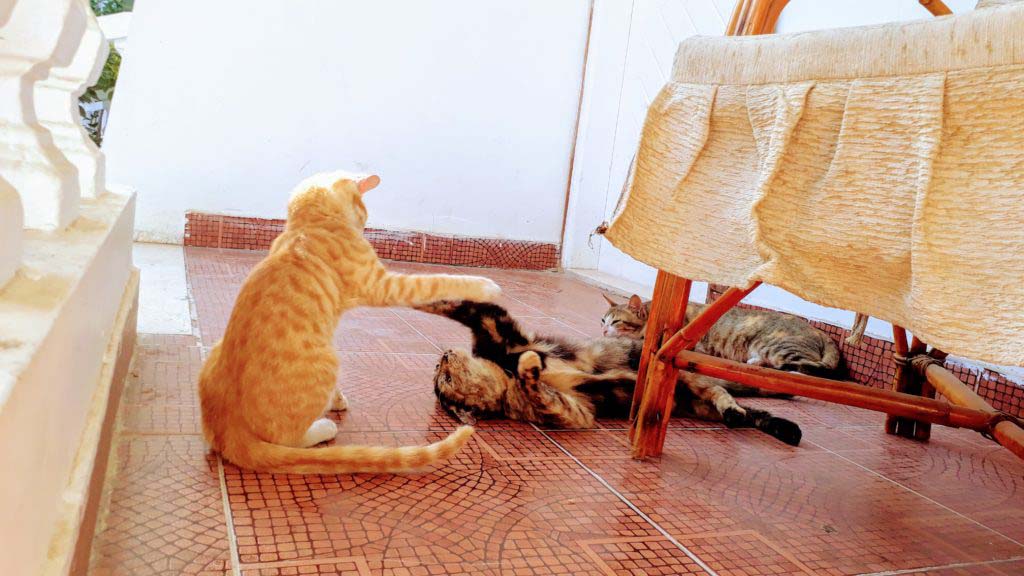 Check-in: from 14:00 | Check-out: until 12:00
Address: Sheraton Road, Beside CIB Bank , Hurghada, Egypt
Price range: $
PYRAMIDS INN MOTEL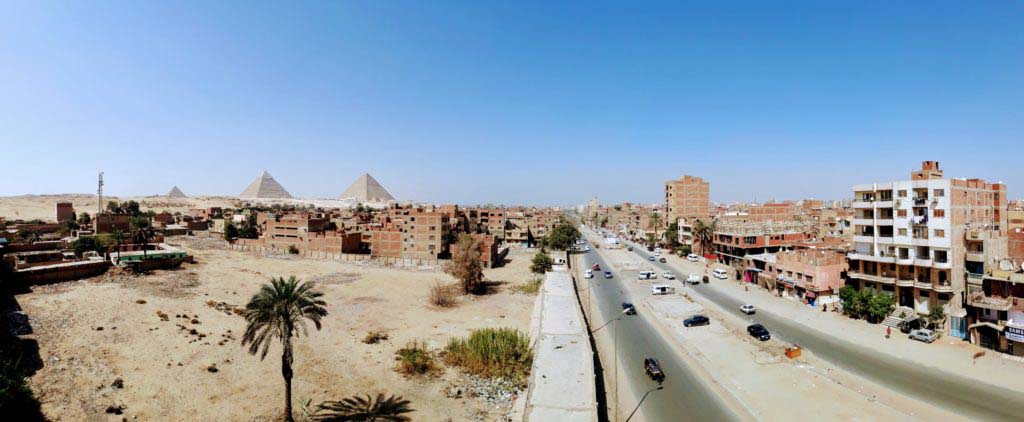 The best located property is probably the Pyramids Inn Motel, as it is just a few miles from the Great Pyramids of Giza. These can be seen from the roof terrace and even from the room! The rooms are pretty good for Egyptian standards, even though the – at least private – bathroom is very small and narrow. Also the connection is fine: You'll quickly find a microbus (mostly old VW buses) on the street. For the price of just over 10 dollars per night for two it's an absolute bargain, especially in that area!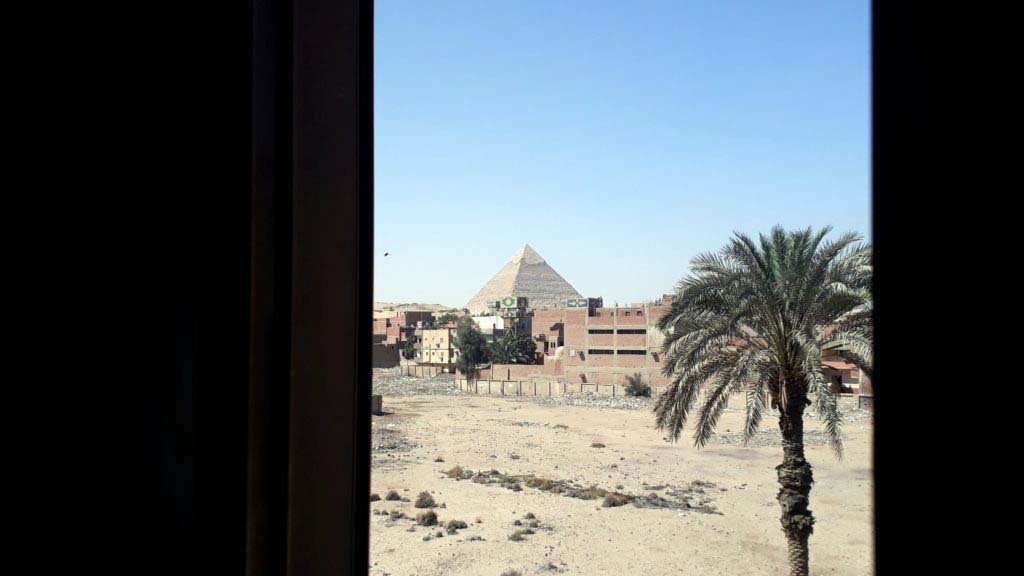 Check-in: from 12:30 | Check-out: until 11:30
Address: Mansoureya Road Pyramids Street, Giza, Cairo, Egypt
Price range: $
HOME SWEET HOME LUXOR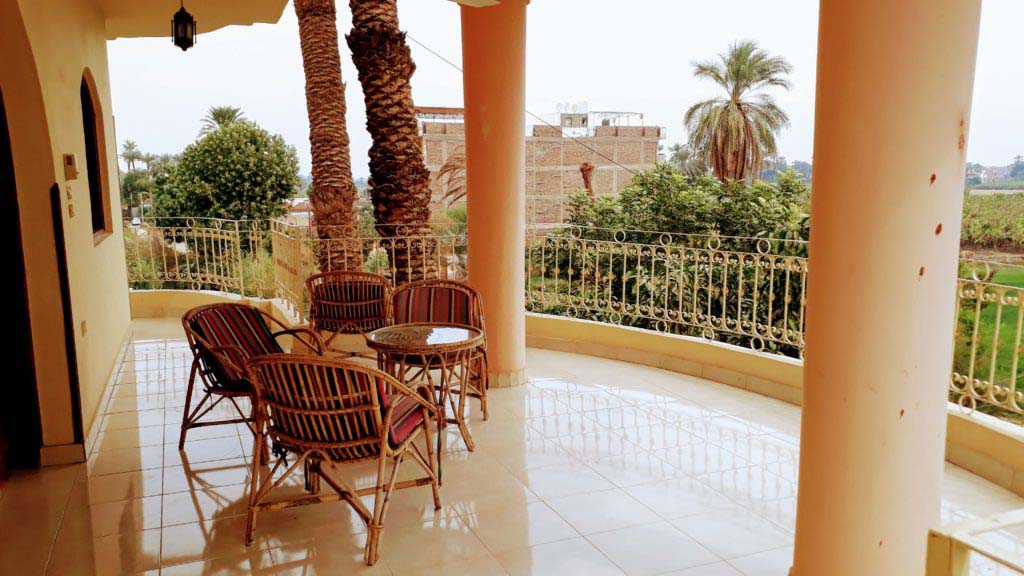 The Home Sweet Home Luxor is situated quietly among the green fields of Thebes West and is above all one thing: big. The spacious, country-style flat can accommodate up to four people. In addition to a family atmosphere, it also offers a pool and a very large balcony.
Check-in: 07:00 to 23:30 | Check-out: 05:00 to 20:00
Address: El Jorf, West Bank, Luxor, Egypt
Price range: $
MOON RESORT MARSA ALAM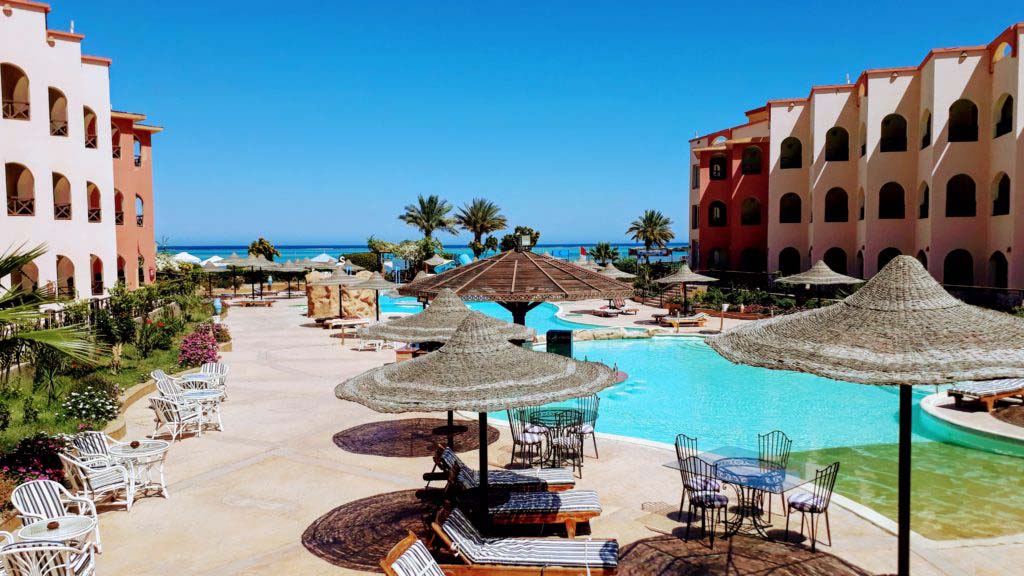 The Moon Resort is located about 2 miles from the main street of Marsa Alam away. The 4-star hotel was the cheapest accommodation at our data in Marsa Alam. The pool and rooms are good, but not outstanding for a 4-star resort. The buffet, however, is not as bad as described in the reviews, but not that much better either. 😀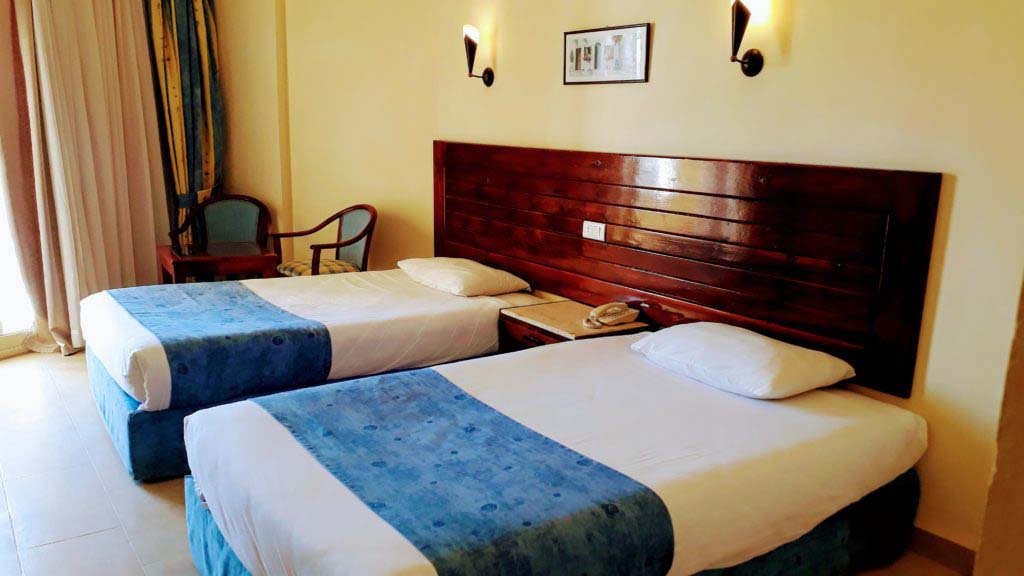 Check-in: 10:00 to 18:00 | Check-out: 12:00 to 14:00
Address: Kilo 01 Marsa Alam Road Moon Resort, 11511 Marsa Alam, Egypt
Price range: $$
GOLDEN ROSE HOTEL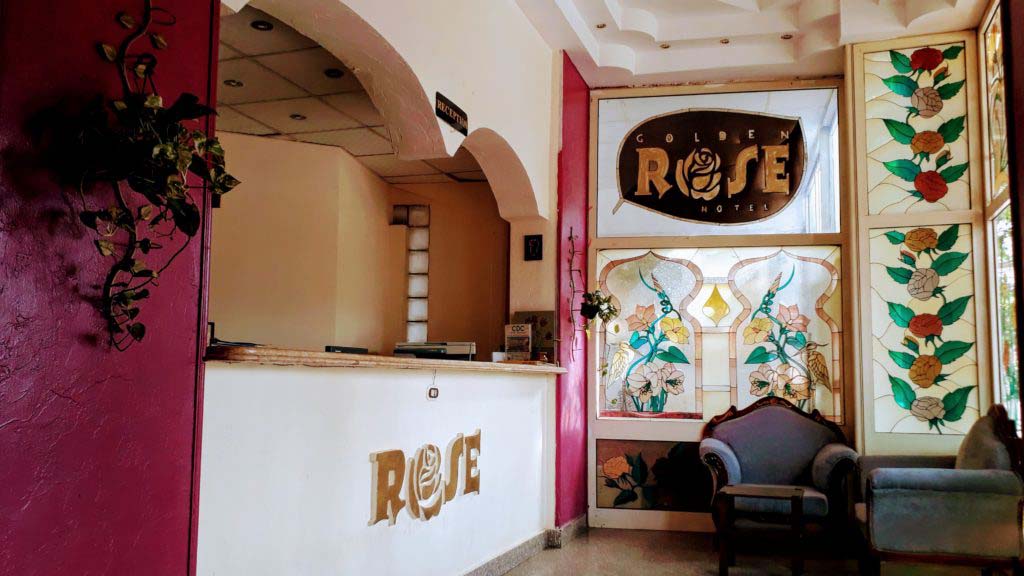 The Golden Rose Hotel is good value for money. It is one of the cheapest places to stay in Hurghada and offers well-furnished rooms (some with fridge and balcony), a rooftop terrace, private beach access and fairly inexpensive excursions to, for example, the Giftun Islands. Also the meals are incredibly cheap. The location a little off Sheraton Road near Hurghada Marina is okay.
Check-in: 00:00 to 24:00 | Check-out: 11:30 to 12:00
Address: Sheraton Road . Pappas Beach Elarosa Square, 99999 Hurghada, Egypt
Price range: $
These Accommodations Were Fine – But Nothing Special:
TRAVELERS HOUSE
Also at the Travelers House in Cairo, the price-performance ratio is alright. Although it is not spotlessly clean and the hostel is on the 4th floor of a rather decrepit building, it is significantly better than other places in the same price range in Cairo.
After all, there are white sheets (which is by no means a given in Egypt) and working Wi-Fi, which even reached into our room! In addition, the breakfast is already included in the price. The lounge/living room is also equipped with a TV. Although there is a very old elevator, this accommodation is unfortunately not barrier-free.
Check-in: 12:00 to 18:00 | Check-out: until 12:00
Address: 43 Sherif Street (on the corner of Sheriff Street and 26 July) 4th floor, Cairo, Egypt
Price range: $
EL-AMIN GUEST HOUSE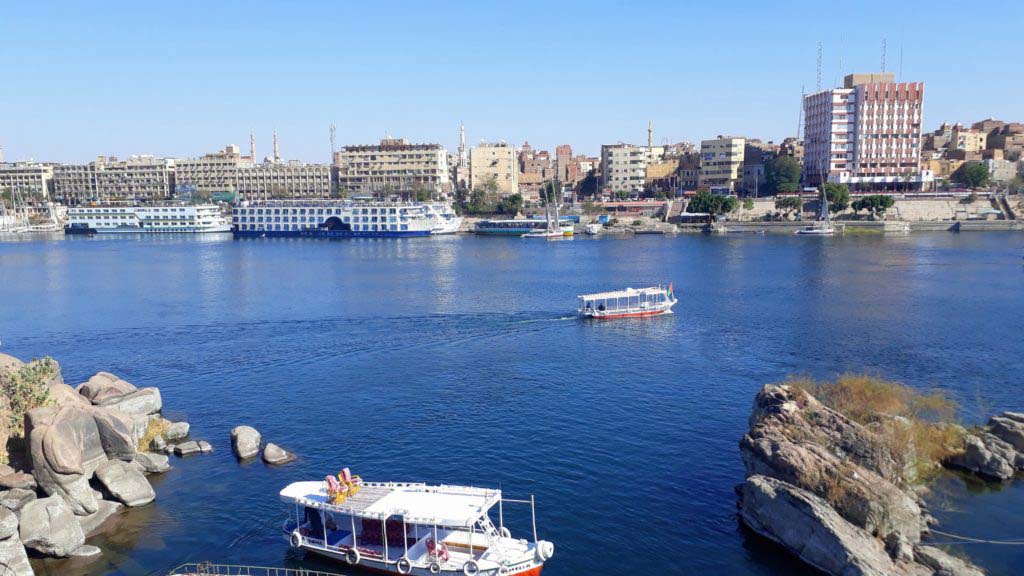 Just next to the jetty on Elephantine Island in the Nile at Aswan, El-amin Guest House is located. The small guesthouse is run by a nice, elderly Egyptian and offers a terrace with beautiful views over the Nile and Aswan. In the price of the only three rooms, the breakfast is already included and served with plenty of fruit. A "ferry" (little boat with space for about 20 people) takes you to the opposite bank for 1 pound (~ 5 cents).
Check-in: 10:00 to 12:00 | Check-out: 10:30 to 12:00
Address: Kornish Al Nile, 11800 Aswan, Egypt
Price range: $$
FONTANA LUXOR HOSTEL
When we arrived in the evening at the Fontana Luxor Hostel, we were told that the accommodation was fully booked except for one room. We were also told to be very lucky, that one room – albeit a worse one than what we had booked – was still available. Moreover, it was said to be only for one night, because for the next night we were firmly promised our actually booked room, which of course we got only one more night later.
But that room was at least alright – if you consider the price of only about 6 dollars per night including breakfast. The double room with private bathroom had a bathtub to our delight, but the very hard pillows resulted in insomnia. However, the location is not bad: the hostel is situated near the bus and train station and also to the Luxor Temple on the Nile it is not far.
Check-in: from 07:00 | Check-out: until 12:00
Address: Radwan Street off Television Street, East Bank, Luxor, Egypt
Price range: $
COMFORT ZONE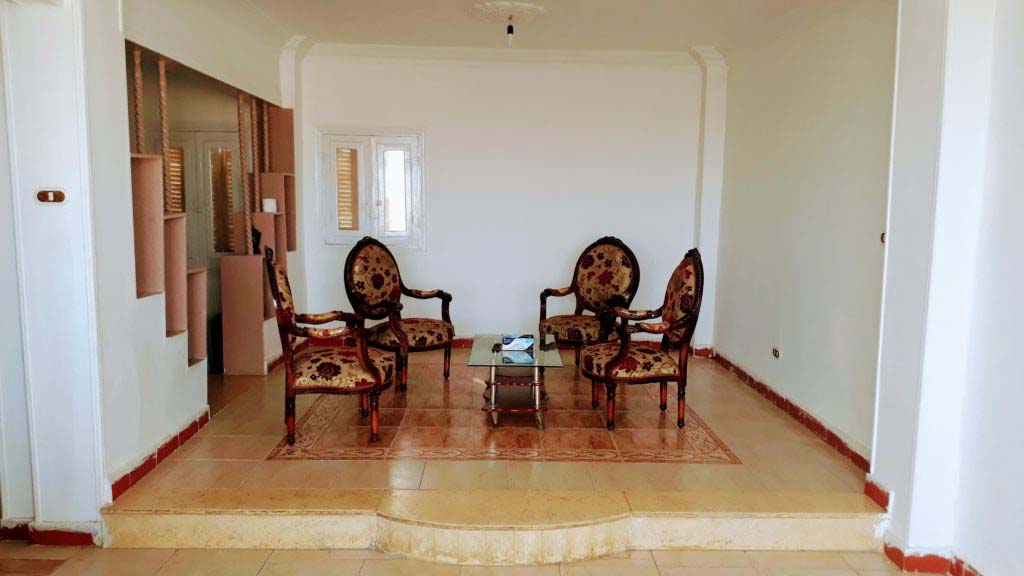 The only affordable accommodation in New Cairo is called Comfort Zone and is a private apartment high up in a skyscraper in the 5th Settlement (and yes, there is only a staircase – no elevator). It is quite large and has a well-equipped kitchen as well as a semi-automatic washing machine. Also Wi-Fi is available. Overall, we think it was okay, but the name "comfort zone" is a bit too ambitious.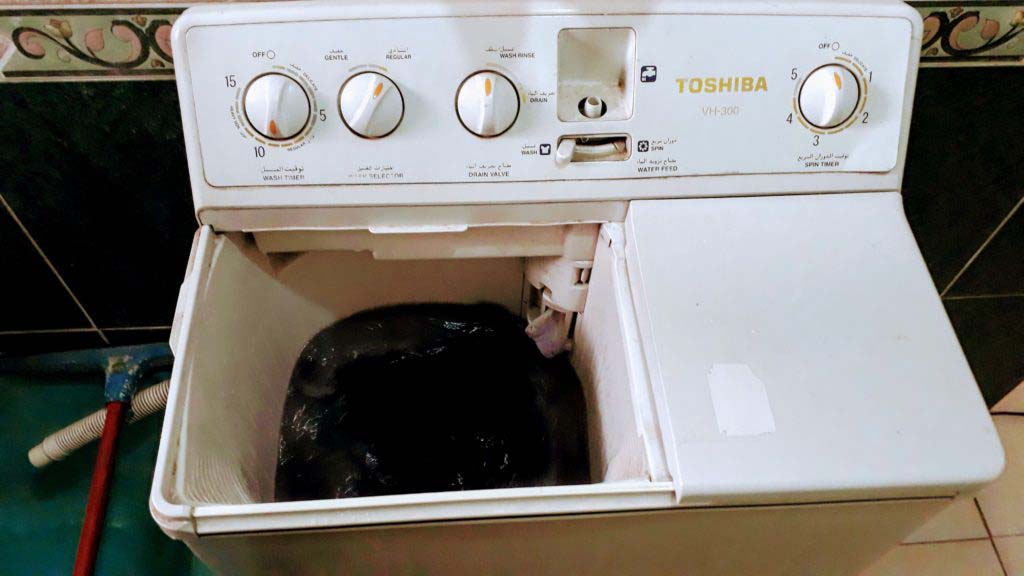 Check-in: 12:00 to 00:00 | Check-out: 11:00 to 12:00
Address: 5th Settlement, Al-Hay Al-Rabe3, Street 10, Building 418 B, Apartment No. 10, New Cairo, 11835 Cairo, Egypt
Price range: $
SEA GARDEN RESORT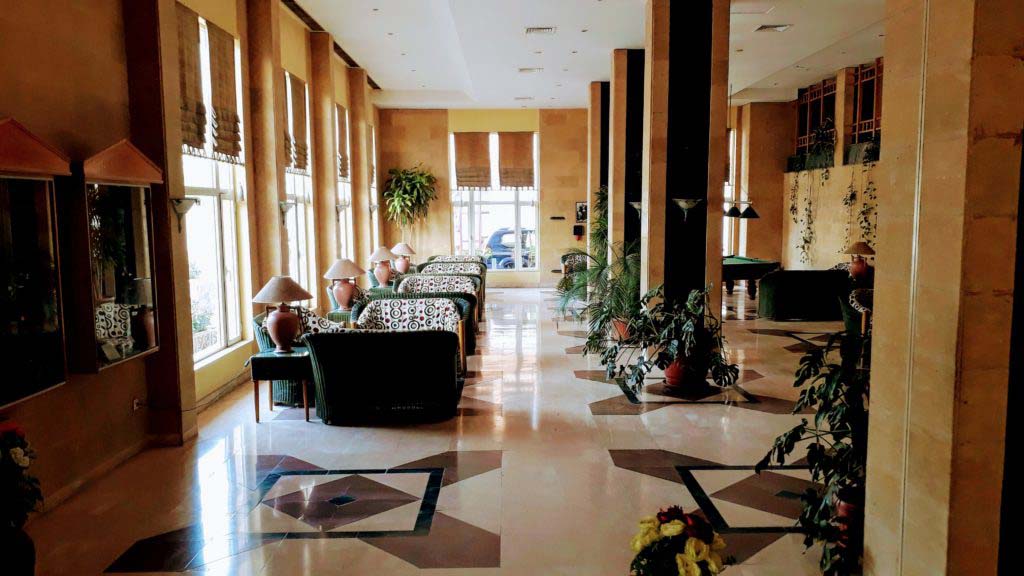 The Sea Garden Resort is located near the Golden Rose Hotel in Hurghada. The lobby is nice and there is a pool, but the internet did not work during our whole stay and there was no water for hours. Otherwise, the rather small rooms with private bathroom are quite good. For that price, however, you can find much better, especially in Hurghada.
Check-in: from 14:00 | Check-out: until 12:30
Address: El Marina St. Off Sheraton Road, El Sakkala, Hurghada, Egypt
Price range: $$
TRANSIT HOTEL ALEXANDRIA
In the Mediterranean city of Alexandria, there is not a particularly large selection of promising budget accommodation. We finally decided to spend our three nights in the Transit Hotel Alexandria. This was somehow a compromise: It's not the cheapest, but has rather run-down room with holes in the walls. Also the kitchen is really nasty. In return, there were white sheets, very comfortable beds, a balcony, a good location and Wi-Fi.
Check-in: 14:00 to 23:30 | Check-out: 11:30 to 12:00
Address: 1 Gamal El Deen Yassin, Raml Station, 99999 Alexandria, Egypt
Price range: $$
From These Accommodations You Should Better Stay Away:
SAFARY HOSTEL
The Safary Hostel is a Japanese guest house located in Cairo. Breakfast is included in the price, however, this is pretty much the only positive point. The building is in an immensely bad condition, the twin room is inside, tiny and extremely noisy and for all guests together there are only two, usually dirty bathrooms, in which toilet paper is rarely found. In addition, during our stay we got an email from Booking.com, saying the host indicated that we had not appeared.
If you would like to stay in the center of the capital, we rather suggest the Travelers House.
Check-in: from 13:00 | Check-out: until 12:00
Address: 4 Souk El Tawfikeyya Street, 5th Floor, Downtown, 11499 Cairo, Egypt
Price range: $
MAR CHARBEL
Oh yes, the Mar Charbel – or مار شاربل on Google Maps – in Hurghada was our first accommodation after the Albatros Aqua Park Resort. And with this also our first shock. At first, the check-in was very complicated. Thanks to Google Maps we had found the building quite quickly, but couldn't find any contact person there. Only with the help of a few other residents, we were able to locate the responsible man: an absolutely exhausted guy who was probably under all sorts of drugs.
Our apartment turned out to be just as neglected: Everywhere it smelled of cigarettes and smoke, everything was strikingly scruffy and dusty. There were no towels and Wi-Fi only on demand, the bathroom was a disaster. Luckily, at least the bed was okay and the linen even looked fresh. Nevertheless, we were very happy when we found out that not every budget accommodation in Egypt looks like this.
In Hurghada we would recommend the Lilly Apartments, Zak Apartments or the Golden Rose Hotel in that price range.
Check-in: 11:00 to 17:00 | Check-out: 07:00 to 10:30
Address: Qesm Hurghada, Red Sea Governorate, Egypt
Price range: $
OASIS HOTEL
Let's conclude with our worst candidate: the Oasis Hotel in Luxor. This was by far the most disgusting accommodation we have ever stayed in – and we have experienced quite a lot, especially on our trip to Asia! 😀
It didn't look as if anyone had ever cleaned here: The sheets had all plenty of stains, the bathroom was so dirty that you could only enter it with shoes on and I won't even talk about that shower tray… If we hadn't arrived late at night and left early the next morning, we would definitely not have stayed here. Even for just 5 dollars, nobody should spend more than a few hours here. The only positive thing is the location, just a stone's throw from the bus and train station.
In Luxor, we thus rather propose the Fontana Luxor Hostel, if you have a very tight budget and want to stay on the eastern side of the Nile. On the other hand, if staying at the western riverbank is also alright for you, we can highly recommend the Sunset View Apartments and Home Sweet Home Luxor.
Check-in: 07:00 to 22:00 | Check-out: 10:00 to 11:30
Address: Mohamed Farid Street, East Bank, 11111 Luxor, Egypt
Price range: $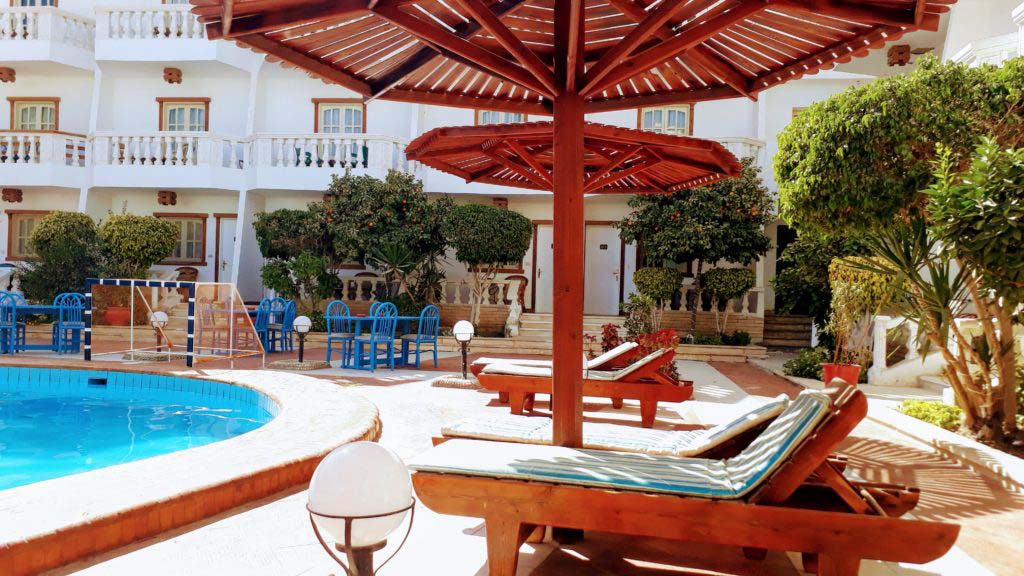 A Summary of All Accommodations, Sorted by City:
ALEXANDRIA
Iberotel Borg El Arab (Borg El Arab): very good, $$$
Transit Hotel Alexandria: average, $$
ASwan
El-amin Guest House: average, $$
HURGHADA
Albatros Aqua Park Resort: very good, $$$
Lilly Apartments: very good, $
Zak Apartments: good, $
Golden Rose Hotel: good, $
Sea Garden Resort: average, $$
Mar Charbel: bad, $
CAIRO
Pyramids Inn Motel (Gizeh): good, $
Travelers House: average, $
ComfortZone (New Ciaro): average, $
Safary Hostel: bad, $
LUXOR
Sunset View Apartments: good, $
Home Sweet Home Luxor: good, $
Fontana Luxor Hostel: average, $
Oasis Hostel: bad, $
MARSA ALAM
Moon Resort Marsa Alam: good, $$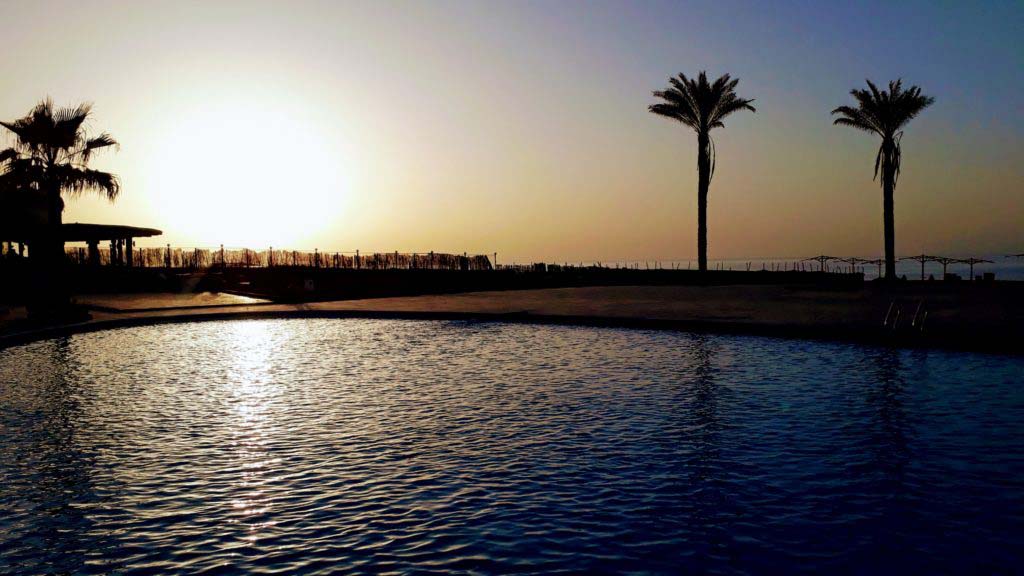 Tips for Qena, El Gouna & Abu Simbel
As there are hardly any hotels in Qena (at least we pretty much didn't find anything on Booking.com), we suggest a day trip from Luxor by train or bus (more on this in the following article on how to get around in Egypt).
An overnight stay in El Gouna can be quite expensive, so we went there on a day trip from Hurghada. Every 15 minutes a GoBus goes from Dahar Square in Hurghada to El Gouna for 10 Egyptian pounds.
Abu Simbel is not that easy to reach, which is why there are guided tours to the two famous rock temples from Aswan. Every day at half past three in the night a guarded convoy drives the long way across the desert there and back. If you want to spend more than a few hours in Abu Simbel, we guess there is no way around a domestic flight.
So it's indeed possible to stay for very little money in Egypt. However, that way the hygienic demands often have to be scaled back a lot. Those who prefer something more luxurious will find a wide range of 4- and 5-star hotels with excellent value for money. In our other Egypt articles you will learn more about our personal highlights and vegan food in Egypt as well as public transport, criticism and general tips soon.
You might also be interested in: