When asked for the most vegan-friendly places in our travel community on Facebook, one country rarely appears in the comments: Egypt. Completely unjustified – in our opinion. Because in the two months we have traveled criss-cross through the land of the Pharaohs, we feasted absolutely deliciously on falafel, foul, date cookies, fresh fruit, koshary, cashew ice cream, caramel latte with cashew and almond milk, tahina, baba ganoush and hummus and did not have to go hungry at all! What is also special here is that you get almost all of these goodies for just a few pennies. How and where exactly, you will get to know here.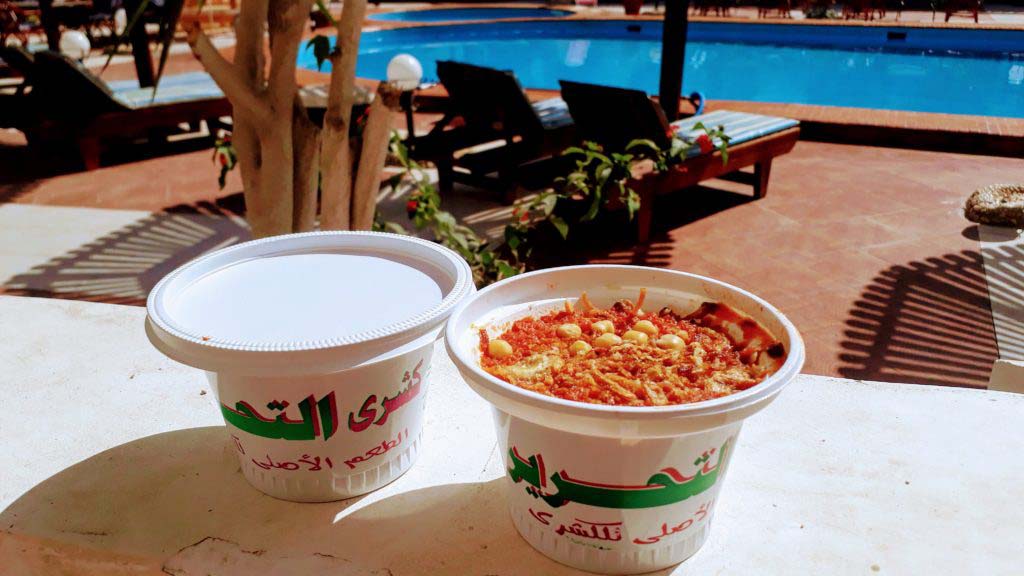 Egypt!?
When we decided on this country, we immediately got pictures in our minds like the Pyramids of Giza, the Sphinx, and the Nile meandering through the desert. As well as camels, hieroglyphs, Pharaohs and with the lighthouse of Alexandria yet another Wonder of the Ancient World – just all the things that concern especially the Ancient Egypt.
When we think of the Egypt of modern times, big hotel resorts on the Red Sea, perfect for divers and snorkelers, and the megacity Cairo come to our mind. Oh yes, and then there were the attacks appearing in the press over the last few years and the travel warnings that were announced. "Egypt? Nobody flies there at the moment – it's far too dangerous, too high a risk. First of all, we'll wait until the situation has relaxed again", some people might think.
Why we chose this destination anyway, what we saw and what we ate, where we slept and how we got around, what we liked most and what annoys us about this country, that's what this and the next posts are about.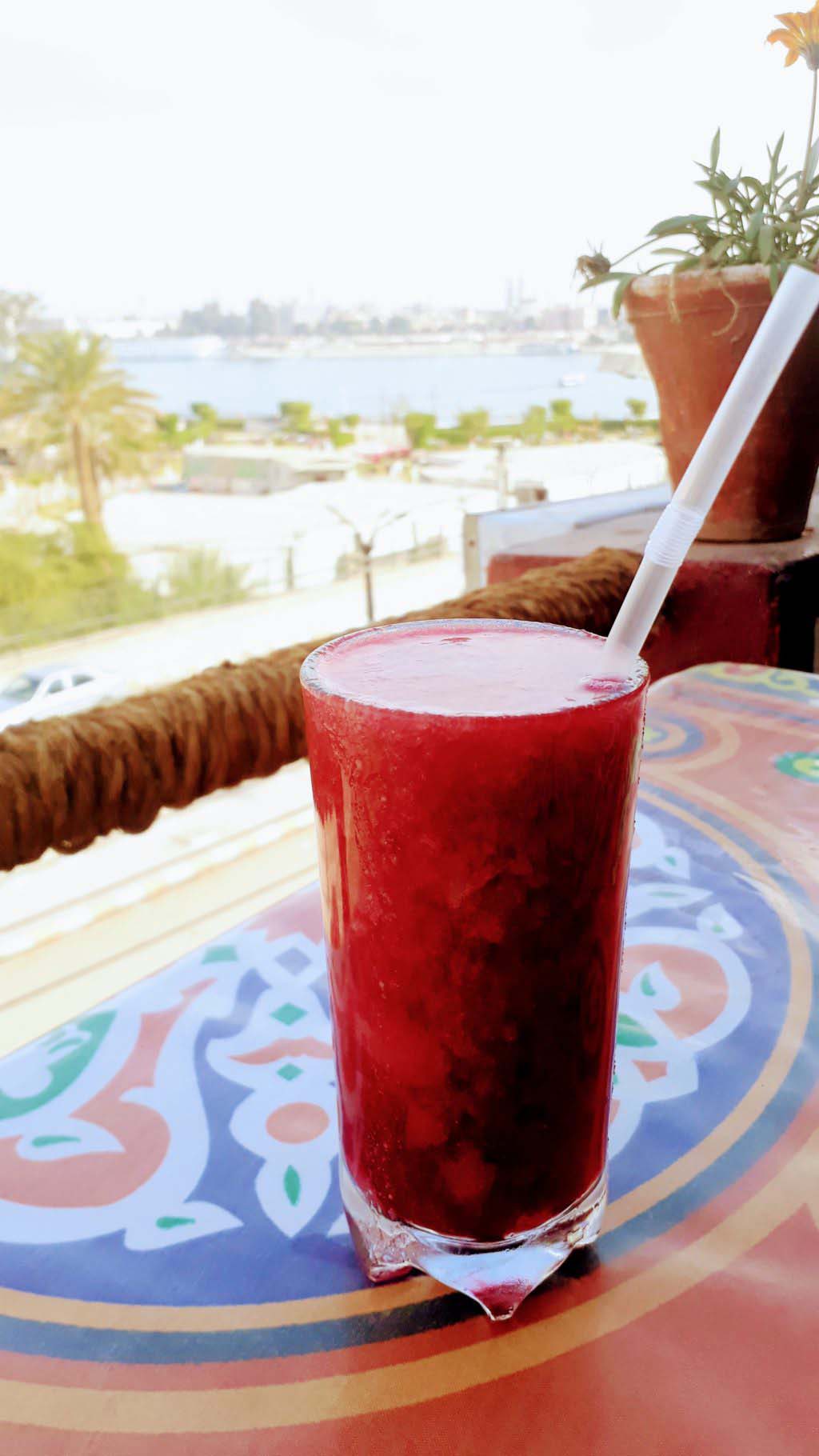 Why Egypt?
As some of you may know, a little over a year ago we started our road trip through Europe on March 1st, 2017. Since we ferried with our car to the Canary Islands and want to drive from there via Morocco back to the European mainland, we are currently waiting for the resumption of the ferry service from the Canaries to Morocco.
So we were basically looking for a destination for the meantime, which should be quite different from Europe and not that easy to reach by car. In addition, it should not be too cold in the winter months of January, February and March and at the same time as cheap as possible. Therefore, we finally chose Egypt because it met all of our criteria. One thing we can already tell you: the desired culture shock occurred definitely, because it is different than Europe. Completely different. But more on that in the following articles.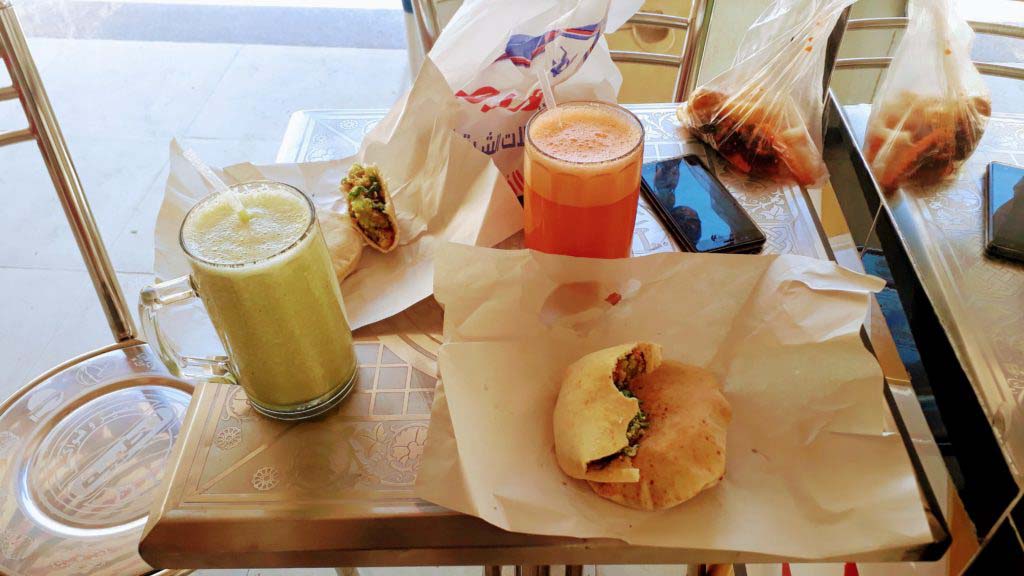 What is typical Egyptian and vegan?
Koshary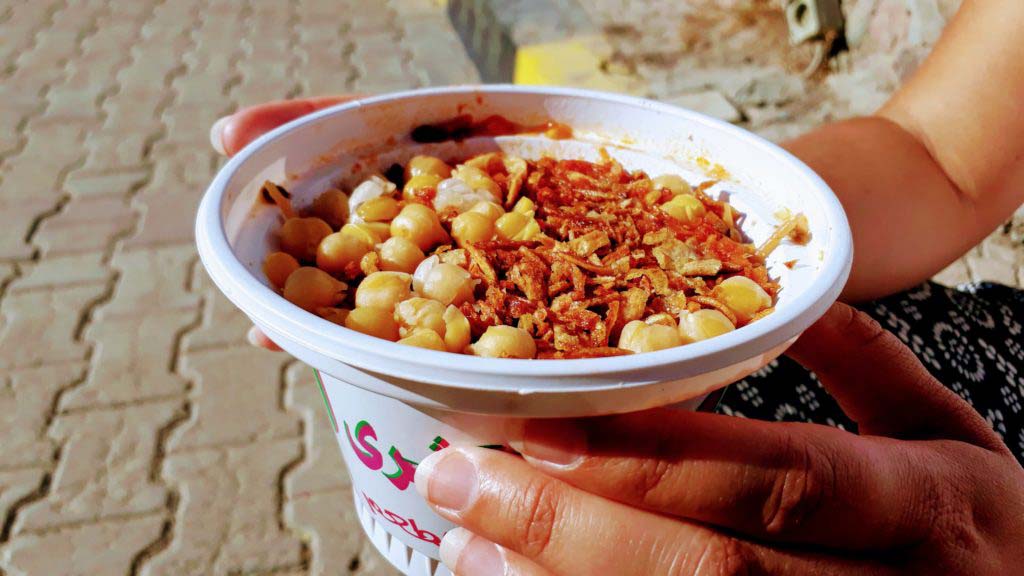 The Egyptian national dish koshary, also called kushari, typically consists of various types of noodles, rice, lentils, tomato sauce, fried onions and chickpeas. The carbohydrate bomb is often offered in food stalls that don't serve anything else. The ingredients are cooked separately and then mixed together. You can recognize the street stalls by the many different cup sizes in which you get your koshary to go.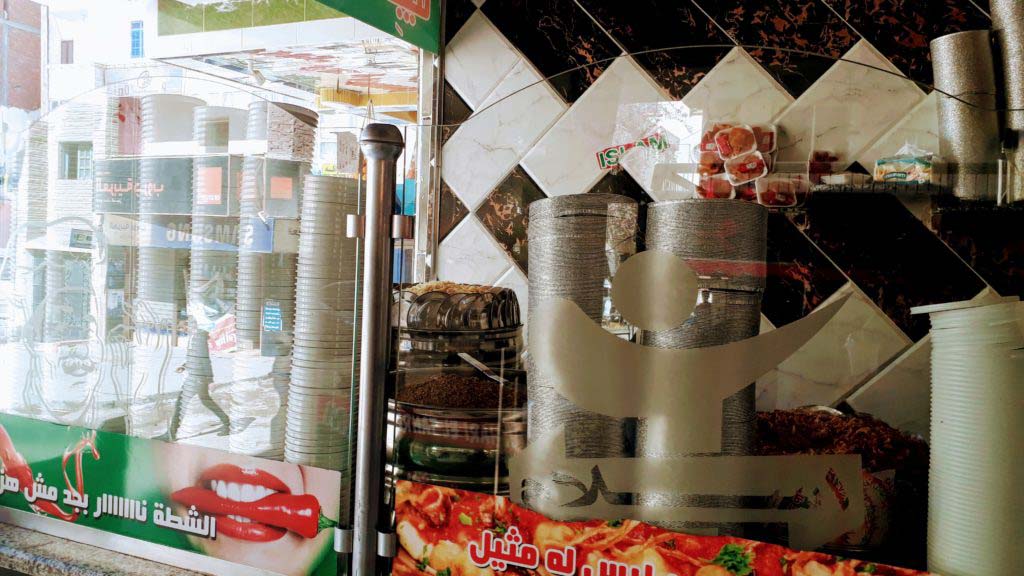 But there are also koshary restaurants where you can eat on site. The typical Egyptian dish is vegan in the vast majority of cases, only very rarely there is an option to get meat in it. Depending on the location, a small portion – which has always completely saturated us – costs between 5 and 10 Egyptian pounds, which is about 0.28 to 0.56 U.S. dollar. So if you are looking for a quick, hot and cheap meal, you can not go wrong here!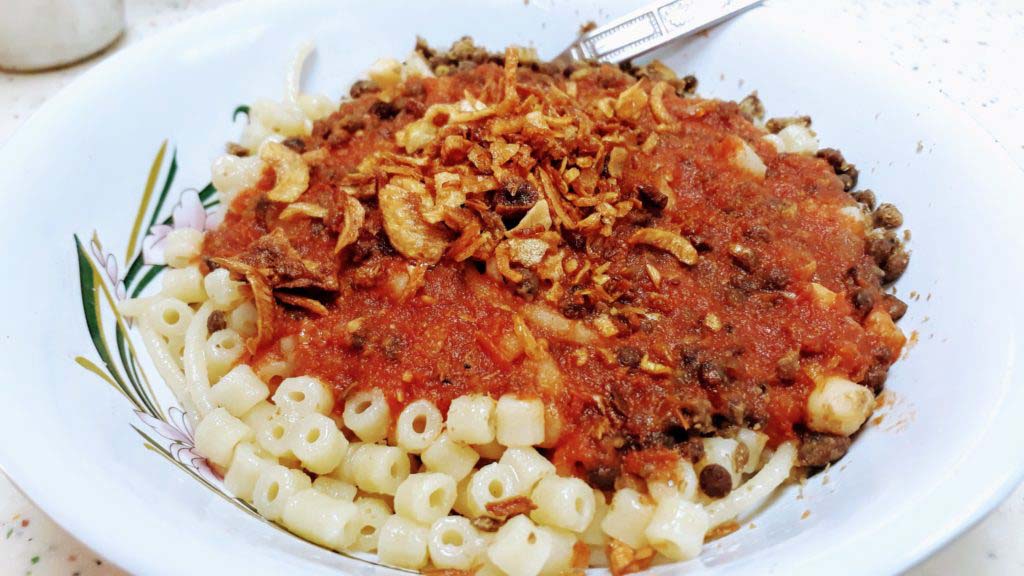 FALAFEL/TA'AMIYA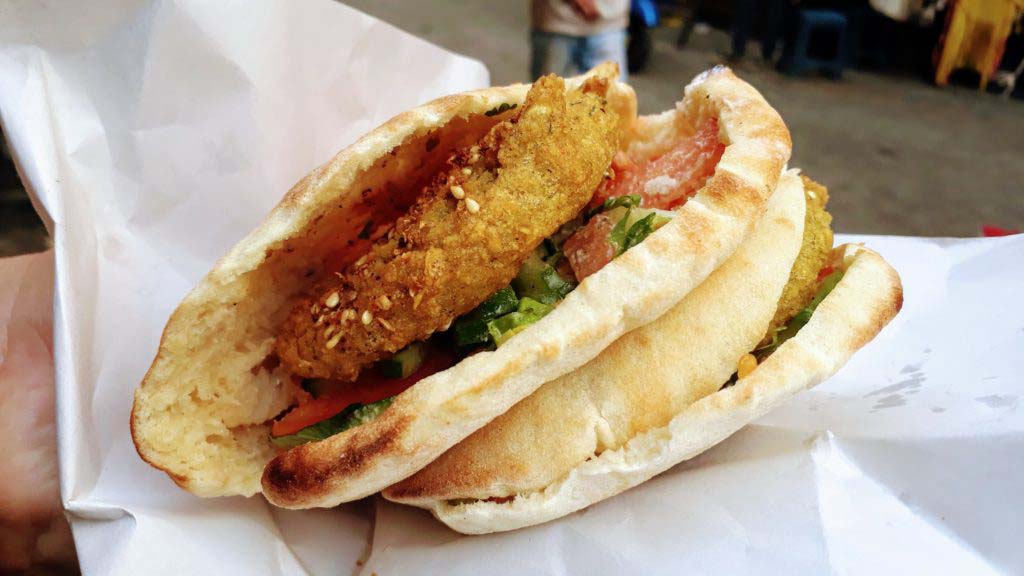 Falafel stalls can be found just as easily. However, in contrast to other Arab countries, in Egypt instead of chickpeas, fava beans are used. This variant is also called ta'amiya. The falafel are usually freshly prepared and served with salad and sesame sauce (tahina) in flatbread. Locals eat the "Egyptian fast food" mostly for breakfast. A falafel sandwich is only 2 to 5 pounds, that is, 11 to 28 cent.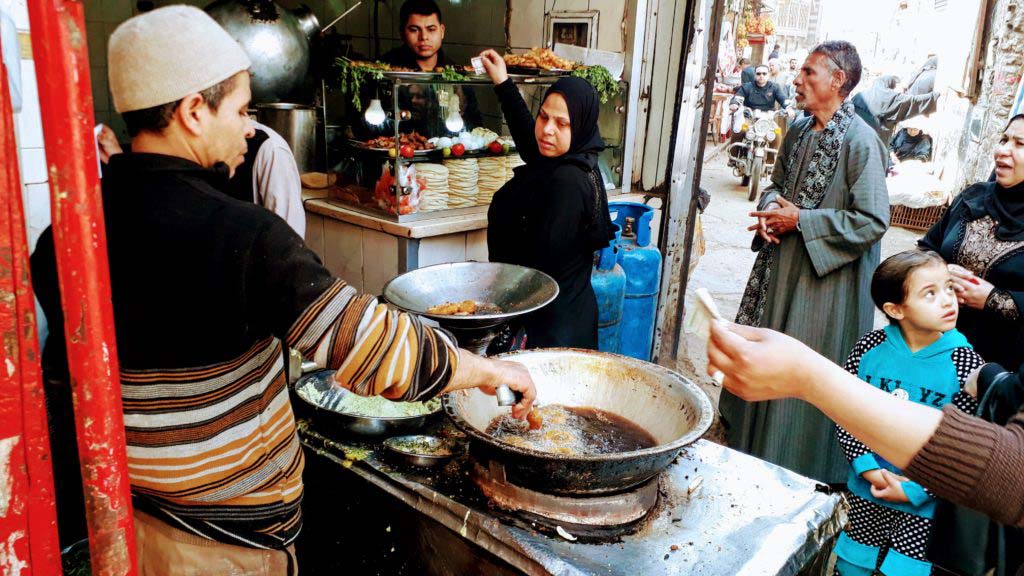 FOUL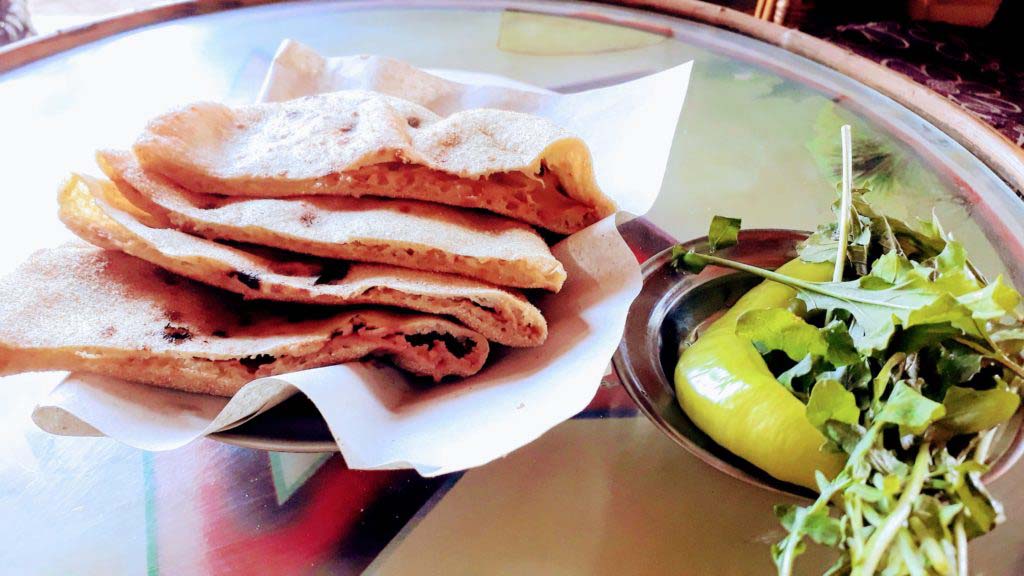 Foul (also called ful, foul medammas, foul medammes or ful mudammas) is often served in pita bread as well. It consists of cooked beans that are crushed together with oil. In general, the fava beans, also known as broad beans, can be found in many Egyptian dishes. Also in other Arab countries they are common: Occasionally, the bean dish is referred to as the Sudanese and Egyptian national dish. Like falafel, foul is traditionally served for breakfast, but it can also be mezze or main course. Similar to baked beans, canned foul can also be bought in the supermarket.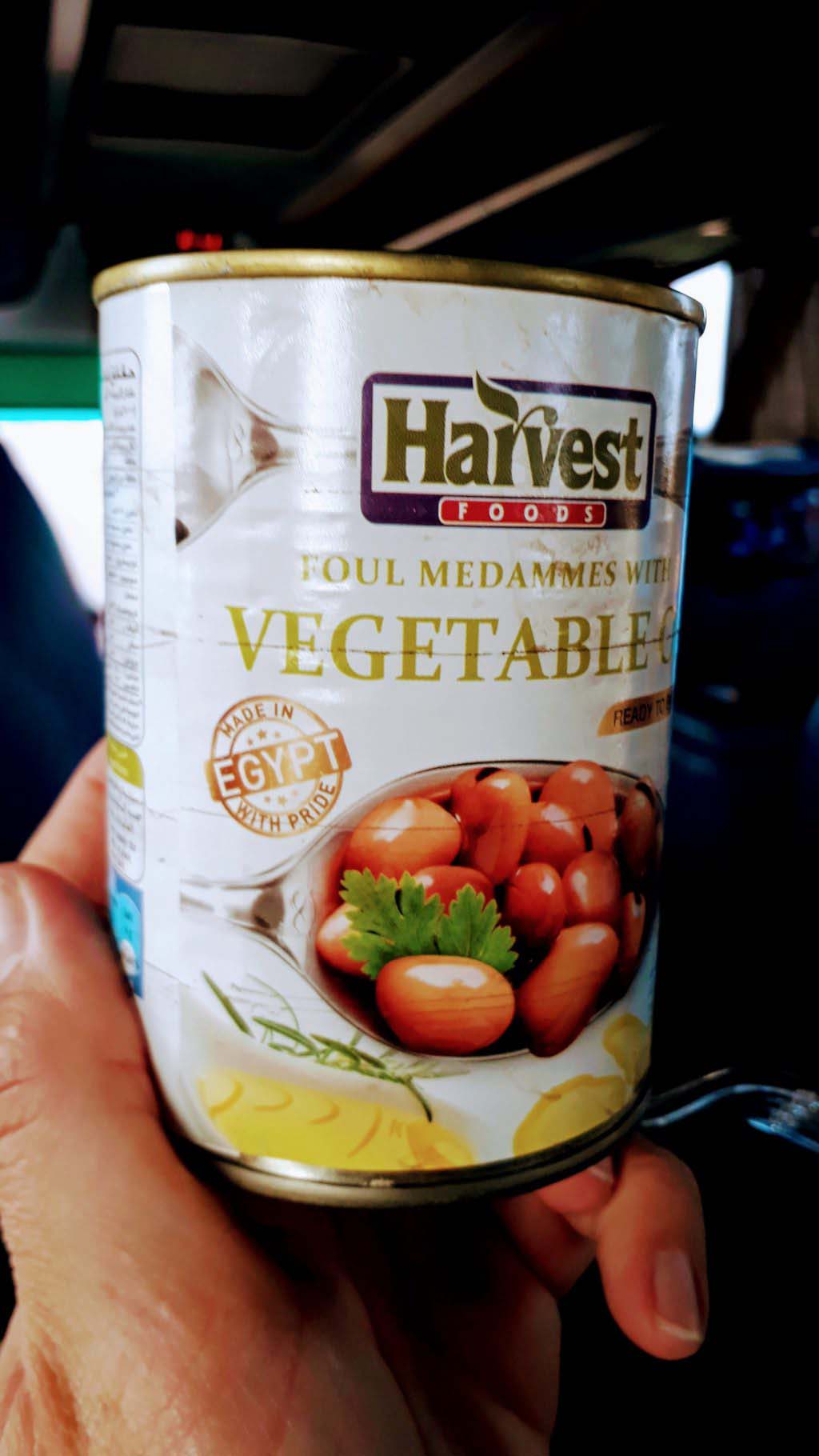 AISH BALADI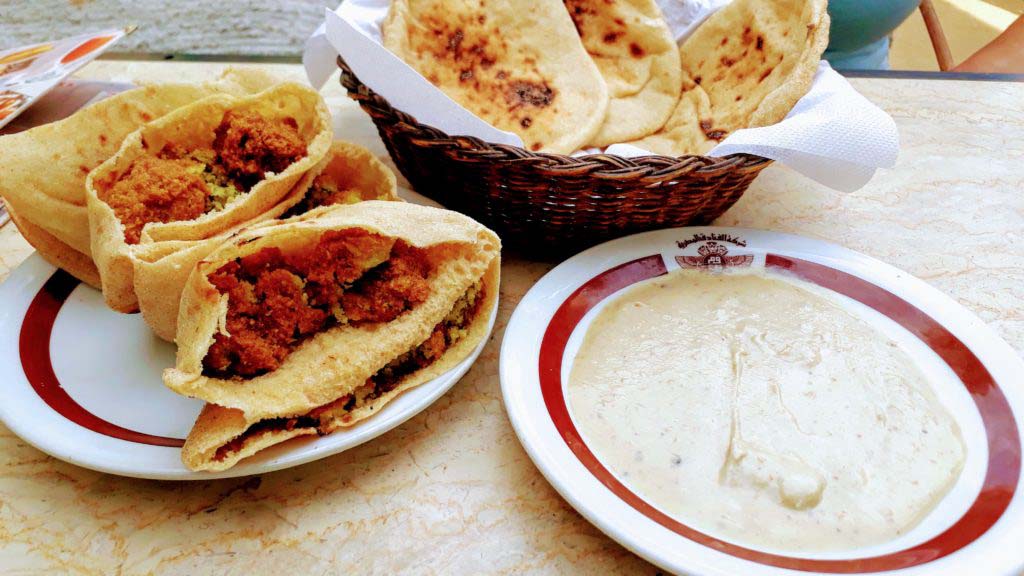 The small, thin flat bread is offered in Egypt on every corner and bears the name Aish Baladi. Aish means "life" in Arabic, because bread is considered sacred throughout the Arab world. As the earliest stage of development of bread, the flatbread is made by the Egyptians at least since the 5th millennium BC. It is undoubtedly the Egyptian staple food and costs only a few cents. Since the wheat-yeast-dough bread is hollow inside, fresh from the oven it looks like puffed up. Even today, flatbreads are still the most common way of making bread.
Freshly Squeezed Juices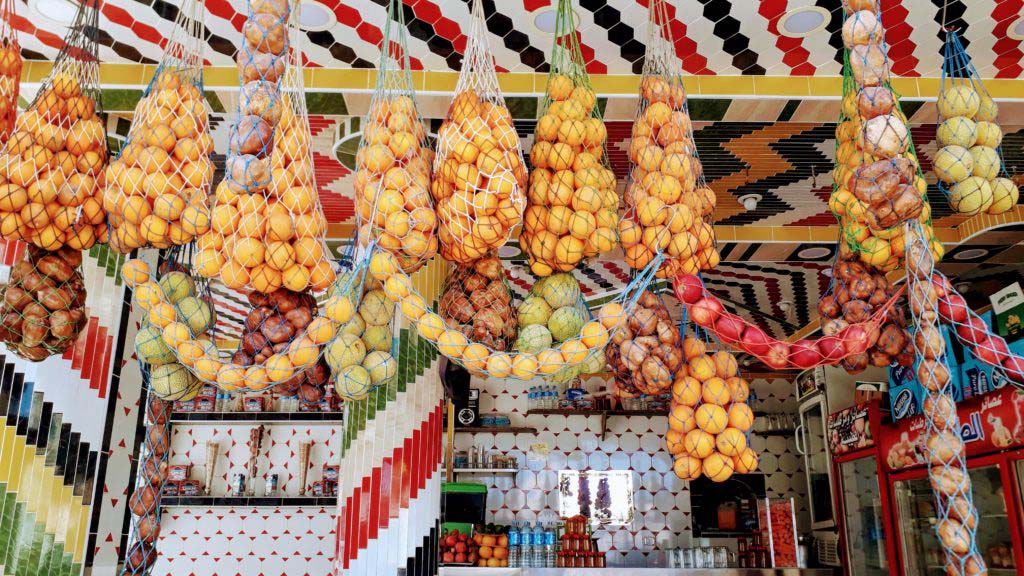 There are also many stalls offering freshly squeezed juices. These can be composed by yourself of a wide selection of fruits and vegetables, such as oranges, mangos, bananas, melons and carrots. Especially in more rural areas, fresh sugar cane juice is often offered for very little money. For a large mixed juice we paid between 7 and 20 pounds, that is 0.39 to 1.12 U.S. dollar.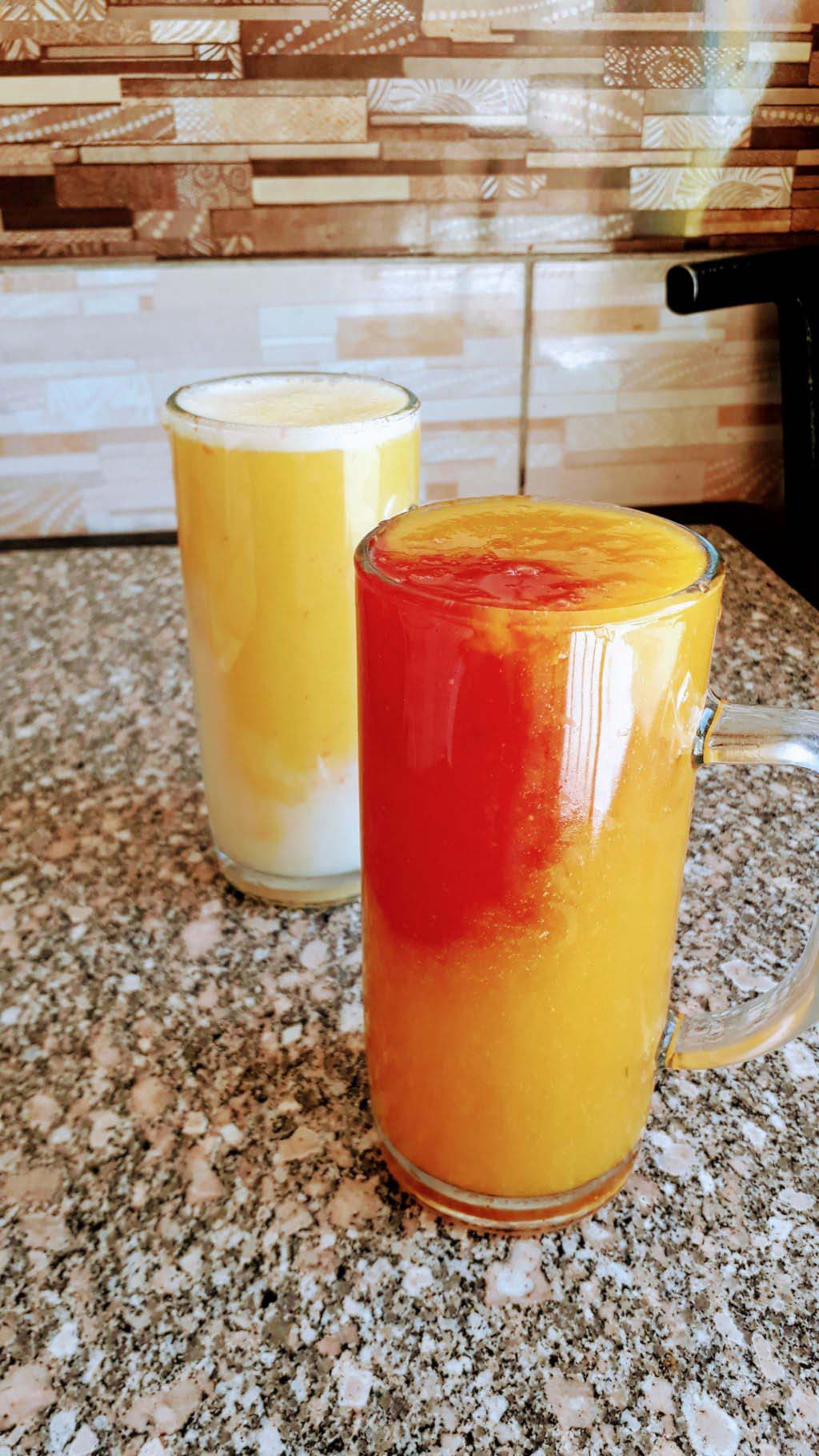 Other vegan typical Egyptian foods
… are: shorba ads (lentil soup), hummus (chickpea puree), baba ganoush (eggplant puree), tahina (sesame sauce), dolma (vine leaves mostly filled with rice, onions and nuts; attention: not always vegetarian ⇒ ask!) and maamoul  cookies (date cookies, also available in the supermarket; not always vegan, therefore: check the ingredients).
Fancy Stuff
Of course, in Egypt there are – albeit very rarely – also vegetarian or vegan declared options. These can be found in particular here:
Zamalek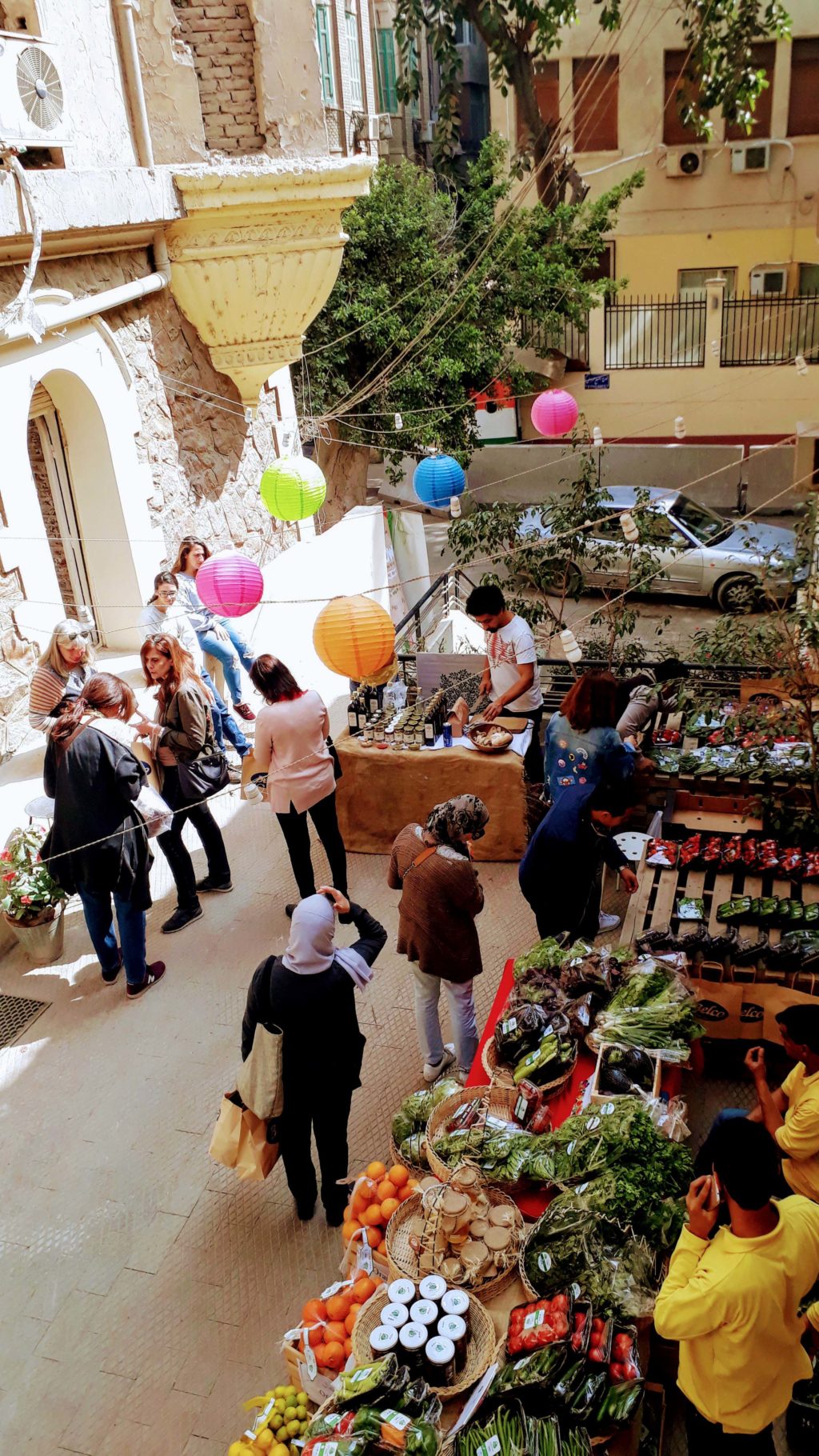 Zamalek – the trendy district of Cairo – is especially popular with expats. Every Saturday and Sunday, the Pop-Up Market takes place at the Zamalek Market. This can be thought of as a small organic market on which there is also a completely vegan stall: Earthly Delights. The predominantly frozen products are all gluten-, soy- and sugar-free. In addition to pizza, burger patties, cashew cheese, raw cakes and truffles, there are also cashew-based coconut vanilla, chocolate, cinnamon and coffee ice creams. The creations called "KAJU" can also be found in the supermarket Sunny Market.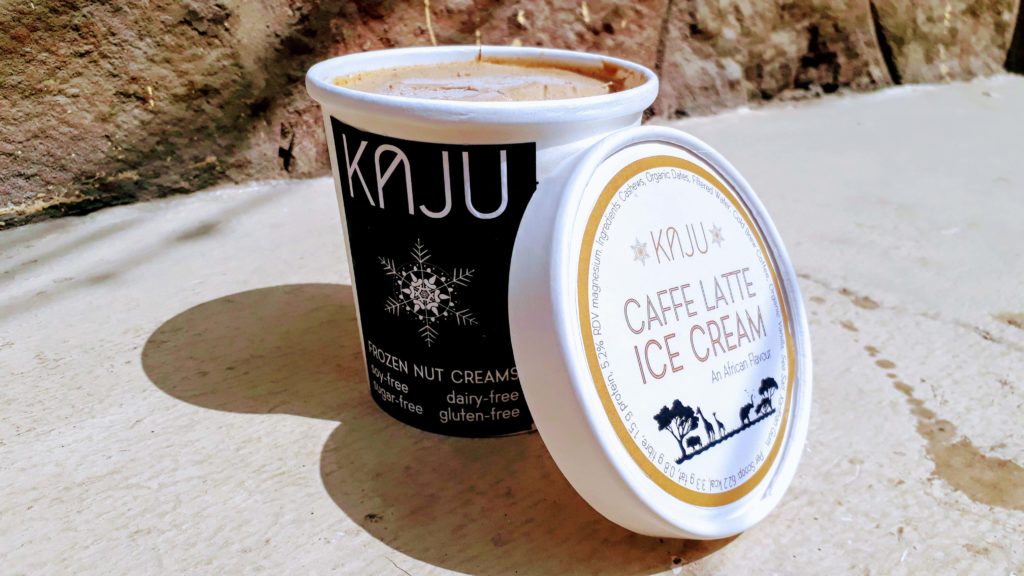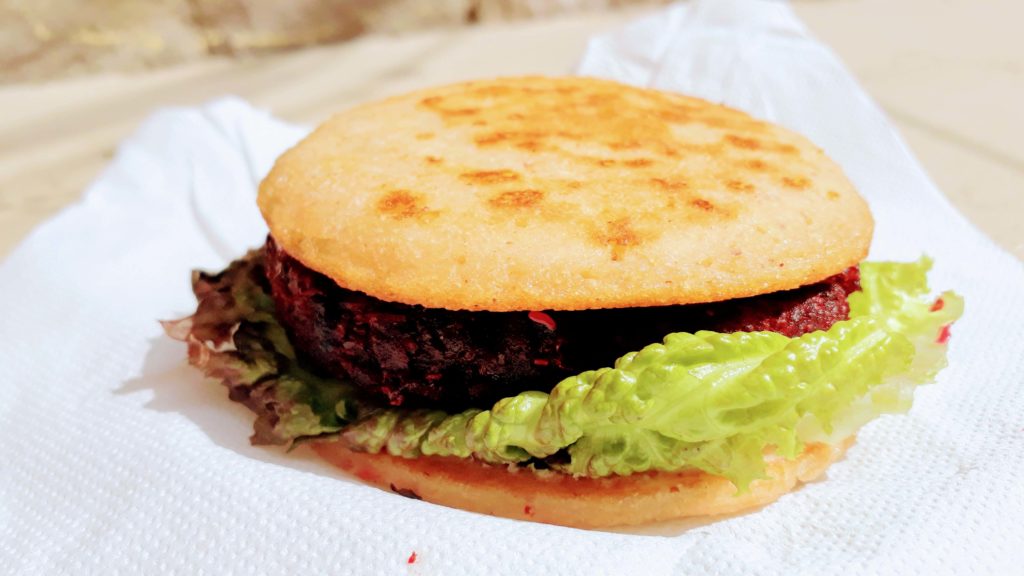 Pop-Up Market – Zamalek Market
Opening hours: Sat & Sun 12:00–16:00
Address: 4 Al Sheikh Al Marsafi, Omar Al Khayam, Zamalek
Sunny Market
Opening hours: Mon-Sun 07:30–00:00
Address: 9 El-Aziz Othman, Al Gabalayah, Zamalek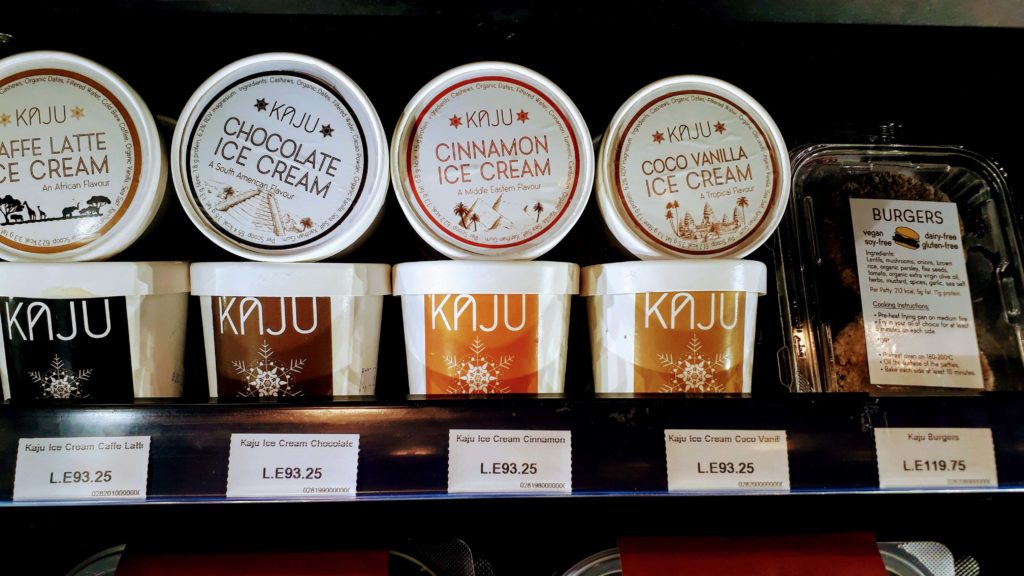 A vegan burger is also available at Butcher's Burger. We were assured by the owner that the "veggie burger" gets by without any animal products. You get it for the equivalent of just over 2 dollars including fries. The taste was good, only the consistency of the patties could not convince us entirely.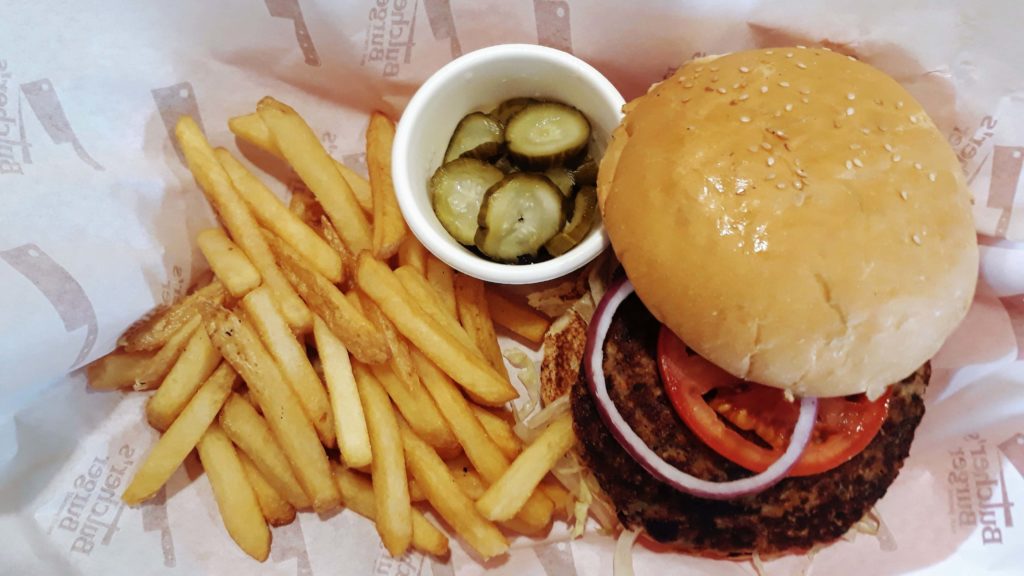 Butcher's Burger
Opening hours: Sat-Wed 10:00–00:00, Thu & Fri 10:00–01:00
Address: 5 Abou El Feda, Abu Al Feda, Zamalek
Also the Cake Café is located in Zamalek and here, too, the operators know what "vegan" means. Various vegan cakes, cupcakes, cookies, "power bites" (gluten-free) and pies are offered daily. Homemade almond milk (also sugar-free if desired) is also available for the cappuccino. However, the prices are at European level. For the savory hunger, you can get different salads and wraps.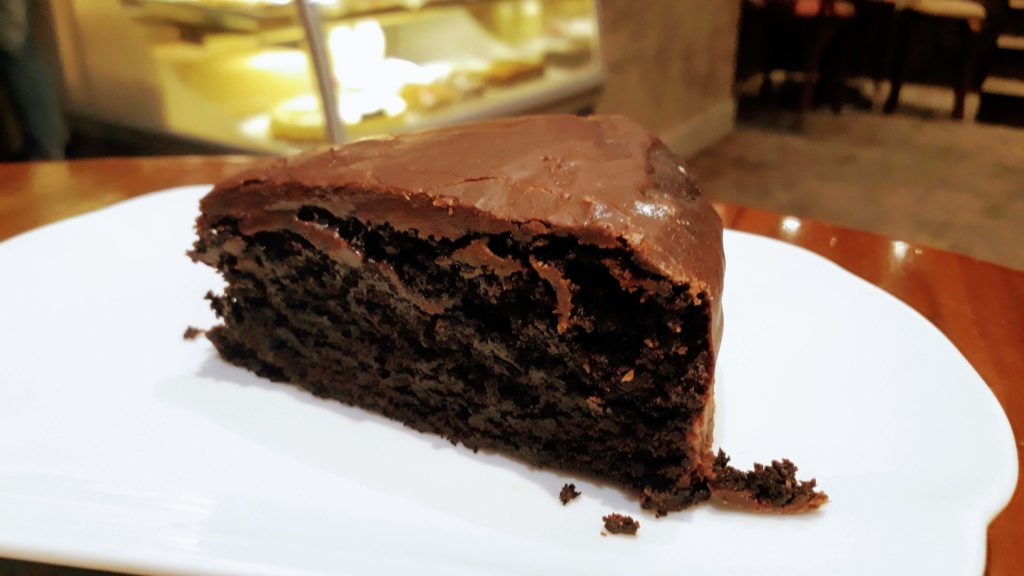 Cake Café
Opening hours: Mon-Sun 08:00–00:00
Address: 14 Al Sheikh Al Marsafi, Omar Al Khayam, Zamalek
BEANO'S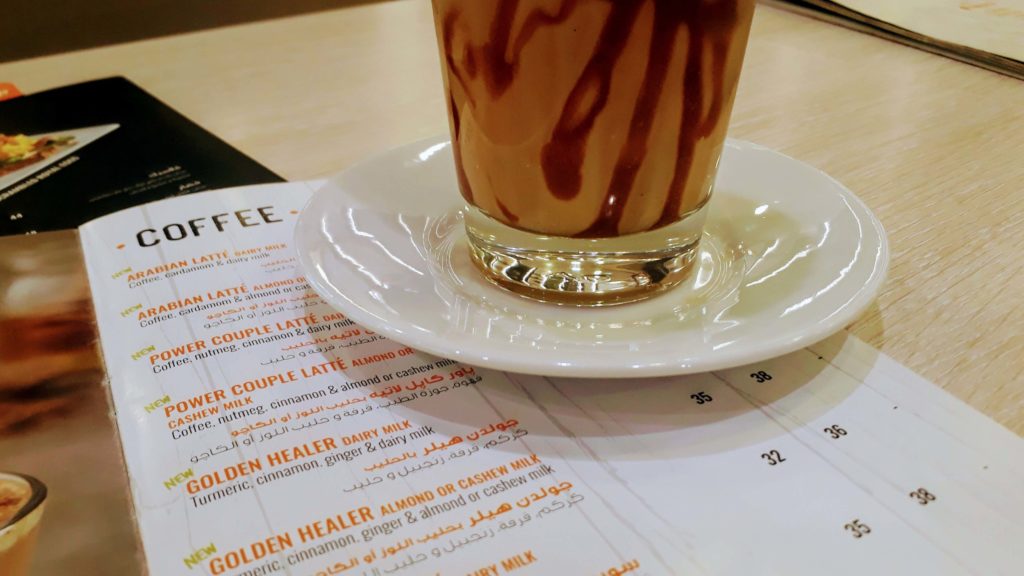 Another coffee shop with vegan options is also – but not only – located in Zamalek. Founded in 2001, Beano's Cafe operates 27 stores, 26 of which are scattered in Cairo and one in Alexandria. Here you can get a wide range of fancy hot and cold drinks on request with homemade almond or cashew milk. But not only that: For the equivalent of 2.50 dollars you can treat yourself to a banana oat or apple quinoa porridge for breakfast or as a small meal in between (make sure to cancel the honey).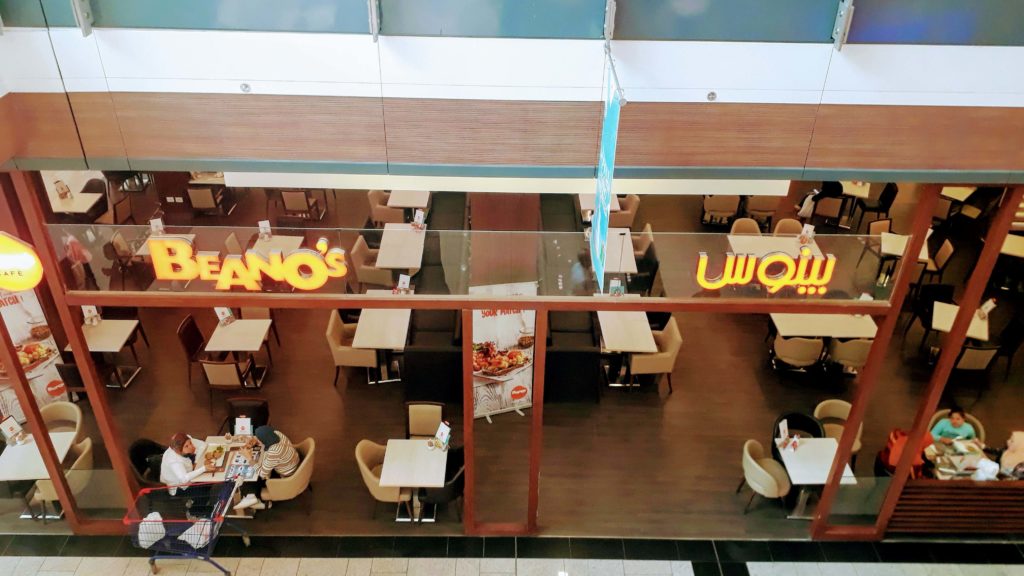 HARDEE'S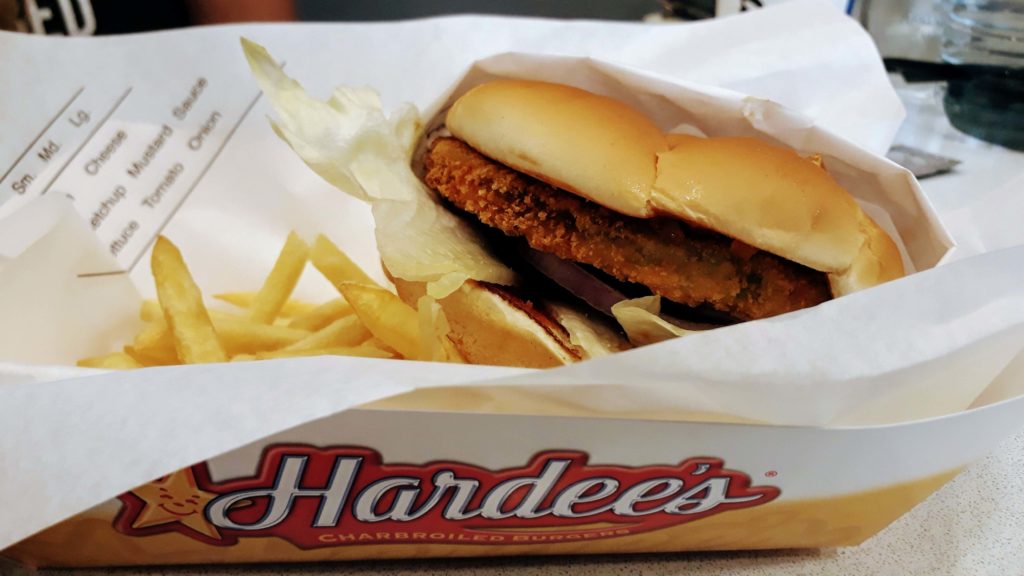 Even the American fast food chain Hardee's has a vegan burger on offer in Egypt. The 100% plant-based veggie burger is easily recognizable by its price, as it is by far the cheapest burger in the entire range: the burger itself is only 18 Egyptian pounds (about 1 dollar) and in the combo menu with large drink and fries 37 pounds (about 2 dollars). The patty consists for the most part of vegetables and tastes slightly of curry. Branches can be found in and around Cairo and Alexandria.
TBS (THE BAKERY SHOP)
The bakery chain TBS (The Bakery Shop) offers, according to the orthodox fasting rules, vegan options called "seyami". These include a donut, a croissant and a strawberry tart, which was already sold out during our visit. Unfortunately, there is no plant milk available here.
Other restaurants
In other restaurants, you should always look for the words "seyami" and "nabati" or ask if they have such food. Both can be roughly translated as "vegetable". However, since very few Egyptians understand the concept of vegetarianism, let alone veganism, make sure they understood that you don't want meat, fish, eggs or milk in your food. You can do this with the words "akl nabati faqat" ("only vegetable food") or "bidun lachma/samak/bed/laban" ("without meat/fish/eggs/milk").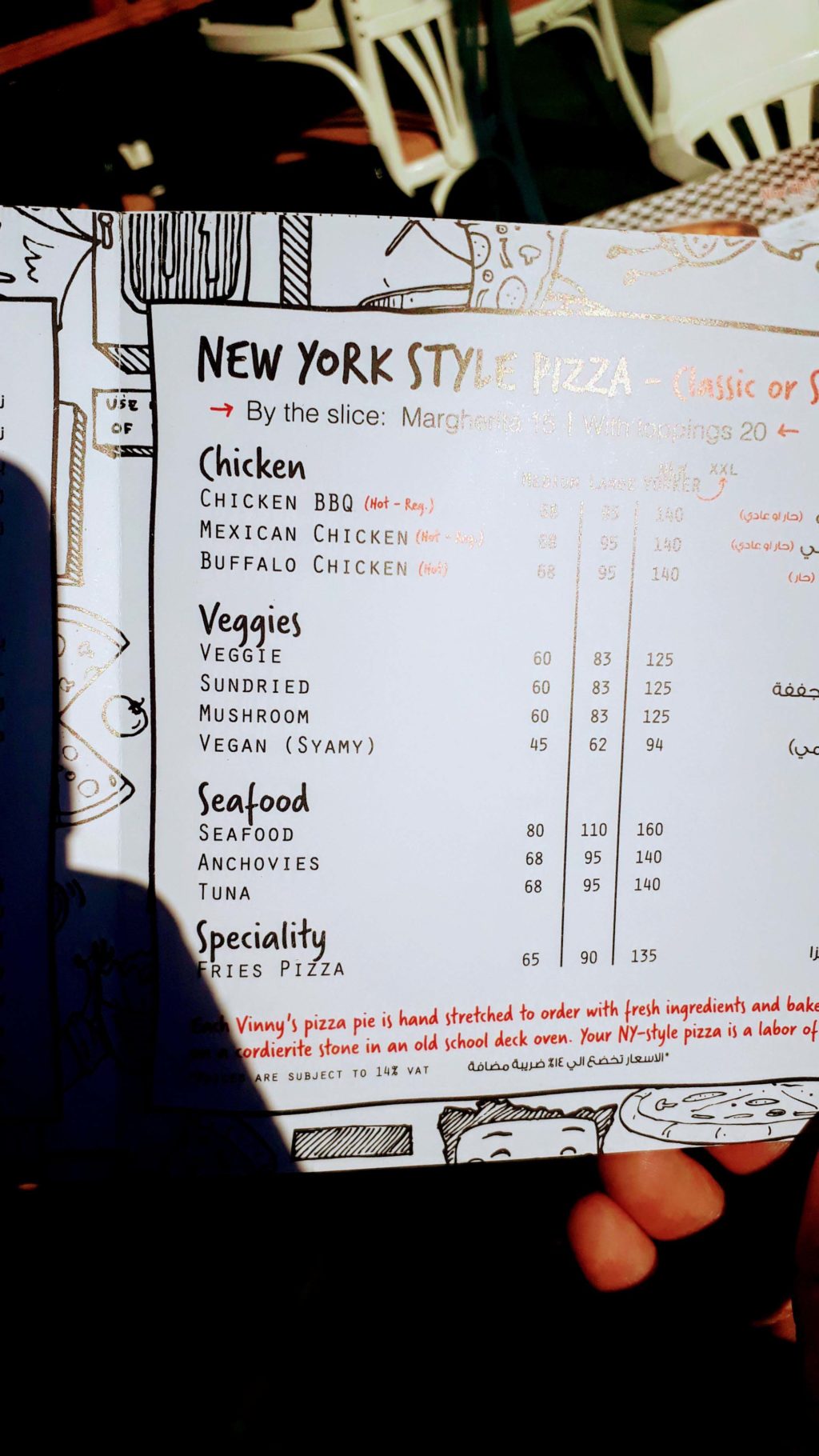 We can give you a specific recommendation for the Sofra Restaurant & Café in Luxor. Admittedly, the prices are – for Egyptian standards – slightly upscale, but there you can get all sorts of vegan mezze, which all taste excellent! The lovingly and uniquely designed atmosphere on the roof terrace invites you to linger.
Sofra Restaurant & Café
Opening hours: Mon-Sun 11:00–23:00
Address: 90 Mohamed Farid St, Luxor
What can I get in the supermarket?
Typical arabic
As already mentioned, every supermarket has the typical Egyptian date cookies maamoul. Whether these are vegan or not, varies from manufacturer to manufacturer, so a look at the ingredients is recommended. With the brand Borio, there is a widespread Oreo cookie clone, which is also vegan. Foul as well can be bought in tins in the supermarket.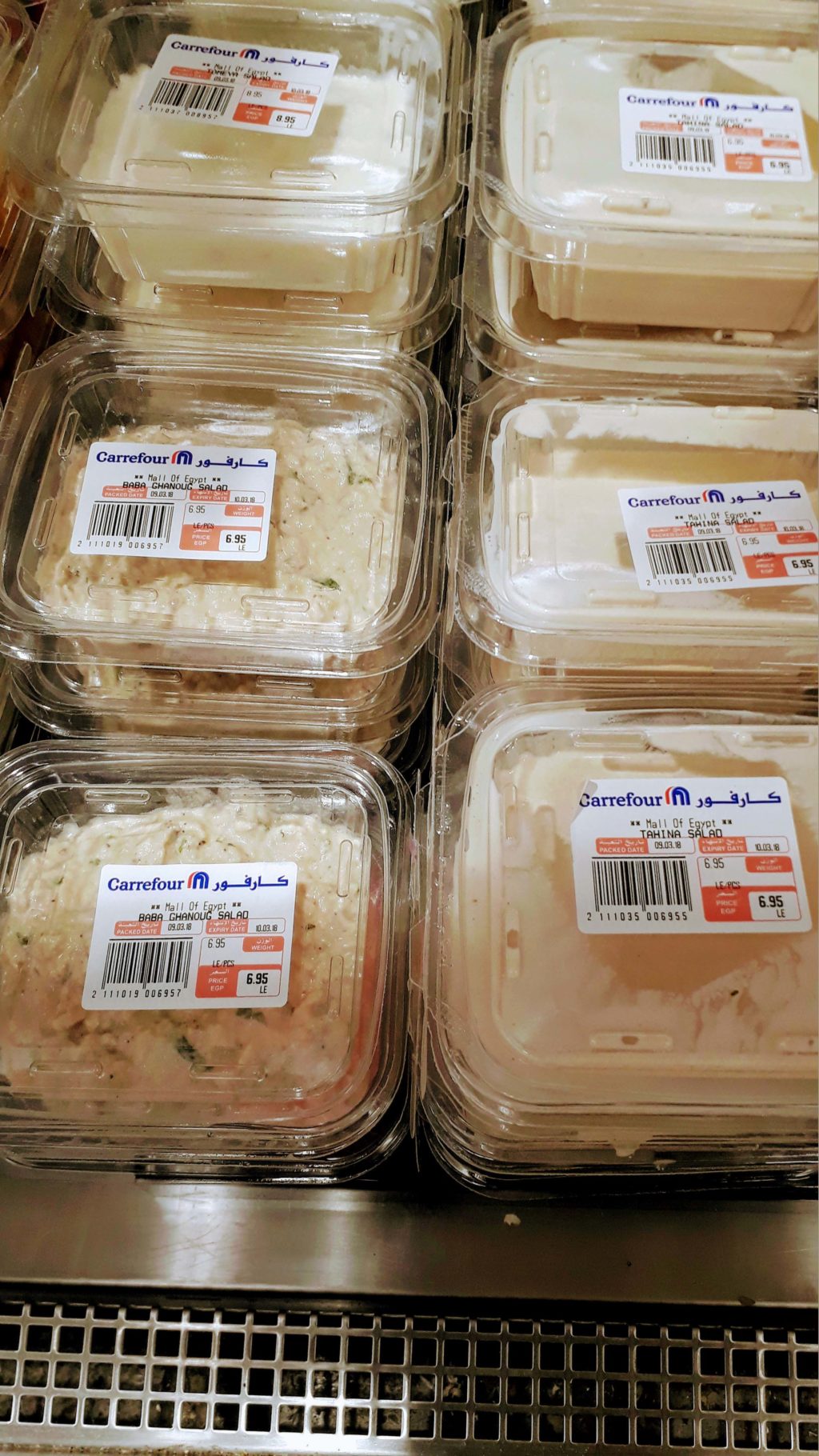 In large supermarkets such as Carrefour you will also find freshly packaged dips such as hummus (chickpea puree), baba ganoush (eggplant puree) and tahina (sesame sauce). Many supermarkets also carry a vegan chocolate halwa spread, like the one from El Rashidi El Mizan (costing about 1.25 dollar).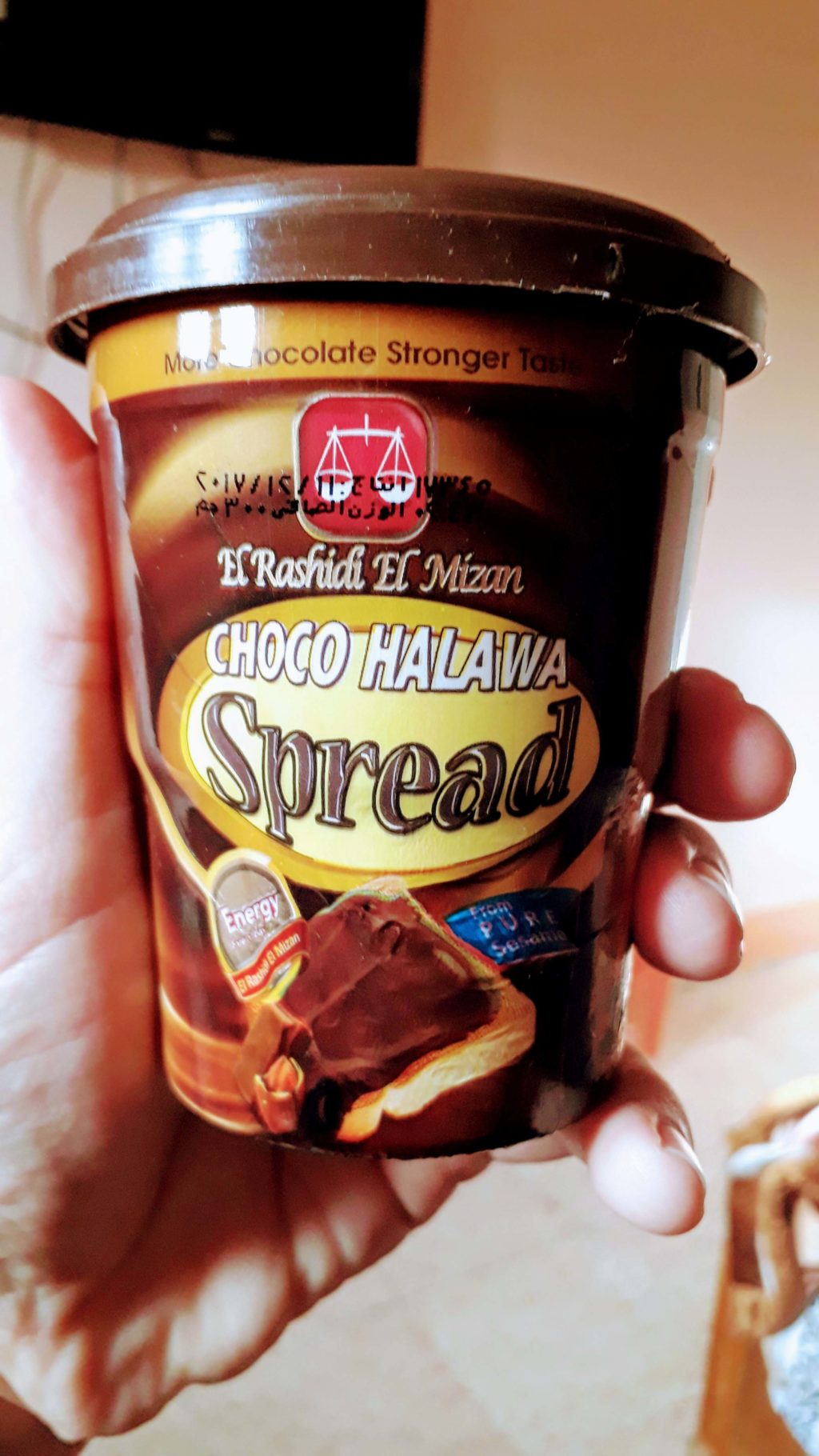 In some supermarkets you can also buy Lebanese manoushi bread. These are sour-spicy flatbreads, which were richly coated with Zatar – a mixture of thyme, sumac, roasted sesame and salt – and olive oil before baking.
Plant milk
Soy and almond milk are not easy to find and have its price: In an Abu Ashara supermarket in Hurghada, 10 ounces of soy milk from Vitasoy cost about 1.40 dollar and one quart of Silk almond milk around 6 dollars.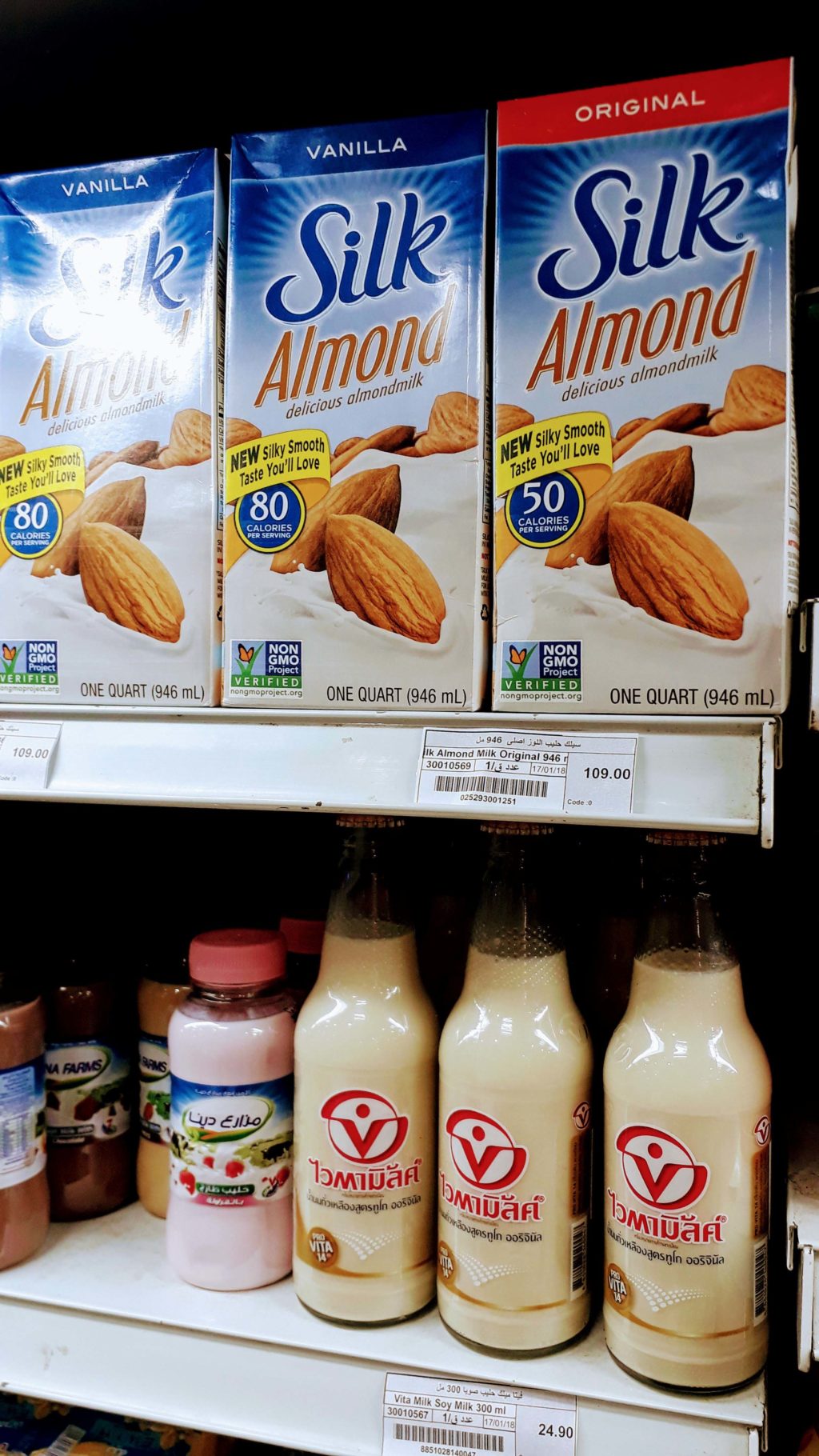 At Metro Market, Lactasoy's soymilk is available for 47 Egyptian pounds, or about 2.65 dollar. Of the varieties, however, only "Black Seasame" and "High Calcium" are vegan, all others contain either lactose or fish product (iiiuuurgh!), so better look closely at the allergens!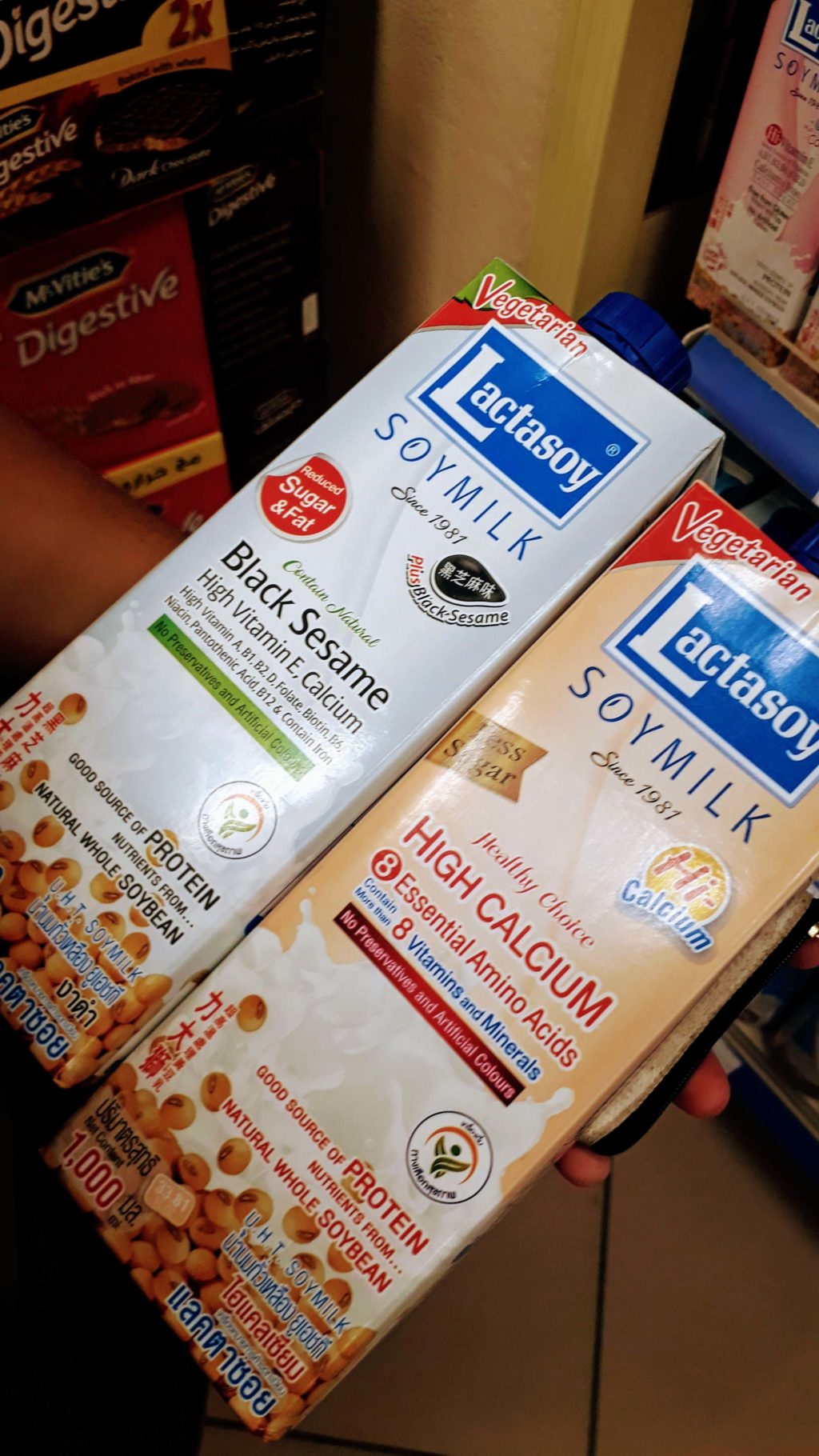 If you do not want to give up your Alpro soy milk, you'll get it at the Alfa Market in Zamalek for 129 Egyptian pounds (the equivalent of a whopping 7 dollars). There you will generally find a lot of imported stuff.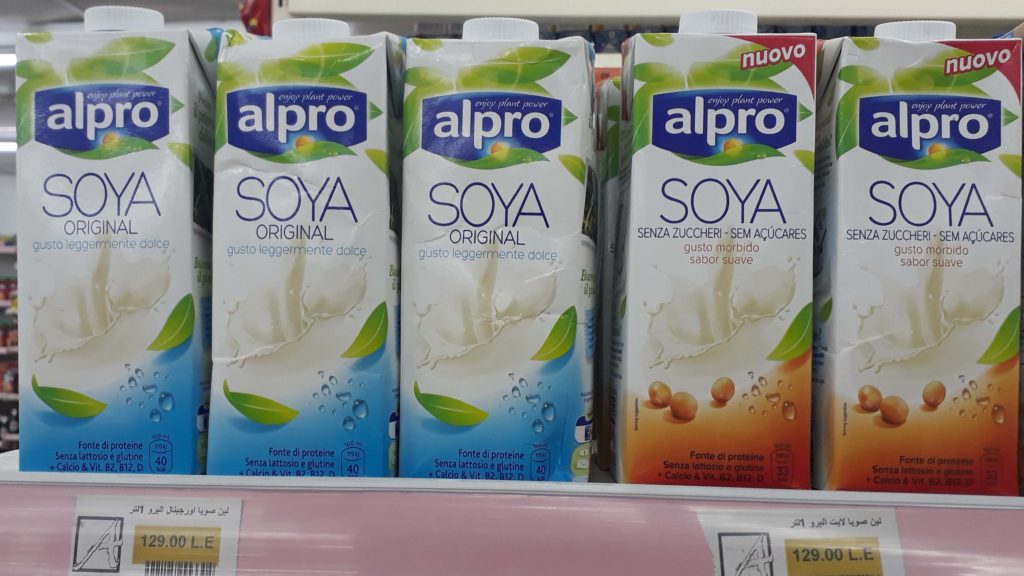 Specials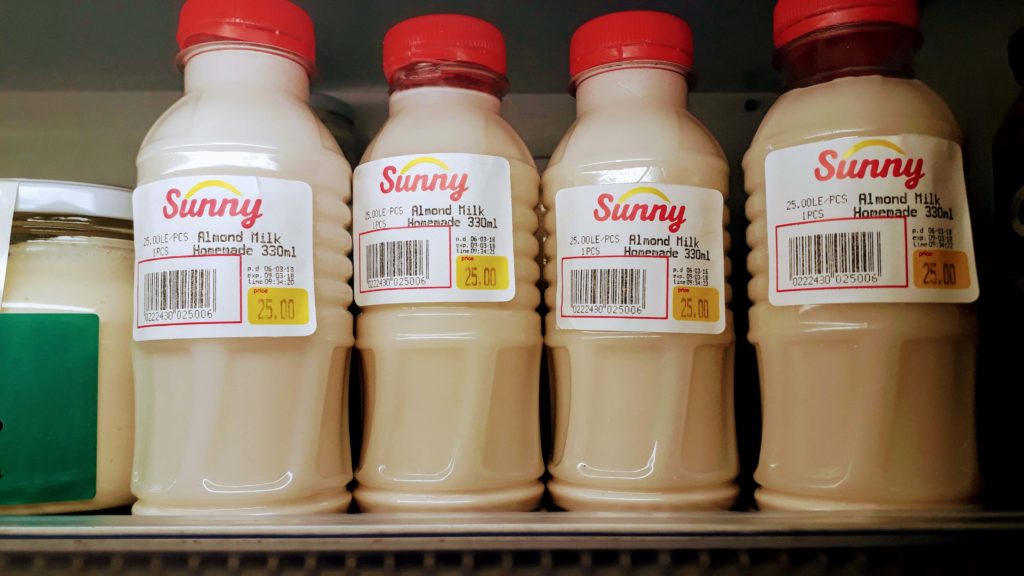 A special case among the supermarkets is the already mentioned Sunny Market in Zamalek. In addition to the vegan KAJU products (see above), there are also, for example, home-made almond milk (11 ounces for 25 Egyptian pounds ≈ 1.40 dollar), and soy milk of Silk, Alpro and Lactasoy at similar prices as already mentioned. In the supermarket, you can also find some other vegan declared products, such as "energy cups" from Natural Bites.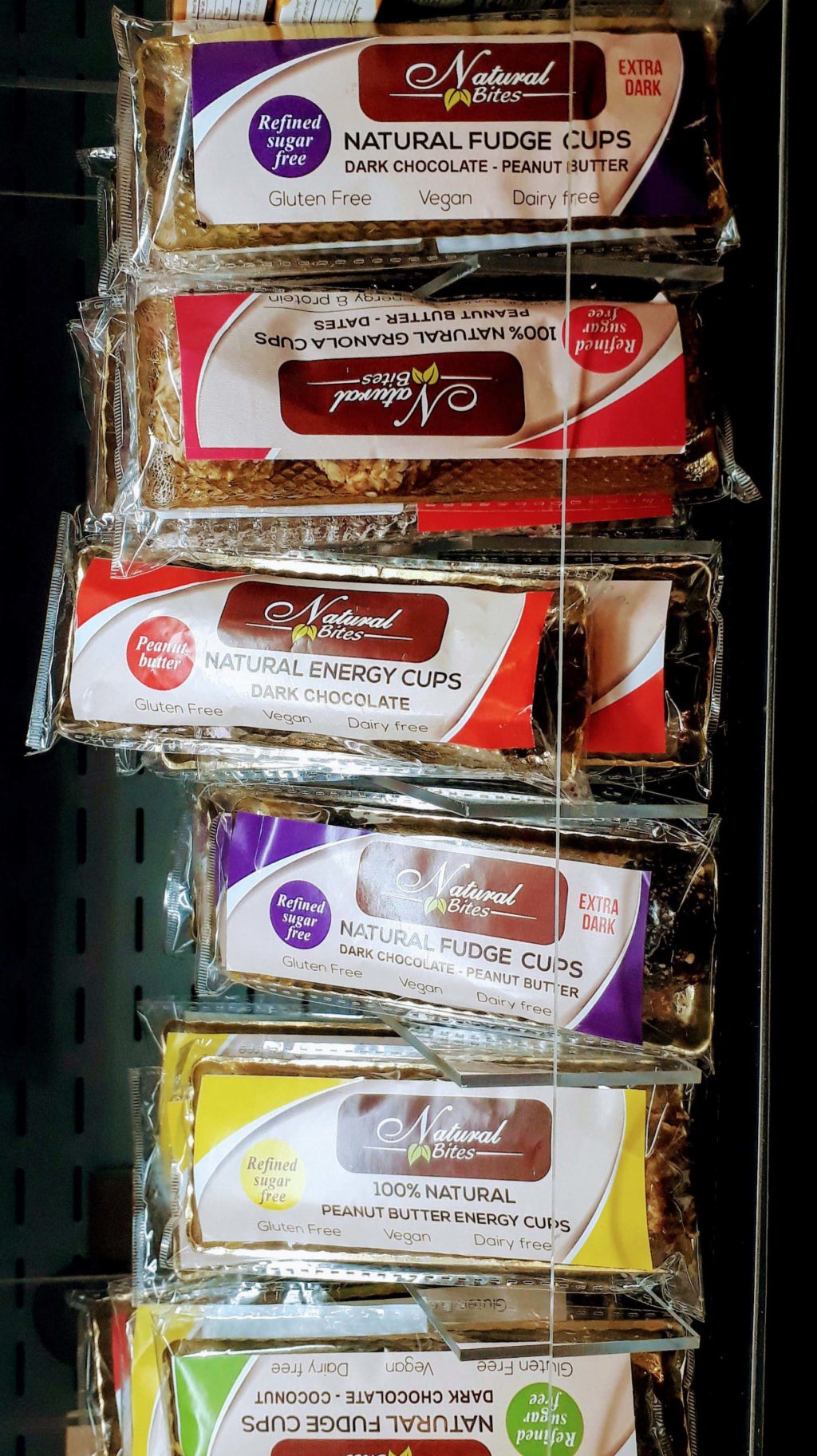 Ron has been particularly pleased about another discovery: For the equivalent of only about 33 cents, Metro Market offers refrigerated soft drinks called Double Dare in 11-ounces glass bottles. All varieties are vegan and include flavors such as coconut, chocolate, malt caramel, watermelon and lemon-basil. Fun fact: The drink is bottled in Hamburg.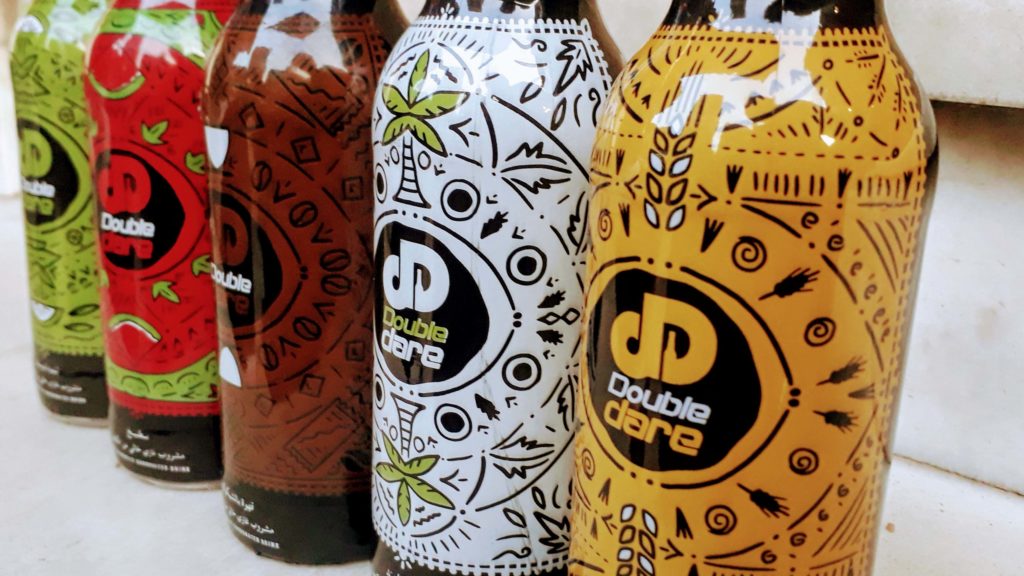 …and in the hotel?
Most hotels serve mostly European food. We usually spend the night either in hostels or in cheap private apartments, not infrequently we just choose the cheapest option on Booking.com (more on that soon!). Often, there is even breakfast included, especially in the hostels. The breakfast was always vegetarian, so we had to cancel only the cheese and eggs and were left with bread, jam, tea and fruit.
We also booked two snorkeling tours in Hurghada, one at the Golden Rose Hotel, one at Zak Apartements. These were around 10 dollar each and included once breakfast and lunch (tour booked through Zak apartments) and once lunch only (booked through Golden Rose Hotel). Both times it was easy for us to find vegan food in the wide buffet. The tour we booked through Zak Apartments included even a smoothie flatrate.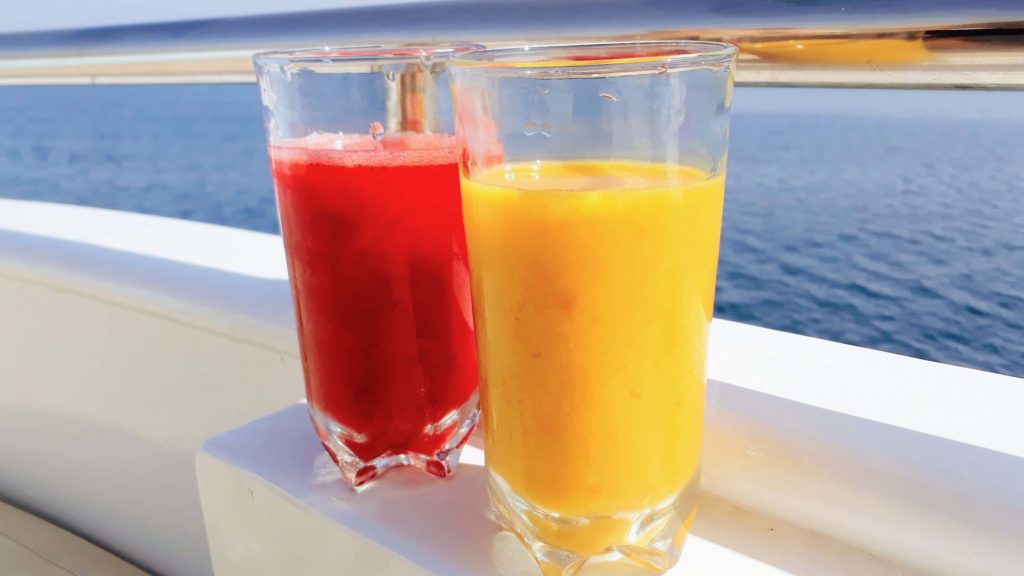 Conclusion
If you expect vegan fancy food like doner kebab, burgers and pizza with vegan cheese everywhere like in Berlin, Prague or New York, do not travel to Egypt. You can find these, if at all, only in the hipster district of Zamalek in Cairo at corresponding prices. Also, a raw and/or gluten-free diet can quickly become monotonous over a longer period in Egypt.
But for those interested in traditional vegan food, which is also spread among the locals, very easy to find and extremely cheap, this is the place. Egypt is thus definitely a recommendation for vegans even on a budget! 🙂
You might also be interested in: