The approximately 60 million cubic meters of sand were declared a nature reserve in 1978 due to their great ecological interest. With over one million tourists annually, it is – after Mont-Saint-Michel – the natural monument with the second most visitors in France.
On the way from Bordeaux to Bayonne we noticed a sign with "Dune du Pilat" on the highway. Since this name was unknown to us so far, we pulled out the phones and googled it, and behold: We had just passed the largest shifting sand dune of Europe. Clearly, we didn't want to accept that, so we immediately turned around and took this little trip with us.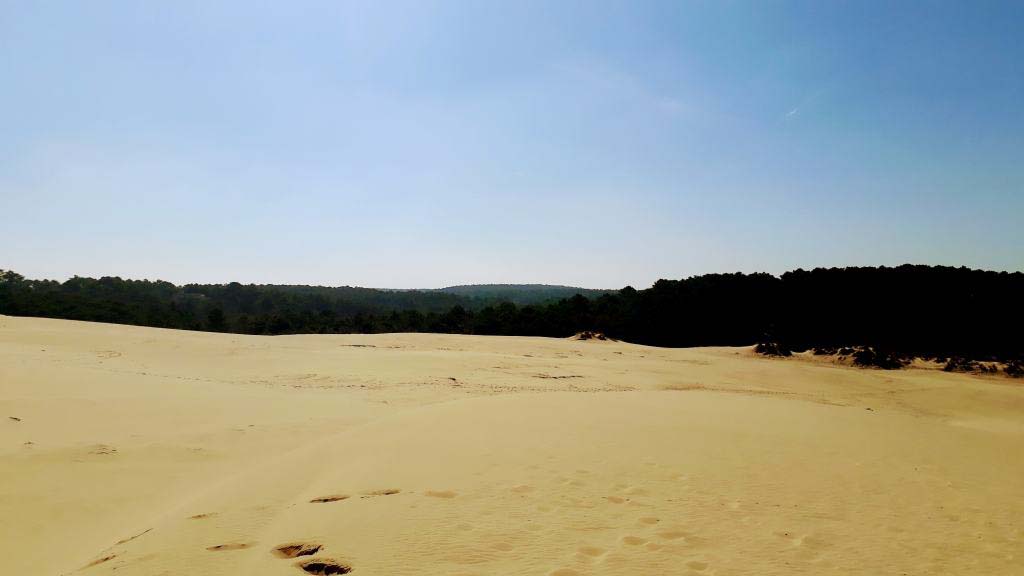 Since it was quite late and dark already, we first stayed in the neighboring town of La Teste-de-Buch for the night. So the next morning after breakfast we headed to the dunes. Since we had read that there was an alternative to the official, paid car park in the north of the dunes, we drove south of the dune to find the free parking in Le Petit Nice. It's still a bit south of the actual village and exactly here.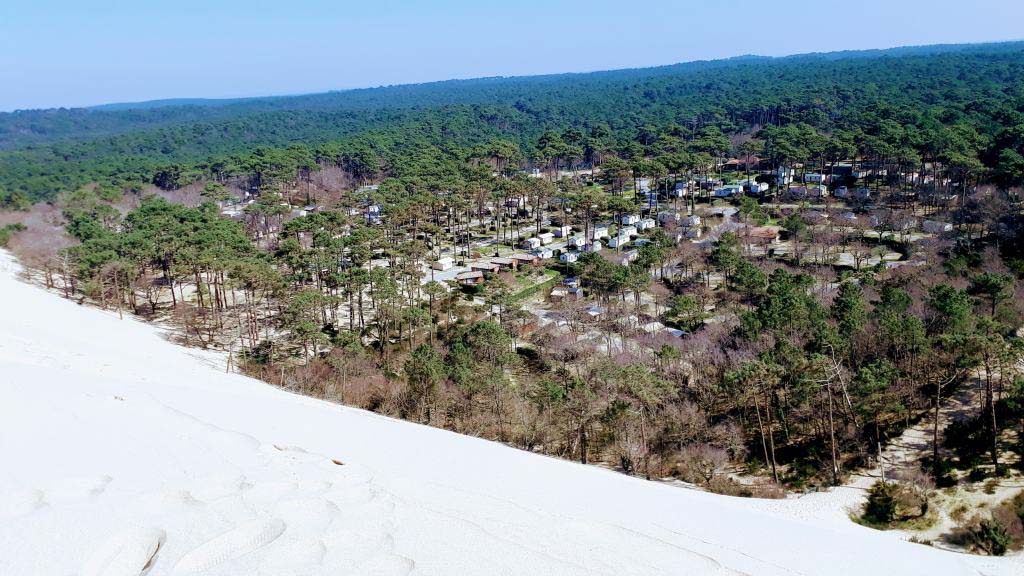 Therefore you have to walk a bit along the beach to the actual dune. Since we had really good weather at the sea for the first time, this didn't bother us, because this way we could feel the infinite blue at least with our feet. And so we were almost alone on the beach and due to the low season hardly met other people, only at the very north of the dune, where the official car park is located.
But now a few facts: The dune has a pure sand area of 135 hectares and is surrounded by approximately 4,000 hectares of forest. It is up to 110 meters high, 500 meters wide, about 2.7 kilometers long and has an incline of up to 40° on the east side (towards the forest).
As the west or sea side is sloping significantly flatter, the climbing of the dune is much easier from this side, though still not easy. But once reached the top, you will enjoy a beautiful view over the sea, the forest, the village and the bay Bassin d'Arcachon.
During the season from the beginning of April to November there is supposedly a plastic staircase leading up to the dunes, about 300 to 400 meters from the official car park.
After the seemingly endless way back to the car, we made us a little something to eat and then went on to Bayonne and noticed thereby how our sun-warmed skin was already getting a bit darker… 😉