Whether San Sebasti├ín in Spanish or Donostia in Basque – the European Capital of Culture┬áof 2016 definitely is beautiful. And above all surfer- and dog-friendly. A good summer destination?
---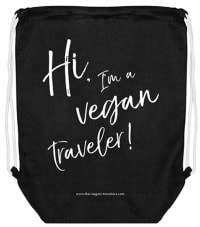 Self-Promotion
You want to show on your travels that you live vegan? You want to meet other vegan travelers? You would like to get to know vegan locals in other places, who will show you their city? If so, show it with the gymbag of our vegan travel community that you are a VEGAN TRAVELER!
Here you'll get more information. To order your gymbag, please send us a message.
---
To our video of San Sebastián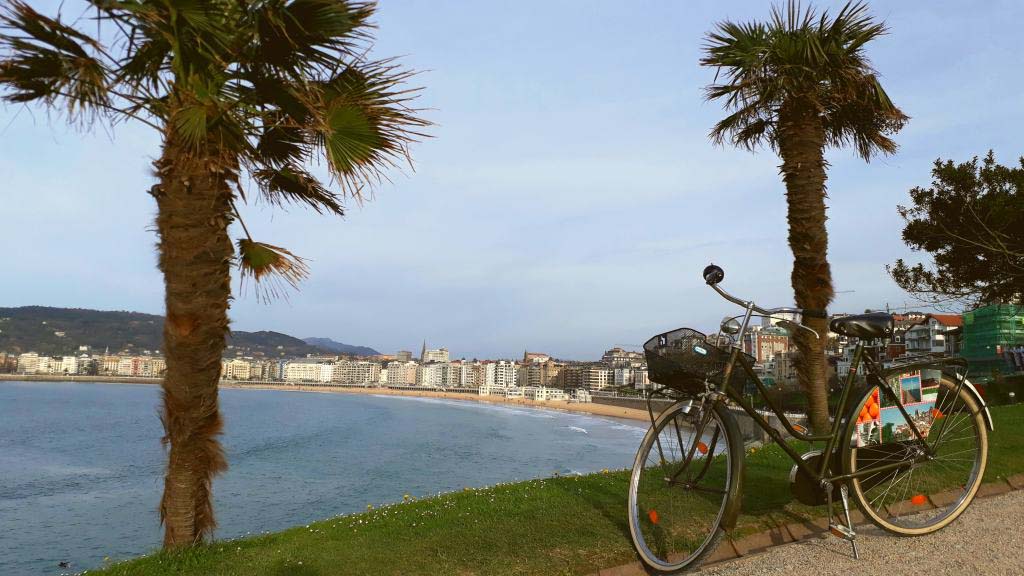 After our spontaneous departure from Bayonne we drove freshly showered and with a freshly made bed (in the heat┬áour margarine had become independent and unfortunately spread out in our bed) across the Spanish border and had to refuel first. But that was not too┬ábad, after all, gasoline is much cheaper in Spain than in France! So we paid only 1.10 ÔéČ per liter at easygas (one of the cheapest gas┬ástations at all). That way,┬áyou can save a lot. ­čśë
As we were hungry, we started looking for a still open supermarket and found it in the huge shopping center Garbera a little east of San Sebastián. There we found countless varieties of cheap plant milk and very tasty, spicy guacamole. The shopping center was not only open until late in the night, but also offered free WiFi and also sofas with sockets and USB ports. In addition, we finally were again able to understand everything around us and communicate reasonably. We were really glad to have arrived in Spain!
One thing we can say with certainty about the Basque Country: It is very mountainous. So we had a very nice view over the city also from our sleeping place. After we had uploaded some videos with┬áthe shopping center WiFi, had breakfasted and chilled some time, we set out with the bikes to Kafe Botanika. We cycled┬áalong the river Urumea and were positively surprised by the wide cycle paths – a rarity in Spain.
The Kafe Botanika is located close to┬áthe bridge Puente de Mar├şa Cristina and the Cathedral of the Good Shepherd. A gate┬áleads into the colorful and wonderfully furnished garden.
With a freshly squeezed watermelon juice, a beautifully presented spring salad and hummus with pita bread we started this both tase and visual pleasure (beautifood would be the right word for this). Next, we went on with a mushroom curry before a juicy-fruity piece of cake with kiwi sauce and a cup of coffee con leche de soja concluded. We absolutely loved the friendly staff, the food and the ambience as well and would come back anytime!
Afterwards, we shot only a small round, starting at the cathedral, along the promenade of the city beach Playa de La Concha to the Palacio de Miramar (former summer residence of Queen Maria Christina) from which you have a beautiful view over the Bah├şa de La Concha.
Since it was quite cloudy and windy, we biked back to the shopping center, just to continue the next day where we had stopped. We parked near the Gipuzkoa Plaza, cycled once again to the Playa de La Concha and walked barefoot through the cool sea. The beach was frequented by strikingly many dogs, who seem to be more than welcome here. Thus, not a bad destination for beach and dog lovers!
Then we grabbed our bikes again and went to the sculpture ensemble Peine del Viento (Spanish for "The Comb of the Wind"), one of the most famous works by Eduardo Chillida. The three steel sculptures each weighing ten tons are let in rocks above the water and are bathed by some waves.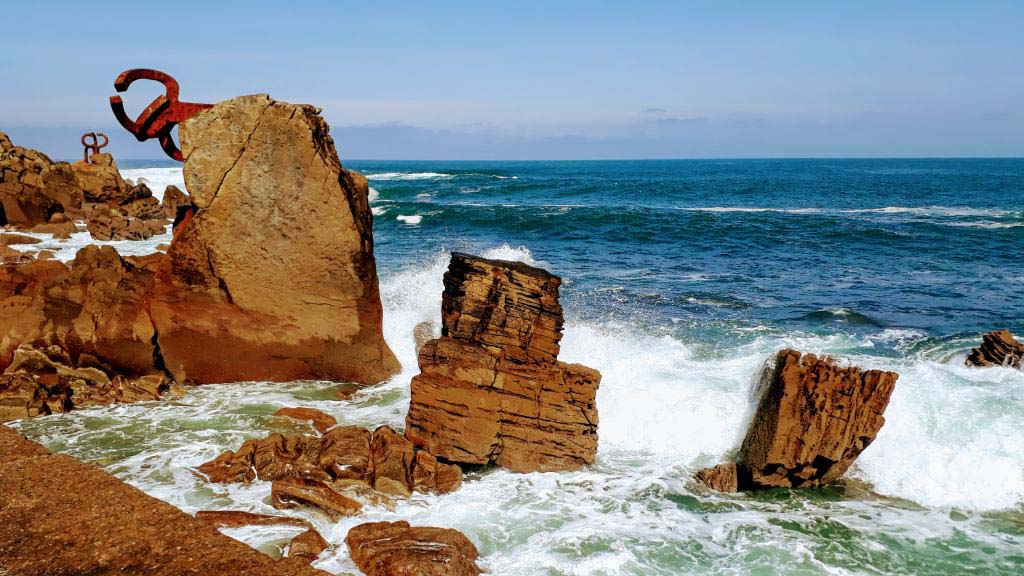 Then we climbed the Monte Igueldo. At the top of the mountain, an entrance fee for the enthroned hotel with a rather less beautiful leisure park is required. We saved ourselves that as we had a nice view of the bay of La Concha and San Sebastián already on the way up. If you do not want to climb the mountain on foot, there are two alternatives: a historic cable car or the bus line 16.
The entrance to the old town of San Sebastián is the town hall, which was opened in 1897 as a casino and has served since 1947 its present function. Through the narrow streets and the crowds we searched our way to the central Plaza de la Constitución with the old town hall. After looking at the two churches Santa Maria and San Vicente, we went to the Museum of San Telmo, which we also only looked at from the outside.
Since we felt a little hungry and the "normal" supermarkets are closed on Sundays here, we went to the rather small "super"mercado Baratze, which almost resembled an unpacked shop. We bought pickled white beans and vegetables and ate it together with tomato sauce in the car.
Afterwards, we briefly visited the Playa la Zurriola, the surfer's beach of the city. We have spared the probably quite strenuous climb to Monte Urgull with the 12.5-meter-high Christ statue, since the view from Monte Igueldo is said to be much more beautiful anyway. This already ended our stay in the European Capital of Culture 2006, as we went now on to Bilbao.
San Sebastián really pleased us and we were pleasantly surprised by the wide urban beach with its crystal clear water and its dog friendliness. In addition, we liked that there are bike paths everywhere in the city, so you can also explore the city by bicycle without having to go into the Spanish traffic chaos on the road.
Anyone who now thinks they have found a still unknown summer destination is, however, too late: in order to avoid such situations, one should probably travel in the off season here. But San Sebastián will surely enchant you in spring or autumn!
More impressions: