Carvoeiro
In addition to the many beaches of Carvoeiro, the most famous beach in the Algarve is located at a distance of 5 kilometers: the Praia de Benagil. Here is namely the Gruta de Benagil, the most photographed natural phenomenon in the Algarve. It is a huge rock cave with a large hole in the ceiling, through which the sun shines beautifully inside. The best way to get there you'll learn in the second part about activities in the Algarve. Another attraction in Carvoeiro is the rock formation Algar Seco.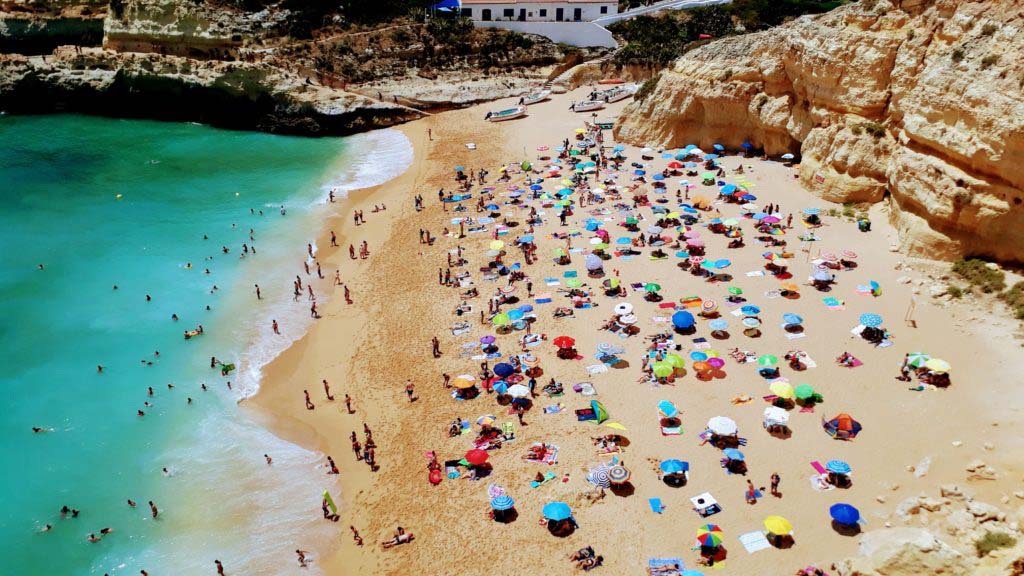 Within walking distance is Earth Shop & Cafe (number 8 on the Vegan Map). The vegan-friendly café, which also sells a selection of local (organic) produce, offers a weekly changing menu with international food, such as toast, sandwiches and burritos, with a focus on healthy ingredients. There are also two daily changing "Daily Meals". Vegan options are labelled, but generally everything can be ordered vegan. In addition, you can get super delicious smoothies, some even with almond milk (our recommendation: the Pink Panther Smoothie). The cafe is quite large and offers some seating with sea views.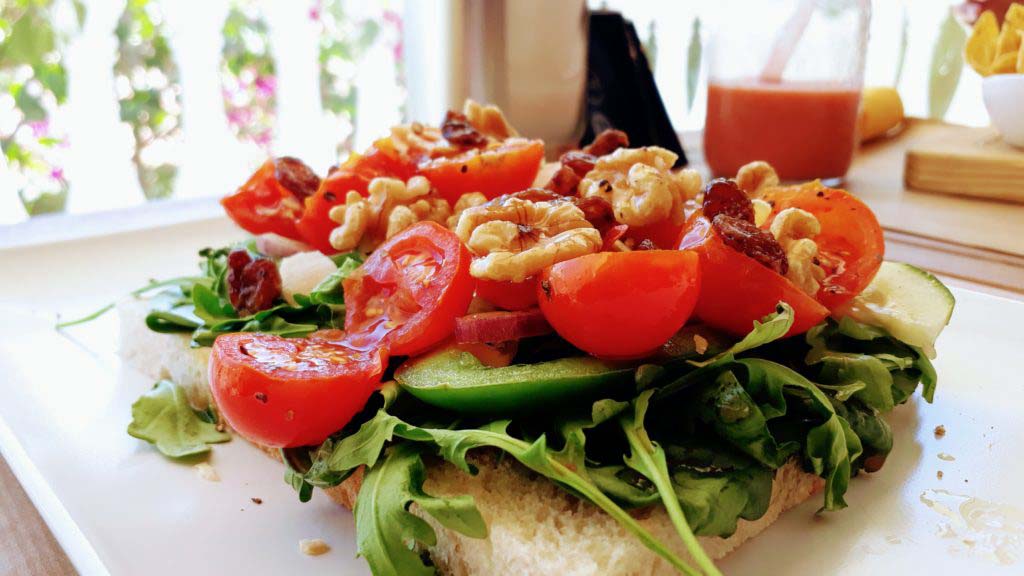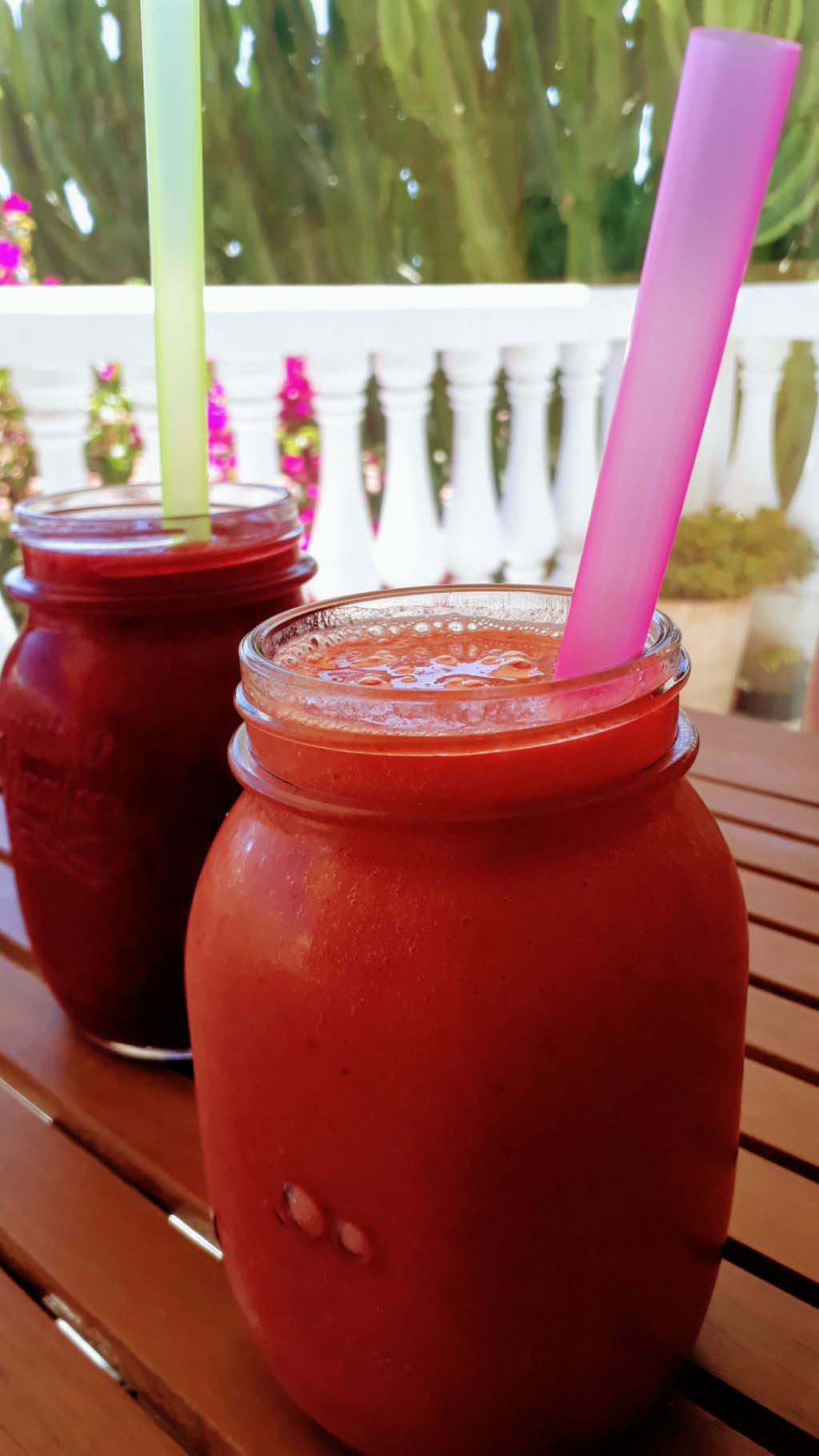 PORTIMÃO
In Portimão, the largest city in the western Algarve, we went to four different eateries. The purely vegan restaurant Vegetarianus (number 9 on the Vegan Map) is popular especially among locals. When we got there at lunchtime, people lined up even to the street. If you manage to get a seat, you can eat there, but you can also take it with you. The typical Portuguese food consists of salad, various mock-meat for example from soy or seitan and legume side dishes. In addition, there are freshly squeezed juices and very delicious desserts such as chocolate mousse and cake.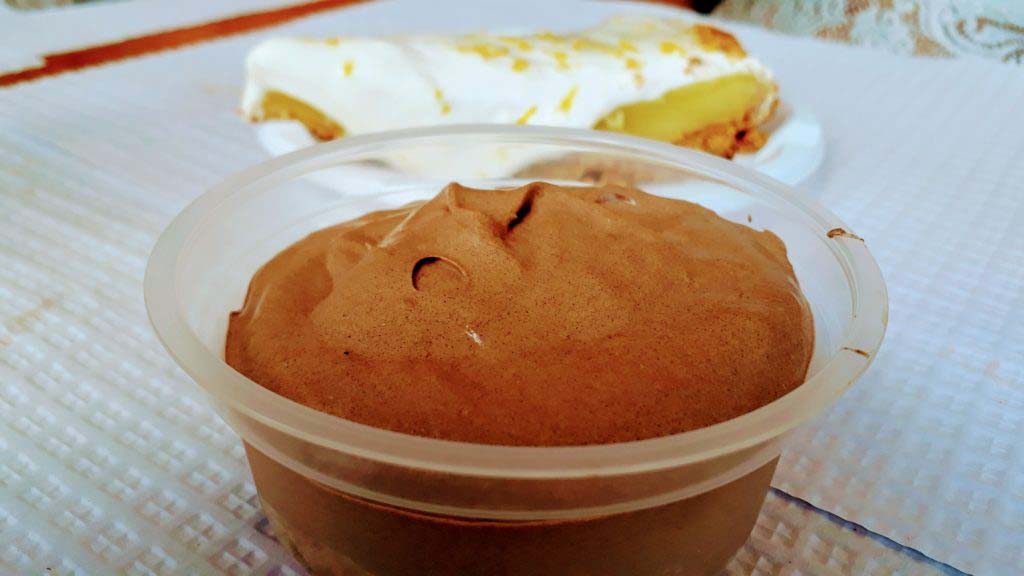 Also in the unpackaged store Armazém Integral (number 10 on the Vegan Map) everything is vegan except for honey in a few products. Here you can get a daily changing menu, in our case consisting of a freshly squeezed juice and zucchini pasta with lentils and salad. For dessert we had a piece of raw piña colada cheesecake and pistachio ice cream, both homemade. Here as well the focus is on healthy food.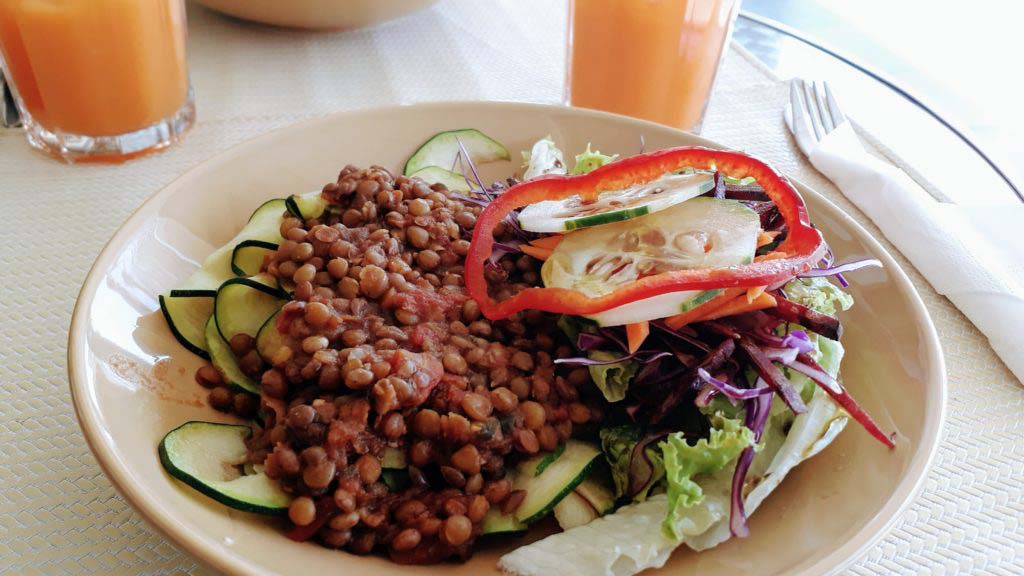 Neither in the stylish bar Casa da Tocha (number 11 on the Vegan Map) you have to go hungry as a vegan: Every day you can get a different raw vegan lunch menu, which includes a drink, main course and dessert. The ingredients are fresh and wholesome, meaning as little as possible processed and refined. Our menus included a smoothie, a burger/wrap and a tiramisu/berry sorbet. The exceptional combination of sweet (fruit) and savory (vegetables) in the main courses was especially noticeable. Just as the Tiramisú, which exceeded all expectations!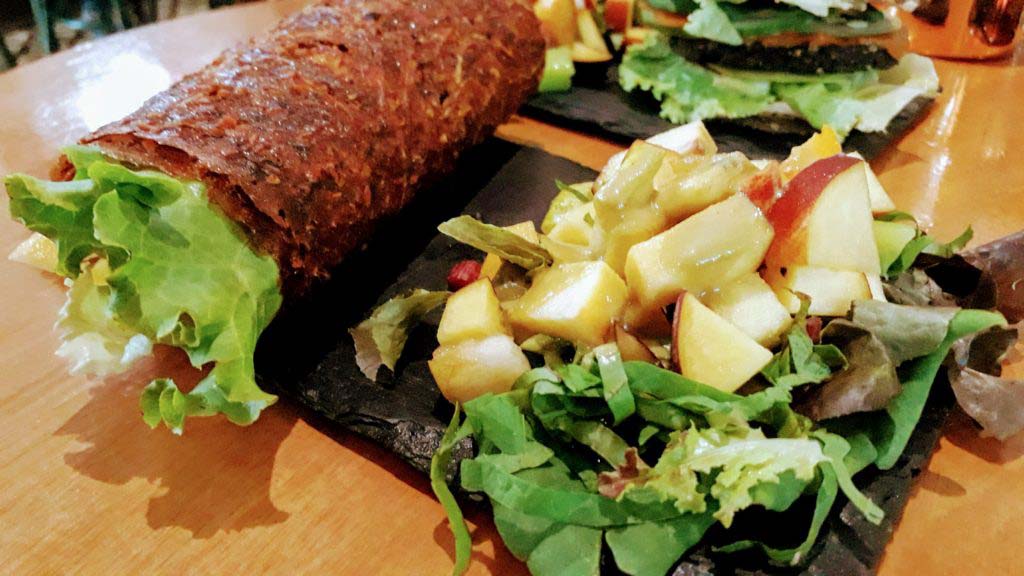 Praia da Rocha is a popular bathing beach and district of Portimão. For several months, the Juice Bar Super Juice (number 12 on the Vegan Map) is also here. In addition to fresh juices and smoothies, you can get sandwiches, salads, protein shakes (including vegan ones), hummus, ice cream, brownies and superfoods. Vegan options are declared and advertised explicitly. In direct proximity to the beach promenade you can sit indoors or outdoors.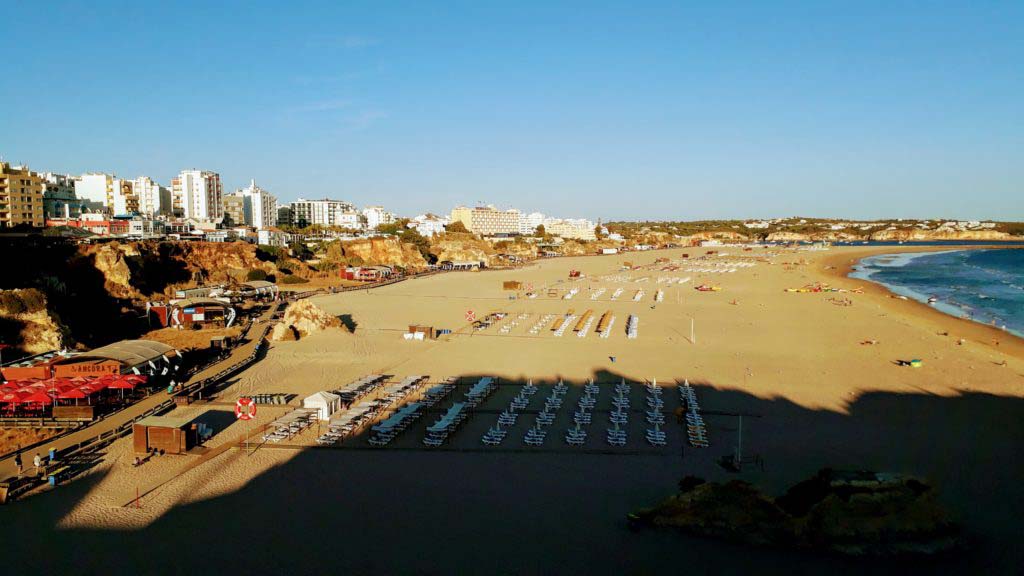 LAGOS
Lagos – a historic, lively and pretty touristy city. The charming, authentic old town and a variety of beaches, restaurants, bars and clubs have made Lagos a popular holiday destination in recent years. Here we have also participated in some tours, as you will read in the second Algarve part. And neither vegan food is missed out here.
For example, in the vegetarian restaurant Estúdio Vegetariano (number 13 on the Vegan Map), almost everything is either vegan or veganizable. Here you will find delicious homemade lemonades, freshly squeezed juices, many small snacks and appetizers, salads, main courses and desserts. The food is beautifully presented and the price-performance ratio is very good for Lagos. The atmosphere is rather chic and it is recommended to reserve a table for two or more people. Our suggestion: Definitely try the chocolate mousse!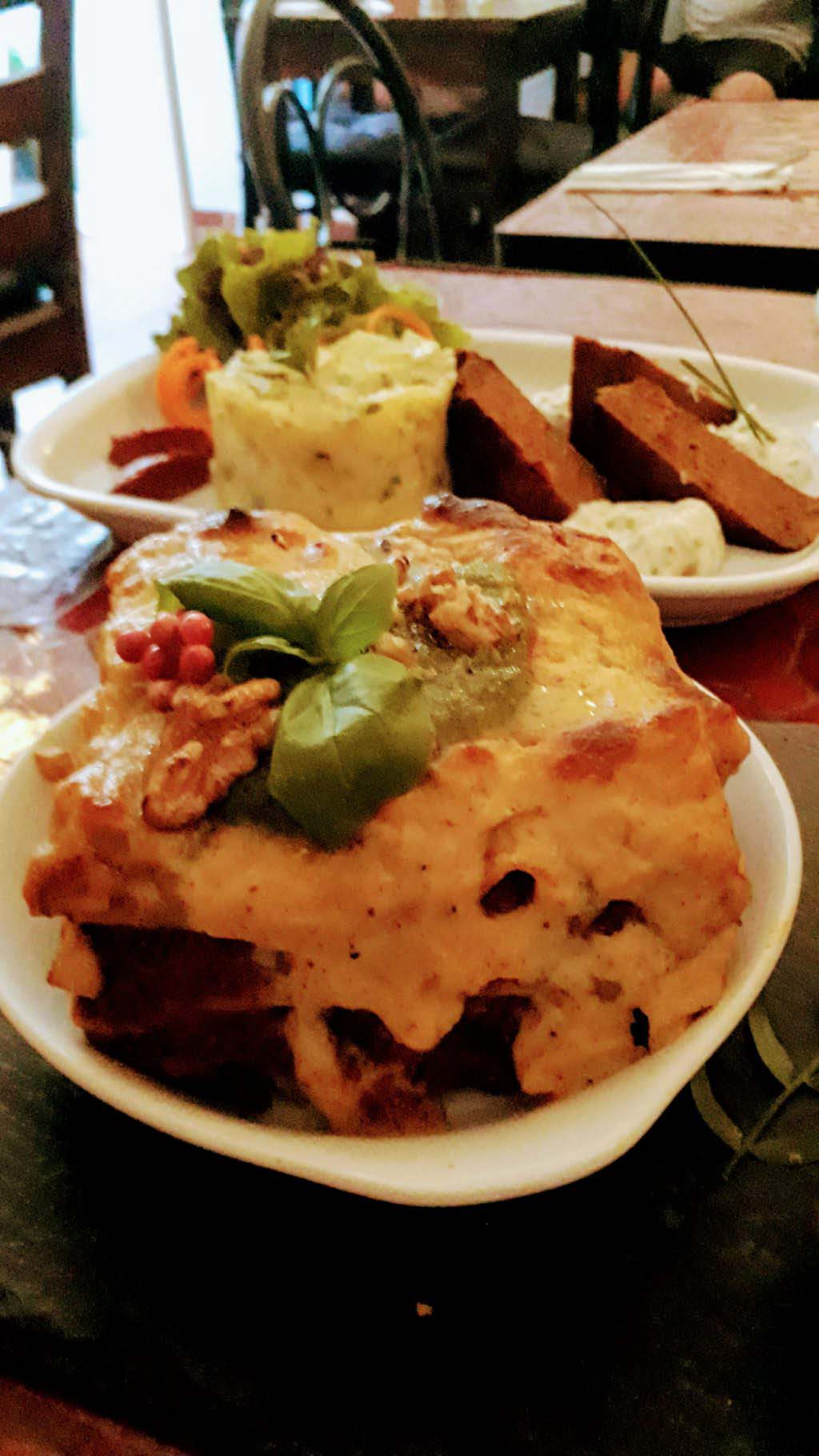 At Pomò – la pasta bio italiana (number 14 on the Vegan Map) there is everything pasta lovers desire! In mix'n'match style you can choose from 10 types of pasta in combination with also 10 different sauces. Among them are three vegan sauces and also gluten-free options. Everything in the cute, nicely decorated shop with good location in the old town is also in organic quality. For dessert, there are even vegan, typical Tuscan biscuits (Scroccadenti). If you want to take your noodle portion with you, you can do so in a recyclable packaging.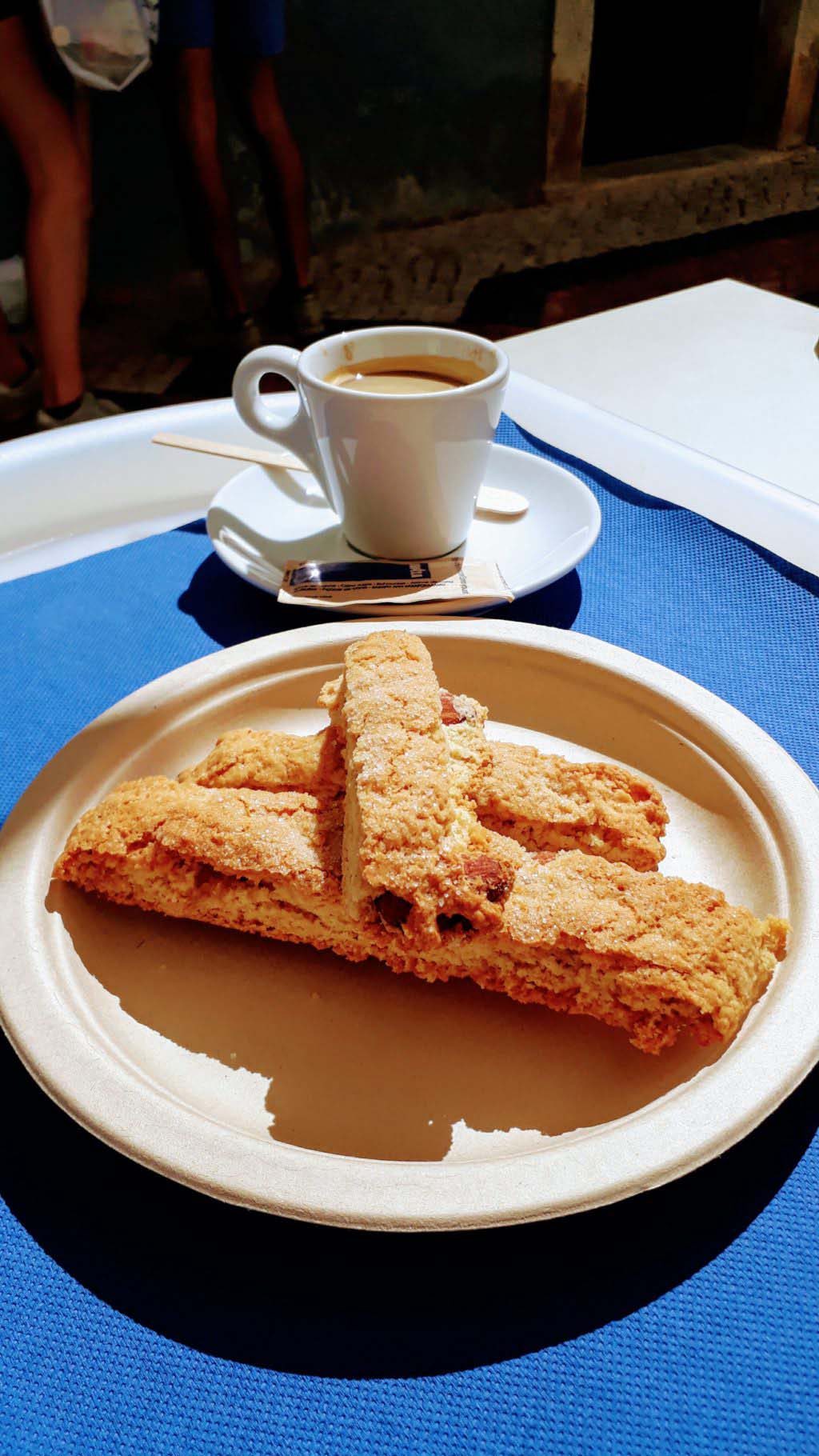 Right next to Estúdio Vegetariano is the vegan-friendly restaurant La Esterella Lagos (number 15 on the Vegan Map). There you get changing dishes from all over the world. When we were there, they had three vegan main courses: Thai saitan curry, Moroccan tabbouleh with falafel and a beetroot peanut plate. For dessert we had a very delicious vegan brownie.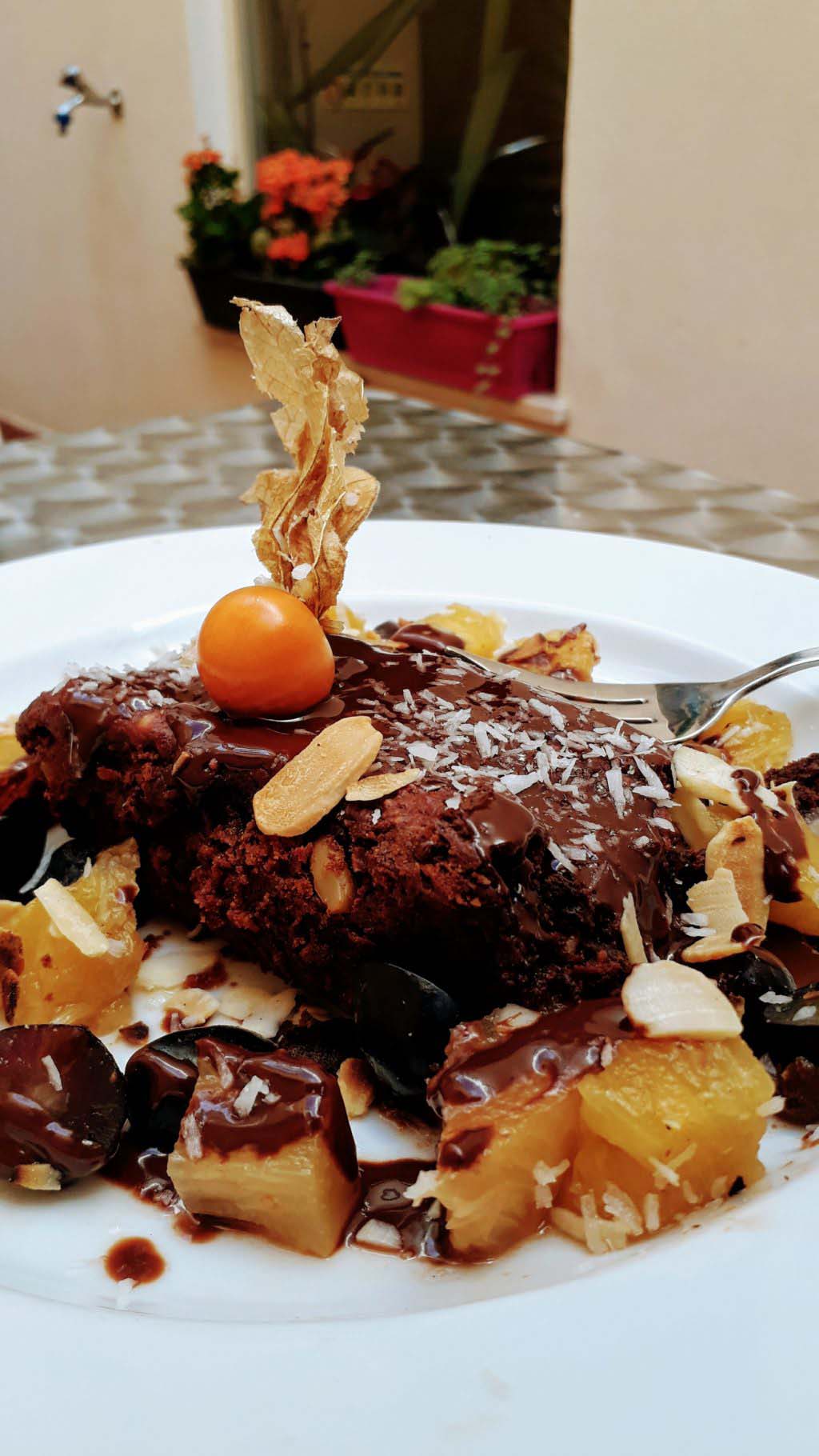 Also located in the old town, right next to the church Igreja de Santo António is the tapas restaurant Meu Limão (number 16 on the Vegan Map). You can find a few vegan options in the menu, and some vegetarian ones can be ordered vegan. These include, for example, bruschetta and hummus. Unfortunately, there are no vegan desserts (yet?). You can sit indoors or outdoors.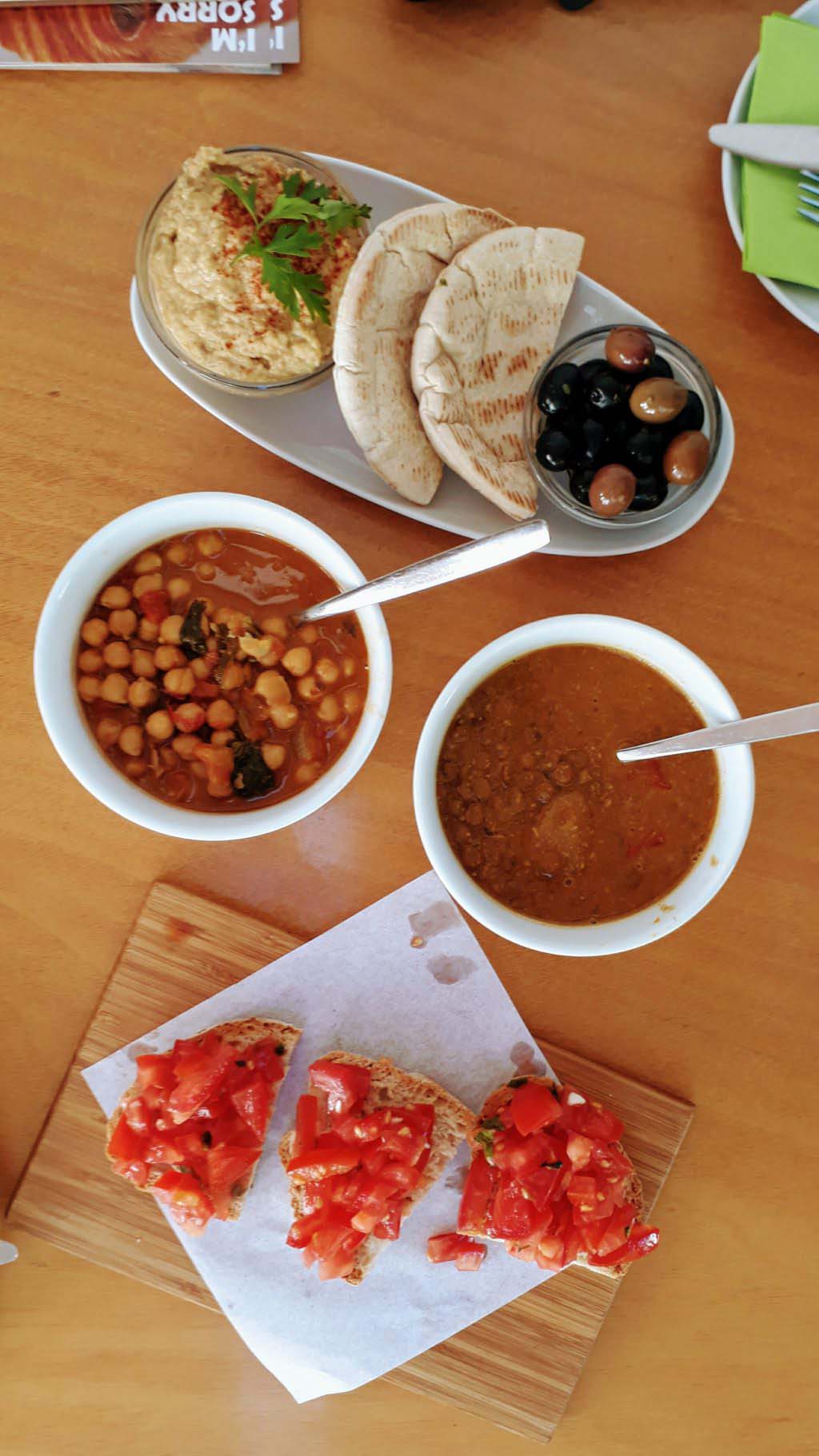 SAGRES
Together with the Cabo de São Vicente, Sagres forms the southwesternmost point of the European mainland. Here you'll find a large lighthouse, which with around 90 kilometers nominal range (distance from which the light is barely perceptible with the naked eye at night) is among the most powerful in Europe. Furthermore, Sagres is located in the Parque Natural do Sudoeste Alentejano and Costa Vicentina, a nature reserve that stretches along the entire southwestern Portuguese coast.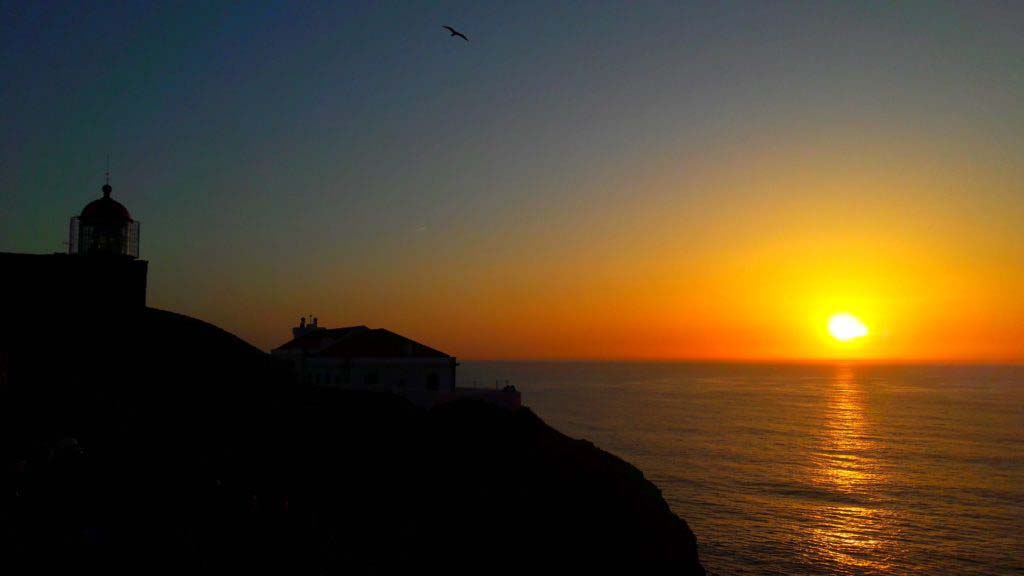 In the Dromedário Bar (number 17 on the Vegan Map) in Sagres you can choose from various vegan burgers made with kidney beans, tofu, falafel and quinoa. There are also very delicious smoothies, bruschetta and salads. An equally delicious dessert of coconut and caramel completes the whole thing. The very friendly, also vegan living service helped us with the food choice and additionally gave us very helpful tips for the area.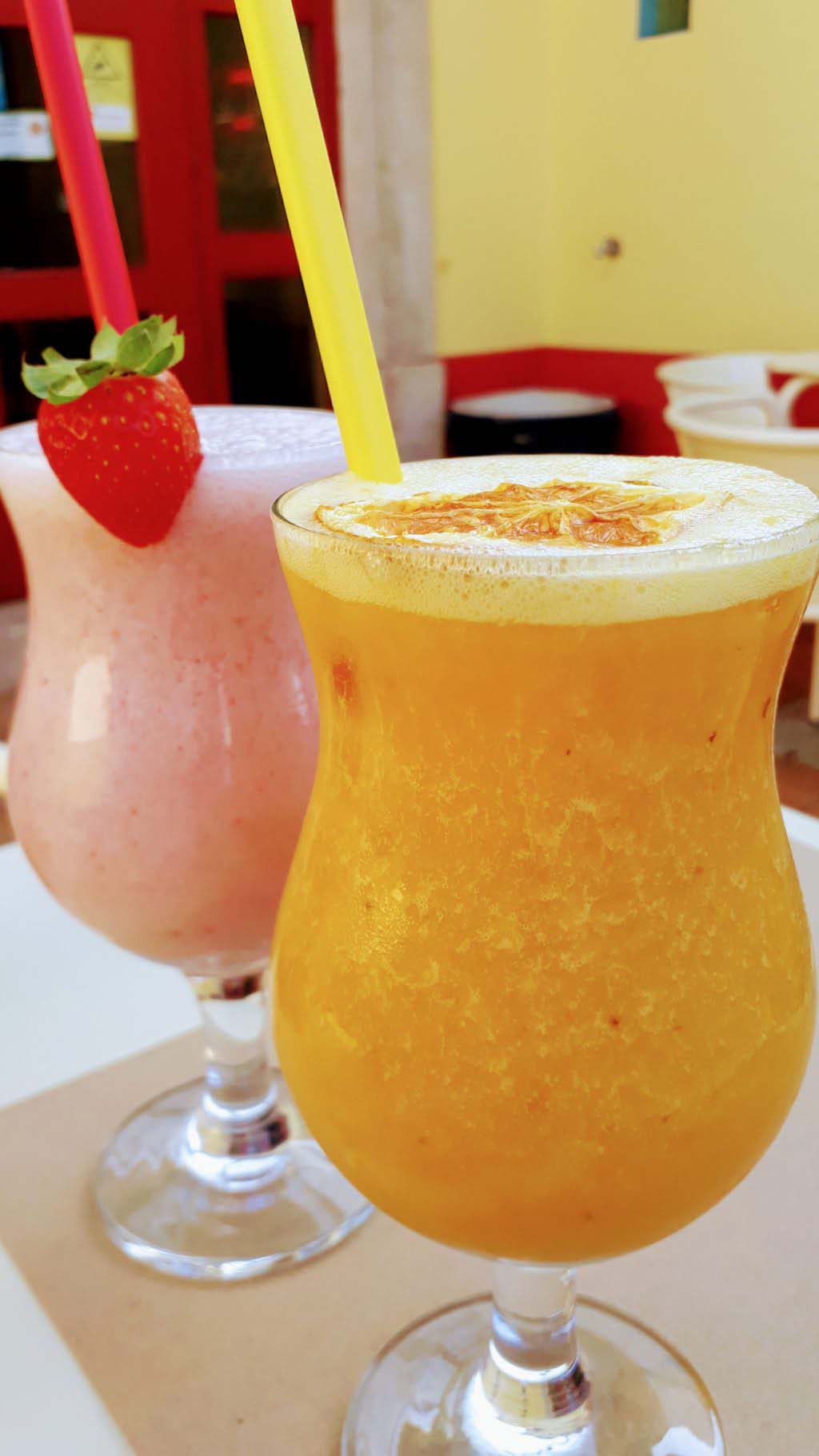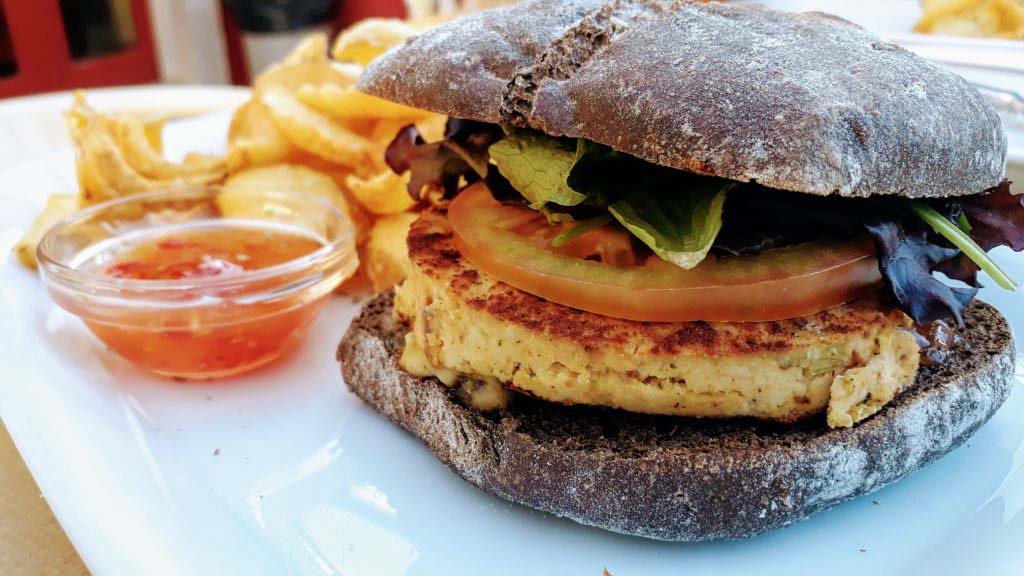 ALJEZUR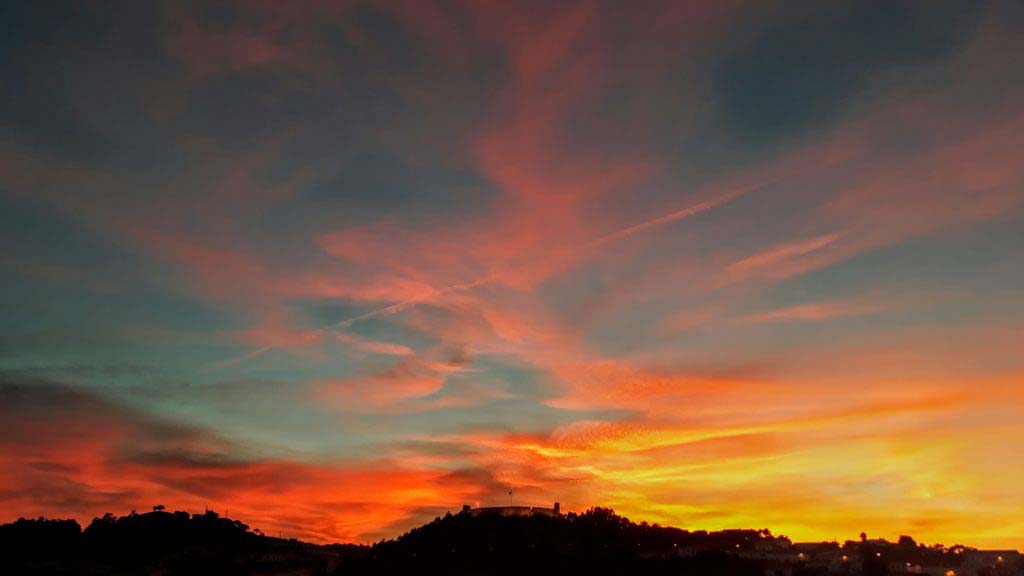 With the dream beaches of Praia Arrifana, Praia de Monte Clérigo and Praia da Amoreira, Aljezur has the ultimate surf spots of the Algarve. But also the white old town on the slopes of the hill, on which Moorish castle ruins from the 10th Century sits enthroned, is worth seeing. At sunset, a particularly beautiful play of colors can be observed in the sky.
In the middle of the old town is the cultural center Moagem (number 18 on the Vegan Map). In the wonderful atmosphere of a former mill you can have a delicious vegan breakfast, lunch or dinner at Mó Veggie Bistrô. Here, the focus is on healthy food, primarily from organic ingredients. Currently (as of November 2017), the bistro is closed, a reopening is planned in the spring of 2018. By contrast, the cultural center offers a variety of events and workshops throughout the year, including yoga.
Update August 2018: The Mó Veggie Bistrô is not only reopened, but now completely vegan!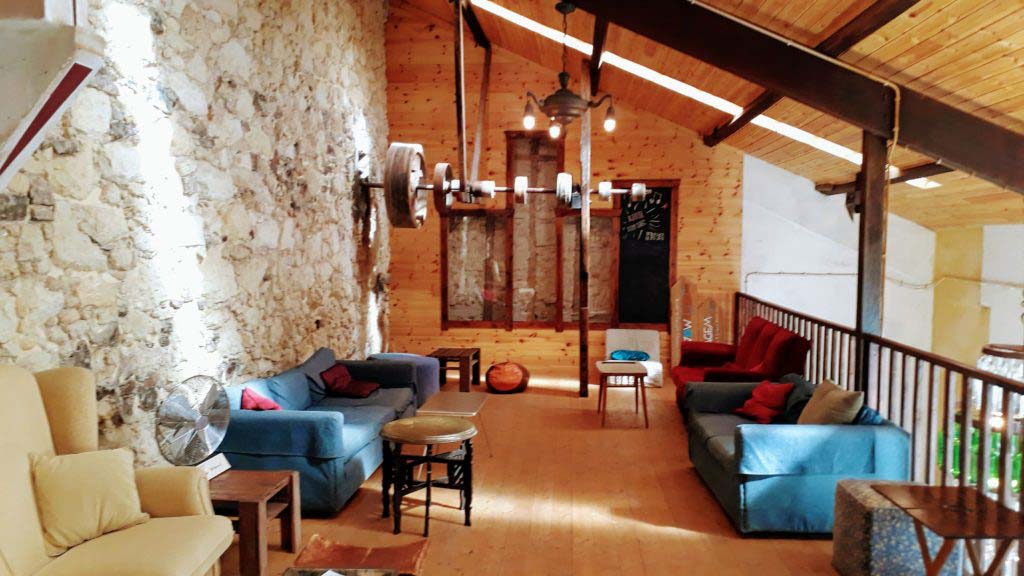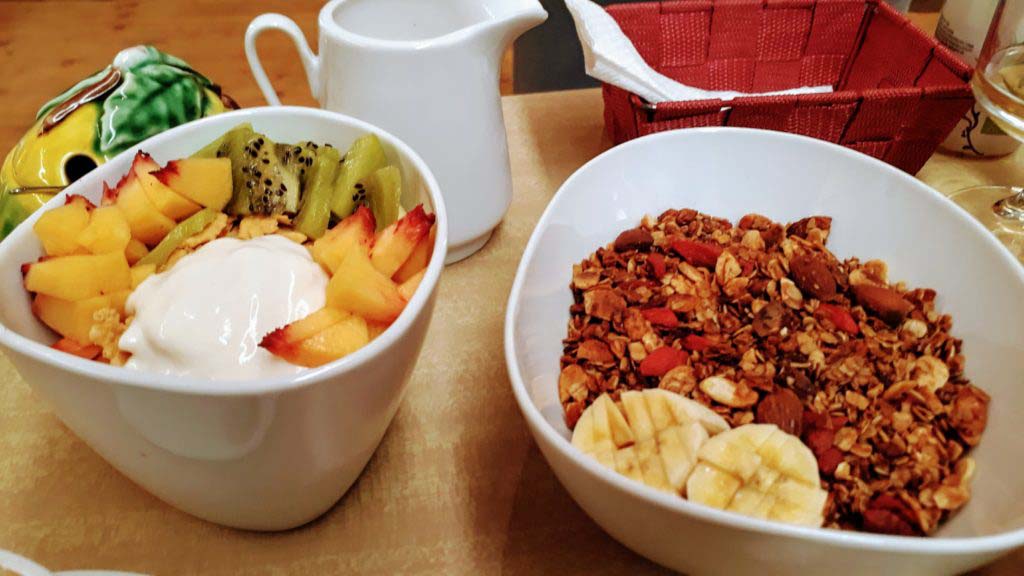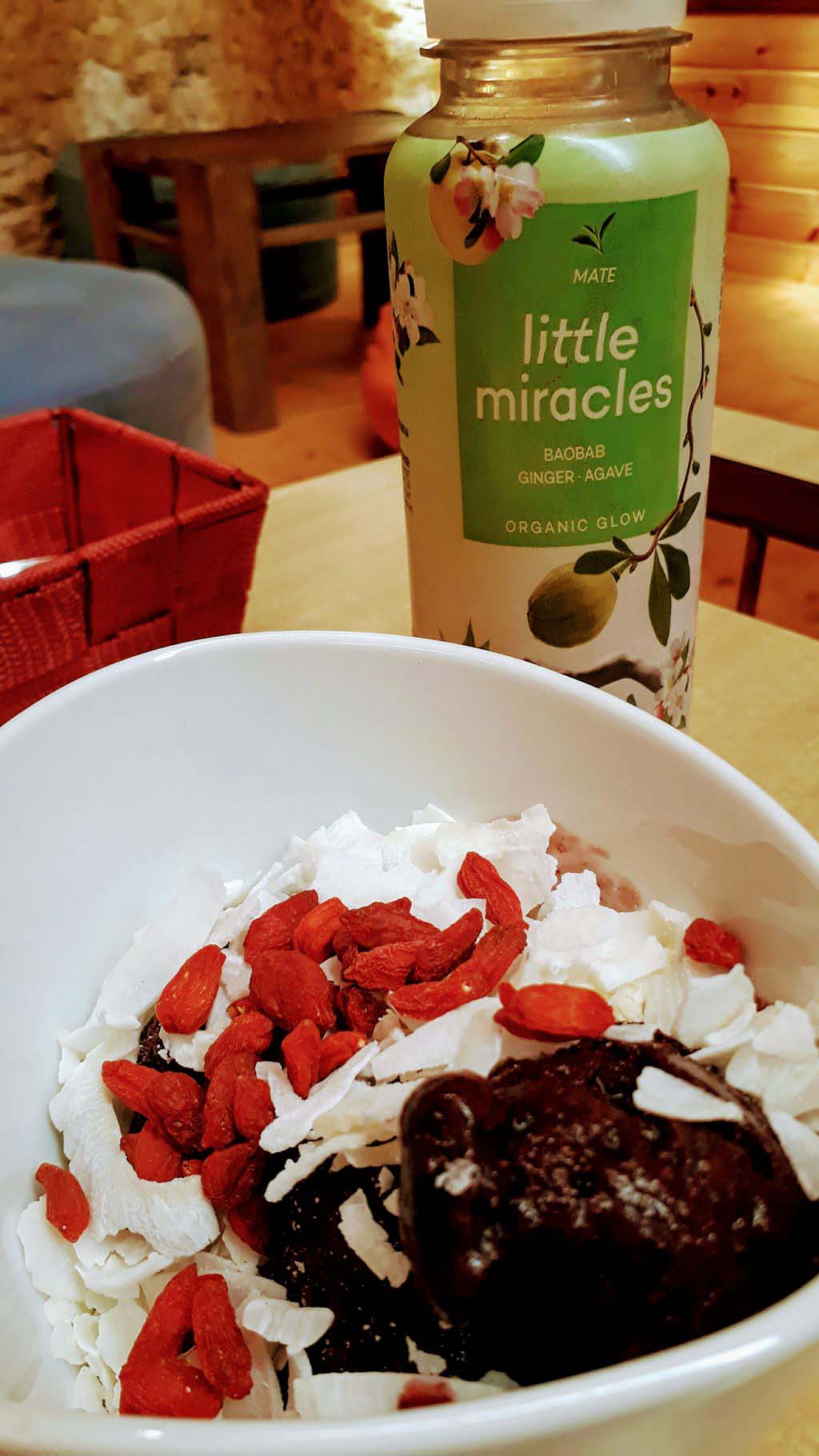 In Rogil (about 5 kilometers away) there is Onda Natural (number 19 on the Vegan Map), a really big and nice restaurant with garden. Everything is vegan except for two vegetarian appetizers. The menu includes a delicious hummus trio, two changing daily specials and a huge selection of delicious, home-made veggie burgers, either served classically in bread or as a plate dish. You can also get vegan mayo and for dessert panna cotta, brownies, ice cream and a homemade zucchini cream.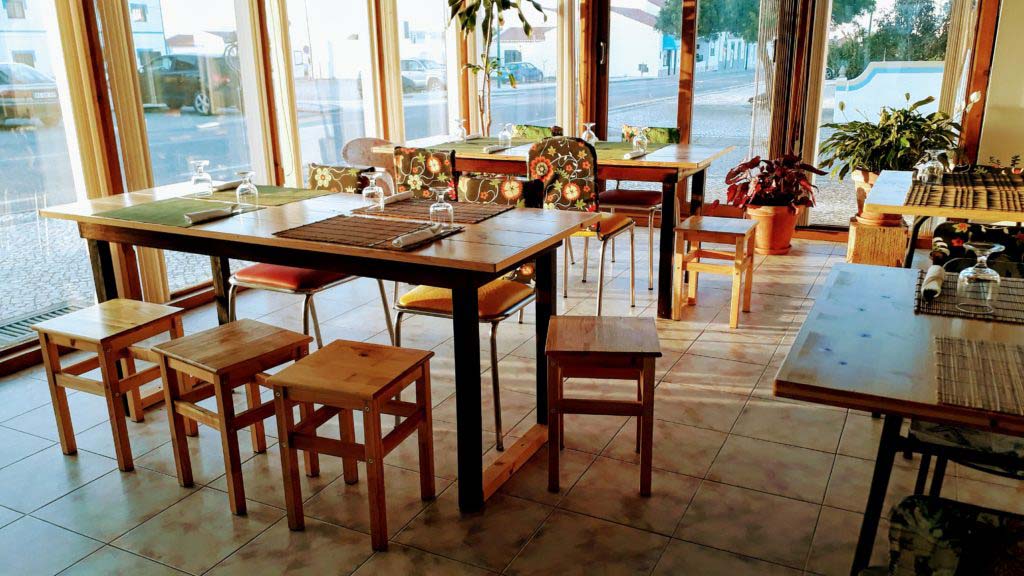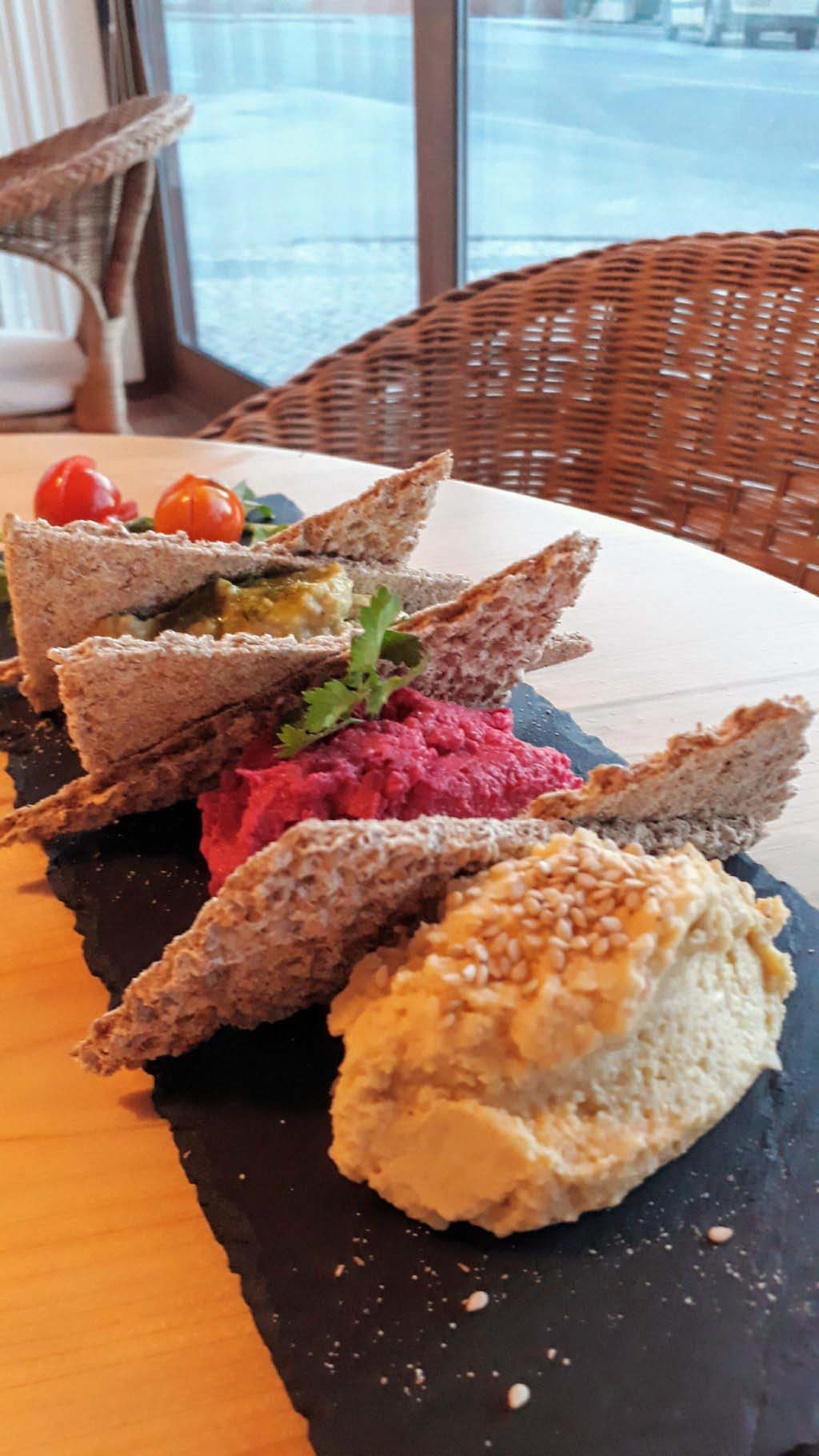 Monchique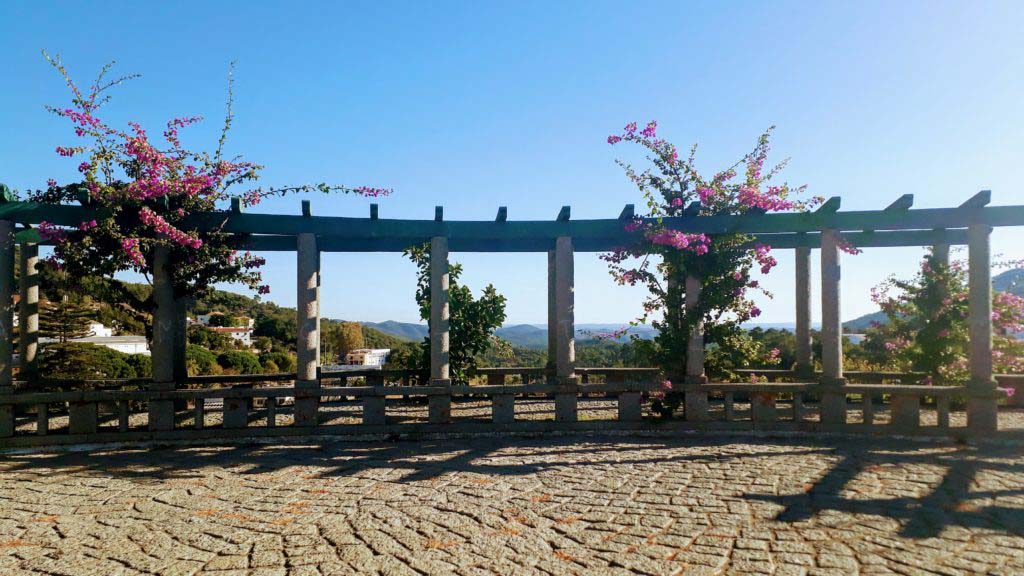 Located in a valley and on the slopes of Mount Fóia, the town is well-known as a health resort and among tourists above all because of the nearby six baths Caldas de Monchique and the 902 meter high panoramic mountain Fóia. Belonging to the mountains of Serra de Monchique, the mountain is the highest point in the Algarve and, therefore, southern Portugal. It is also the source of springs that fill a large part of the Algarve reservoirs and whose waters are considered to be particularly healthy.
In Caldas de Monchique, the restaurant Rouxinol (number 20 on the Vegan Map) serves vegan burgers, curries and wok dishes. The large and beautiful location offers enough seats (indoors and outdoors) for large events such as weddings. For this, the food is also much more expensive than we are used to, so for example, a curry is here 16 euros and a burger 12 euros.