Carvoeiro
In addition to the many beaches of Carvoeiro, the most famous beach in the Algarve is located at a distance of 5 kilometers: the Praia de Benagil. Here is namely the Gruta de Benagil, the most photographed natural phenomenon in the Algarve. It is a huge rock cave with a large hole in the ceiling, through which the sun shines beautifully inside. The best way to get there you'll learn in the second part about activities in the Algarve. Another attraction in Carvoeiro is the rock formation Algar Seco.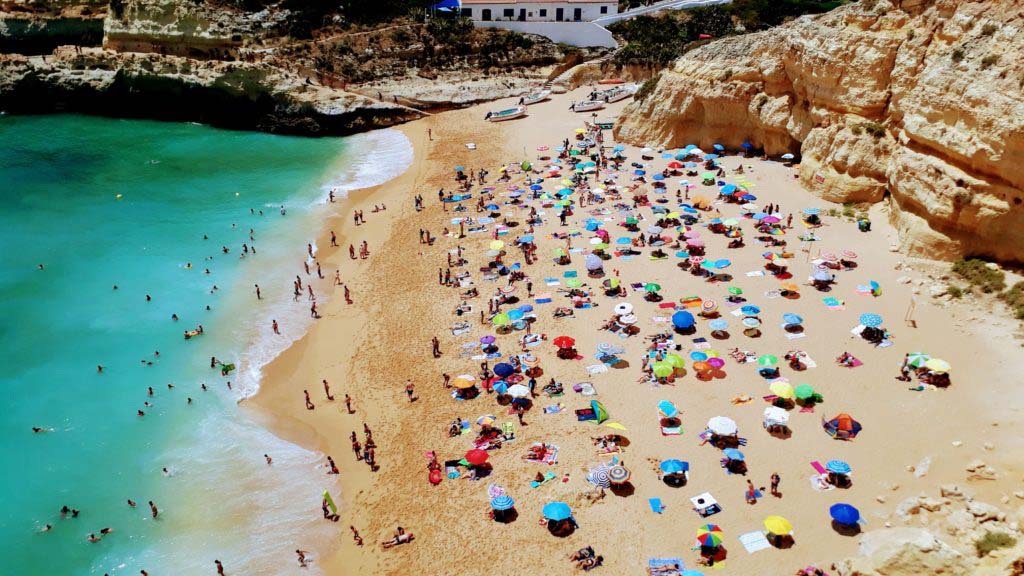 Within walking distance is Earth Shop & Cafe (number 8 on the Vegan Map). The vegan-friendly café, which also sells a selection of local (organic) produce, offers a weekly changing menu with international food, such as toast, sandwiches and burritos, with a focus on healthy ingredients. There are also two daily changing "Daily Meals". Vegan options are labelled, but generally everything can be ordered vegan. In addition, you can get super delicious smoothies, some even with almond milk (our recommendation: the Pink Panther Smoothie). The cafe is quite large and offers some seating with sea views.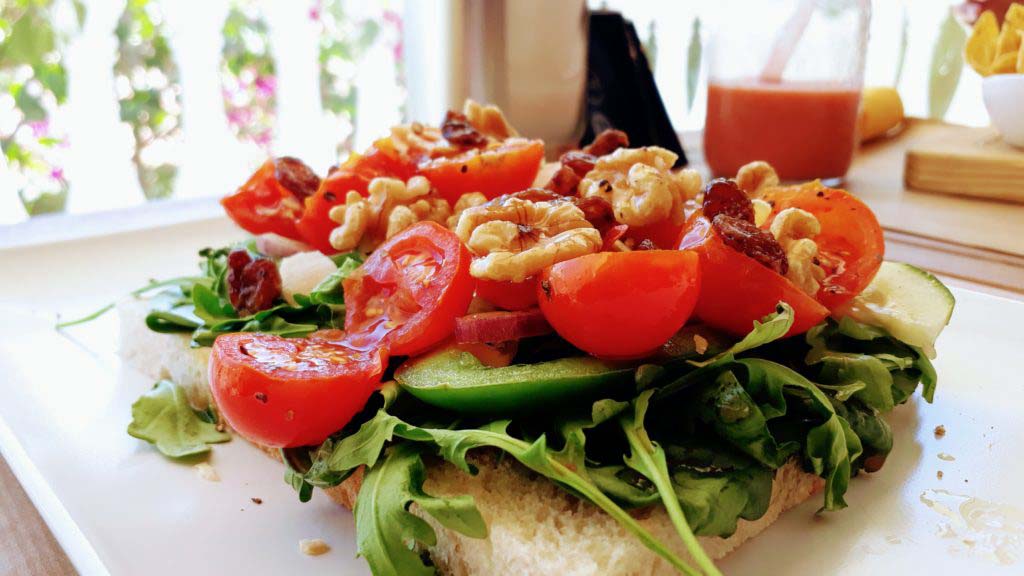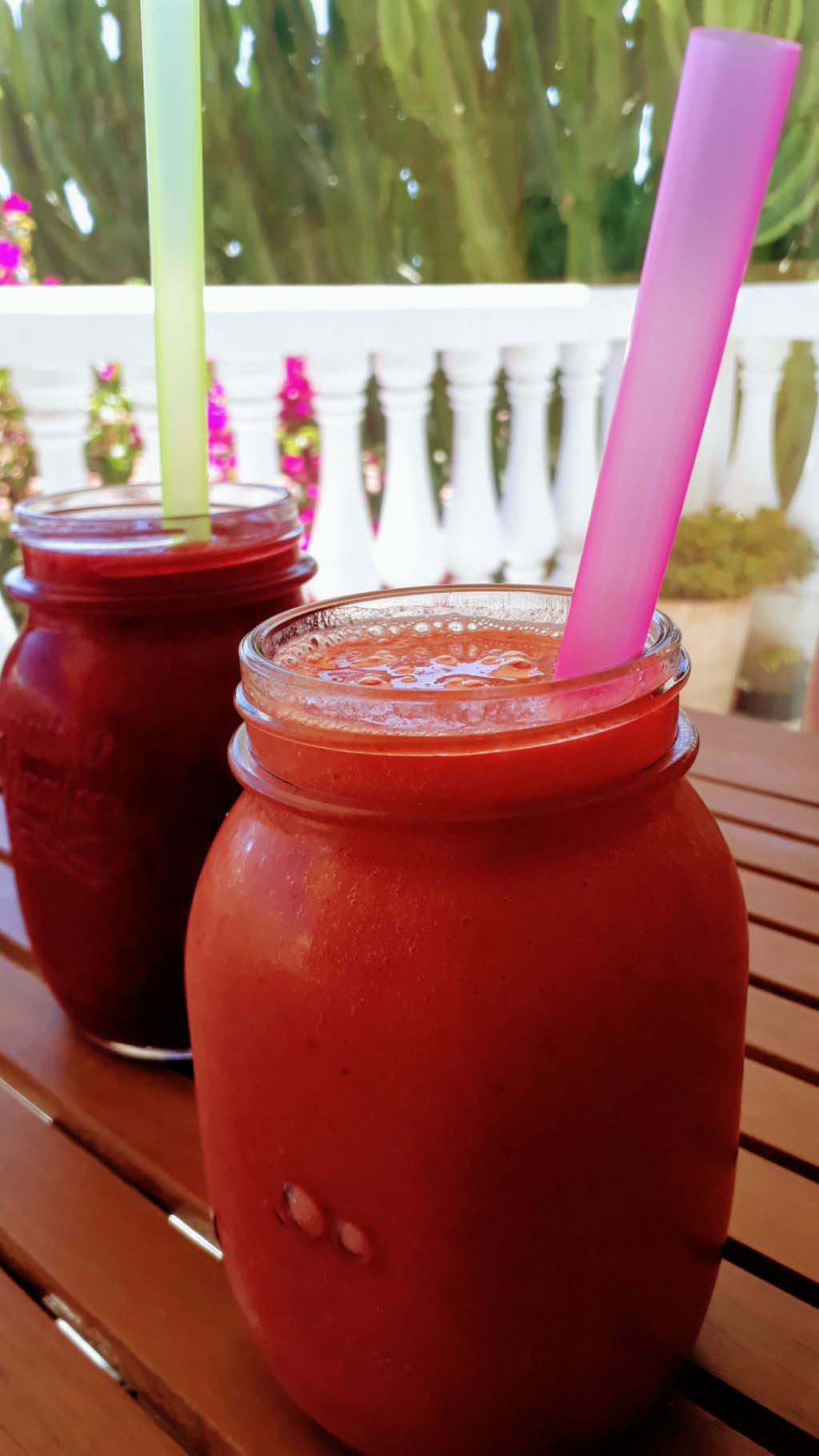 PORTIMÃO
In Portimão, the largest city in the western Algarve, we went to four different eateries. The purely vegan restaurant Vegetarianus (number 9 on the Vegan Map) is popular especially among locals. When we got there at lunchtime, people lined up even to the street. If you manage to get a seat, you can eat there, but you can also take it with you. The typical Portuguese food consists of salad, various mock-meat for example from soy or seitan and legume side dishes. In addition, there are freshly squeezed juices and very delicious desserts such as chocolate mousse and cake.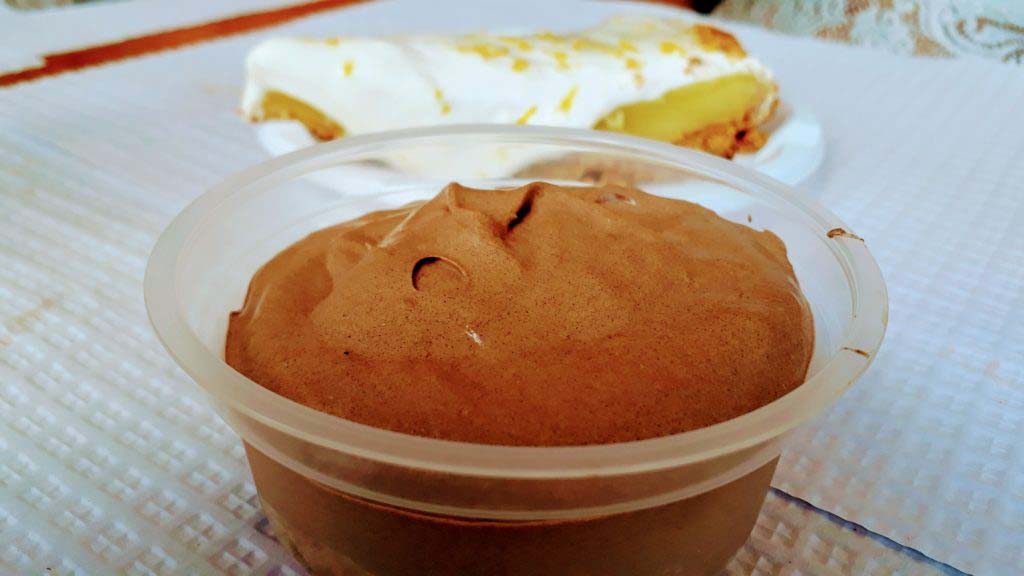 Also in the unpackaged store Armazém Integral (number 10 on the Vegan Map) everything is vegan except for honey in a few products. Here you can get a daily changing menu, in our case consisting of a freshly squeezed juice and zucchini pasta with lentils and salad. For dessert we had a piece of raw piña colada cheesecake and pistachio ice cream, both homemade. Here as well the focus is on healthy food.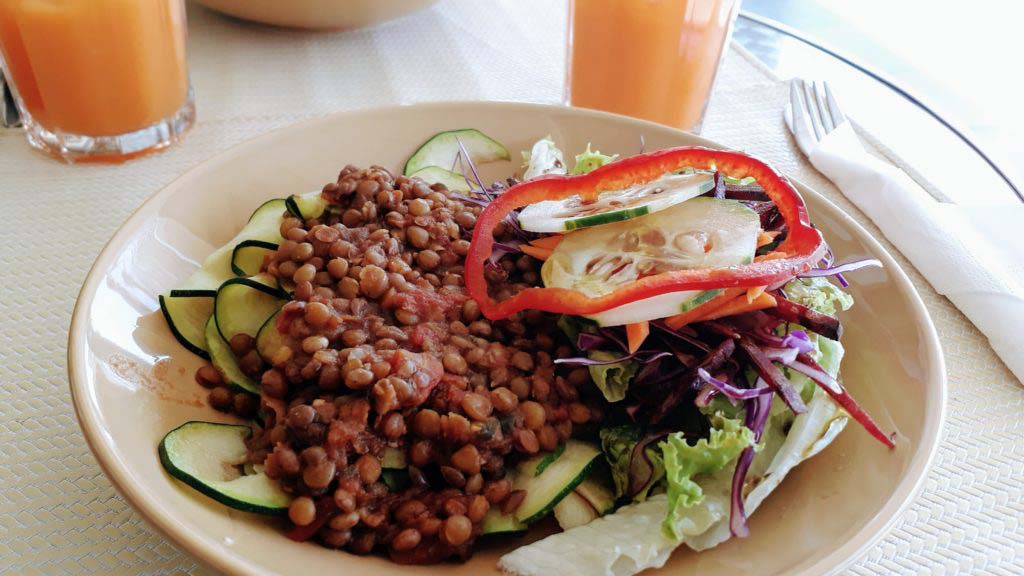 Neither in the stylish bar Casa da Tocha (number 11 on the Vegan Map) you have to go hungry as a vegan: Every day you can get a different raw vegan lunch menu, which includes a drink, main course and dessert. The ingredients are fresh and wholesome, meaning as little as possible processed and refined. Our menus included a smoothie, a burger/wrap and a tiramisu/berry sorbet. The exceptional combination of sweet (fruit) and savory (vegetables) in the main courses was especially noticeable. Just as the Tiramisú, which exceeded all expectations!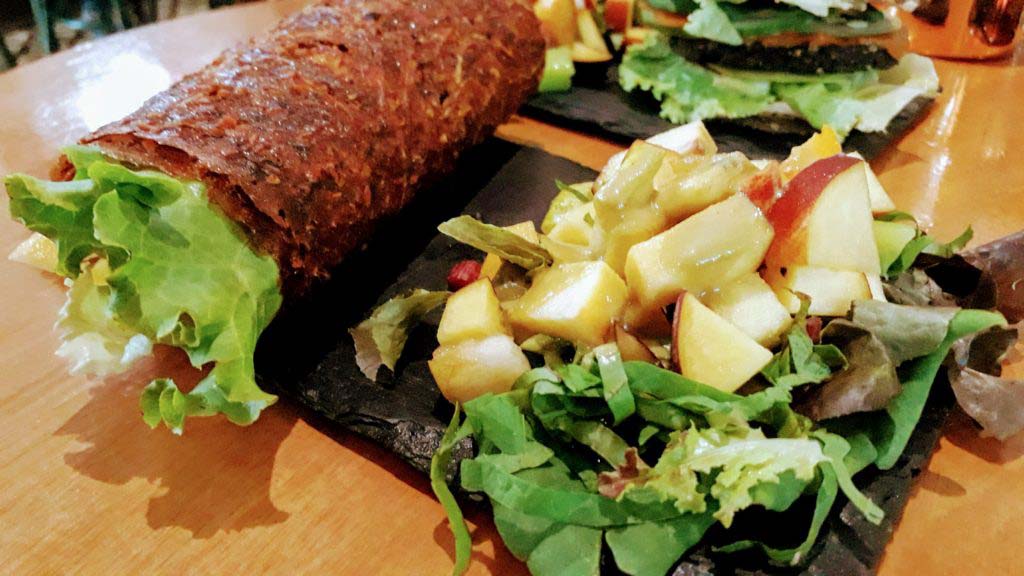 Praia da Rocha is a popular bathing beach and district of Portimão. For several months, the Juice Bar Super Juice (number 12 on the Vegan Map) is also here. In addition to fresh juices and smoothies, you can get sandwiches, salads, protein shakes (including vegan ones), hummus, ice cream, brownies and superfoods. Vegan options are declared and advertised explicitly. In direct proximity to the beach promenade you can sit indoors or outdoors.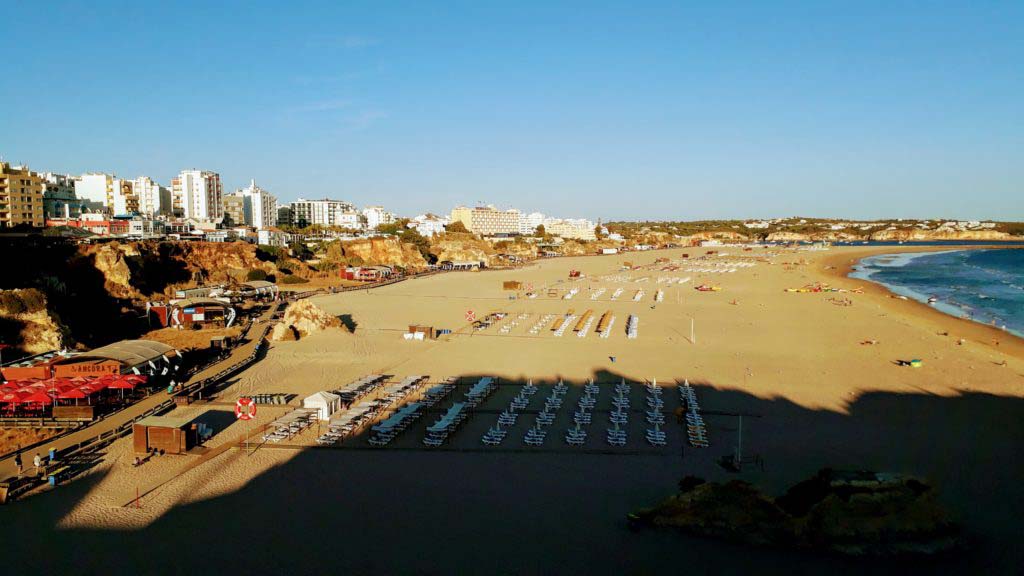 LAGOS
Lagos – a historic, lively and pretty touristy city. The charming, authentic old town and a variety of beaches, restaurants, bars and clubs have made Lagos a popular holiday destination in recent years. Here we have also participated in some tours, as you will read in the second Algarve part. And neither vegan food is missed out here.
For example, in the vegetarian restaurant Estúdio Vegetariano (number 13 on the Vegan Map), almost everything is either vegan or veganizable. Here you will find delicious homemade lemonades, freshly squeezed juices, many small snacks and appetizers, salads, main courses and desserts. The food is beautifully presented and the price-performance ratio is very good for Lagos. The atmosphere is rather chic and it is recommended to reserve a table for two or more people. Our suggestion: Definitely try the chocolate mousse!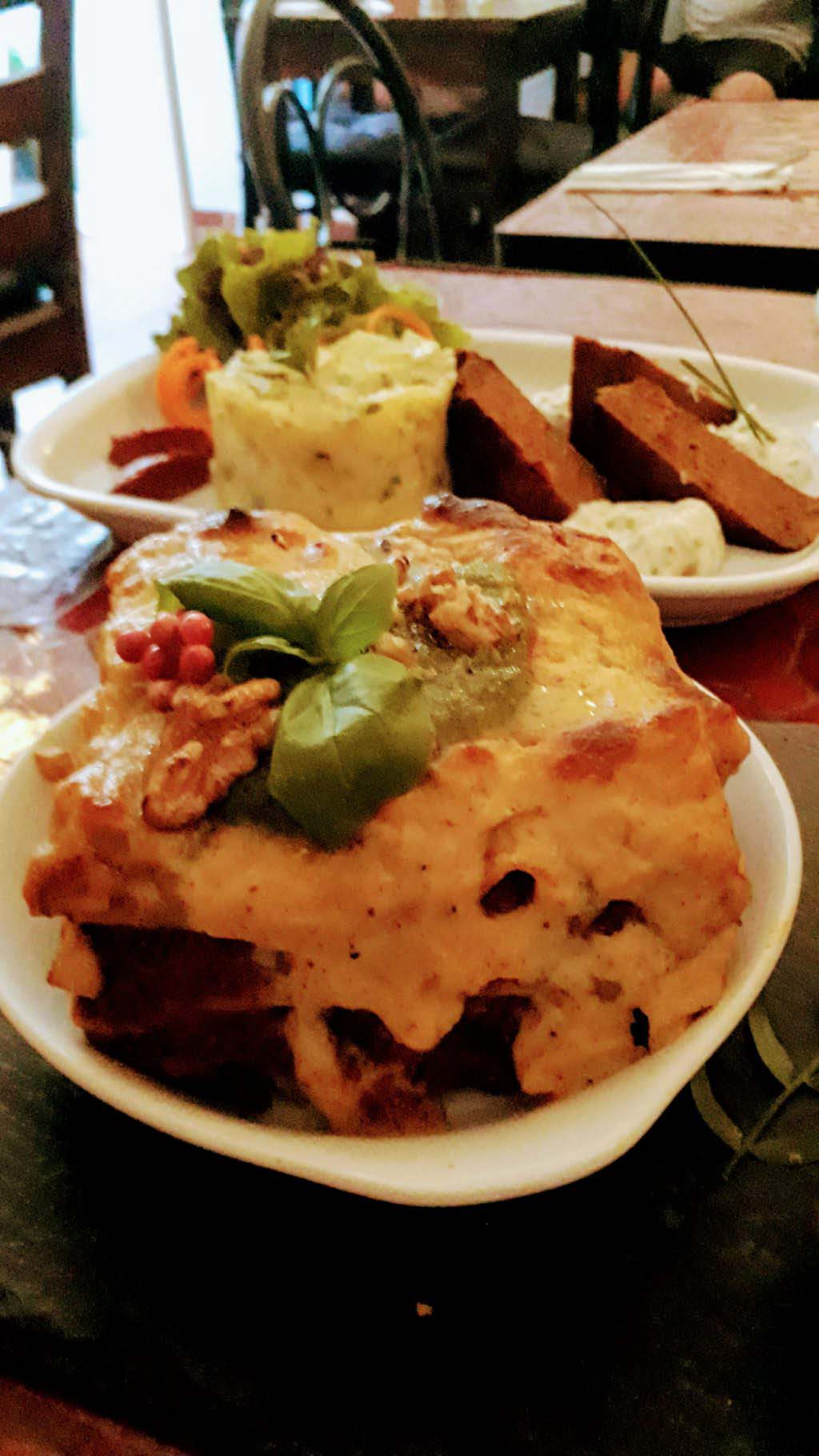 At Pomò – la pasta bio italiana (number 14 on the Vegan Map) there is everything pasta lovers desire! In mix'n'match style you can choose from 10 types of pasta in combination with also 10 different sauces. Among them are three vegan sauces and also gluten-free options. Everything in the cute, nicely decorated shop with good location in the old town is also in organic quality. For dessert, there are even vegan, typical Tuscan biscuits (Scroccadenti). If you want to take your noodle portion with you, you can do so in a recyclable packaging.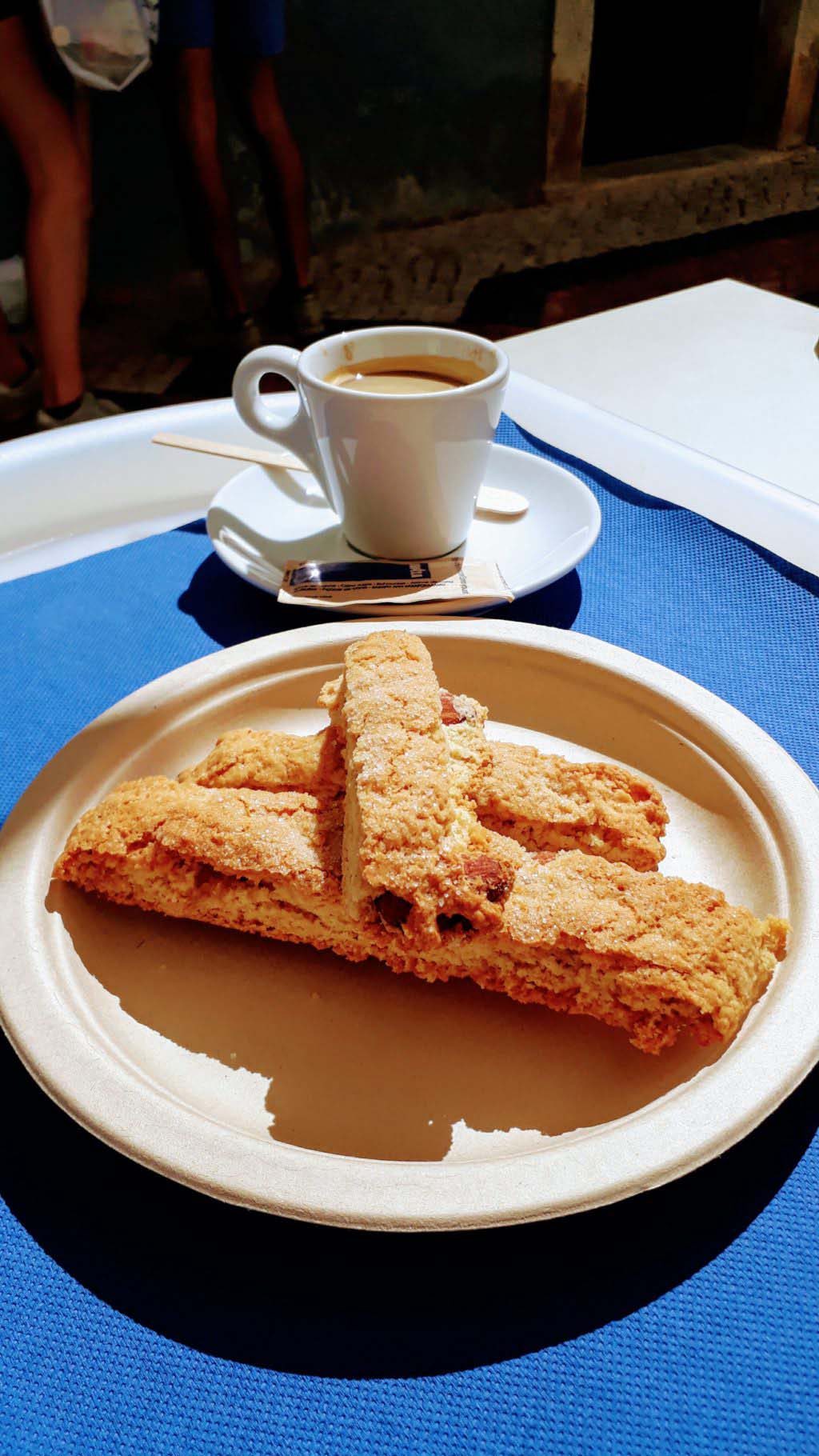 Right next to Estúdio Vegetariano is the vegan-friendly restaurant La Esterella Lagos (number 15 on the Vegan Map). There you get changing dishes from all over the world. When we were there, they had three vegan main courses: Thai saitan curry, Moroccan tabbouleh with falafel and a beetroot peanut plate. For dessert we had a very delicious vegan brownie.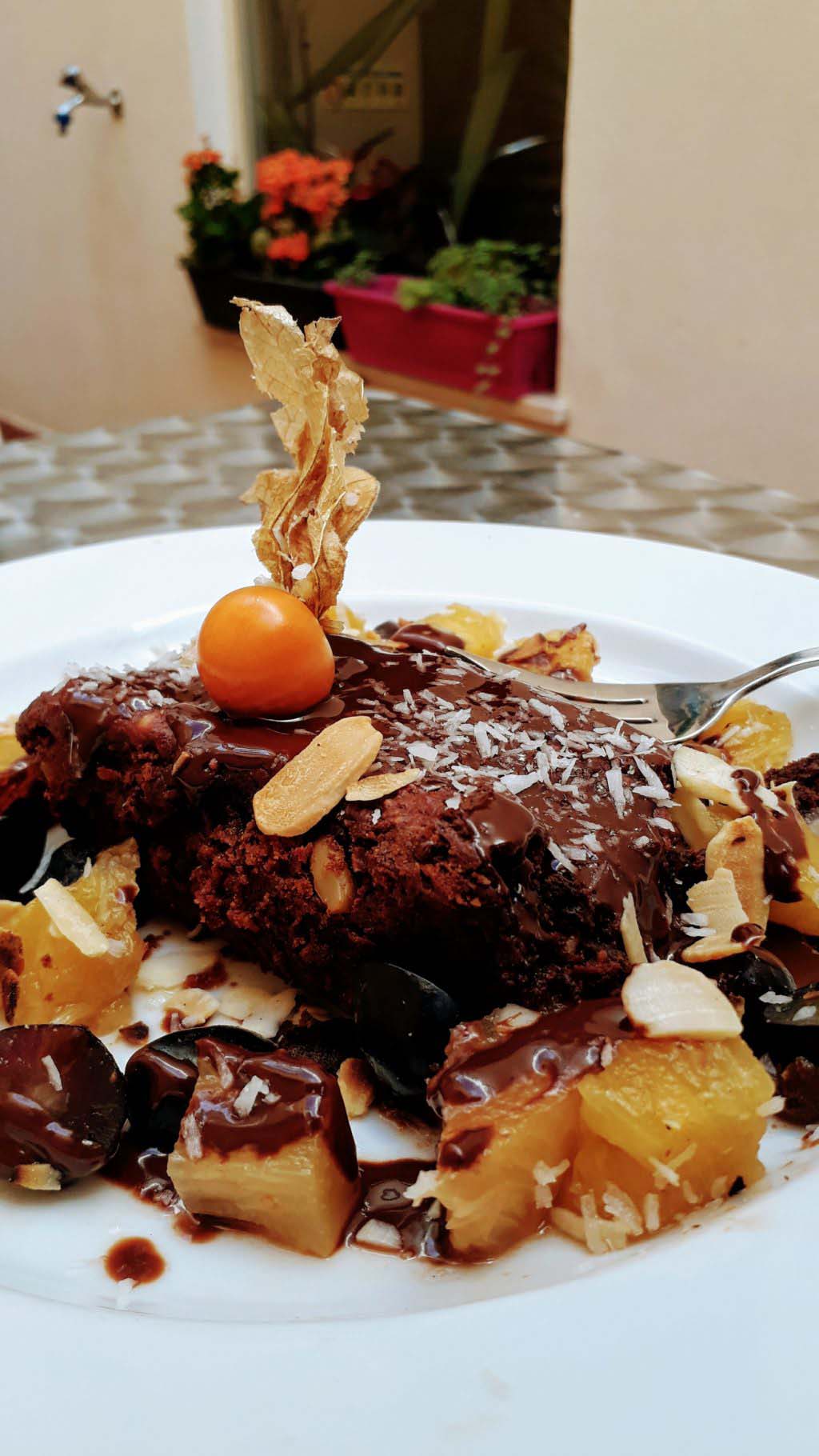 Also located in the old town, right next to the church Igreja de Santo António is the tapas restaurant Meu Limão (number 16 on the Vegan Map). You can find a few vegan options in the menu, and some vegetarian ones can be ordered vegan. These include, for example, bruschetta and hummus. Unfortunately, there are no vegan desserts (yet?). You can sit indoors or outdoors.