The Canary Islands, also known as the Islands of Eternal Spring due to their year-round mild climate, are among the most popular holiday destinations in the world. However, apart from the weather and their volcanic origin, they have little in common, because each of them has its own charm. As much as the islands differ from one another, the more diversified is it to visit them all. For those who don't have that much time, here's a comparison.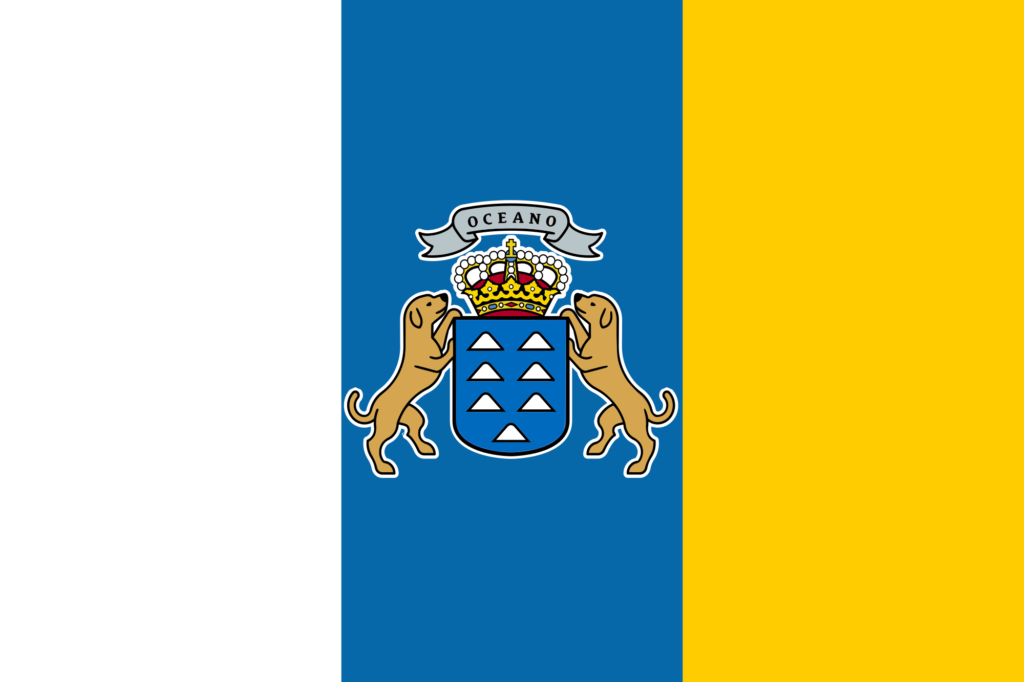 The Canaries are composed of the seven main islands with their own island administration (Tenerife, Fuerteventura, Gran Canaria, Lanzarote, La Palma, La Gomera and El Hierro), another inhabited island (La Graciosa) and five uninhabited islands. Politically they belong to Spain, geologically to Africa and biogeographically to Macaronesia. 2,108,121 people live on the islands of volcanic origin. In addition, the largest canary island of Tenerife houses the 3718 meter high Pico del Teide, which is not only the highest mountain in the Canary Islands, but also the highest peak in Spain.
Formation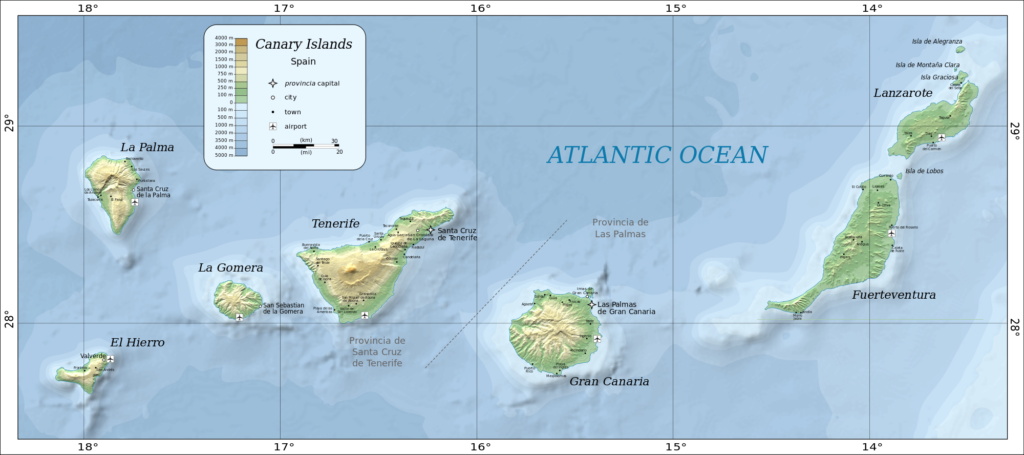 The emergence of the Canary Islands dates back to a series of submarine eruptions 36 million years ago and has gone through four phases. Each island has its own history. Only Lanzarote and Fuerteventura have undergone a similar geological history. For thousands of years, they were connected during the low water level in the cold periods to a single island and even today they are separated by an only about 40 meters deep and about 10 kilometers wide strait.
With 22 million and 15.5 million years, they are the oldest of the Canary Islands. After them, Gran Canaria was formed about 14.5 million years ago, followed by Tenerife about 12 million and La Gomera about 11 million years ago. The "babies" of the archipelago are La Palma and El Hierro: They are only 2 million and 1.2 million years old.
Tenerife – the Versatile One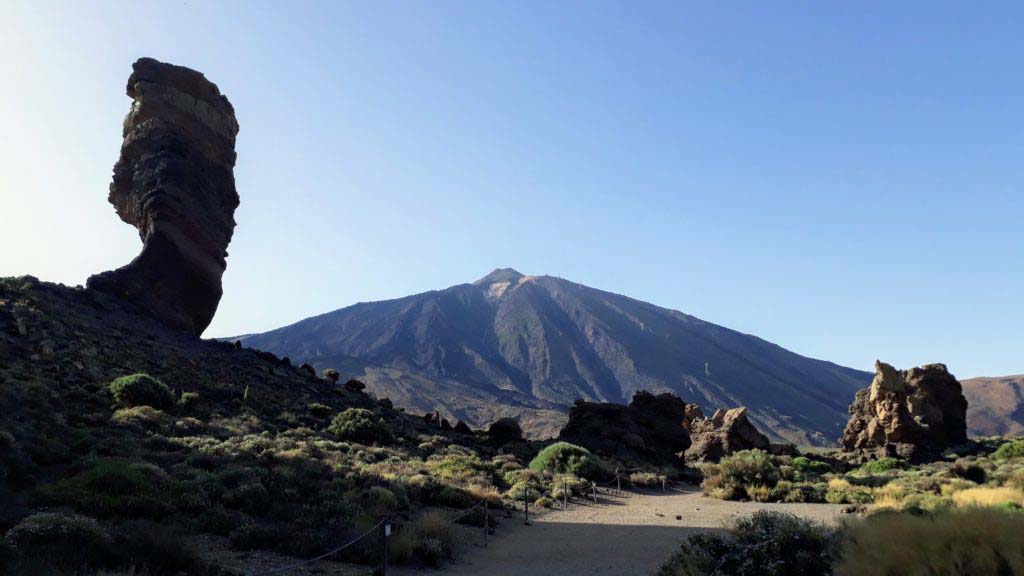 Tenerife is not only the largest Canary Island, but with about 888,000 inhabitants also the most populated island of Spain. With its modern capital Santa Cruz de Tenerife, the UNESCO protected Teide National Park, the mountains of Teno and Anaga, the touristy south, natural and artificial sea water swimming pools, many small and large towns and a lot of sandy beaches, in our opinion it is also the most versatile the Canary Islands. Thanks to a variety of official hiking routes, it is also great for walking, hiking and climbing.
The Main Sights in Tenerife
Teide National Park (UNESCO World Heritage Site) with Pico del Teide (3718 meters), Roques de García and Caldera de las Cañadas
Capital Santa Cruz de Tenerife with Auditorio de Tenerife, Parque Marítimo César Manrique and Plaza de España
Anaga Mountains (UNESCO Biosphere Reserve)
Teno Mountains with Masca Gorge, Los Gigantes and Punta de Teno
Drago Milenario and Cueva del Viento in Icod de los Vinos
Old town of La Laguna (UNESCO World Heritage Site)
Seawater swimming pool Lago Martiánez in Puerto de la Cruz
Playa de Las Teresitas near San Andrés
Charco de La Laja at San Juan de la Rambla
Old Town and Jardines Victoria in La Orotava
Ghost Town of Abades
Pyramids of Güímar
Basilica of Candelaria
Playa de las Américas, the tourist center of the south of Tenerife
Garachico with Castillo de San Miguel, seawater swimming pool, Iglesia de Santa Ana and former monastery San Francisco
Buenavista del Norte with Iglesia Nuestra Señora de Los Remedios
Map of Tenerife
Video of Teneriffa
Our Blog Posts about Tenerife
How do I get to Tenerife?
Tenerife has two airports: the older Tenerife North Airport (TFN), which is nowadays mainly used for cargo and flights between the Canary Islands, and the international Tenerife South Airport (TFS), fully named Aeropuerto de Tenerife Sur Reina Sofía.
In addition, several ferry companies connect Tenerife with the other Canary Islands of La Gomera, El Hierro, La Palma, Gran Canaria, Lanzarote and Fuerteventura. Naviera Armas and Trasmediterranea also operate ferry services from Tenerife to Huelva and Cádiz on the Spanish mainland.
Impressions of Tenerife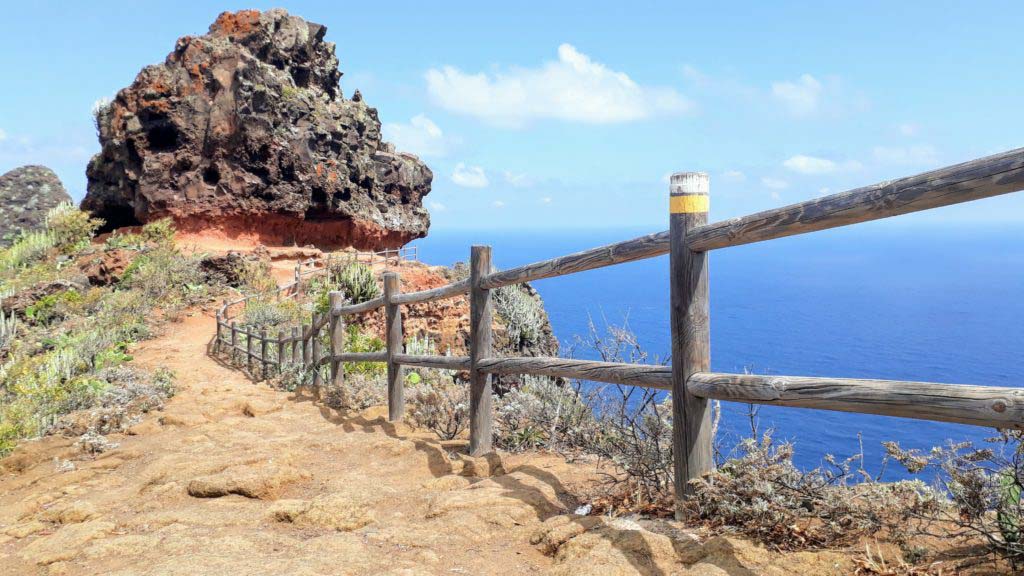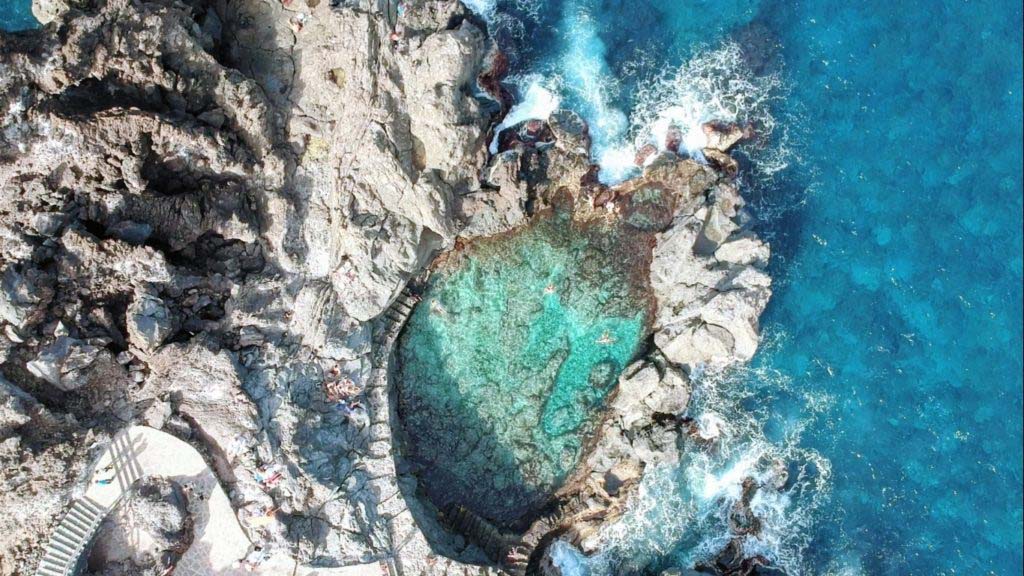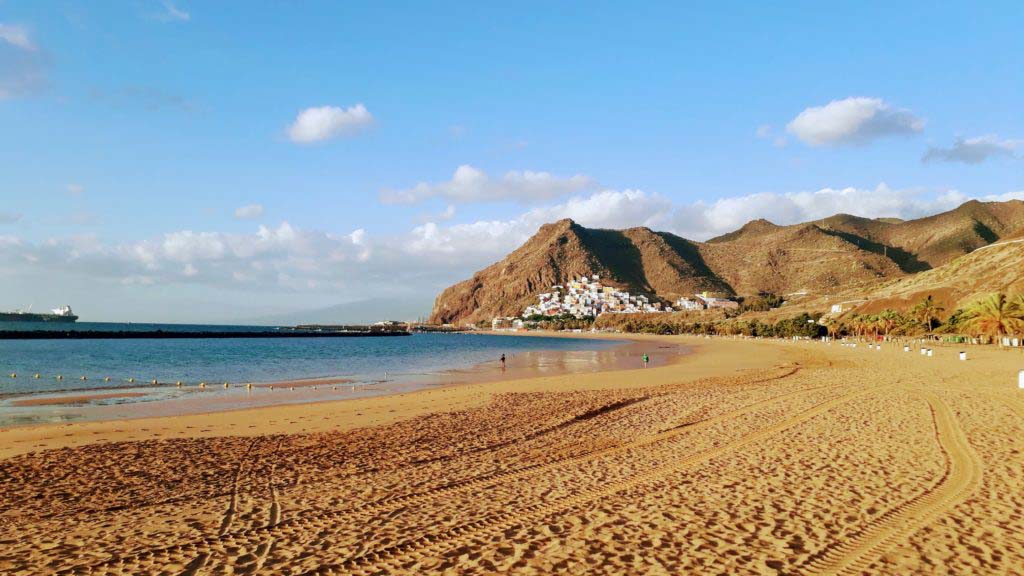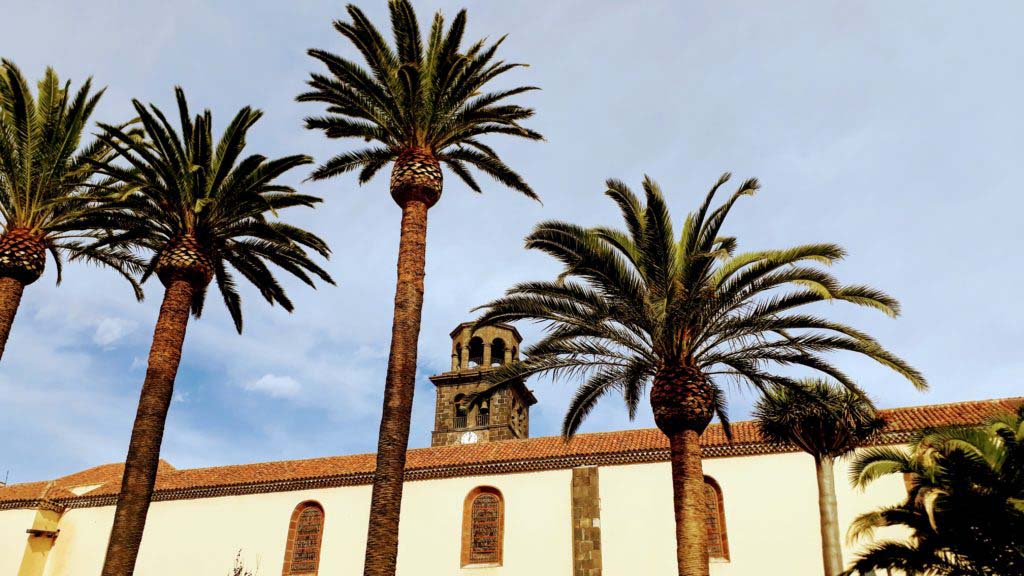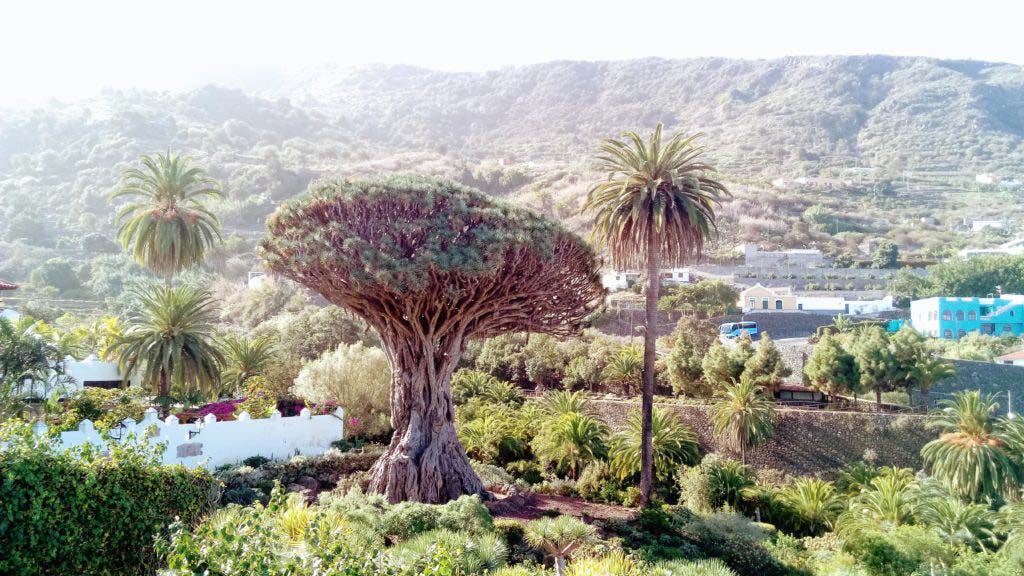 ---
Fuerteventura – the Sandy One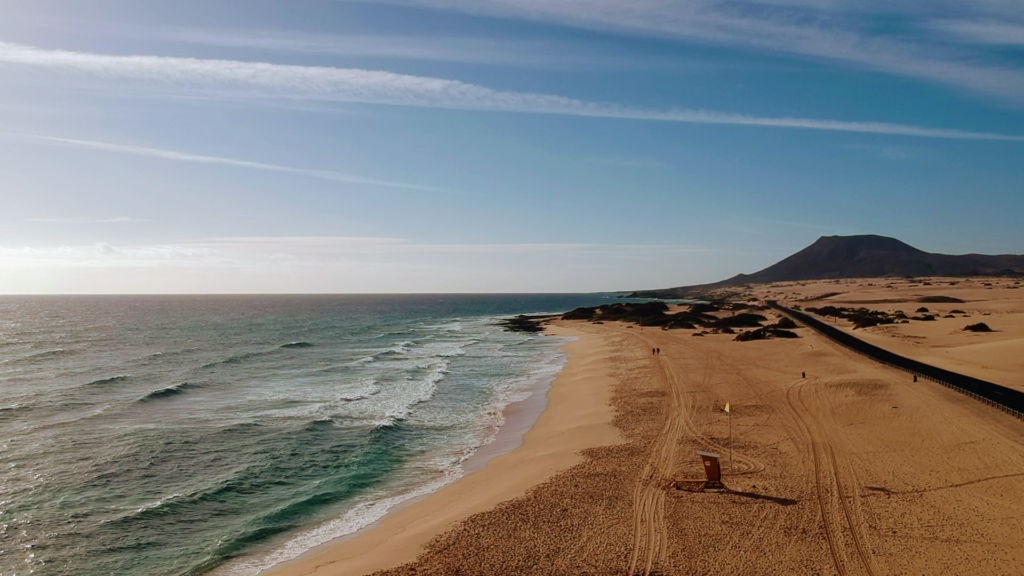 With almost 1700 square kilometers of island area Fuerteventura is the second largest of the Canary Islands in terms of area, however, it is only sparsely populated. Here you will find mainly sandy beaches and the Parque Natural de Corralejo under nature protection with large shifting dunes. In addition, there is almost always a strong wind blowing. The oldest island in the Canary archipelago is therefore particularly popular with surfers on the west coast, windsurfers in the north and kitesurfers on the east coast.
The Main Sights in Fuerteventura
Dune park Parque Natural de Corralejo
Corralejo, the tourist center of Fuerteventura
Jandía peninsula with Morro Jable, Playa Cofete and Villa Winter
Capital Puerto del Rosario
Former capital Betancuria
Viewpoint Mirador De Morro Velosa, designed by César Manrique
Fishing village Ajuy with the bay Caleta Negra, where once pirates hid their prey in the caves
Surfing spot El Cotillo with the lighthouse Faro de Tostón
La Oliva with the Iglesia de Nuestra Señora de la Candelaria and the Cultural Center Centro de Arte Canario
Lighthouse Faro de la Entallada with observation deck Mirador de la Entallada
Salt extraction plant and museum Salinas del Carmen
Astronomical viewpoint of Sicasumbre
Archaeological site of Atalayita
Map of Fuerteventura
Video of Fuerteventura
Our Blog Posts about Fuerteventura
How do I get to Fuerteventura?
Just south of the capital Puerto del Rosario is the international Fuerteventura Airport (FUE). There are both scheduled and charter flights to many countries in Europe as well as regional planes to the neighboring islands.
From the port of Puerto del Rosario there are ferry services to Gran Canaria, Tenerife, Lanzarote and to the south of Fuerteventura to Morro Jable and to Huleva on the Spanish mainland. From Corralejo there is an hourly ferry to Playa Blanca on the northern neighboring island of Lanzarote (journey time: 30 minutes). From Gran Tarajal there are ferries to Gran Canaria and from Morro Jable to Gran Canaria and Tenerife.
Impressions of Fuerteventura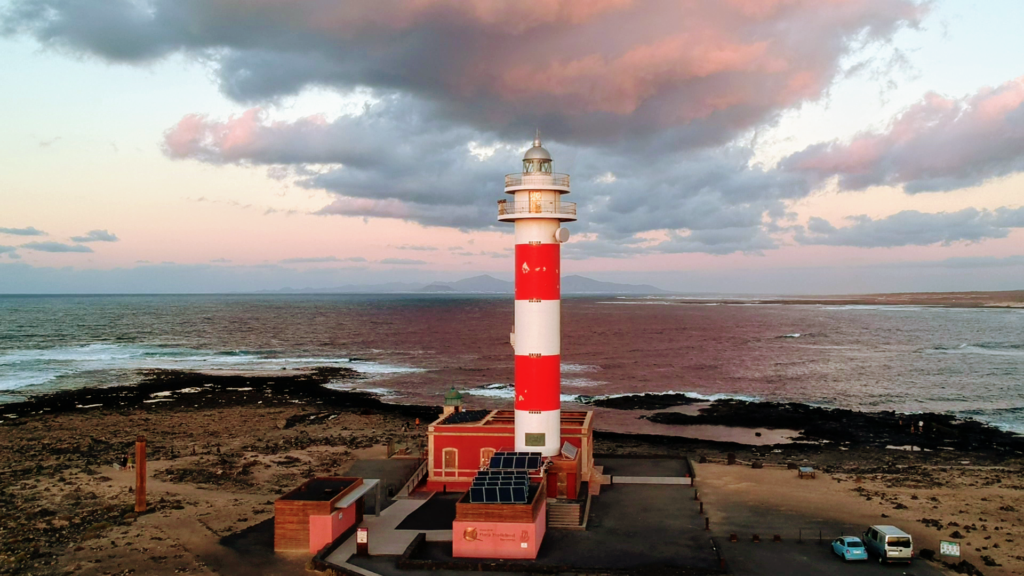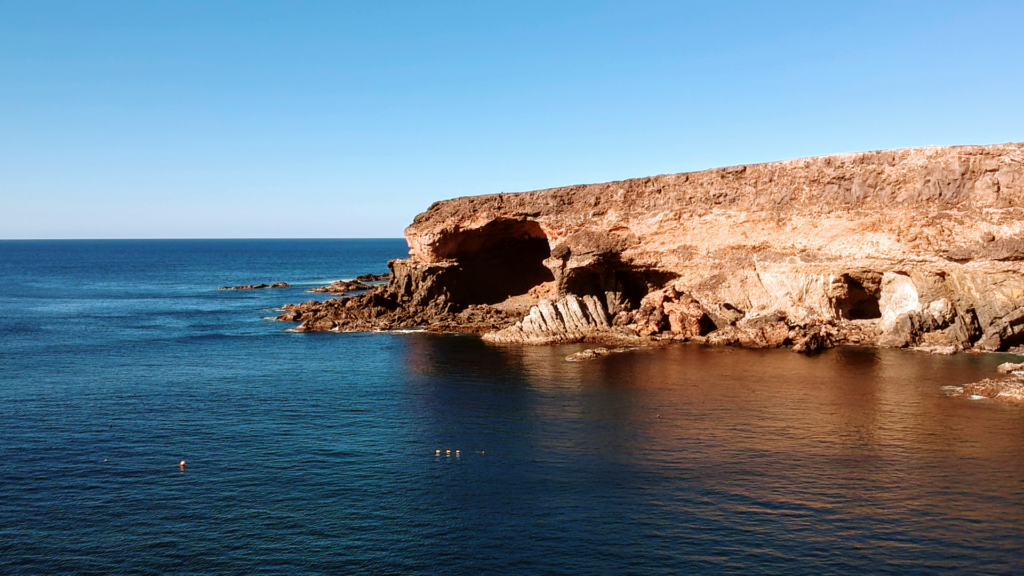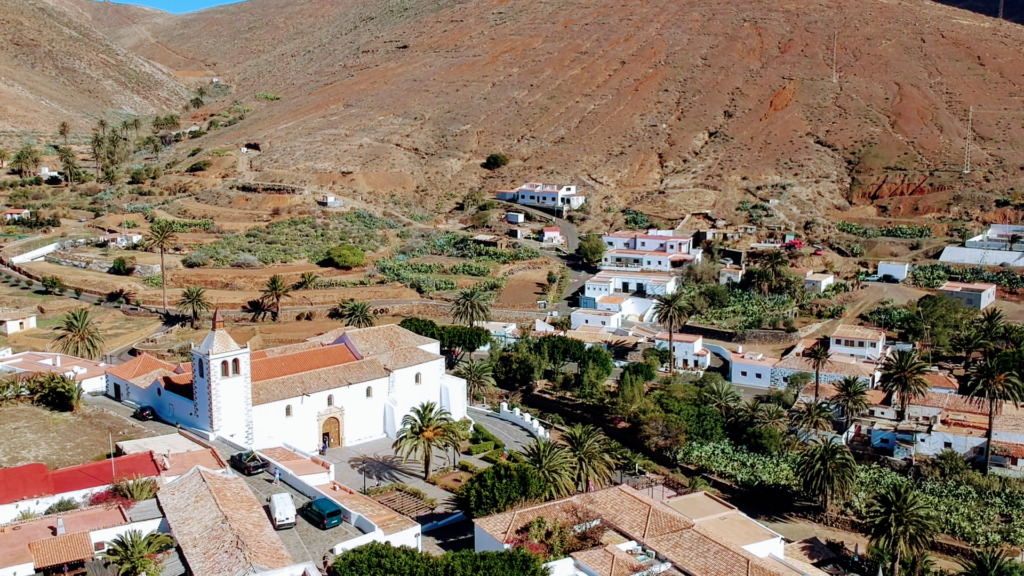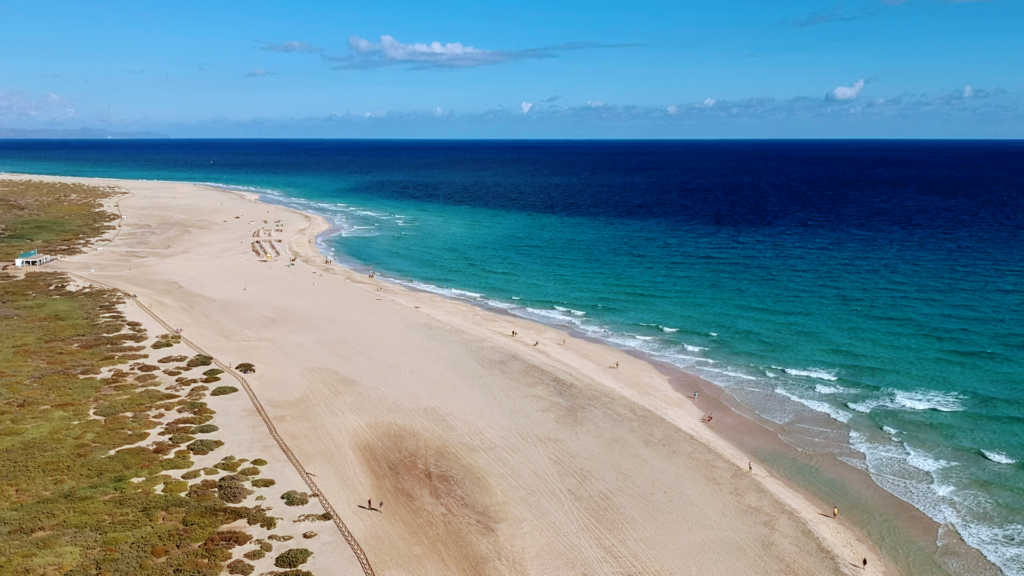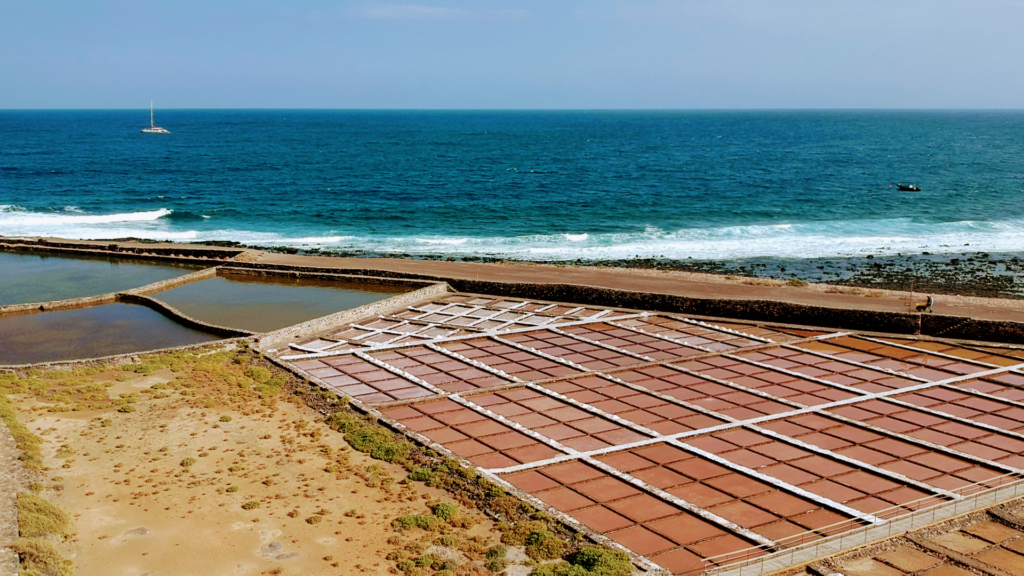 ---
Gran Canaria – the Vibrant One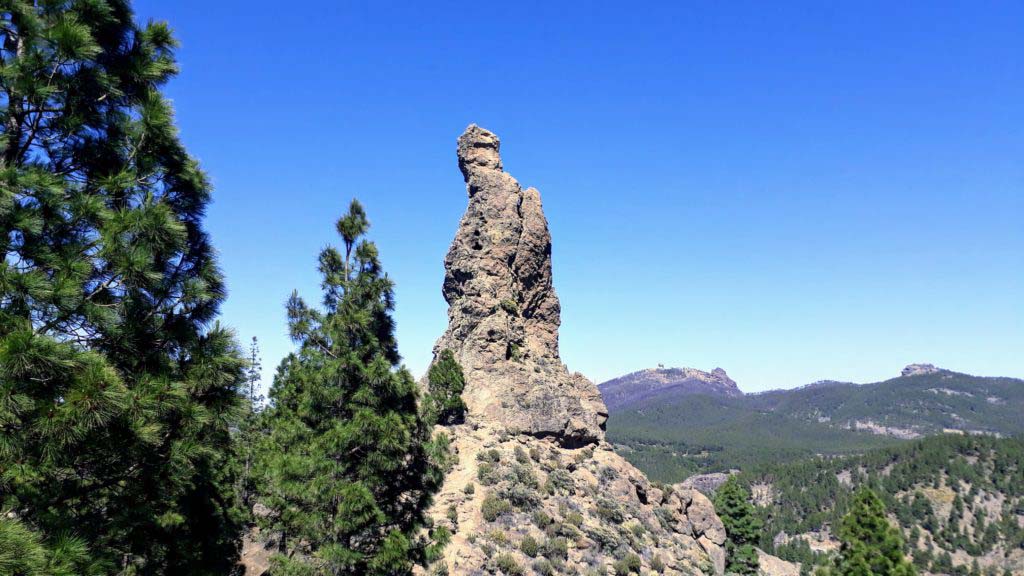 The party island Gran Canaria is not only popular with all-inclusive holidaymakers and nature lovers, after all, it's considered to be especially LGBT-friendly. In the north is the capital Las Palmas de Gran Canaria, the largest city in the Canary Islands. The western half of the island is home to a UNESCO Biosphere Reserve. In the center of the canary island is the landmark of Gran Canaria: the 1813 meter high "Wolkenfels" Roque Nublo. Also very well known are the dunes of Maspalomas on the southern tip of the island. A little further west there is another famous place: Puerto de Mogán, which is also called the "Venice of the South" because of the canals from the port into the village and the many small alleys.
The Main Sights in Gran Canaria
Capital Las Palmas de Gran Canaria with Playa de las Cantera and Catedral de Santa Ana in the old town Vegueta
Roque Nublo, landmark of the island
Volcano Pico de las Nieves (1949 meters), highest point of the island
"Monk" and "Frog" rocks Roque Rana and El Fraile
Dunes of Maspalomas
Puerto de Mogán, "Venice of the South"
Paseo de Gran Canaria in Firgas
Teror, known for its architecturally diverse balconies
Beaches Playa de Anfi and Playa de Amadores
Map of Gran Canaria
Our Blog Posts about Gran Canaria
How do I get to Gran Canaria?
About 18 kilometers south of the capital Las Palmas de Gran Canaria is the international Gran Canaria Airport (LPA).
From Puerto de la Luz in Las Palmas there are ferry services to Tenerife, Fuerteventura, Lanzarote and La Palma as well as to Huelva on the Spanish mainland.
Impressions of Gran Canaria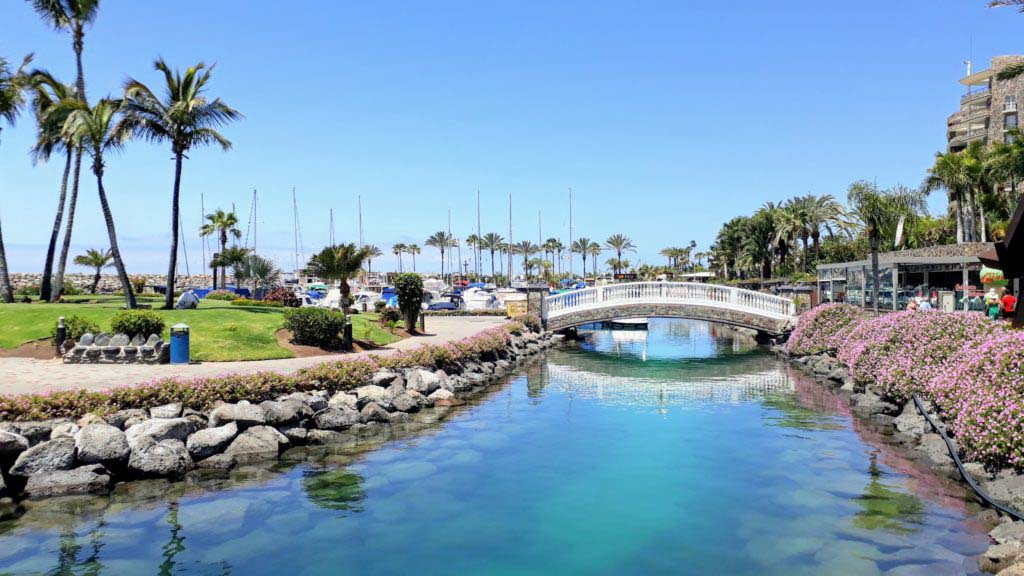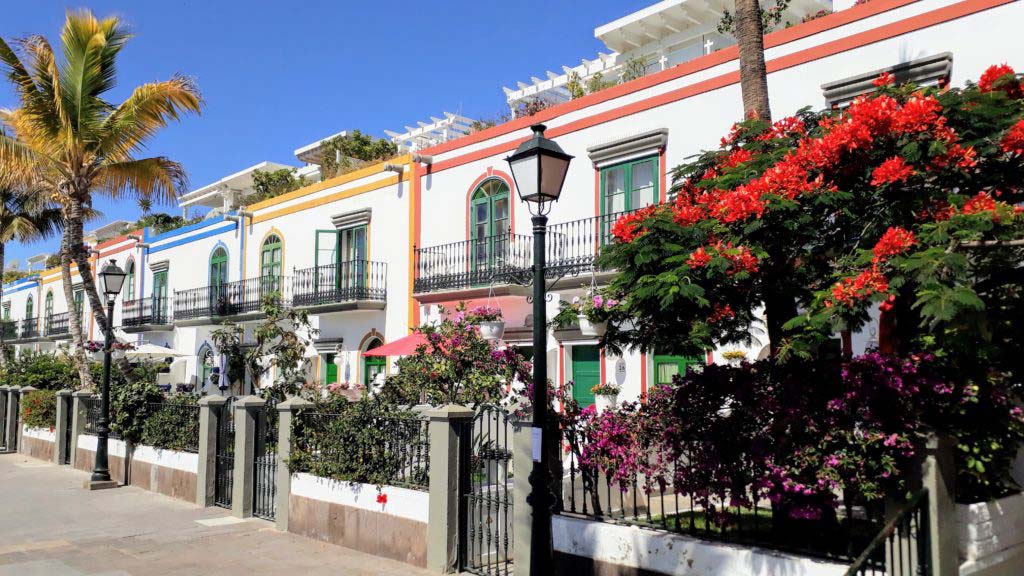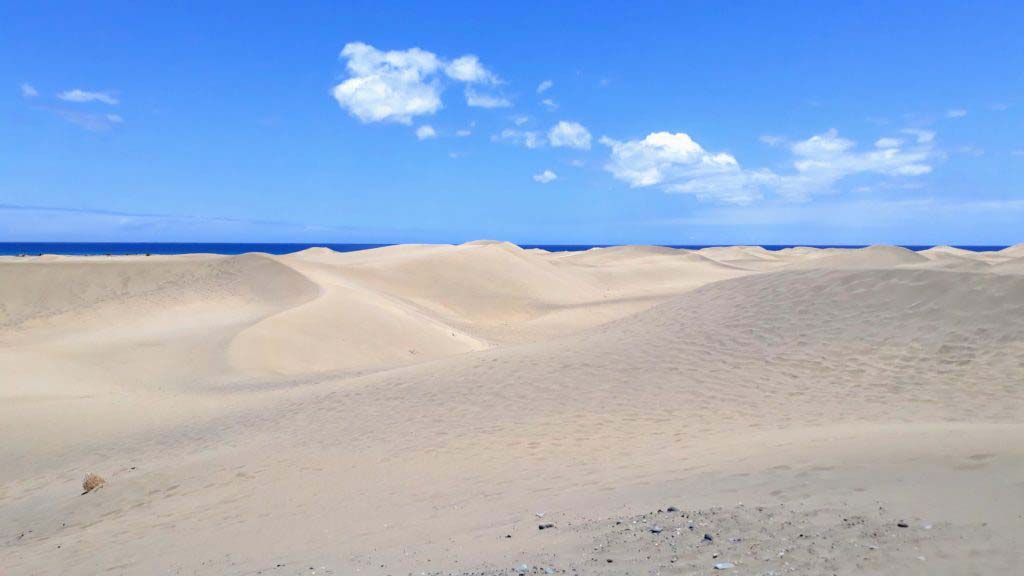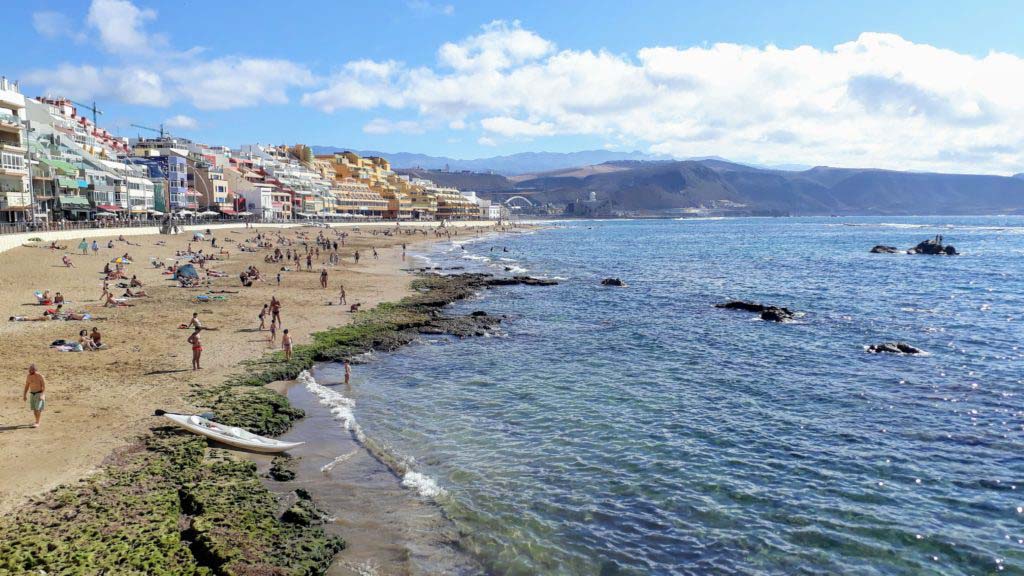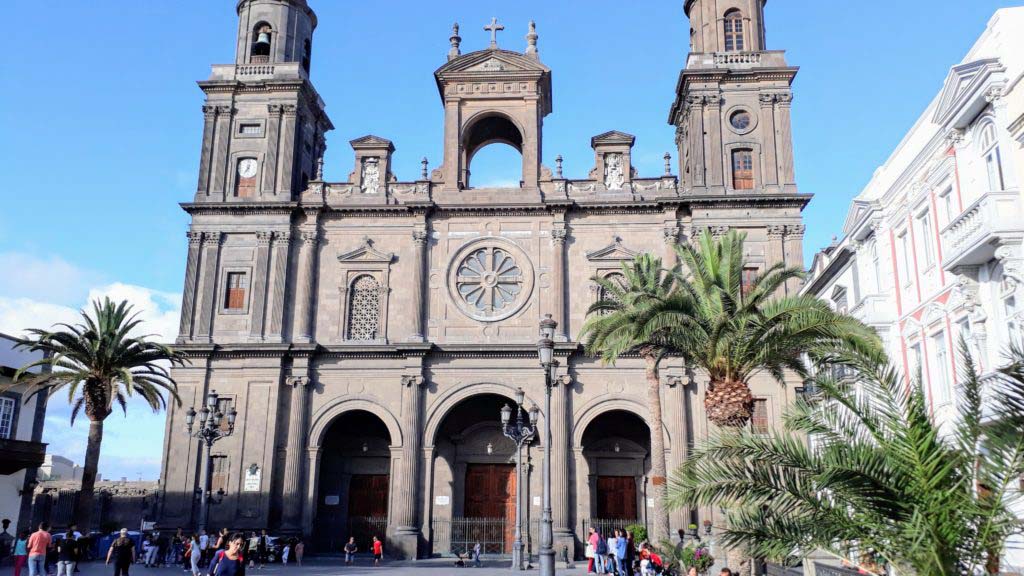 ---
You might also be interested in: