The things we had previously heard about Tenerife were not very positive: mass tourism, crowded, little culture. However, what we found on the largest Canary Island were breathtakingly beautiful landscapes, crystal-clear sea pools, cute villages and just the right mix of city and nature, topped by the volcano Teide, the highest peak in Spain – in short: an island to fall in love with. All the highlights of Tenerife can be perfectly combined on a round trip, which is why we would like to introduce you to the perfect route for a Tenerife road trip.
General Information
For the entire route, we recommend you plan at least one week. Of course, the stay in different places can be extended arbitrarily. If you only have a few days and don't want to rattle through everything in record time, it's better to pick out only the points that interest you most. In this article, we'll describe the round trip using a 8-day example.
For this, we have self-evidently created a map with Google Maps for you again. Since Google Maps only allows a maximum of 10 stops, we had to divide the route into three stages. Therefore, you will find the letters A to H three times each. For a better overview, you can hide and unhide the respective stages and, for example, initially take a look at the first stage only.
What else do you need for a road trip? Exactly, a rental car of course! You can find cheap offers at ryanair (available for the US, the UK and Ireland). Pay attention to a fair fuel tank regulation (full/full) and a fully comprehensive insurance to avoid additional costs.
Everything at a Glance
First Stage: From the Airport to the Anaga Mountains
Day 1: Arrival
Day 2: Ghost Town, Pyramids & Basilica
Day 3: Capital, Dream Beach & Mountains
Second Stage: From La Laguna to Punta de Teno
Day 4: View, UNESCO Old Town & Seawater Lagoon
Day 5: Natural Swimming Pools, Millennium Tree & Lighthouses
Third Stage: From the Masca Gorge via the Teide back to the Airport
Day 6: Spectacular Gorge, Cliffs & Highest Peak in Spain
Day 7: Lunar Landscape, Tourists' Favorite Place & Pizza
Day 8: Departure
First Stage: From the Airport to the Anaga Mountains
Day 1: Arrival
Most of you will surely arrive at Tenerife South International Airport (TFS). After you have picked up your rental car, you certainly want to get to your accommodation first. We would recommend you the Los Amigos Hostel, which is not only just behind the airport, but also is very favorable – even one of the cheapest accommodations in all of Tenerife! In addition to free Wi-Fi and a pool, breakfast is also included. Here you also have the opportunity to meet like-minded people and possibly even find fellow passengers.
Los Amigos Hostel
Check-in: from 17:00 | Check-out: 08:30 to 11:00
Address: Giralda 9, 38639 La Mareta
If shared rooms and hostel atmosphere are not your thing, you will surely make a find at Apartamentos Green Park. These are also located a few kilometers from the airport and offer a large pool. However, you can not expect absolute calmness here as the facility is located in the approach path of the airport.
Apartamentos Green Park
Check-in: 14:00 to 00:00 | Check-out: 09:00 to 14:00
Address: Avenida de Tenerife 4, 35100 Playa del Ingles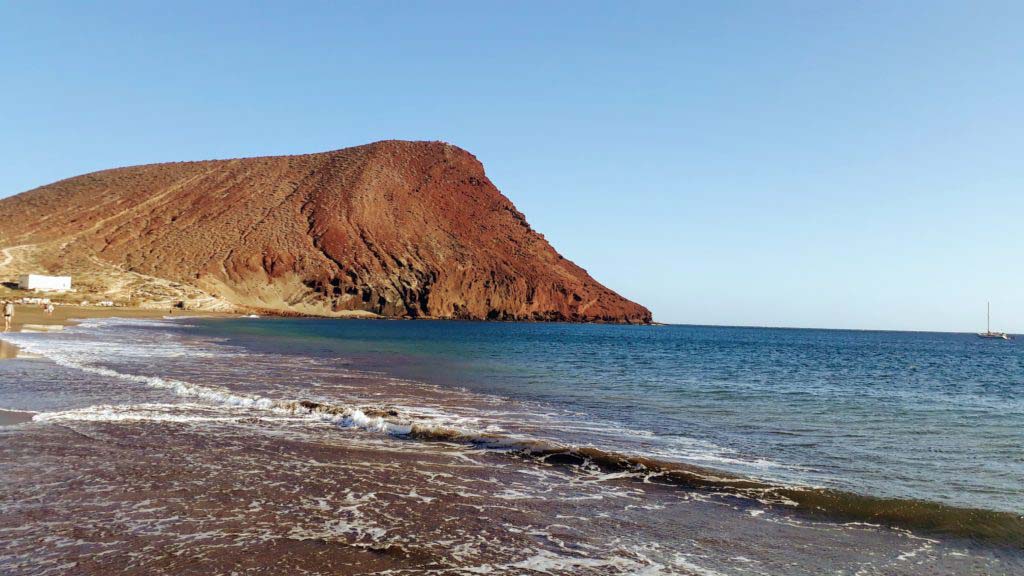 The fairly quiet and uncrowded Playa de la Tejita beach is about a half-hour walk from Los Amigos Hostel. It is one of the largest natural sandy beaches in Tenerife and owes its existence to the steady northeast trade winds, which blow against the 171 meter high volcano Montaña Roja and throw off sand.
Another 30 minutes walk away is El Médano. Fuori di Zucca, a vegetarian restaurant with some vegan options, is located here. These include, for example, a burger, tempeh and a vegan tiramisú.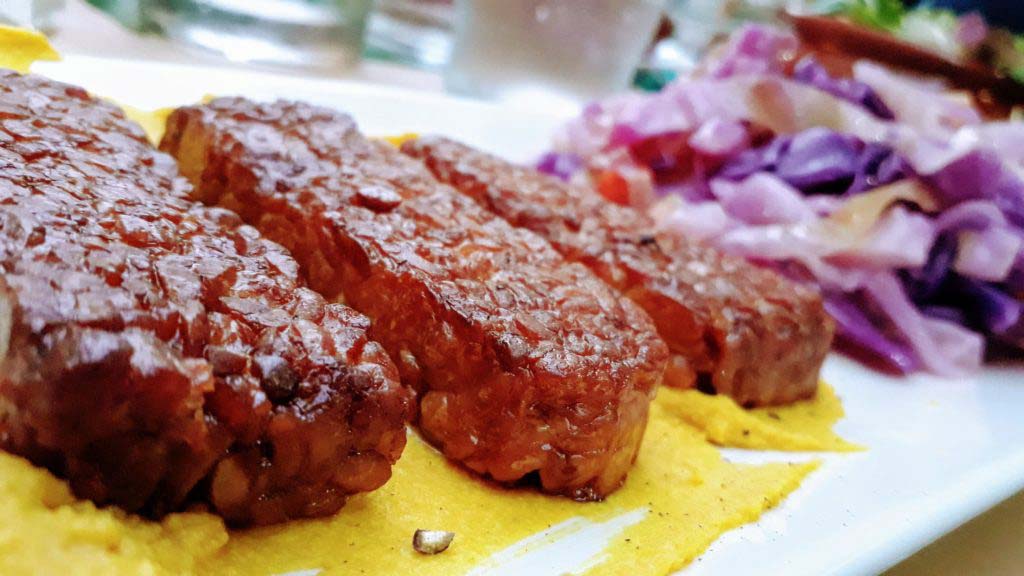 Fuori di Zucca
Opening hours: Mon-Sun 12:30-22:30
Address: Calle Galo Ponte el Medano 4, 38612 El Médano
To get back, you can take bus 470 (direction to Los Cristianos) from this bus stop and get off at La Mareta. From there, it's only a few steps to the hostel. The bus runs every hour at 30 minutes past the hour.
Day 2: Ghost Town, Pyramids & Basilica
Ghost Town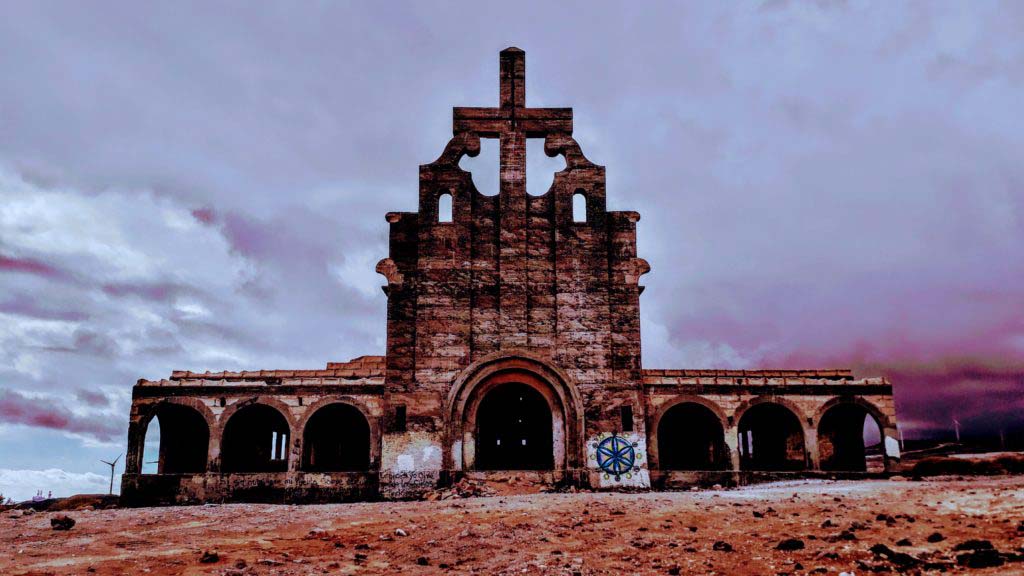 Once you have slept off and ate breakfast at the hostel, the road trip can really start. Drive on the highway TF-1 direction northeast to Abades. There you will find a ghost town, which emerged from a planned leprosy station. Therefore, among the buildings there is a hospital, a crematorium and a Franco-style church with a large cross on top. Admission is free!
If you're already hungry for lunch after visiting the ghost town (and it's Wednesday, Thursday, Saturday or Sunday), you can eat at the all-vegan restaurant Samelo Veg in Abades. When we were there, the restaurant was unfortunately closed.
Samelo Veg
Opening hours: Wed, Thu, Sat & Sun 13:00-17:00, Fri 18:00-22:00
Address: Avenida Maritima 4, 38588 Abades
Pyramids
We continue on the TF-1 up to the Pyramids of Güímar. These are six (of originally nine) rectangular elongated, pyramid-shaped terraced buildings made of stacked lava rocks. While dating into the 19th century is undoubtedly assured by archaeological excavations, its original function could not be fully clarified yet.
Native traditions and ancient illustrations indicate that such pyramids (also known as Morras, Majanos, Molleros or Paredones) were once found in many parts of the islands, but were often demolished over time and used as cheap building materials.
Pyramids of Güímar
Opening hours: Mon-Sun 09:30-19:00
Admission: adults 11 euro | children up to 12 years 5.50 euro
Address: Calle Chacona s/n, 38500 Güímar
BASILIcA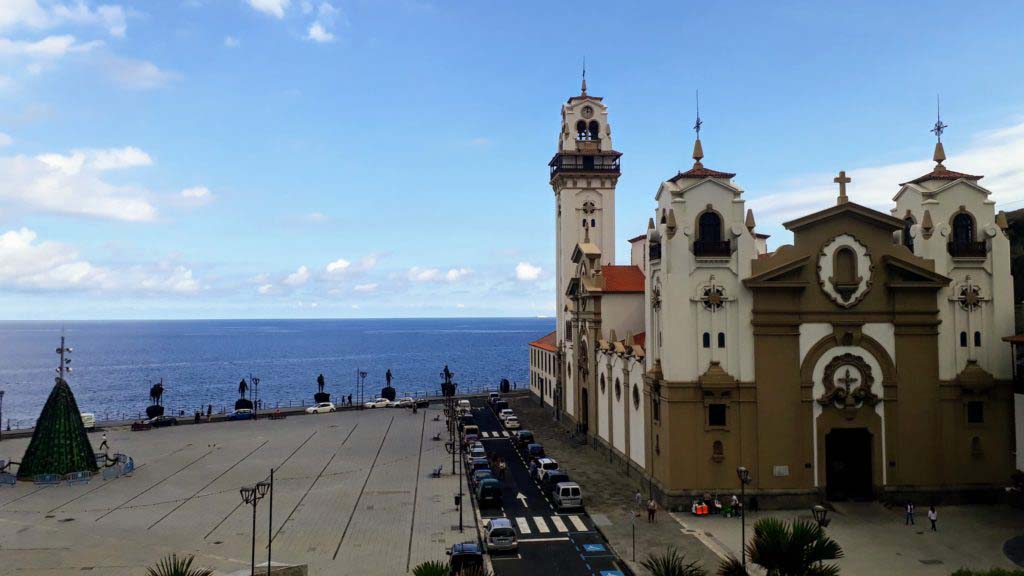 The next stop is the Basilica of Candelaria, whose full name is Basilica de Nuestra Señora de Candelaria. The pilgrimage church was built from 1949 to 1959 in close proximity to the Atlantic Ocean. About 10 minutes walk from the basilica is the Plan Bakery Cafe, which specializes in food intolerances and offers vegan options.
Plan Bakery Cafe
Opening hours: Tue-Sun 09:00-20:00, Mon closed
Address: Calle Alcalde Juan Castellano Castellano 23, 38530 Candelaria
SANTA CRUZ DE TENERIFE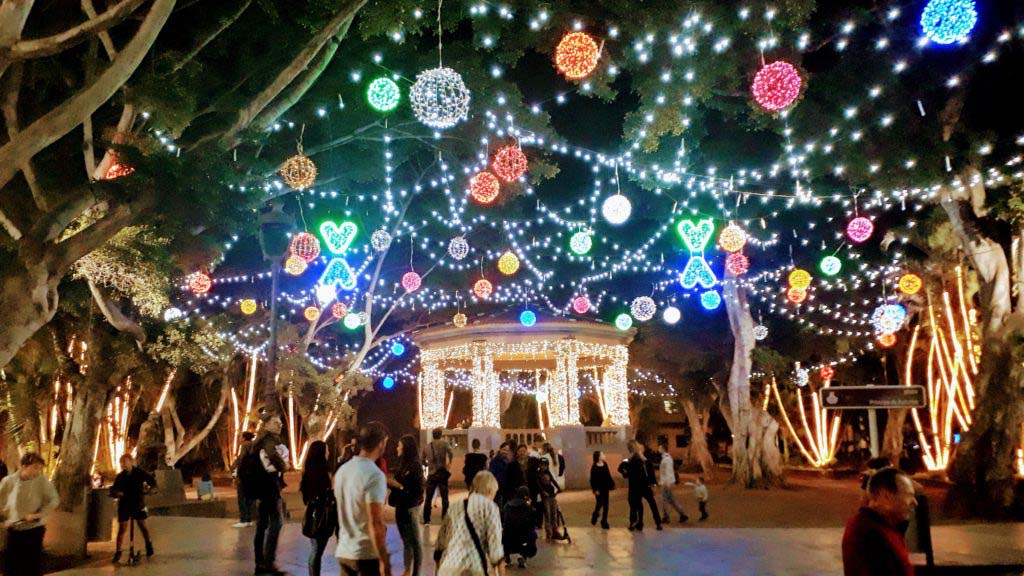 Then it's off to the island's capital, Santa Cruz de Tenerife. But since you feel probably already whacked by the day, we'll take care of the sights the next day. First of all, it's time to move on to your next accommodation: We stayed in Santa Cruz at the Pensión Mova in a simple but perfectly adequate double room with private bathroom. For dinner you have the choice: either delicious burgers, hot dogs & other in the purely vegan fast food chain Burger Mel or healthy, light food at La Sereta.
Pensión Mova
Check-in: from 15:00 | Check-out: until 12:00
Address: San Martin 33, 38001 Santa Cruz de Tenerife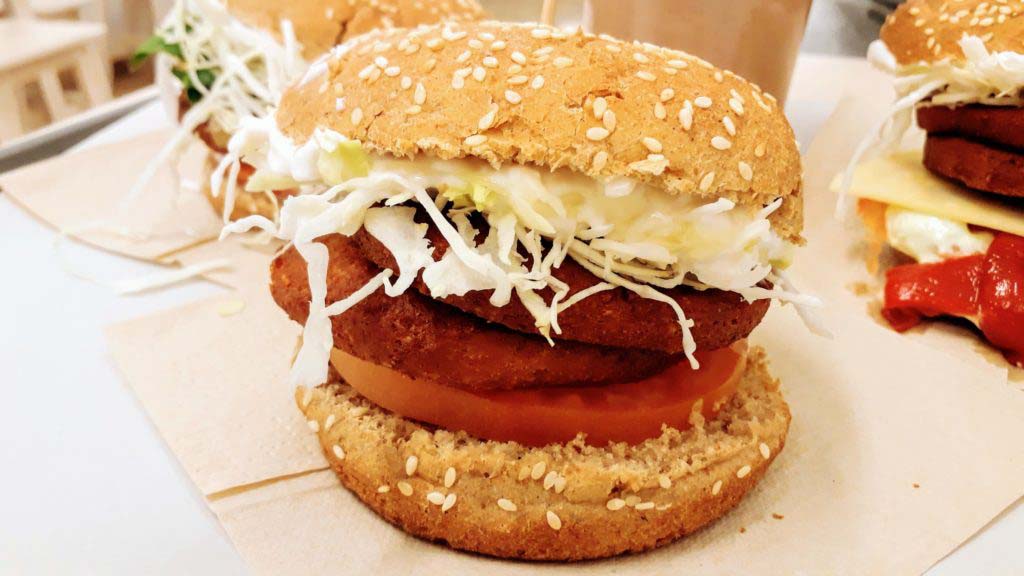 Burger Mel
Opening hours: Mon-Thu 09:00-23:00, Fri 09:00-23:30, Sat & Sun 13:00-23:00
Address: Calle la Marina 73, 38001 Santa Cruz de Tenerife
Opening hours: Mon-Fri 12:00-22:30, Sat & Sun 14:00-16:00 & 19:00-22:30
Address: Calle Suárez Guerra 50, 38002 Santa Cruz de Tenerife
Opening hours: Mon-Sun 09:00-23:00
Address: Calle de Benavides 32, 38004 Santa Cruz de Tenerife
Opening hours: Mon-Sun 18:00-23:00
Address: Calle Horacio Nelson 31, Santa Cruz de Tenerife
La Sereta
Opening hours: Tue-Fri 10:00-16:00 & 18:00-21:00, Sat 10:00-15:00, Sun & Mon closed
Address: Calle de Angel Arocha 7, 38005 Santa Cruz de Tenerife
Day 3: Capital, Dream Beach & Mountains
Capital
The next day you start really delicious with a generous breakfast either at La Pajarita or Sweet Paradise. Both cafés are completely vegan and offer a wide selection of savory and sweet treats. The Sweet Paradise even has a brunch on Saturdays.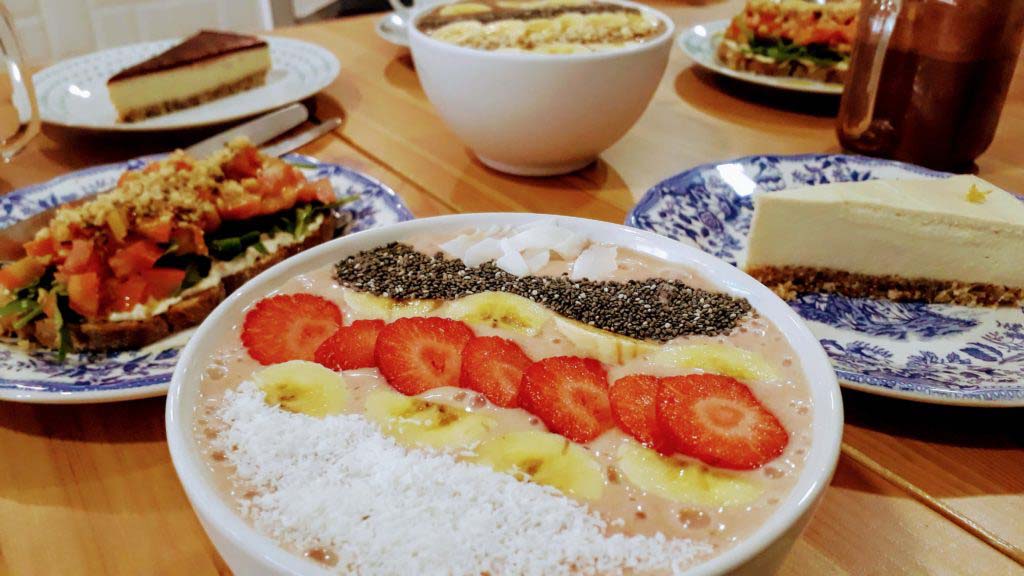 La Pajarita
Opening hours: Mon-Fri 09:00-20:00, Sat 09:30-13:30, Sun closed
Address: Calle de Cairasco 13, 38004 Santa Cruz de Tenerife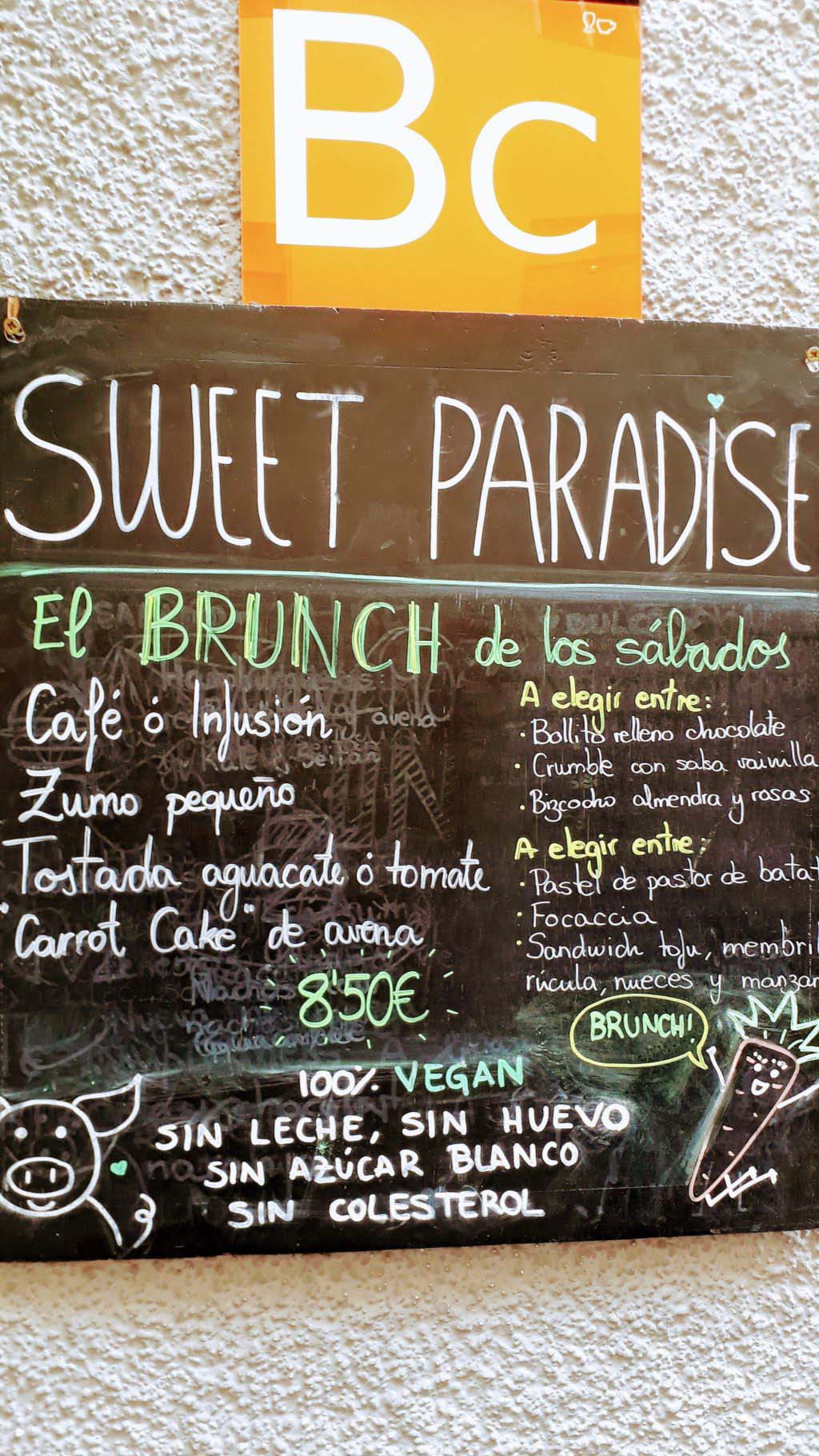 Sweet Paradise
Opening hours: Mon-Fri 10:00-15:30 & 17:00-20:30, Sat 11:00-15:00, Sun closed
Address: Calle de Callao de Lima 14, 38003 Santa Cruz de Tenerife
Strengthened, we can now start with the sightseeing in Santa Cruz. One of the most important places of the city in the northeast of Tenerife is the Plaza de España. Here you can also take a little photo shoot in front of the large "Santa Cruz" logo.
We continue to the congress and concert hall Auditorio de Tenerife, designed by Santiago Calatrava and opend in 2003. In its two halls 2,086 people can be accommodated in total. The building is also home to the Orquesta Sinfónica de Tenerife.
A few hundred meters to the southwest is the 22,000 square meter outdoor pool area Parque Marítimo César Manrique. It was designed by the artist César Manrique from Lanzarote, but completed only three years after his death in 1995. Elements of the volcanic nature of the Canary Islands and subtropical plants as design elements were included in the installation. The three basins with planted islands inside have irregular shapes and are fed with seawater.
Parque Marítimo César Manrique
Opening hours: Mon-Sun 10:00-19:00 in summer; Mon-Sun 10:00-18:00 in winter
Admission (day pass): adults 2.50 euro | until 12 or over 65 years or retired 1.50 euro | children under 3 years free
Address: Avenida de la Constitución 5, 38005 Santa Cruz de Tenerife
Also worth seeing is the Roman Catholic parish church Nuestra Señora de la Concepción. Also nearby is the art and culture center Tenerife Espacio de las Artes (abbreviated TEA), opened in 2008. The building houses several exhibition, cinema and lecture halls, the Biblioteca Municipal de Santa Cruz de Tenerife and the Centro de Fotografía Isla de Tenerife on a total area of over 20,000 square meters. Here you can read, study or work on a laptop in a quiet atmosphere. In the cafeteria, there is also soy milk available.
Those who would like to have a piece of cake with their soy cappuccino, will find what they are looking for at La Pajarita or Sweet Paradise. If you are looking for something hearty, you will be satisfied at Burger Mel, La Sereta or Kimpira.
La Pajarita, Sweet Paradise, Burger Mel & La Sereta: see above
Kimpira
Opening hours: Mon-Sat 13:00-16:00, Sun closed
Address: Calle de San Vicente Ferrer 5, 38002 Santa Cruz de Tenerife
Of course these were just the must-sees in Santa Cruz. Those who spend more time in the capital will, of course, discover a few other places worth seeing.
Dream Beach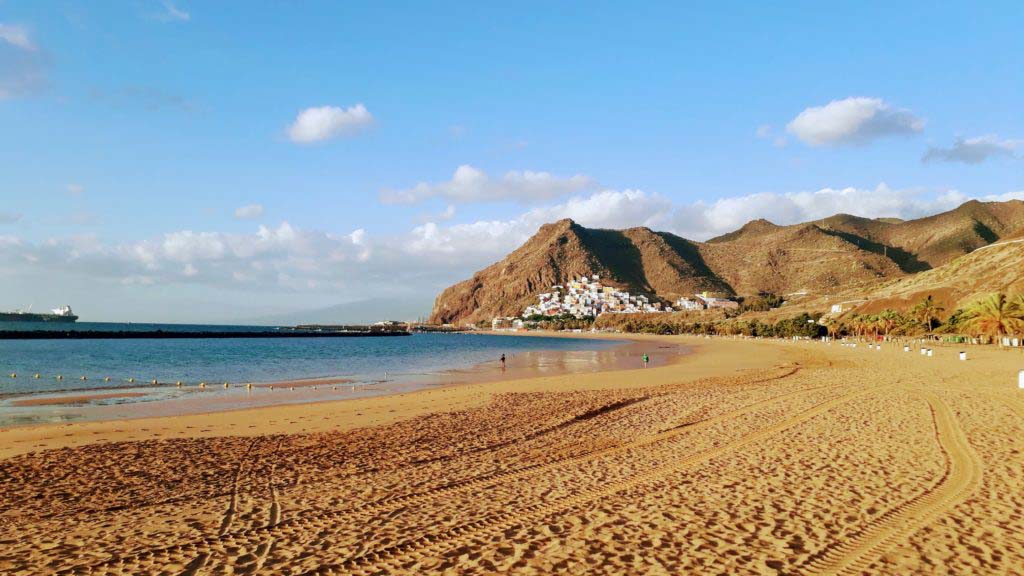 Our plan now takes us to the most beautiful beach in Tenerife: Playa de Las Teresitas near San Andrés. In 1973, white sand, which had been procured in the Sahara, was stratify on the formerly black sand of volcanic origin. Our hearts beat faster when we think back to this beautiful palm beach. The Mirador Las Teresitas offers enchanting views of the coast and the village of San Andrés, located in the precursors of the Anaga Mountains.
Mountains
The last ride for today takes us right into the middle of the Anaga Mountains to your accommodation for the next night, the Montes de Anaga Hostel. The modern designed youth hostel offers cheap double and multi-bed rooms, optionally with breakfast, half board or even full board. But the highlight is the huge glass front and terrace with views over the mountains to the sea. Guaranteed beautiful sunrises can be observed here.
Montes de Anaga Hostel
Check-in: 14:00 to 16:00 | Check-out: 12:00 to 12:30
Address: Carretera Bailadero – Chamorga s/n, 38129 El Bailadero
If you still have enough energy and daylight left, you can now explore the Anaga Mountains. Alternatively, you can do this the next morning.
---
You might also be interested in: