Second Stage: From La Laguna to Punta de Teno
Day 4: View, UNESCO Old Town & Seawater Lagoon
Breakfast
In the Montes de Anaga Hostel you have the breakfast either already included in the room or you can book it for 3.50 Euro. Since we did not have breakfast there, unfortunately we can not give you any information about its vegan suitability. Therefore, we would rather play it safe and bring our own favorite milk with us.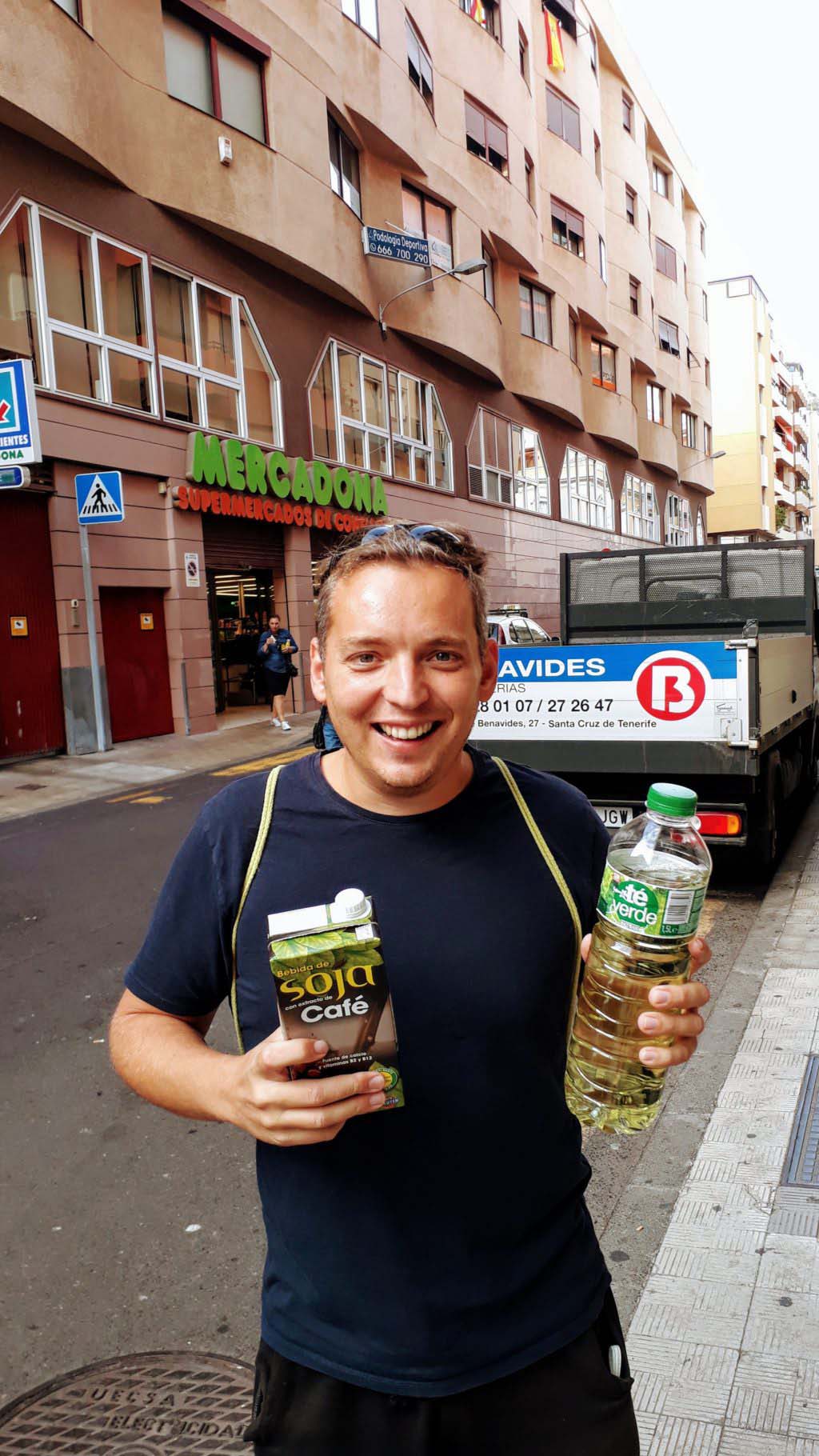 These can be found in every major supermarket, such as Mercadona, Alcampo or Super-/HiperDino. There you will also find vegan (crunchy) muesli and cornflakes. Bread spreads – apart from hummus and guacamole – are unfortunately rather scarce and expensive in Spain. If you do not want to do without, bring it with you from your home country.
Anaga Mountains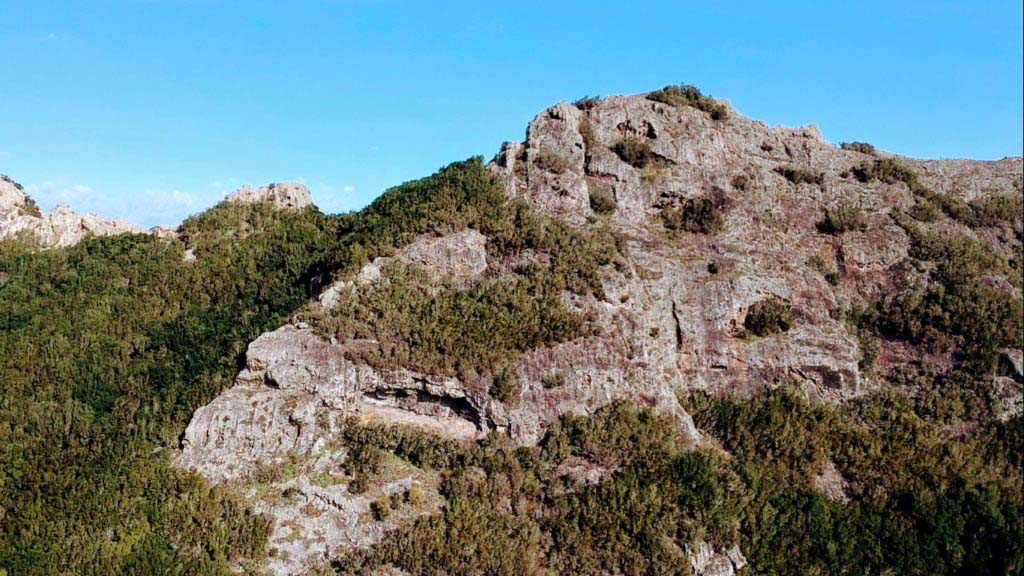 You can use the morning to explore the Anaga Mountains formed seven to nine million years ago by volcanic activity. The crest of the massif, the wettest region of the island due to fog and rain, is covered with laurel forest. Typical of the mountains, which are called Macizo de Anaga in Spanish, are the caves in the volcanic rock whose facades and interior design resemble those of ordinary single-family homes, such as in Afur and Chinamada.
View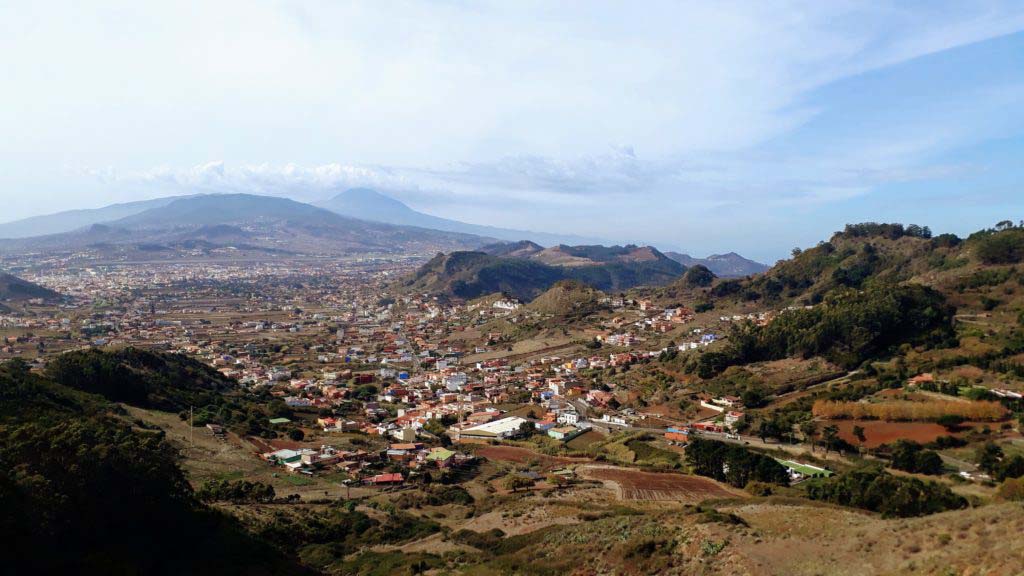 About halfway from the Anaga Mountains to San Cristobal de La Laguna you will get to the very popular viewpoint Mirador Cruz Del Carmen. From 920 meters above sea level, the UNESCO World Heritage city can be overlooked up to the Teide.
UNESCO Old Town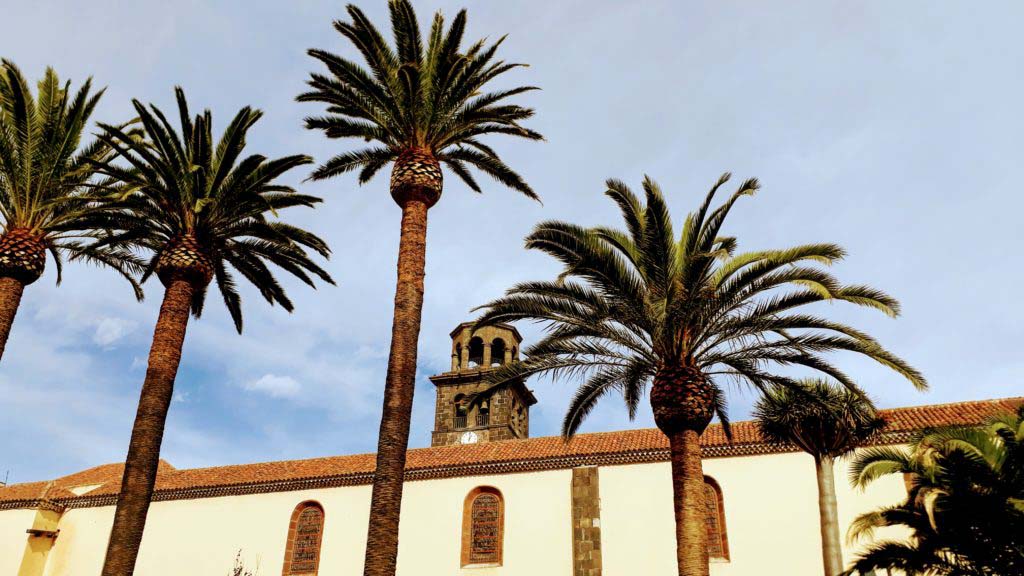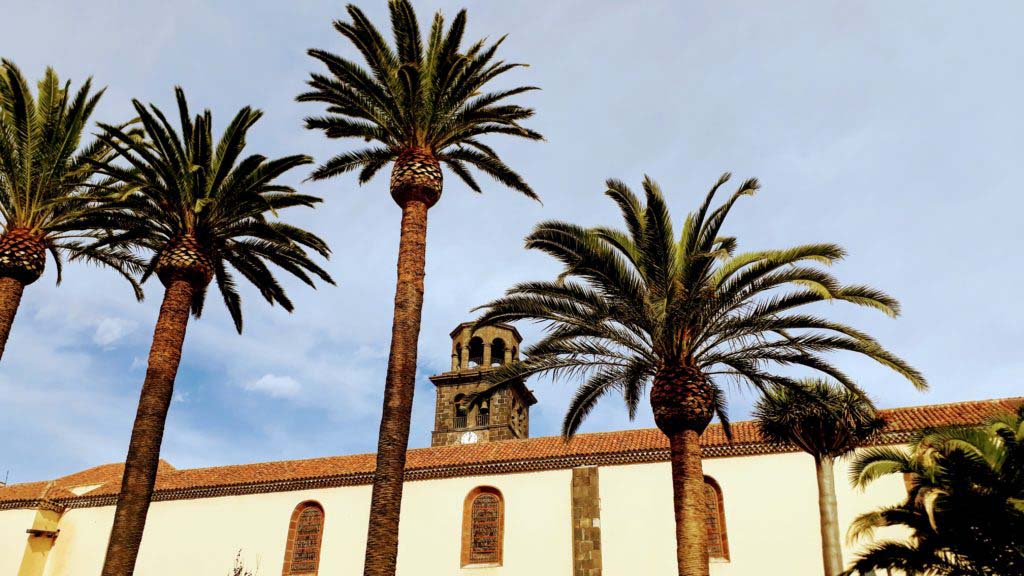 Arrived in the city called "La Laguna" for short, you certainly want something to eat first. Once again we only ate at Burger Mel, as there is also a branch of the incredibly versatile, delicious and cheap vegan fast food chain there. But we also heard good things of Tapasté, Veggie Penguin and Somos Lo Que Comemos.
Burger Mel La Laguna
Opening hours: Mon-Sun 12:00-23:00
Address: Plaza de la Concepcion 4, 38201 San Cristobal de La Laguna
Tapaste
Opening hours: Mon-Fri 13:00-16:00, Sat & Sun closed
Address: Plaza San Cristobal 37, 38204 San Cristobal de La Laguna
Veggie Penguin
Opening hours: Mon-Thu 13:00-16:00, Fri 13:00-17:00, Sa 13:00-16:00 & 20:30-23:30, Sun closed
Address: Calle Quintin Benito 25, 38206 San Cristobal de La Laguna
Somos Lo Que Comemos
Opening hours: Mon-Sat 09:00-2200, Sun closed
Address: Calle el Juego 14, 38204 San Cristobal de La Laguna
Then you can take a stroll through the old town, declared a UNESCO World Heritage Site in 1999. There is, for example, the cathedral Nuestra Señora de los Remedios or the church Iglesia de la Concepción, from whose tower you have a beautiful view of the city and the surrounding area.
La Orotava
The next stop, La Orotava, is best reached from La Laguna via the TF-5 freeway. This place does not necessarily have to be visited, but on the other hand, it's also only a small detour from Puerto de la Cruz.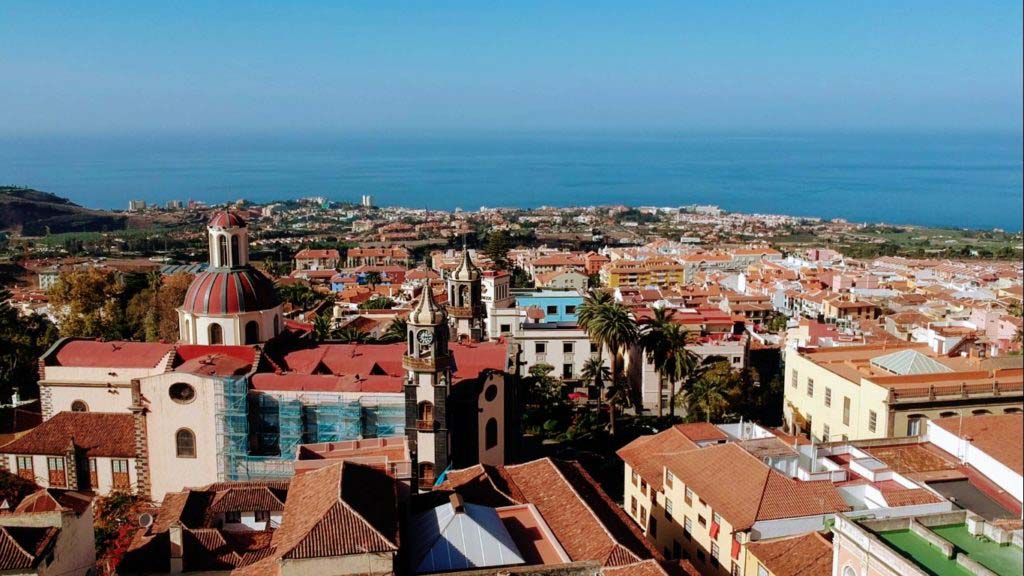 Of particular interest in the beautiful old town are the gardens Jardínes del Marquesado de la Quinta Roja (also known as Jardines Victoria), the historical house and museum Casa de los Balcones, the Plaza de la Constitución and the Town Hall forecourt, as well as the church of Nuestra Señora de la Concepción from the 17th century.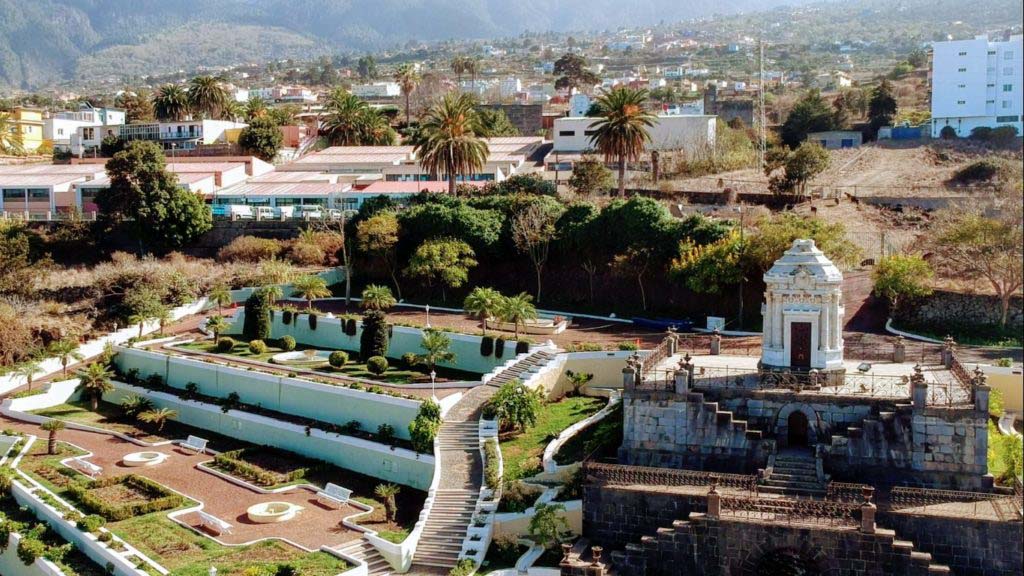 Seawater Lagoon
Once in Puerto de la Cruz you can check in to your next accommodation. We stayed at the Apartments La Carabela and were very satisfied. In addition to a private kitchen you can also use the roof terrace and two pools.
Apartments La Carabela
Check-in: 14:00 to 00:00 | Check-out: 11:30 to 12:00
Address: Richard Yeoward 3, 38400 Puerto de la Cruz
But you might not even use them, because in Puerto de la Cruz Europe's largest saltwater pool can be found. The listed open-air installation Lago Martiánez dates back to the early 1970s and covers a total of approximately 100,000 square meters. The pool complex was designed by the architect, artist and landscape designer César Manrique, which is reflected in the shapes, the white areas and the inclusion of plants and lava stones.
Lago Martiánez
Opening hours: Mon-Sun 10:00-19:00
Admission (day pass): adults 5.50 euro | children under 10 years 2.50 euro
Address: Avenida de Cristobal Colon s/n, 38400 Puerto de la Cruz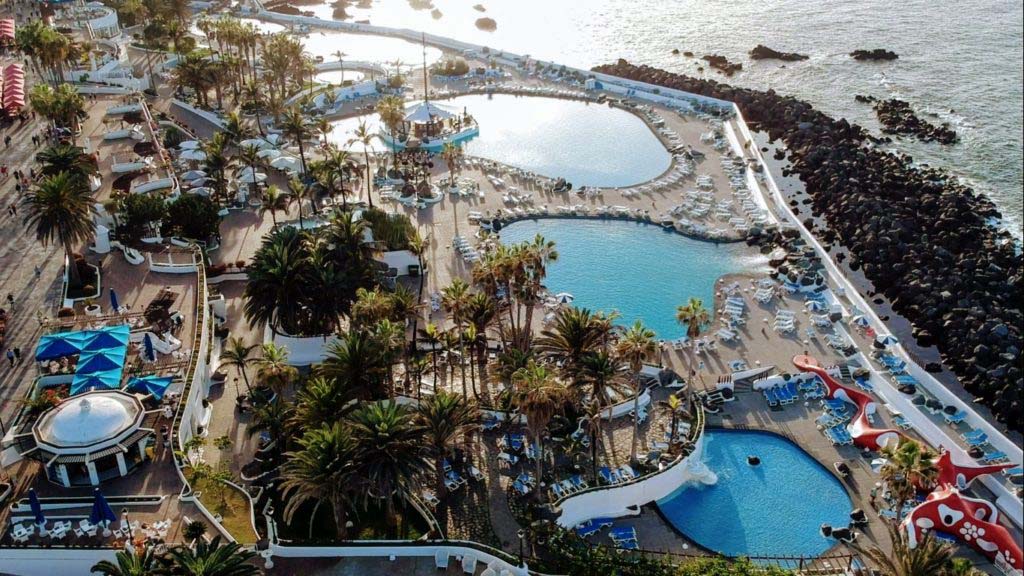 Of course you do not have to go hungry in Puerto de la Cruz either. Delicious food is available for example in the purely vegan organic café Malaika, in the veggie restaurant El Limón or in the vegan-friendly Vietnamese restaurant Saigon Baguette, where you can get various baguettes, spring rolls and rice noodles with vegetables. The vegan options are clearly marked in the menu.
For dessert we enjoyed a few pieces of cake from Raw Vegan International. On Google Maps, however, the shop is meanwhile marked as "permanently closed". If you have more information about that, please let us know in the comments.
Malaika
Opening hours: Wed-Sun 10:00-19:00, Mon & Tue closed
Address: Calle Mequinez 49, 38400 Puerto de la Cruz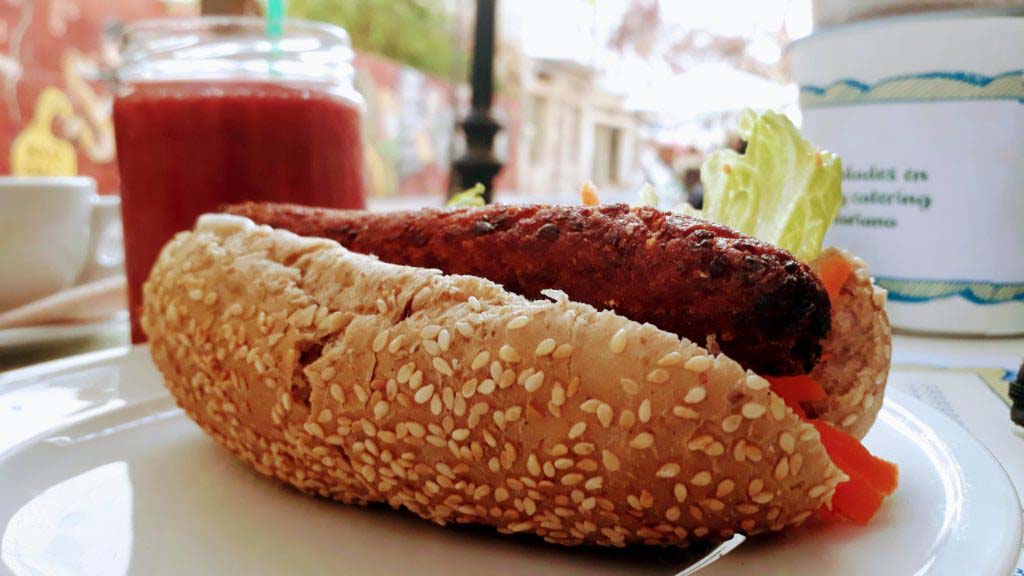 El Limón
Opening hours: Mon-Sun 12:00-23:00
Address: Calle Esquivel 4, 38400 Puerto de la Cruz
Saigon Baguette
Opening hours: Mon, Thu & Fri 12:30-16:00 & 18:30-23:00, Sat & Sun 12:30-17:00 & 18:30-23:30, Tue & Wed closed
Address: Calle San Juan 24, 38400 Puerto de la Cruz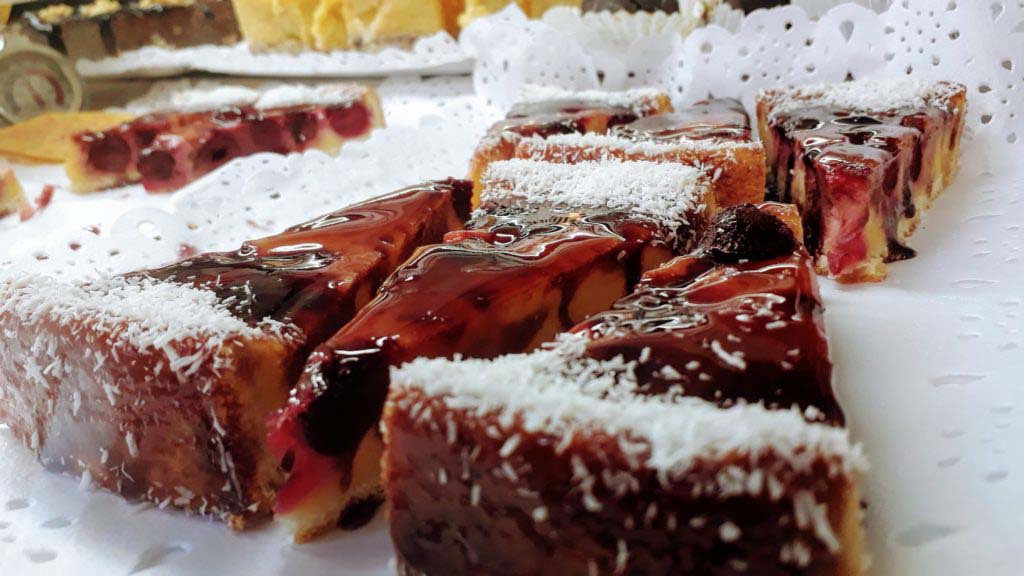 Raw Vegan International
Opening hours: ?
(former?) Address: Calle de Enrique Talg 10-12, 38400 Puerto de la Cruz
Important note: Please do not visit the Loro Parque (located close to Puerto de la Cruz)! Why? You'll find out here, here and here. Further information you will also get in the 2013 published documentary Blackfish.
Day 5: Natural Swimming Pools, Millennium Tree & Lighthouses
You can have breakfast in the already mentioned Malaika or prepare it yourself in your apartment. We sincerely hope for you that you'll have good weather on this day, because now we'll visit either the Lago Martiánez, if you have not been there the previous day and/or the next town San Juan de la Rambla. Because here you will find…
Natural Swimming Pools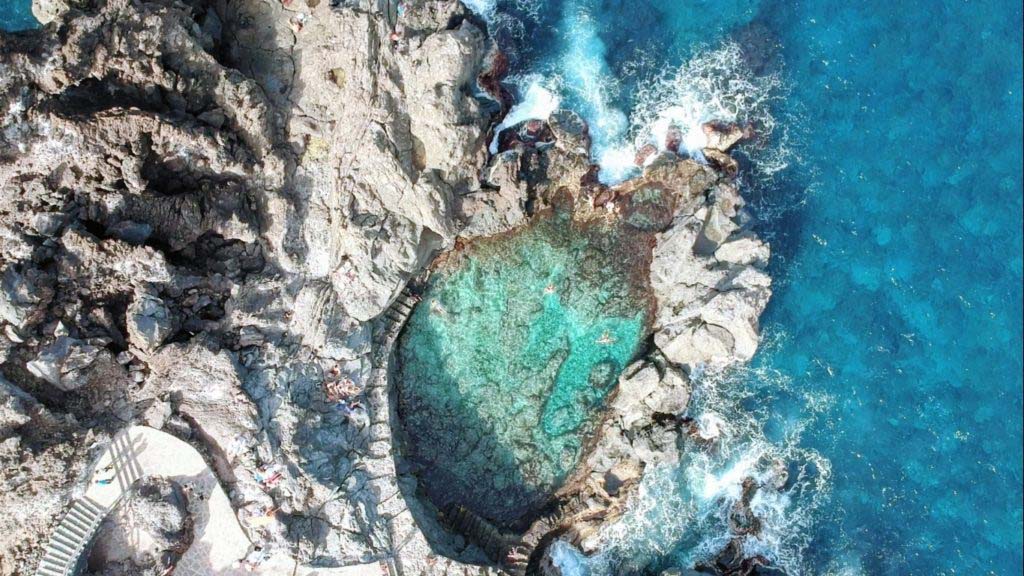 Properly read, there are even two of them: the Charco de La Laja and the Charco del Viento. Personally, we were only at the first one and can tell you: It is bafflingly BEAUTIFUL! That way, you can swim your rounds even at raging waves in the crystal clear, calm water and and don't have to worry about possible currents. The seawater swimming pools are free and open 24 hours a day.
Millennium Tree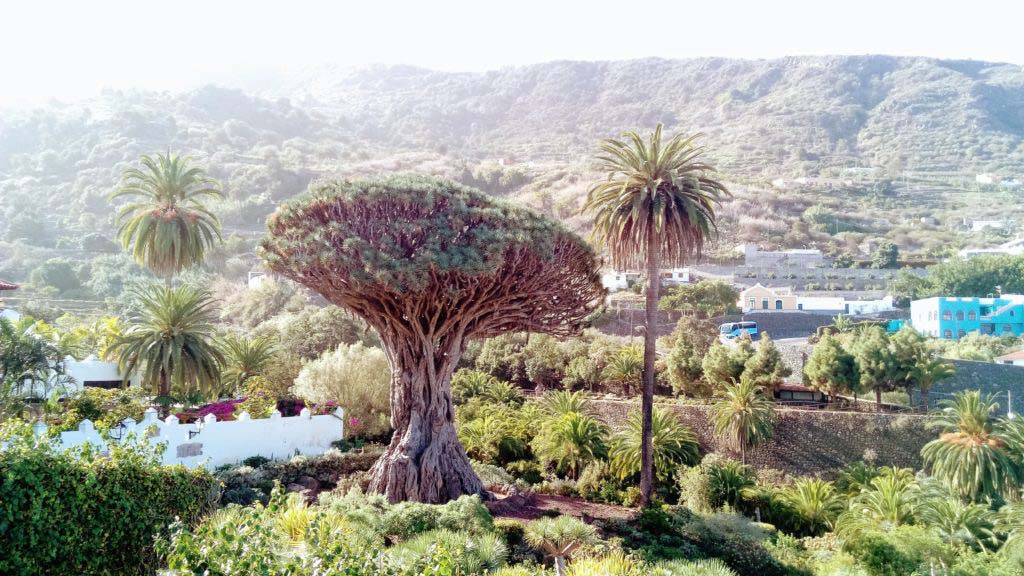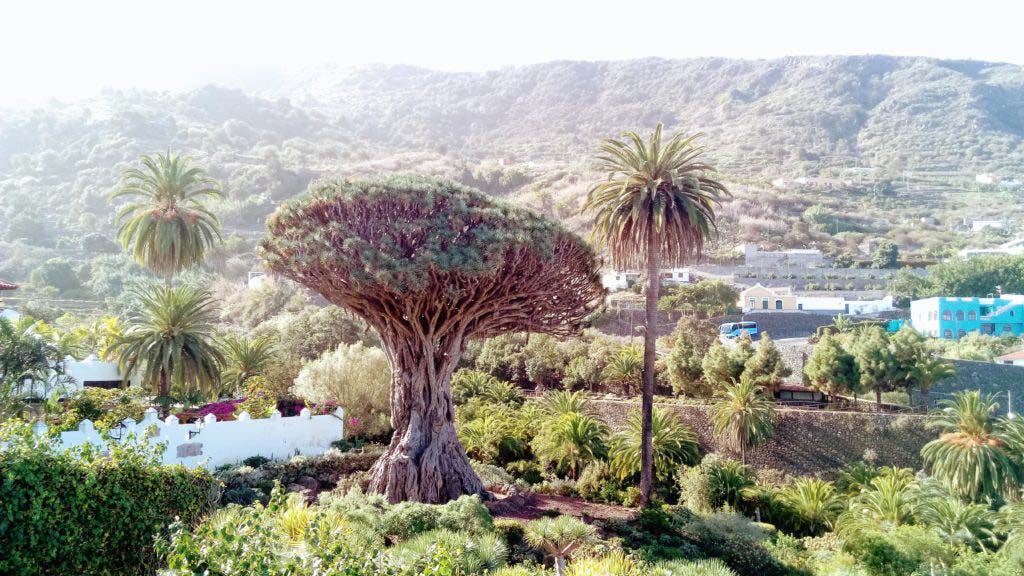 Let's continue to the "millennial dragon tree" Drago Milenario in Icod de los Vinos. Although it is indeed the biggest and most famous dragon tree of the Canaries, however, it's not – as long suspected – several thousand years old. Since dragon trees are not real trees, but so-called asparagus plants, they have no age rings, whereby the age can only be approximately determined by the number of ramifications. Today, experts estimate the age of the Drago Milenario at about 300 to 800 years.
Insider tip: You can save yourself the entrance to the Parque del Drago, as it's very well visible and photographable from the public square Plaza Andrés de Lorenzo Cáceres.
Wind Cave
Not far from the Drago Milenario is the Cueva del Viento ("Cave of the Wind"), one of the longest lava caves in the world. The cave system has a known length of about 17 kilometers on three levels, of which the oldest cave parts originated about 27,000 years ago at the outbreak of the Pico Viejo.
Not only numerous fossils can be found in the cave, but also 190 species of animals living there, of which 15 were discovered in this cave for the first time. Tickets must be purchased in advance online via credit card. Adults pay 20 euros admission, children cost 8.50 euros. The opening hours can be found here.
Garachico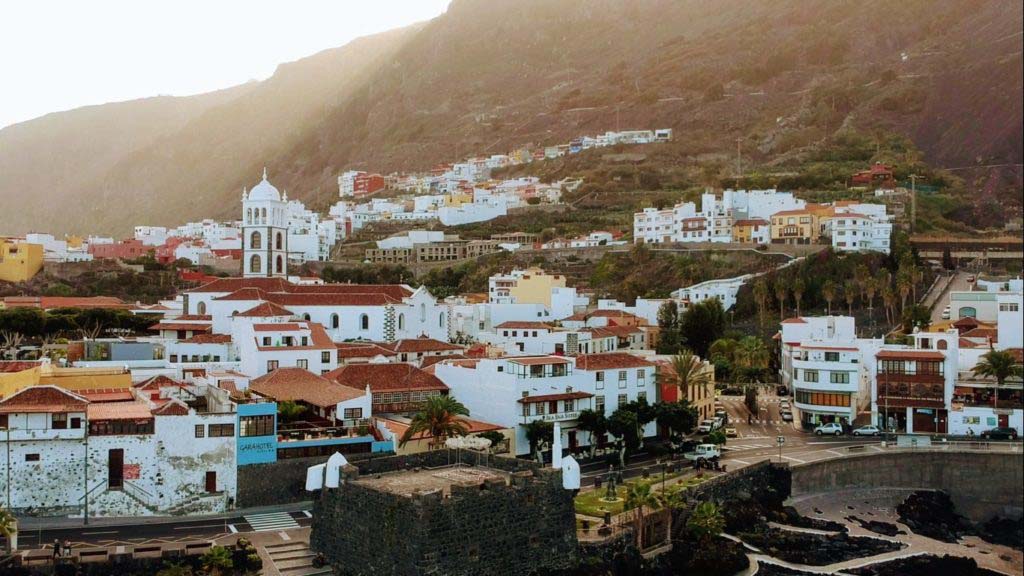 On the way to the Punta de Teno, we recommend you to stop in the small town of Garachico. Here, too, there is seawater swimming pool, which is located in front of the Castillo de San Miguel. The Parque de la Puerta de Tierra, where you can see the former city gate, the 18th-century Iglesia de Santa Ana and the former Convent of San Francisco, which today houses the Town Hall and the Municipal Museum, are also worth seeing. From the Mirador del Emigrante the village can be seen in the overall picture.
Food
Before we actually come to the Punta de Teno, you should at least now, probably earlier, take care of getting something to eat. As you may have already noticed, unfortunately we do not have restaurant recommendations for you on this route. Therefore, it makes sense to either pack something on the go in the morning or go to a supermarket on the way. In Icod de los Vinos, for example, close to the Drago Milenario there is a Mercadona, where you can also park for free and explore the city on foot – which is a good idea anyway.
Accommodation
Likewise, you should probably decide where to stay the next night at least now. We have no recommendations for specific accommodations there. In and around Buenavista del Norte, however, there are a few, such as the cheap and good-looking Apartamento Mar del Plata.
Apartamento Mar del Plata
Check-in: from 14:00 | Check-out: until 12:00
Address: Calle Mar de la Plata Número 2, 38460 Caleta de Interián
Lighthouses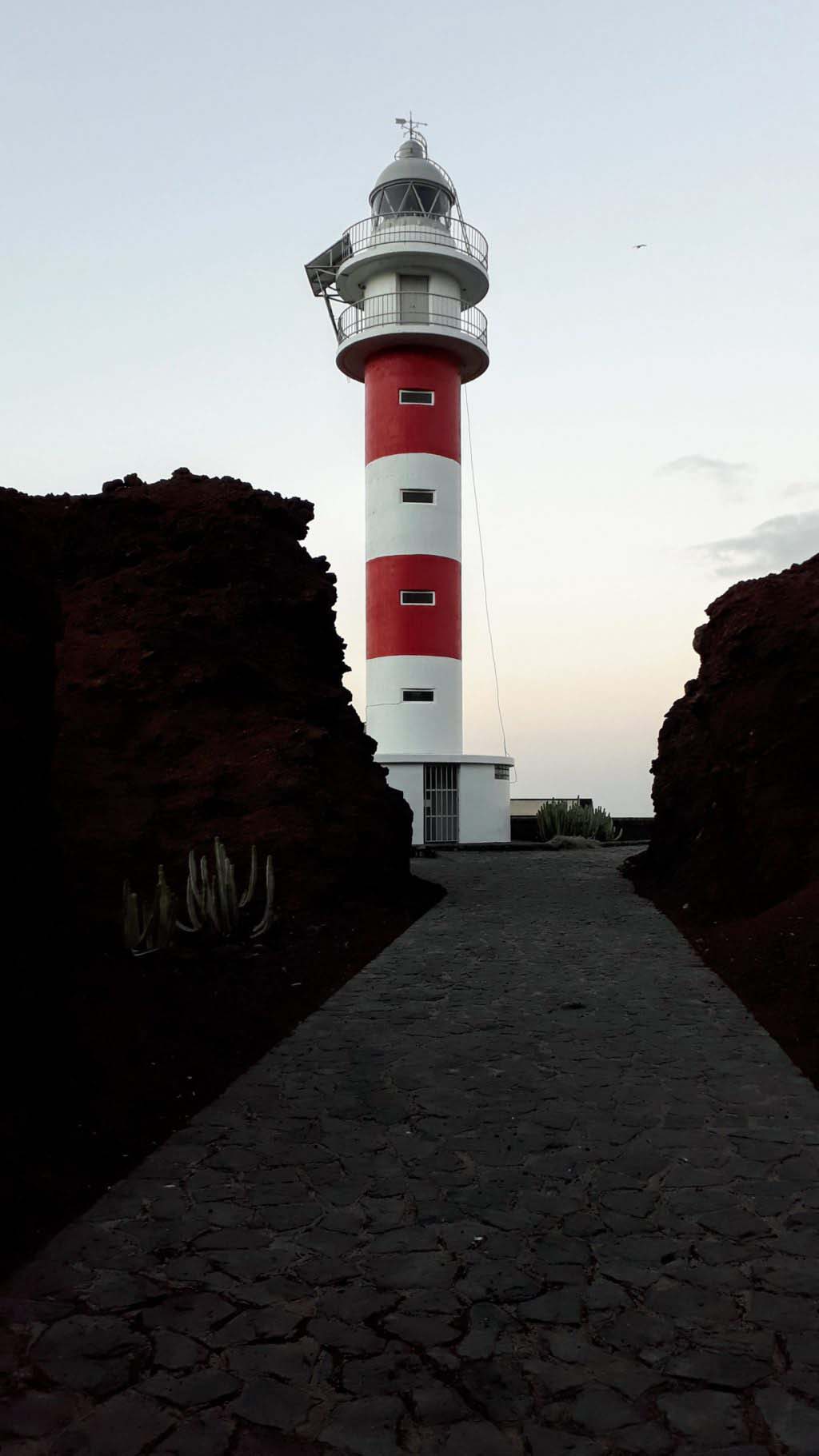 Alternatively, you could sleep in the car for one night. Because here, at the cape Punta de Teno, a fabulous starry sky can be observed. Finally, as the westernmost point of the island, it's well separated from the remaining light pollution. During the day, the cliffs of Los Gigantes and the two western neighboring islands of La Gomera and La Palma can be seen from here in good weather. Here are also two lighthouses: the older from 1893 and the newer and larger in the immediate vicinity, which replaces the old one since 1976.
Directions: In the years 2013 to 2015 the access road TF-455 was renovated and since January 2017 is accessible for private circulation on private workdays only. On weekends and public holidays, however, it is only open for shuttle buses. These run from 10 to 16 o'clock and cost one euro each way. On the way there is the view point Mirador de Don Pompeyo worth stopping. Signs warn against rockfalls and you should drive very carefully.
---